West Runton And East Runton Beach
West Runton beach is most well-known for the Elephant, or Steppe Mammoth which was discovered in 1990, dating back to the ice age and one of the oldest fossil elephants to be found in the UK.

It was very exciting and caused quite a stir in Norfolk!  You can see a display on its recovery at the Cromer Museum and read more about the creation of the life size model on the West Runton Elephant here. 

The remains were found in the cliff face, and if you're geologically minded, it's an SSSI (Site of Special Scientific Interest) and for this reason, an important Norfolk beach, especially as it forms part of the largest chalk reef in Europe.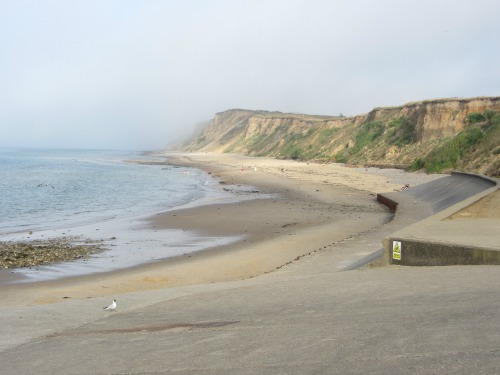 West Runton Cliffs

Fossil hunting, as with the cliffs at Hunstanton, is a big draw to this beach.  It's known as one of the best fossil collecting beaches around.  You can hunt for hours digging up little interesting fossils, and if you're with children, it can be a real excitement for them and you can pass the time of day very easily.
Rock pooling is also really popular on this beach.   It's  known as  one of the best rock pooling beaches in Norfolk.   At low tide the  pools to the left of the beach are revealed and come alive with little creatures crawling or swimming around.
It's also an excellent dog walking beach.  You can easily walk from here to East Runton, about a mile, BUT make sure the tide is out, otherwise you'll get stranded.  When the tide comes in, it cuts off the corner.  You can also walk to Sheringham, but again, beware of the tide.
And as from 2016, there are now  lifeguards on this beach so it makes it very safe for children.  It even has Blue Flag Status. 

Taken on a misty day, below is the beach looking west.  Due to cliff erosion, these 6 meter stacks have been erected to protect the cliff face, but when the tide goes out, you have lovely hard sand to walk on.  Not too beautiful to look at when the tide is in so check tide times to really come and enjoy this beach!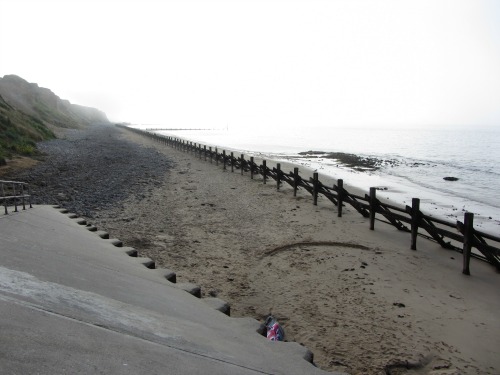 These two beaches are much smaller than the bigger swathes of open space you get at beaches such as Holkham, Wells, Old Hunstanton and Sheringham to the West and Overstrand, Mundsley and Sea Palling to the East.
East Runton Beach

Patrolled by Lifeguards, this beach is slightly more child friendly than West Runton, and much closer to the caravan parks and campsites at the top of the cliff, so more accessible if you're visiting there.   Just a short walk from the cliffs and you're onto the beach.
Both East and West Runton beaches have been awarded the prestigious Blue Flag status.
Tip
Low tide is definitely the best time to visit both these beaches if you want a bucket and spade day as you then get the hard sand, rather than the pebbly beach which is what you're left with at high tide.
From East Runton beach, you do get the spectacular view towards Cromer Pier with its Pavillion Theatre and Lifeboat house at the end of the Pier.
A very quintessentially English picture-postcard Pier.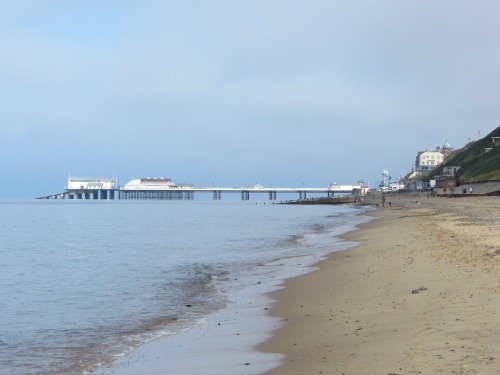 And if you walk from East Runton to Cromer, (famous for its Cromer Crabs), along the beach, which won't take very long, you come across an old pill box which has fallen from the cliff face onto the beach.  It makes for wonderful photography and also quite a fascinating spectacle.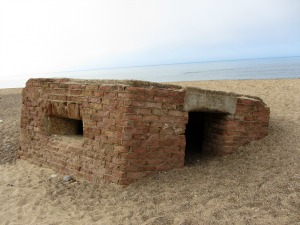 East Runton beach is also an excellent beach for walking your dogs, but as you can't take them onto Cromer beach it's probably best to walk from East Runton westwards as that will involve a longer walk!

Hotel Suggestions In And Around Cromer

The very popular Victorian seaside town of Cromer is just a stones throw away from West Runton. To make life easier for you, here is a selection of
hotels to choose from
in West Runton, Cromer and Sheringham.
---
If you're at this beach, you have the advantage of being very close the highest point in Norfolk, Beacon Hill. You can reach the dizzy height of 300ft and have a lovely view over the sea and carry on walking on the North Coast Path to Sheringham. 
If you want to scale up to another dizzy height elsewhere in Norfolk, take a trip to Green Britain in Swaffham and walk up the 300 steps to the top of the turbine.  Not quite as high, but quite a scary climb!

Explore Norfolk

›
Norfolk Beaches
› West Runton and East Runton Beach