Hemsby Beach, Vibrant and Busy

Hemsby beach on the East Norfolk coast, is a vibrant and busy beach, close to exciting amenities, cafes, arcades, shops and fun fairs.  Surrounded by holiday parks, this is maybe all you need for a fun filled family holiday!

If you're looking for a beach which has family attractions close by, then this is the one for you.  No need to bring a picnic to the beach, you can just pop up to the village, choose one of the many cafes, pubs or restaurants and then pop back again to the beach! 
And Hemsby is also just north of Great Yarmouth, another great seaside town with beach side attractions.

However, if you are camping in Norfolk at one of the many chalet or caravan parks in Hemsby, and want a slightly quieter beach, then Winterton-on-Sea is literally just up the road from Hemsby Beach, or Waxham a little bit further North.

The Attraction of Hemsby Beach
This beach has miles of wonderful soft sand, and there's plenty of room to spread yourself out. 

It's most definitely a child friendly beach, and you even have a board walk up to the entrance of the beach for pushchairs or wheelchairs, which is very handy and a lot less hard work if you've got very small children with you.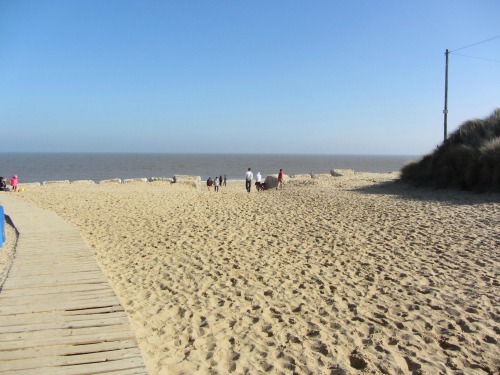 A long stretch of sand dunes back onto the main holiday village of Hemsby which act as a sort of barrier to the hustle and bustle of the busy village just above.   It feels like a completely different world, one busy and lively, the other calm and serene, which makes for the added attraction of this beach. 

One minute you can be busy in an arcade, or having a drink in a bar, the next you can be quietly sunbathing on the soft sand, waves lapping at your feet.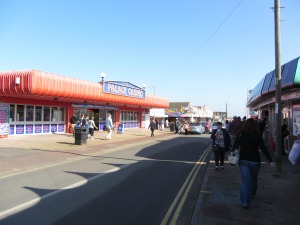 The main Hemsby village, just above the beach, is extremely touristy, but for some, that is what you are looking for.  It's definitely quieter than Great Yarmouth, but still has the attractions to keep you busy.

Map of the Norfolk Beaches

View Norfolk UK Beaches in a larger map
---
History on The Beach
There is a bit of history attached to Hemsby beach, just like many of the other Norfolk beaches. 

As you approach the beach, you'll see great big boulders which were anti-tank blocks, put there during WWII as part of their coastline defences. 

Mundesley beach also has a memorial to the Royal Engineer Bomb Disposal personnel, and beaches such as East Runton, Cley and Holme Dunes also have remnants left over from WWII.  History seems to abound on our Norfolk beaches.

---
Dog friendly accommodation in Hemsby
Very dog friendly with lots of dog walking available on the dunes and beaches
Sleeps 4 +2 (2 children aged 5-10 yrs old on portable cube beds)
Sea view
All one level

2 minute's walk to the sand dunes

3 minute's walk to the beach

15 minute's walk into Hembsy

5-10 minute's drive to Winterton and Horsey (the seals)

Close to the Norfolk Broads and Great Yarmouth
---
Sleeps 4, 2 bedrooms

Dog friendly

All one level

Sea views

In privately owned small chalet park

2 mins walk to Scratby beach

Close to Hemsby, Gt Yarmouth and Winterton Beach 

Close to Norwich and The Broads
---
Very dog friendly

Incredible sea views from conservatory and living room

Sleeps 4, 2 beds (one double, one twin)

10 min walk to beach via 3 different routes

All one level

Parking for one car

Secure and enclosed garden

On a private road



---
Dog restrictions on Hemsby

As with all the popular and busy beaches in Norfolk, dog restrictions do apply in the summer months on Hemsby.   Having said that, if you wander further away from the main beach on the left, then you can happily walk your dog for a long long way.   
But if you want beaches where there are no restrictions and your dogs can run and jump, then nearby pet friendly beaches to Hemsby are Caistor-on-Sea, Winterton, Waxham, Horsey and Happisburgh as well as Scratby.

Like many of the beaches on this east coast of Norfolk, erosion is a real problem, and the tidal surge in December 2013 caused all sorts of untold damage.  However, the Norfolk County Council are working extremely hard to get the coastline back to how it was before the storm.

This is a great family orientated sandy beach, with ample space to walk, run and swim.  Enjoy!