Explore Norfolk UK
Explore Norfolk UK Blog is all about sharing Norfolk with you, the reader. Detailed insights into the many beaches, medieval ruins, stately homes, city breaks, bird watching sites - and so it goes on.
Norfolk has so much to offer, we want to share our knowledge and love of the county with you.
By subscribing to our RSS feed, you'll be regularly updated on the best places to visit, learn more about the Norfolk culture and find the answers to any questions you may have regarding Norfolk.
- It's easy to use - RIGHT-click on the orange RSS button and then copy-and-paste the URL of this site's RSS feed into your RSS reader. Or click on the Google, My Yahoo!, My MSN, or Bloglines button if you keep a personalized home page there. Follow their instructions.
Oct 16, 2019
The Old Tractor Barn Dog Friendly Accommodation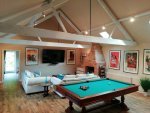 The Old Tractor Barn is a dog friendly accommodation on a rural working stud farm in Hingham, Norfolk. Sleeps 2 and is part of Manor Farm Stays
Continue reading "The Old Tractor Barn Dog Friendly Accommodation"