Norfolk Walking Holidays
The Norfolk Coast Path and The Peddars Way 

Our Norfolk walking holidays are something to remember!
Imagine taking your walking holiday along the stunning Norfolk coastal path and ending the day watching the sun setting over the salt marshes, harbour or even the sea!
Or following in the footsteps of the Romans along the historic Peddars Way trail from Mid Norfolk all the way to the coast.
Or discovering exactly what it's like to take a walking holiday in the Norfolk Broads
AND having Suzy who lives in Norfolk, regularly walks the trails and has all the local knowledge you could possibly want!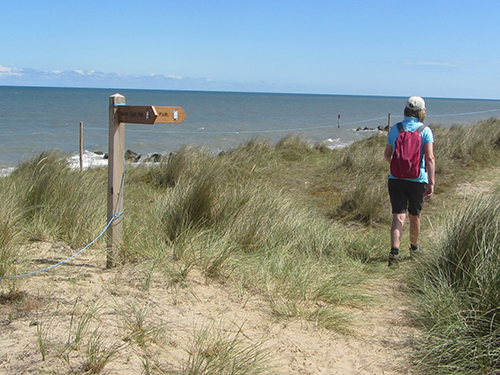 Well, we offer you a chance of doing just that with a variety of self guided walking holidays to choose from in this historic and beautiful county of Norfolk.
The main trail in Norfolk is The Peddars Way and Norfolk Coast Path which is a combined National Trail offering you a wonderfully peaceful and historic countryside walk along the Peddars Way together with the stunning and diverse coastal landscape of the Norfolk Coast Path. 
But we also offer one other long distance walk called The Weaver's Way 
Explore Norfolk UK has varying Norfolk walking options and ideas for you.
Walking has become one of the most popular past-times in the UK, and honestly, Norfolk is a fantastic place to walk as it's all pretty much easy graded.  No huge mountains here, just an occasional incline!
Explore Norfolk UK has been offering Norfolk walking holidays for a good number of years now and we have some excellent testimonials to prove our track record of offering you the following:
really good accommodation where it's possible, 
giving you excellent directions and maps 
finding the walk that suits you best over your timescale
and last but not least, having great communication from beginning to end!
How Can We Help You?
The most important thing for us is "how can we help you"? 
This video below will give you a tiny glimpse of what it's like to walk the Norfolk Coast Path, and I also explain what I can organise for you as you enjoy this unique Norfolk landscape.
Read on to find out more about how we can help you with your Norfolk walking holiday!
You may be taking your first self guided walking holiday and want a gentle introduction to easy graded walks, 
maybe you're an experienced walker but looking for a less energetic and strenuous Norfolk walking holiday and are keen to ensure it's completely hassle free and easy to organise.   
perhaps you're a solo walker who wants the added comfort of knowing that because we live in Norfolk, you can contact us at any time should there be an emergency.  
maybe you're coming from abroad and want help in planning your walking holiday around your trip to the UK.  
perhaps you're a group of friends or a local walking group who want a walking package organised for you.
We can help you find the Norfolk walking holiday that will fit with your requirements.
"The information that you sent to us and the arrangements that you made were brilliant (the best we have ever had on several walking holidays over the years in the UK"

"Having returned home from Norfolk yesterday I just wanted to thank you for your excellent organisation of the walk. Everything was absolutely faultless - the accommodation was very good, the bags were always there when we needed them and everyone was very friendly and helpful. We walked well and ate well!!  Even the weather couldn't be faulted, six days of sun, but with a breeze - the storm on Sunday arrived 20 minutes after we checked into the B & B!!
Thank you once again. We are already planning our next long distance footpath - the company we use have a lot to live up to! I shall certainly recommend you, wholeheartedly, to anyone I know wishing to attempt the walk in future."
"I chose Explore Norfolk UK because you are a small company and  had local knowledge"
"Just wanted to say a huge thank you.  I have just returned home from my Norfolk Walk, having had a brilliant time.  The accommodation was splendid - all very high quality, welcoming and comfortable!"
With our Norfolk Coast Path and Peddars Way walking holidays you can:
decide how far you'd like to walk each day, (the mileages that you'll see in the options can be altered to be shorter or longer)
which trail you'd like to walk 
where you'd like to walk from and to
discuss with us any options you'd prefer (you may not want to walk the whole of the Norfolk Coast Path for example, you may only want to walk 3 days and 10 miles each day and maybe come back the following year to finish the trail!) 
With us, you'll have the walk you  want and feel totally comfortable from beginning to end that this walk is suitable for you.
Contact Details 
For any of these walks, you can contact us via the enquiry form, or email/phone at the following email address below:
Email: suzy@explorenorfolkuk.co.uk
Tel: +44 (0) 7765 668188
What I would suggest is that you browse through the options below, see which walk you would like to choose, whether it be a Norfolk Coast Path walking holiday, or Peddars Way walking holiday, or perhaps even a walking holiday in the Norfolk Broads. You can then fill out the booking form, or contact us via the enquiry form or email me at suzy@explorenorfolkuk.co.uk.   In each instance, we can discuss the walks further with you and they can be tailor-made to fit in with your plans.
Additional Information On Walking Holidays In Norfolk
Finally you can come face to face with me, Suzy Watson.  You and I will be talking to each other as your Norfolk walking holiday becomes a reality!
Explore Norfolk UK's Walking Holiday Options


---
---
---
---
Why choose Explore Norfolk UK
There are many excellent reasons to choose to take your Norfolk walking holiday with Explore Norfolk UK, and here they are:
I actually live in Norfolk, we know the county extremely well  (as you can see from the rest of the website) and it's very personal to me.  I love these trails and I want you to have the same experience that I have every time I walk them.
I am only a phone call away should you need us in an emergency.   

Because I live in Norfolk, I know the best sights for you to visit on your rest days and in the timescale you have (which I like to encourage if you would like to see a little bit more of Norfolk). 

I have personally chosen your accommodation.   This is very important to me.  I have met with the owners of each and every accommodation I put you with.  I know they are very friendly and accommodating and I also know what the bedrooms and bathrooms are like.  I would hate to send you to somewhere I haven't visited in the "hope" that it would be sufficient.  If I find one that is not up to standard, they get crossed off the list.   In fact I go as far as to transfer you to the nearest decent accommodation if necessary.  I do not like substandard accommodation (unless you are happy to put up with basic accommodation which is perfectly alright, in which case please let me know).
I know the towns and villages you will be staying at.

I am a small business and pride myself on my friendly customer service.  Your enjoyment of your walking holiday is of paramount importance to me so I will look after you extremely well.   Your money is also always safe.
Don't take our word for it, read our testimonials!
Come and enjoy what mother nature has given to us – this beautiful county of Norfolk!

Why not let Explore Norfolk UK help you finally get a date in the diary to come and walk these wonderful trails?

---
As I live in Norfolk I've obviously only picked the Norfolk walks and trails. I constantly walk stretches of the trails throughout the year, and if there are ever any diversions during the walking season, I will make sure I give you good directions, and not just hope you'll find your way!
Both the Norfolk Coast Path and the Peddars Way are graded easy to moderate which is an ideal introduction to first time walkers, and perfect for those that fancy something a bit easier on the body.

And through our ever-growing website, you'll also be able to browse and search for other places of interest you'd like to visit alongside your Norfolk walking holidays.

You can ask for help at any time from start to finish, the booking process is easy, and you leave the rest to us, meaning you'll start your holiday in a completely relaxed frame of mind.   This will be a memorable and enjoyable Norfolk walking holiday. 
---
Norfolk is quite simply:
beautiful,
diverse,
rich in heritage,
has some of the best bird watching in the UK,
has a coastline to die for and
has rural countryside which is full of historical intrigue,

and you can experience all of this on one of Explore Norfolk UK's walks.
Just think, you'll finally have time to:

relax
reflect
have the time to talk to your partner/friend/family, and to enjoy yourself
marvel at the incredible nature

explore somewhere maybe you don't know such as Norfolk?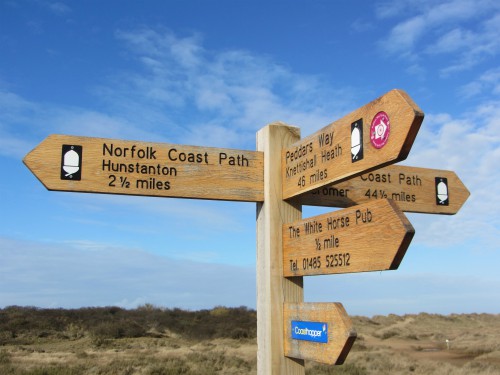 Where the Peddars Way meets the Norfolk Coast Path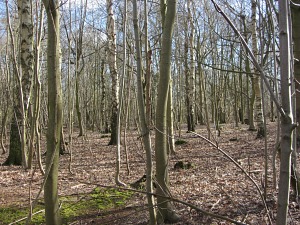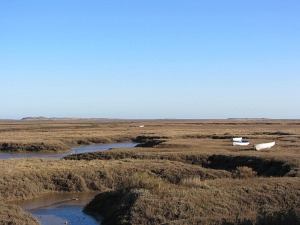 Along the Norfolk Coast Path and Peddars Way you will pass from
woodland 
to open countryside
to heathland 
and pretty flint stone villages
to sand dunes
cliff tops
National Nature Reserves 
to Victorian towns to splendid
glorious and grand stately homes and grounds!  
What more could you want!?
Along the Weaver's Way you'll be walking:
through two grand stately home estates
discovering an old disused railway with it's platforms still standing 
discovering what the Broads is all about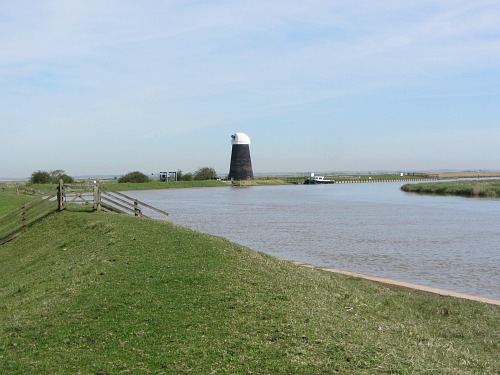 Actually, one thing you won't get here are large hills!  So all of the Norfolk walking holidays with Explore Norfolk UK are easy to moderate going which is excellent if you're new to walking, or if you want a less energetic walking holiday.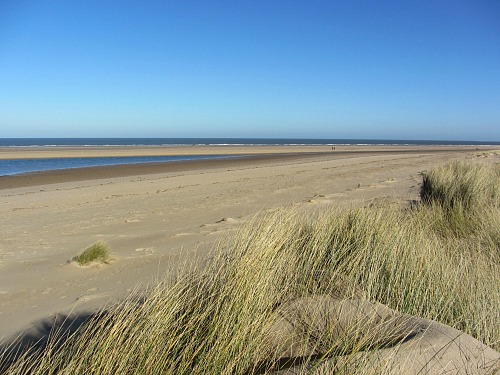 Why not read my blog on my Norfolk Coast Path walk which I did in 6 days (before it was extended - then I had to walk the rest!), or the blog on my 4 day Peddars Way walk.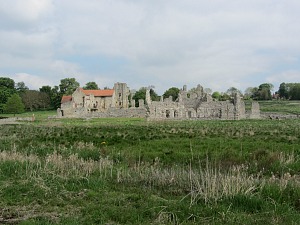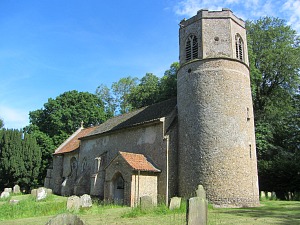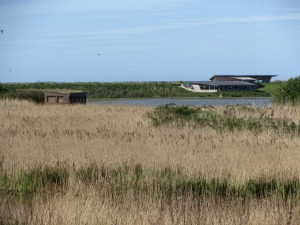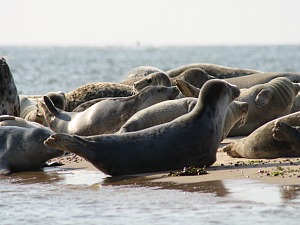 Rest Days

If you would like to take a rest day on your Norfolk walking holidays then we can fit that into your itinerary.  

There are wonderful castle ruins to see, stately homes that will blow you away, other circular walks in the surrounding areas and of course the amazing nature reserves.  All of these are well worth taking a day off for, and I will be very happy to explain more, or suggest ideas. Or you can browse this Explore Norfolk UK site for more information on what you would like to see. It always seems a shame to me that you might just walk these long distance trails but not see the surrounding areas.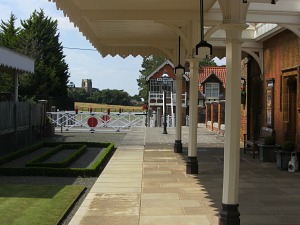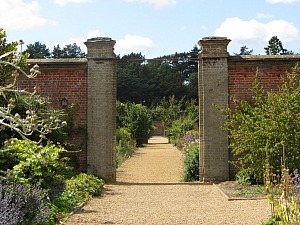 ---
Norfolk Walking Holidays Summary

The Peddars Way Long Distance Trail

The Peddars Way is one of our Norfolk Walking Holidays and is a 46 mile trail that starts just outside Thetford at Knettishall Heath and finishes in Holme-next-the-Sea.  For much more in depth detail on this Norfolk walking holiday trail, what you can expect to see and a how you can fit your walk into your plans, please visit The Peddars Way page.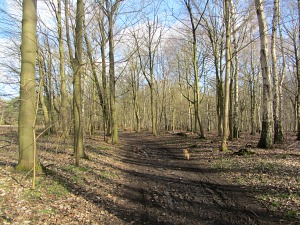 Start at Knettishall Heath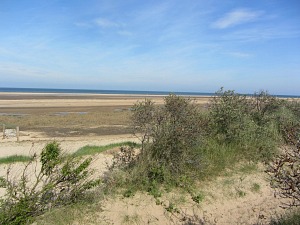 End at Holme-next-the-Sea
---
The Norfolk Coast Path Long Distance Trail

The same goes for the Norfolk Coast Path.  This trail is now 83 miles long. It starts at Hunstanton and ends in Hopton-on-Sea.   This path was extended in December 2014, and then in 2016 so now covers the whole of the fantastic Norfolk Coast.    If you want to know more about this trail, please visit the Norfolk Coast Path page.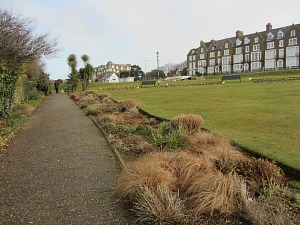 Start in Hunstanton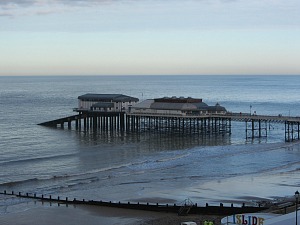 End in Cromer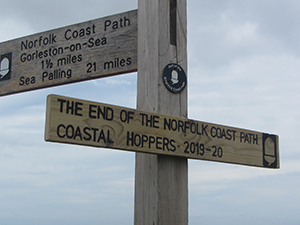 End of the path at Hopton-on-Sea
---
Walking both trails in one go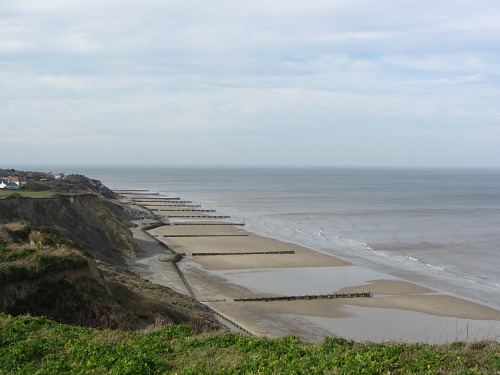 The Peddars Way and Norfolk Coast Path combined makes for a little over a good week's walk and is 128 miles long depending on how far you want to walk each day!

Walking both of these paths will give you such a wonderful sense of achievement. 

Once you reach the end of your holiday, you'll reflect and look back on where you started, and where you've finished, and wonder how one county can have so many varying landscapes.  I guarantee you'll love it! 
For any questions about Norfolk walking holidays, don't hesitate to contact me on the details below.
Contact Details 
For any of these walks, you can contact us via the enquiry form, or email/phone at the following email address below:
Email: suzy@explorenorfolkuk.co.uk
Tel: +44 (0) 7765 668188
Further Information

---