Dog Friendly Norfolk

You'll be delighted to know that this is dog friendly Norfolk!!
Norfolk is without doubt one of the most dog friendly places to visit in the UK.  If you're the proud owner of a dog or two and looking for the perfect holiday destination, then look no further!
Located on the beautiful east coast of England, Norfolk loves dogs and offers an abundance of opportunities for you and your pet to really discover, explore and enjoy Norfolk.
From stunning beaches and forests and parks to lots of dog-friendly pubs and hotels. Norfolk has it all.

We'll explore why Norfolk is a great destination for dog owners, show you some of the best dog-friendly accommodation options and point you in the direction of the top attractions and activities for dogs, and much more.
There need be no more waving goodbye to those sad looking eyes when you set off for your holidays. 
And if you're worried about finding dog friendly accommodation or places to eat with your pet, then rest assured there are plenty to discover.

Norfolk welcomes you and your pet with open arms!
Take a look here at some ideas for dog friendly days out in Norfolk.
Why Norfolk is a great destination for dog owners
Norfolk has become a haven for dog owners, and it's not hard to see why.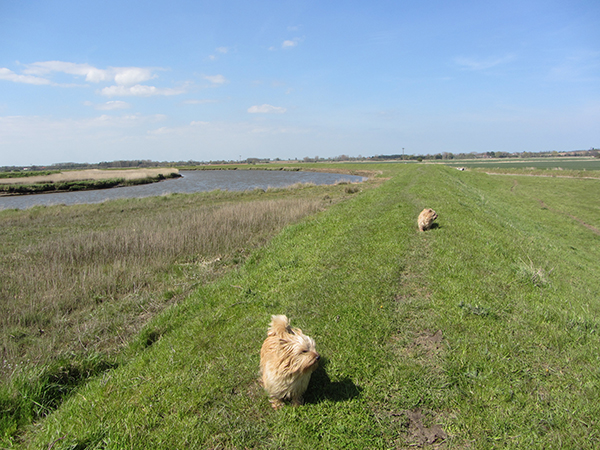 Norfolk is home to some of the most breathtaking landscapes in the UK, including the famous Norfolk Broads, a network of rivers, lakes, and marshes that stretch over 300 square kilometers. What with the Broads and 84 miles of beautiful coastline, Norfolk offers an abundance of places you can take your dogs, where they can run, swim, and play to their heart's content.

Have you even noticed how much your dog loves running on a beach – they just feel free!
Whether you prefer gentle strolls along a footpath or open expanse of beach, or a bit more of an energetic walk, possibly along the Norfolk Coast Path, Norfolk has something for every type of dog owner.
Dog Friendly Accommodation Options
When it comes to finding dog-friendly accommodation in Norfolk, you'll be spoiled for choice. From coastal cottages to luxury hotels and pubs, there's a wide range of options to suit every budget and preference.
Many holiday cottages in Norfolk welcome dogs, providing a comfortable base for you and your furry companion. Some even offer additional amenities such as enclosed gardens and doggy welcome packs (take a look at Pack Holidays who offer extremely dog friendly accommodation). 
If you prefer the convenience of a hotel, there are plenty of pet-friendly options available, some of which you can see here.  They range from:
Bringing your dog on holiday is becoming ever more popular, and being a rural county, Norfolk accepts them openly.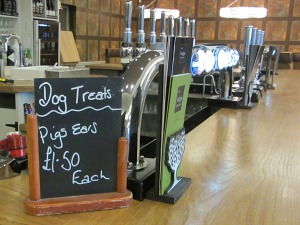 There are often a few restrictions in the accommodations such as allowing dogs into the bar areas but not the restaurants, but that's understandable.
The only hard work you need to do is to consider the type of accommodation you want to stay in for you and your pet!
Norfolk's beaches, parks and trails
One of the highlights of a dog-friendly holiday in Norfolk is the opportunity to get out and explore the county's landscape. Norfolk is blessed with plenty of beaches and trails that are perfect for outdoor adventures with your four-legged friend.
The Norfolk Coast Path, for example, stretches for 84 miles, offering breathtaking views of the coastline and ample opportunities for long walks and invigorating hikes.  In fact, if you wanted to walk this trail with your dog, just take a look here, and we can fix that for you.   We have many walkers who want a walking holiday along the coastal path with their dog – you're not alone!
Many of the dog friendly Norfolk beaches are a must-visit destination, some boasting miles of golden sand such as Old Hunstanton and Holkham and Wells-next-the-Sea.  With approximately 28 accessible beaches, you shouldn't be stuck for ideas!
For a more tranquil experience, head to Thetford Forest, the UK's largest lowland forest, where you and your dog can wander through ancient woodlands and enjoy the serenity of nature.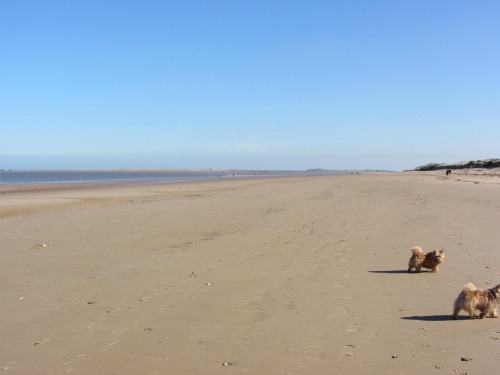 This dog friendly Norfolk beaches guide will tell you exactly which restrictions each beach has.  And for more detail on each individual Norfolk beach, visit my comprehensive beach guide on all of Norfolk's beaches.

Many of the beaches in Norfolk do have restrictions in the summer months, but there are areas away from the restrictions where you are able to take you dog.  On the busier beaches in the summer such as Cromer and Sheringham, it certainly makes sense to avoid these beaches with dogs.
There are plenty of alternative completely dog friendly beaches where you don't have to worry at all.
Looking for a coastal dog walk?
If you're looking for a different walk around the coast, then Explore Norfolk UK has a publication called "Dog Walks Around the Norfolk Coast".  You can read more about the book here. 
This book has 16 coastal dog walks covering the whole of the Norfolk coast.  They are based on walks where you can let you dog roam under control, with very little time needed on roads and lanes.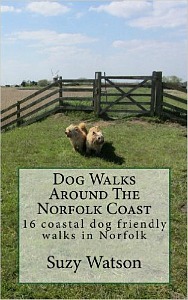 Norfolk is also very lucky to have lots of trails to follow and Country Parks to walk in. 

The Peddars Way, The Norfolk Coast Path, The Nar Valley, Boudica Way are just a few of the Norfolk trails that you can follow, to name just a few.
And you can also read about many coastal and inland walks that are good for dogs as well as humans!
Discover amazing deals on travel-trusted things to do everywhere you go. Book now on Tripadvisor and make the most of your trip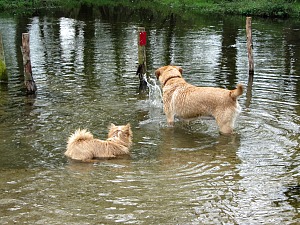 Dog Walks In The Grounds Of Norfolk Stately Homes And Parklands
As you may know, Norfolk has some amazing stately homes.   All of these have wonderful parkland where you can walk your dog (restrictions need to be adhered to due to cattle or deer in some of these parks).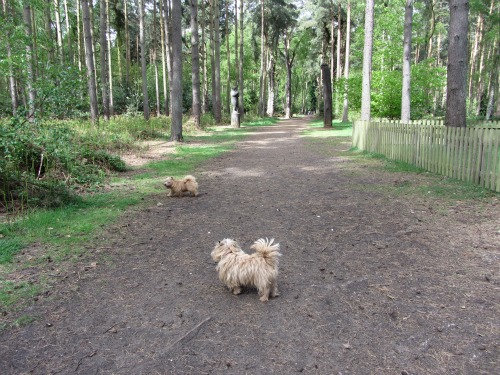 Why not take a beautiful walk around the parkland of Blickling Hall, or Felbrigg Hall, it's different for the dogs and different for you too.  You also get to see some amazing houses at the same time. Sandringham House has gorgeous woodland you can walk in, and Houghton Hall and Holkham Hall have the deer parks.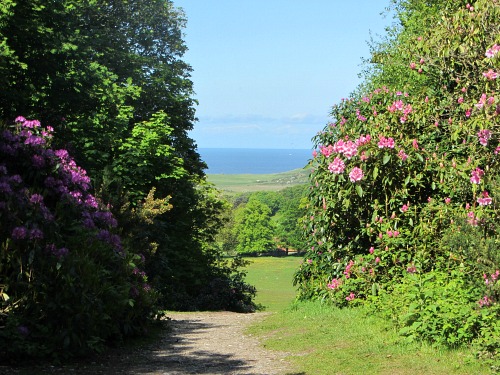 Sheringham Park and Holt Country Park are beautiful Parklands to walk around in North Norfolk with your well behaved dog.
Dog Friendly Norfolk Events
If you're looking to add some excitement to your dog-friendly holiday in Norfolk, be sure to check out the various events and festivals tailored specifically for dogs and their owners.
The Norfolk Showground hold an event, usually over the August bank holiday, titled "All About Dogs, Norfolk".  You can check out other events here on the Events page.
Some of the Norfolk villages put on dog shows during the summer months which always provide great family entertainment.    Crufts they may not be, but still fun!

Hunstanton is a good example of this – The Hunstanton Fun Dog Show, usually in May of each year.  Take a look at The Barking Bugle's "what's on" page which is full of doggie shows!
Additionally, many local farmers' markets and fairs are dog-friendly, such as Creake Abbey Farmers Market, so you can browse the stalls and sample delicious treats while your dog enjoys the lively atmosphere.
Unleash the fun on your dog-friendly holiday in Norfolk!

With its stunning natural landscapes, dog-friendly accommodation options, and a wide range of activities and attractions, Norfolk has something to offer every dog owner.
So, pack your bags, grab your dog's leash, and get ready to unleash the fun on your dog-friendly holiday in Norfolk!
Wondering What To Do In Norfolk?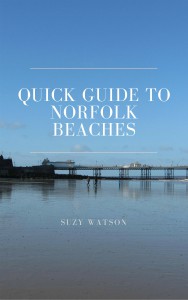 Get your free copy of the "Quick Guide To Norfolk Beaches".
JOIN OUR NEWSLETTER and keep up to date with 3 or 4 different tips every month for enjoying what Norfolk has to offer.
Each month will bring something new! 

Just let me know where to send your "Quick Guide To Norfolk Beaches"download by entering our email below, or visit the Newsletter page for more information.
---