Norfolk Maps
Norfolk Maps, particularly these OS maps, are the best way to explore the amazing landscape of Norfolk.
Norfolk is a large county, and with that in mind, there are eight OS maps for you to pick from. 
Here's your ultimate guide to your Norfolk adventure!
It doesn't matter whether you're an avid hiker, nature lover, or simply looking for a leisurely stroll, these OS maps are an excellent tool for navigating the breathtaking beauty of this incredible county.  There is so much to see in Norfolk, it would be a shame to miss anything.
Designed with meticulous detail, these Ordnance Surveys Norfolk OS maps are full of:
footpaths
trails
hidden gems just waiting to be discovered
woodland paths
National and Norfolk Trails
expansive coastal routes
pubs
parking
view points
National Trust sites
gardens
golf courses
picnic sites
museums to name but a few
It's time to embark on unknown outings and uncover the hidden secrets of Norfolk's diverse landscapes.
With a Norfolk OS map in hand, you'll have all the information you need to explore the stunning coastal beaches that stretch as far as the eye can see, you can discover the most secluded spots, find nature reserves, walk to the highest point in Norfolk (not really very high!!), get a better idea of all the Norfolk Broads and find out other less well known trails.
So, grab your walking boots, put on your adventurer's hat, pack some snacks, and get ready for unforgettable journeys through Norfolk's captivating landscapes.
Don't let anything hold you back from exploring every corner of Norfolk! Get your hands on one or two of the eight OS Norfolk maps available today and unlock the explorer within you.
---
NORFOLK COAST WEST
OS Map 250
This detailed map is your guide to discovering part of the Peddars Way from the pretty village of Great Massingham right up to the coast at Holme, as well as pointing you in the direction of the Norfolk Coast Path going from Hunstanton to Burnham Deepdale.  You  can discover Ringstead Downs, the royal estate of Sandringham, the National Cycle Network from King's Lynn up to Sandringham and beyond.  Explore one of the only working windmills at Great Bircham and take a circular walk at the same time!  Castle Rising Castle also features on this OS 250 Map.

Order your OS 250 Norfolk Map here
---
NORFOLK COAST CENTRAL
OS Map 251
OS map 251 takes in some of the most stunning coast in the North Norfolk.  It will show you the Norfolk Coast Path from Burnham Overy  to Salthouse, passing through Wells-next-the-Sea.  It will also show you where Binham Priory is, the pretty Georgian town of Holt, the pilgrimage village of Little Walsingham, as well as Thursford and the town of Fakenham.  Lots to very different places to explore here including Kelling Heath and Holt Country Park.

Order your OS 251 Norfolk Map here
---
NORFOLK COAST EAST
OS Map 252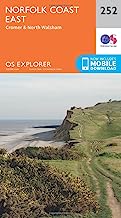 Continuing along the coast, the 252 OS Norfolk map covers Weybourne, Sheringham and Cromer and onto Happisburgh where you can see the iconic red and white lighthouse, and seaside towns such as Mundesley and Overstrand.

You'll also see trails for the Weavers Way and the Paston Way.  Take a stroll along the Dilham Canal, or visit the two Georgian towns of Aylsham and North Walsham.  More National Trust properties to visit here such as Felbrigg Hall and Blickling Hall, with marked footpaths for various lengths of walks.  This particular map covers the highest point in Norfolk at the Roman Camp, just south of Sheringham.  It also marks the National Trust site of Sheringham Park.
Order your OS 252 Norfolk Map here
---
THE BROADS
OS Map OL40
This map is huge!  It covers the whole of the Norfolk Broads which is amazing.  Exploring this area is unique.  You might like to see the walks you can do around Horsey to visit the seals in winter time, or walk along stretches of the Weavers Way which follows the River Bure and has stunning Broads scenery. It shows you nature reserves such as Halvergate Marshes, and the isolated train station of Berney Arms just before Great Yarmouth.  This is a must have map if you're visiting the Broads and the Great Yarmouth area.  It will give you so many ideas of where to go and sightsee.

This map also just skirts the south of Norwich and then along the River Yare showing you the way along the Wherryman's Way trail into villages such as Loddon and Chedgrave which are lovely places to discover.  Other trails that it shows are the Angles Way and Boudicca's Way
Order your OS OL40 Norfolk Map here
---
NORWICH
OS Map 237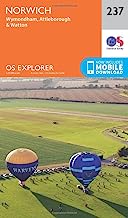 This Norfolk map covers the city of Norwich and the areas to the south and south west of Norwich.  These are all fairly small towns and villages including places like Hingham, Wymondham, Attleborough and Watton.    It has a bit of the Peddars Way around Thompson where you can walk the Pingo Trail, a fascinating and historic walk with ice age Pingo ponds.  You can even follow in the footsteps of Boudicca and walk Boudicca's Way!  It also covers some of the Marriots Way and the Wherryman's Way.
Order your OS 237 Norfolk Map here
---
THETFORD FOREST IN THE BRECKS
OS Map 229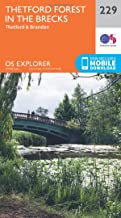 OS Map 229 very much covers The Brecks area in and around Thetford and Brandon.  This map is perfect if you're visiting Thetford Forest, as the forest area is huge, and this map covers it brilliantly. It's full of green forest!  It also has some of the Peddars Way going from the start at Knettishall Heath up to Merton which is just below Watton.  As well as the Peddars Way, it also follows bits of the Angles Way and Icknield Way walking trails.

Order your OS 229 Norfolk Map here
---
DEREHAM AND AYLSHAM
OS Map 238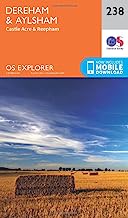 This is a mid Norfolk map which covers towns such as the Georgian towns and villages of Aylsham and Reepham.  Dereham, very much a mid Norfolk town and the well known village of Castle Acre.  It shows the Marriots Way and the Nar Valley Way, the Weaver's Way and the Wensum Way, as well as a tiny bit of the Peddars Way.
Order your OS 238 Norfolk Map here
---
KING'S LYNN, DOWNHAM MARKET AND SWAFFHAM
OS Map 236
Finally, there is this West Norfolk map covering three big towns, Downham Market, Swaffham, which is another Georgian town, and King's Lynn which has a fantastic historic quarter to explore.
Along with that you can discover a good chunk of the Peddars Way, particularly around Castle Acre which has some lovely walks, an incredible Priory ruin to visit and wonderful castle ruins. You can follow the Nar Valley Way out of King's Lynn all the way to Castle Acre, or follow the marked walks along the River Great Ouse.  
Shouldham Warren is another great place for walking, all marked with footpaths on this map along with Bawsey Pits and Roydon Common.  It also features the Tudor stately home of Oxburgh Hall.
Order your OS 236 Norfolk Map here
---
Time to get out and explore this massive country with the help of one or two of these amazing maps.