The Rebellion Way Cycling Holiday
Let's face it, we all need an escape from time to time.  The Rebellion Way is exactly that.
This is a new, exciting and captivating 230 mile cycling holiday circumnavigating most of Norfolk and offers an unforgettable and historical experience along this beautiful and diverse landscape.
Explore Norfolk UK can organise  this holiday for you, staying in lovely pubs or hotels and even B&B's where available, and having your luggage transported so you can take your time to enjoy the many wonderful sights along the way.   
And you'll also get a detailed daily route guide of places to stop, places to eat and historical facts and information along the route.
Castle Acre
There are just so many riveting places en route, you won't have a dull moment! And what's not to like about cycling around almost the whole of Norfolk!
On The Rebellion Way you'll discover a hidden gem of the East Coast, packed with:
grand houses
Georgian towns
coastal promenades
church ruins
round tower churches
flint mines and
forest trails to name but a few.
Rebellion Way Map
There's something about the combination of a cycling holiday with Explore Norfolk UK and following in the steps of historical figures that hopefully will appeal to your spirit!

"Many thanks for your help in organising our cycling adventure around Norfolk.  We enjoyed it very much.  Some beautiful countryside along the way and a great mixture of cycling.  It also helped knowing that at the end of the day we had a dry/warm room for the night"
Rebellion Way Cycling Holiday Options
This trip can be taken all year round, but early Spring to late Autumn would definitely be better. 
When you click the "View" buttons or the "book" buttons below, you will be taken to the "We Travel" website which has all the details of these holidays.  This is a platform I use for the booking and payment process, but everything else, and any contact you have, or any questions you have, is with me, Suzy!
5 day cycle ride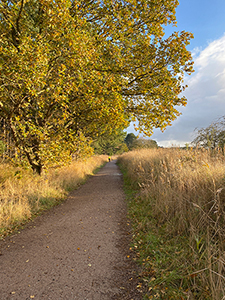 6 day cycle ride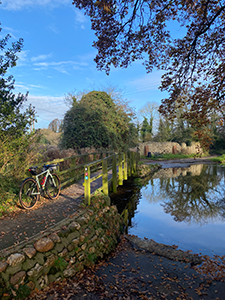 ---
7 day cycle ride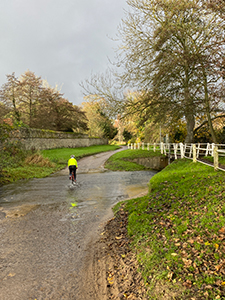 Contact Details 
If you have any questions and feel you would like to ring or email me, you can contact me via email/phone at the following:
Email: suzy@explorenorfolkuk.co.uk
Tel: +44 (0) 7765 668188
---
The Rebels Of The Rebellion Way!
The Rebellion Way takes its name from 2 Norfolk rebellions;  Boudica's Rebellion in AD60-61 and Kett's Rebellion in 1549.
Travel is one of the few things in life that not only broadens the mind, but also feeds the soul. Why not escape from real life for a few days and have some time to yourself. 
I truly believe this is one of the best ways to see so much of Norfolk in one go.

On this cycling holiday you will:
explore Norfolk's beautiful, extremely historic and very diverse countryside by bike
eat and drink delicious local food and beverages 
stay in hotels and pubs that are prepared for cyclists with safe lock ups or places to keep your bikes overnight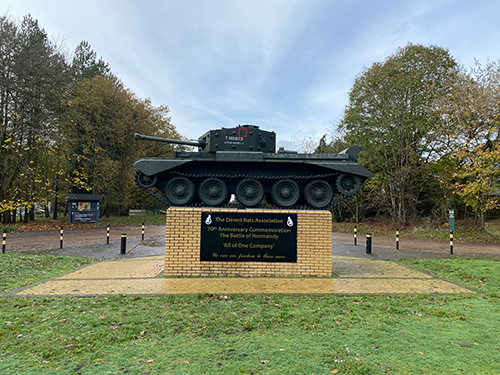 Discover how the Desert Rats helped out on D-Day
Who is this trip for?
The Rebellion Way is one of "Cycling UK's" bikepacking routes.  However, this Explore Norfolk UK cycling package is not designed to be a bikepacking holiday (and if you want to see some testimonials from cyclists who really enjoyed their ride booked through us, then click over to the Testimonials page here).
We have aimed this holiday at those who:
wish to have comfortable beds at the end of the day and pubs to eat in!
want to appreciate the scenery and landscape and points of interest along the way
not have to think about where you might be able to grab some lunch because you have all the details to hand via the daily route guide made just for you
It's devised to be done in luxury! Slow, culture, and food.
It's a cycling holiday for anyone who wants to experience the thrill of cycling and leave everyday life behind for a while, and is a holiday to be taken with your own personal bikes (although I can organise gravel bikes for hire if you contact me for more information).
You can find all the necessary details here.
If you're looking for a cycling holiday with the majority of the ride on gravel off-roading, this probably isn't the holiday for you.
Whilst there is some gravel riding, the majority of this cycle ride is on quiet back lanes.
You don't need to be an expert rider or have years of training under your belt to go on this trip, just a willingness to push yourself, keep going and have fun in the process.
Our Rebellion Way cycle trip begins in Norwich before hitting the road for five, six or seven days of cycling adventure, culture and history.  (It doesn't have to start in Norwich, it can also start in King's Lynn where there is a train station, or even Diss or Thetford).
From a couple who booked the 7 day cycle tour along the Rebellion Way
"The Rebellion Way was a wonderful experience and we had a great time which in no small part was due to the schedule you drew up which was perfect for mixing riding with visiting sites of interest along the route (we made full use of our National Trust memberships!). We would certainly recommend the seven days itinerary to anyone who wants to choose a more leisurely pace and enjoy more exploration along the route and the individual days' distances were ideally broken down. It was certainly a cycling holiday and not a cycling challenge.

Your itinerary was excellent, left nothing unexplained and was clarity personified. We are so glad we discovered Explore Norfolk at the outset of our planning and didn't attempt to take on sorting out accommodation etc ourselves. The accommodation, by the way, was excellent and provided some of the highlights, especially.... 
You can read the rest of this testimonial and others over here.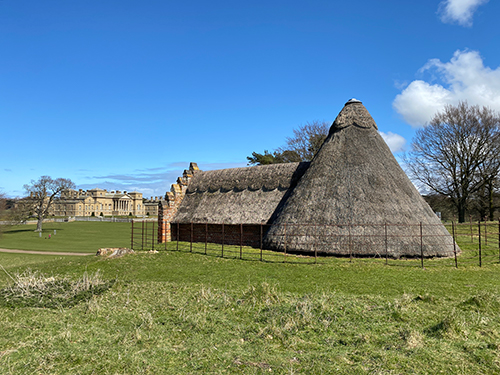 Cycling through the grounds of Holkham Hall
This Rebellion Way cycling holiday is designed for adults of all fitness levels. While it can be a little challenging in places (don't forget that Norfolk is predominantly flat-ish!), you don't have to be an athlete to enjoy this holiday, but you do need to be prepared to work hard and have fun along the way. This trip is open to all cyclists regardless of your skill level or cycling experience, as the majority of the ride is on quiet back lanes.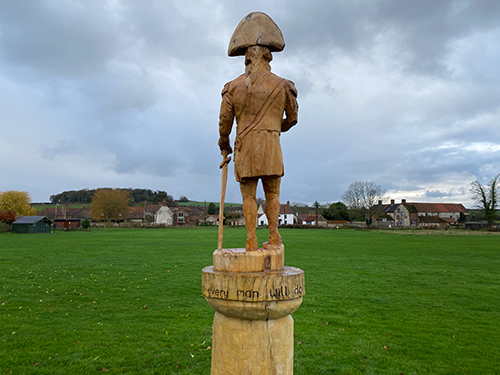 Admiral Nelson overlooking Burnham Thorpe
We welcome solo travellers, couples, and small groups of friends looking for something a bit different. If you haven't been on a bike for years, you may want to upgrade it (!) but we can also alter the mileage along the way.
Find out what's available with Explore Norfolk UK's cycling package here.
What to expect along The Rebellion Way
The itinerary for The Rebellion Way cycle ride includes five, six or seven days of cycling adventures through the beautiful and varied landscapes of Norfolk. You'll travel between Norwich, Diss and Thetford, then on to King's Lynn, Hunstanton and Wells-next-the-Sea before heading back to Norwich via Aylsham.
Stay in the bustling fishing port of Wells-next-the-Sea
Along the way, you'll cycle through and past so many interesting and fascinating places (a detailed itinerary will let you know exactly what to expect on each day):

the towns of Diss, Thetford, King's Lynn, Burnham Market, Wells, Sheringham and Holt, Hoveton & Wroxham, Aylsham
the villages of Oxborough, Swaffham, Castle Acre and Walsingham
the grounds of four stately homes
castle and church ruins
round tower churches
cafes and pubs
woodlands and gravel tracks
quiet lanes
seaside towns
Expect to cycle anything from around 43-90km/27-56 miles each day, depending on the option you choose, and you'll get to see the kind of countryside you'd normally only see from the window of a train or car.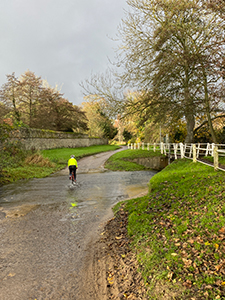 You'll also get to eat some delicious local food and learn about some fascinating Norfolk history along the way, from stopping off to see the capital city of Norfolk in the time of Boudicca in 60AD to the Cromwell Tanks in WWII.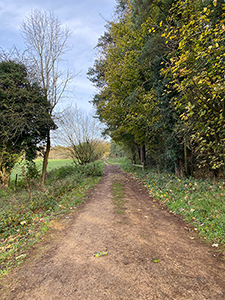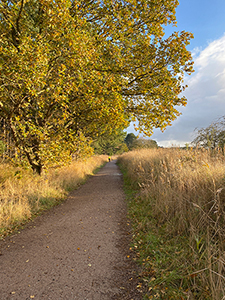 Gravel riding
Luggage Transfer
One other thing that you can expect along the trail is luggage transfer. Your luggage gets transported from one place to another so you won't have to worry loading your bikes down with gear.
And you'll be staying in hotels and pubs who are prepared for cyclists
Tips for a Safe and Enjoyable Ride
We want you to have the best time on this trip, and that means minimizing the risk of injury wherever possible.
Here are a few tips to make sure you come away from this trip with only amazing memories and hopefully no injuries to your body!

Make sure your bike is in good working order before you set off
Wear the right gear for cycling - a helmet is a must and some form of high viz is always good
Don't forget to stretch before and after your ride
Drink plenty of water during the day
Eat regular energy-fueling snacks to help you keep going
Keep your eyes on the road and off your phone
Stay safe when cycling in a group, and take regular rests.
The Rebellion Way Cycle Ride Awaits!
This is a cycling holiday with a difference, taking you on an historical adventure through the most beautiful and oft forgotten county of Norfolk.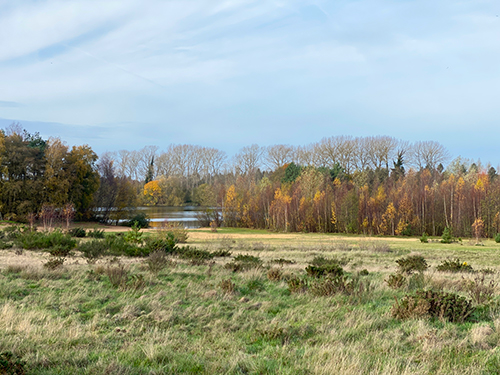 View of Lynford Water on the Rebellion Way
It's the perfect trip for you if you're looking for something a bit different, want to challenge yourselves physically while having fun, and want to discover a new part of the country.
So, what are you waiting for? Book your place on The Rebellion Way cycling adventure and prepare to be challenged, inspired and ready for adventure!