Norfolk Books
This Norfolk books page will be a growing page of books related to Norfolk only.
The books authored by myself (Suzy Watson) can be bought at Holt bookshop or you can purchase them through Amazon.
---
This Norfolk Beaches Handbook is the most comprehensive book that you'll find on all the accessible Norfolk beaches.
Each beach is described in detail; is is dog friendly, is it sandy or is it a pebbled beach, is it good for walking, building sandcastles or rock pooling.  
It also has a postcode and details of the parking arrangements, whether it's free to park or has a parking attendant or machine and whether it's good for disability access.
It gets updated regularly.
You can read much more detail about the Norfolk Beaches Handbook here.
---
This Norfolk Heritage Walks book  has 18 circular walks and each walk has a particular point of interest.
Norfolk is steeped in history, and this walking book gives you a chance to discover a little bit of this rich heritage and to learn something new whilst out walking.
Historical castle ruins, church and priory ruins, windpumps, windmills and lighthouses, as well as grand stately homes all feature in this easy to follow Norfolk Heritage walking book.
---
This book is all about your dog!  Many walking books rely on pavement and road walking which I realised wasn't the best course of action for walking with a dog, so I set out to find some walks where a dog lead was not the most important thing.
Dog Walks Around The Norfolk Coast has 16 circular walks where you hardly need a lead at all (having said that, you do need to control your dogs!). 
They cover the whole of the Norfolk Coast stretching from Snettisham on the west coast to Caister-on-Sea on the east coast, and are suitable for any size dog.
---
THE ULTIMATE GUIDE TO SEALS IN NORFOLK
For your detailed guide of where, when and how to see the seals in Norfolk, why not buy this downloadable pdf  which has all the information you need in one place.  

It's your Ultimate Guide to Seals In  Norfolk.  It has  everything you need to know about seeing the seals in Norfolk, whether it be at Blakeney Point in the summer months or Horsey Beach and Blakeney Point in the winter months, how to get there, info on the boat companies, best time to see them etc. All the information you need in one place.
Price: £2.99 - downloadable pdf
Read more about this extremely useful guide here.
Or:
---
Who doesn't love an OS Map?!  Opening up that folded cover to reveal an exciting area to pore over and work out where you next adventure is going to be!  

Norfolk is a huge county and because of that, there are 8 OS maps that cover the whole of Norfolk! Discover the beauty and hidden gems that lie in wait for you. 
---
Norfolk Coast Path and Peddars Way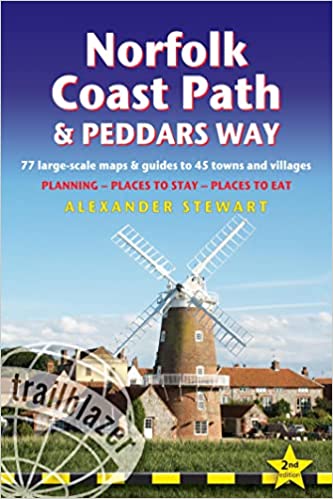 This is my favourite guidebook for walking the Norfolk Coast Path and Peddars Way. 
You can't possibly get lost if you have this book!  The hand drawn maps of the paths are excellent and also show you exactly where the pubs are, the bus stops, some of the accommodation, walking times and gps markers and anything else that is important as you walk this National Trail.
It has photos of the wildlife that you'll come across and background information on various historic  and geographical points along the trail. 
You can read more about the path in this
Peddars Way and Norfolk Coast Path book here.
---
Peddars Way and Norfolk Coast Path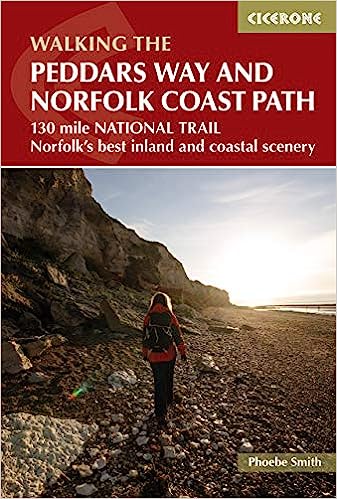 Another very popular guidebook on the Peddars Way and Norfolk Coast Path is this Cicerone book written by Phoebe Smith. 
It has small photo extracts taken from the Ordnance Survey maps of the route on a scale of 1:50,000 , relevant information about the trail and a bit of Norfolk history. 
It's the perfect size to carry in your hand or put in your rucksack.
You can take a look at this
Cicerone Peddars Way and Norfolk Coast Path book here
---
Wildlife
---