Ultimate Guide To Seals In Norfolk
The Ultimate Guide to Seals in Norfolk
The Ultimate Guide To Seals In Norfolk is an easy-to-read dowloadable guide giving you everything you need to know about visiting these wonderful mammals in Norfolk.

People are fascinated by seals, and rightly so. These cute, cuddly mammals spend their time lounging on beaches, playing in water and generally looking adorable!
So it's no wonder that watching the seals and their pups has become an extremely popular activity for so many people in Norfolk.
But how do you get to see them?
Get all the information you need to know about seeing the seals and their pups in Norfolk

To get you started with your own seal-watching ventures, you can purchase this downloadable e-booklet right now.
You'll then have everything you need to know about these fascinating creatures at your fingertips; information such as how, where and when to see them.
Order your copy now and get it downloaded to your device straight away for just £2.99.

What will you find in the Ultimate Guide to Seals in Norfolk?
You might have heard that watching the seals in Norfolk is an amazing adventure and one of those "must see" things to put on your "to do" list, but maybe you're unsure of where to go to find them and when. This Ultimate Guide to seals in Norfolk will tell you all you need to know such as:
where to visit the seals in the summer and the winter months
when to see them
how to get there, whether it be by car and foot
where to park
the boat trips with local ferry companies
some interesting seal facts
some nature reserve facts regarding the seals
a little bit about The Friends Of Horsey Seals
who to contact if you see an ill or dead seal (which does happen)
and much more ……
What Are Seals?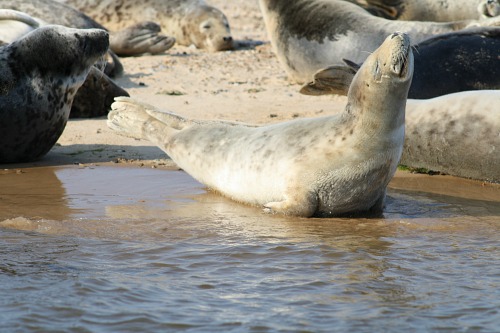 Seals are marine mammals that belong to the family Phocidae.
There are 33 species of seal in the world, but in Norfolk we have just two of those: the grey seal and the common seal.  Which ones are at Blakeney and which ones are at Horsey?  Well, you can find out more about each seal in the Ultimate Guide.
Where Can You Find Seals in Norfolk?

As mentioned above, there are two species of seal that live in Norfolk: the grey seal and the common seal and they come to give birth at both Blakeney Point National Nature Reserve on the North Norfolk Coast and on Horsey and Winterton Beach on the eastern side of the Norfolk coastline.
You'll find out exactly how to get to each of these locations, how to park, what to do once you get there, the boat trips that you can take (at Blakeney) and much more in the Ultimate Guide to Seals in Norfolk which is a downloadable e-booklet. 
You can order it here and get it downloaded straight away to your current device.

Why Do Seals Come Together?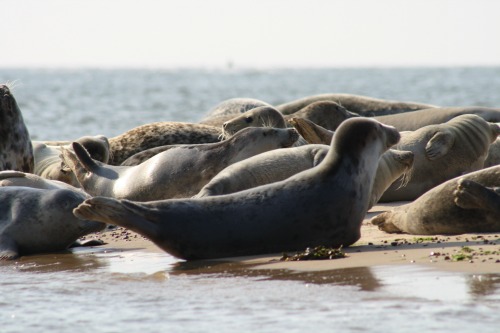 Seals have a very sociable and communal way of life. They like to come together in groups – known as 'haul-outs' – to rest and sunbathe which you'll definitely see at Blakeney in the summer months – they love sun bathing and you can get some really wonderful photos!

When Should You Go Seal Watching?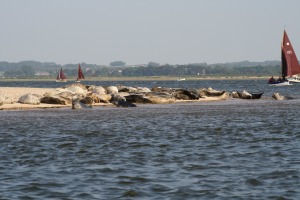 There are several seal hotspots in Norfolk where you can be almost guaranteed to see a seal at some point.
You can go seal watching at any time of the year, but for the best times and the best places, why not purchase the Ultimate Guide To Seals In Norfolk and have all the information at your fingertips.
Protect the Seals in Norfolk
In order to protect the seals from disturbance, there are certain requirements, especially at Horsey, that you need to abide by when seal watching.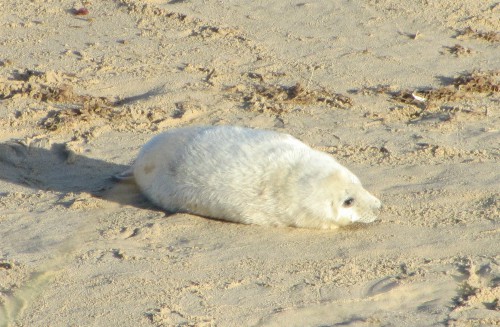 This is because it's important to remember that if mother seals get disturbed, they won't return to their pups and then leave the poor pup an orphan. It also means that the pups then have to be looked after by the rescue centres – and this is usually because dogs have been allowed to run wild or humans think it's amusing to go up close and take photos.
So please keep your distance from the seals. Seals are very sensitive to loud noises such as dogs barking and humans shouting. This can cause the seals to panic and go into 'flight' mode, where they try to escape the source of the noise.
Seals are protected under the Wildlife and Countryside Act 1981, which states that it is illegal to disturb, injure or kill them.

on the Boat trip to see the seals
There are a few boat companies who operate out of Morston Quay on the North Norfolk Coast throughout the whole year and they will take you out to Blakeney Point to see the seals.
Take binoculars as they are an excellent way to get a close-up view of the seals without disturbing them.
Tips for successful seal watching in Norfolk
Seals are a very beautiful and interesting part of the Norfolk coastal wildlife, and are well worth a watch. They are spotted every year in particular locations around the Norfolk coast.
If you want to know how, why or when to see the seals and for tips on successful seal watching, why not order your Ultimate Guide to Seals in Norfolk here now and get it downloaded to your device straight away.

£2.99