Langham Glass, Explore The Magic Of Glass Blowing
Langham Glass is the renowned glass making company on the edge of Fakenham which is a fascinating and totally absorbing attraction to visit.

Langham Glass has become a household name in the world of glass making, and you now have the opportunity to watch the experts at work and discover just how glassware is made, and even experience glass blowing yourself.

The History of Langham Glass
Langham Glass was founded in 1979 by Paul Miller, a Master glass maker. His passion for glass making started when he worked at King's Lynn Glass which was later bought by Wedgwood. Eventually, Paul and his wife Sue started their own business in Langham, hence the name Langham Glass. Over the years, Langham Glass has grown into a popular tourist attraction and a leading name in the world of glass making.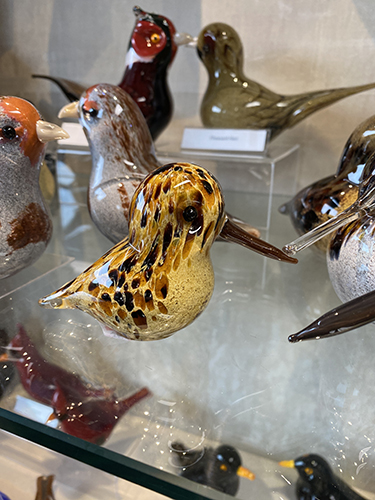 In the early days, Paul Miller and his team focused on producing high-quality glass pieces, including vases, bowls, and paperweights. Today, Langham Glass continues to produce exceptional glass pieces that are renowned for their beauty and elegance. You only have to go into the shop to see the magnificence of these designs, it's amazing!
And once you've seen the glass blowing process, you'll be even more amazed when you walk back out into the shop and see the hundreds of glass pieces available to you, and realise what an art it is!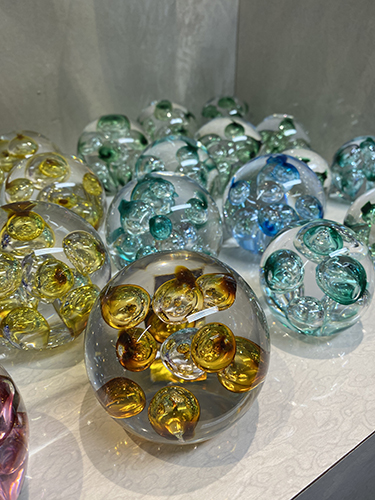 The Art of Glass Blowing
Glass blowing is an ancient art that definitely requires skill, patience, and precision.

At Langham Glass, you can watch close up the highly skilled glass blowers who have gradually built up their years of experience in the field. And you can also have a go too, which you can read more about below.
The process of glass blowing involves heating glass to a molten state in one of the furnaces, and shaping it into various forms using a combination of blowing and shaping techniques. You'll be amazed how one piece of simple glass can transform into an exquisite animal in front of your eyes!
How Langham Glass Is Made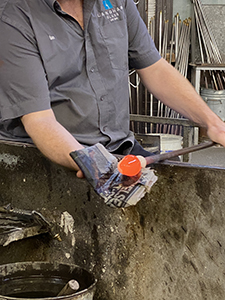 The process of making Langham Glass involves several steps, each of which requires precision and attention to detail. The first step involves gathering molten glass on the end of a long metal rod. The glass is then shaped and manipulated using various tools and techniques, and the glass blower has to work quickly before the glass cools and hardens.
The Furnaces
The furnaces at Langham Glass play an essential role in the glass-making process and you can see these at full heat in the workshop. The furnaces here are specially designed to produce the high temperatures required for glass making, and hold up to roughly 200 kilos of glass.

Watching the Experts at Work
Watching the experts at work at close quarters is definitely one of the highlights of your visit to Langham Glass. You do have to pay for this, but, in my opinion, it is definitely worth it. You'll learn a lot and you get to see it all at close quarters – no viewing from a gallery or far away here.
You'll witness the glass blowers working non-stop for 45 minutes to produce intricate animals and plates using their skills and techniques, and all the while explaining exactly what they're doing.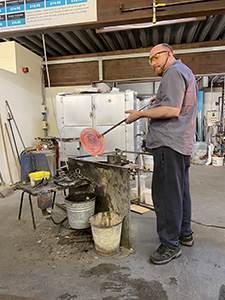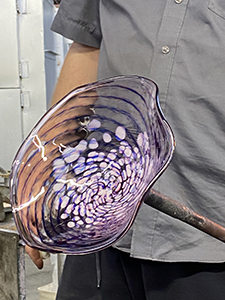 At the end, you'll appreciate the skill required to produce all of these beautiful pieces. Generally, the glass blowers will show you how they make one animal and one plate. Each of the glass makers have a certain animal category that they specialize in. I had no idea it was going to be quite so mesmerizing, difficult and intricate.
How one piece of glass, with a bit of sand and colour, can transform into an animal, or tumbler, is literally magic!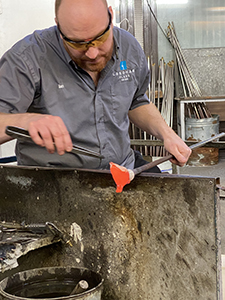 The making of a wren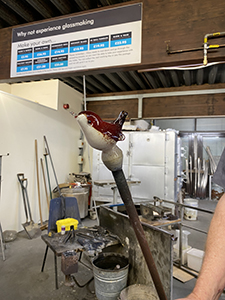 The finished product
The glass blowers create everything from delicate glass animals to functional glassware such as glasses and plates and vases.
Tickets for this have to be bought online which you can do here.
Experiencing Glass Blowing at Langham Glass
Now for your turn!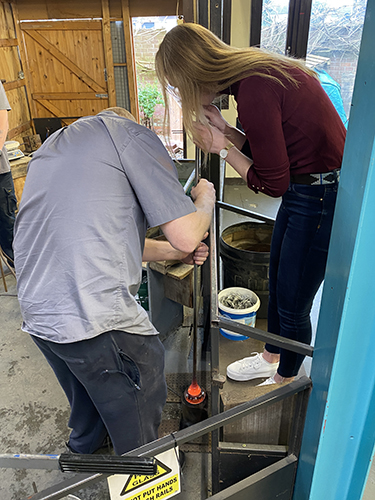 One of the most unique experiences available at Langham Glass is the glass blowing experience. You can try your hand at glass blowing under the guidance of a skilled glass blower (which you definitely need!!!). This is a hands-on activity where you get to blow through one of the rods to make whatever you decide to blow.
By having a go, you really get to appreciate the skill and technique required to produce these beautiful glass pieces.
Again, this is an extra charge, but there is nothing better than seeing a coloured piece of glass end up as a tumbler! The satisfaction is enormous, believe me!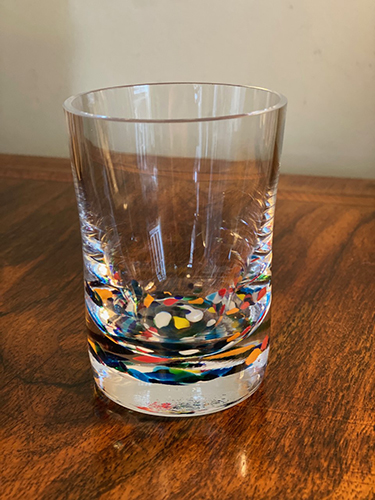 The end result - a really nice tumbler!
This glass blowing experience is a great activity for families, groups, and individuals. It's a fun and very educational experience that provides a unique insight into the art of glass blowing.

The Gift Shop
The gift shop at Langham Glass is a mass of unique glass pieces. It's very easy to get carried away and want to buy lots of pieces of glass! Especially after you've seen how it's made.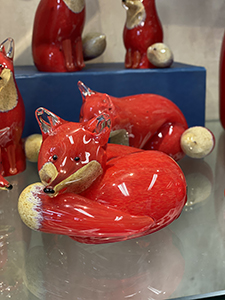 A Fox
An Oyster Catcher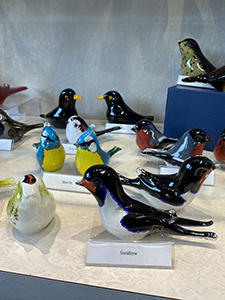 A Swallow
The gift shop also stocks a range of other unique gifts and souvenirs.
Buying a piece of Langham Glass is the perfect way to remember your visit to the work shop and your trip to Norfolk.
Don't forget that each glass piece is unique and beautifully crafted, not mass made which makes it all the more special.

Café Nelson
If you're enjoying your time here, and I'm sure you are (!), you might as well also enjoy a cup of tea and a piece of cake or scone which is baked daily in the café, called Nelson Café. Or they also have hot paninis and specialities of the day.

Opening Times
You can see their opening times here on the Langham Glass website.
Why Langham Glass is Fascinating to Watch and Experience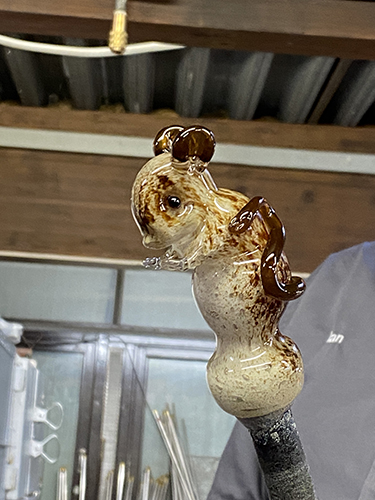 Langham Glass really is a fascinating attraction for everyone, young and old. The history of Langham Glass, the art of glass blowing, and the process of making Langham Glass are all truly captivating. Watching the experts at work, experiencing glass blowing, and even buying a piece of unique glass are all excellent ways to appreciate the pure beauty and skill of glass making.
Whether you are a collector, enthusiast, or simply curious about the art of glass blowing or even wanting to have a go yourself, Langham Glass is a must-visit destination.