The joy of our Norfolk beaches

I just love our Norfolk beaches, and some of them truly are the best beaches in the UK.

You can't fail to be taken aback every time you visit a Norfolk beach due to their wildly varying coastline of huge expanse of sand, pine walks, marshland, clifftops, pleasure beaches and piers. There is even room for kite surfing and jet skiing and many of them are excellent Norfolk dog walking beaches.
There are near to 52 Norfolk beaches.  That must almost be the biggest collection of UK beaches in one county, maybe barring Cornwall or Devon.
You can find more details on some of the best Norfolk beaches for walking, shell collecting, families, dogs and towns here.
---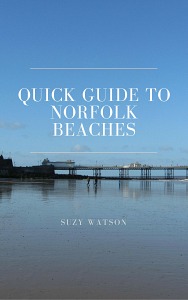 If, however, you don't have time to read all about the beaches now, but would like a quick guide to Norfolk beaches in pdf format with bullet points for aspects of each individual beach, you can sign up for our  newsletter and receive this guidebook free.
You can read more about our newsletter here.
Or continue on down the page to read more about the fantastic beaches.

---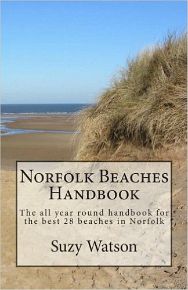 If you'd rather have a much more detailed downloadable ebook (or paperback) that you can keep on you at all times, why not get the Norfolk Beaches Handbook.  It comes in both kindle version and paperback.
This has all the questions you'll be asking yourself, and will give you a chance to discover other beaches you maybe don't know about.  You can find out more about the Norfolk Beaches Handbook here.

---
Map of the Norfolk Beaches

View Norfolk UK Beaches in a larger map
---
A guide to the Norfolk Beaches

This is one of the most comprehensive guides to the best Norfolk beaches that you will find on the internet.  I have grouped them geographically, starting with the beaches on the west coast of Norfolk, going up to the beautiful North Norfolk coast and then around to the east coast of Norfolk.  All are very different in landscape and environment.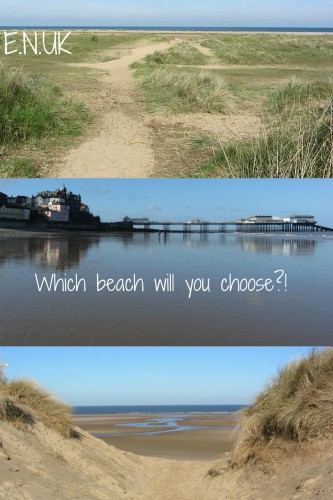 Below are links to a very brief synopsis of each accessible Norfolk beach.  Once in the synopsis, you can then click on the link to take you to a much more detailed explanation of what each beach is like.
Beaches In North Norfolk
Beaches in East Norfolk

---
WEST NORFOLK BEACHES
Snettisham beach
Snettisham beach is the first beach on the west coast of Norfolk and is well known for it's wildlife, particularly the Snettisham Wader Spectacular which happens at one end of the beach.  You can walk from Snettisham beach to the RSPB Snettisham nature reserve which overlooks The Wash.  
Heacham Beach
The next beach along the coast is Heacham beach.   This is another west facing beach that overlooks The Wash and actually has two beaches; South beach and North beach.  North beach has a promenade and backs onto the caravan park, whilst South beach has a much more remote feel to it.
Hunstanton beach
Set on the edge of the bustling town of Hunstanton, this particular beach has a whole array of attractions such as donkey rides and fairground rides as well as having a lovely promenade to walk along.  And if you stroll  a little bit further along, you'll then come to the three tiered cliffs; an iconic Norfolk sight.  
Old Hunstanton beach
This is a fantastic Norfolk dog walking beach as well as being totally uncommercial.  When the tide is out, there is space for everyone!  It's one of the best beaches for kite surfing too.
Holme beach
One of the few hidden gems in Norfolk.   This has a bit of a walk to reach the beach over the sand dunes and Hunstanton Golf Course, but once there, you are usually on your own or with only a handful of others.  It backs onto the Norfolk Wildlife Trust's Holme Dunes Nature Reserve and is where the discovery of Seahenge happened in 1998.
Deserted Holme beach
Thornham Beach
Very similar to Holme beach, this particular beach requires a walk of just over half a mile to reach it, following a stretch of the Norfolk Coast Path along creeks, water meadows and sand dunes.  Here you'll find solitude and privacy.  
You can discover more about Thornham beach here.
---
NORTH NORFOLK BEACHES
Brancaster beach
Brancaster beach is one of the more popular Norfolk beaches.  It is just sand and sand dunes adjacent to the Royal West Norfolk Golf Club.  It's a dog friendly beach.   There are hidden sandbanks where the tide can cut you off so you do need to be careful here.
Burnham Overy Staithe Beach
Burnham Overy Staithe beach is about a mile from the harbour with a walk along the sea wall in order to get there.  However, once there, you will find it pretty remote and it is probably one of the most secluded beaches on the Norfolk coast.   On a windy day, the sand dunes are a great shelter.  It has fantastic views towards Holkham beach.
Holkham beach
Holkham beach is probably the most well-known beach in Norfolk.  It is used for a backdrop to many a film as well, as the Household Cavalry using it for one week a year in July to exercise their horses.  You'll find huge swathes of sand here and loads of space!
Wells-next-the-Sea beach
This is the perfect beach for children.  The car park is close and there is plenty of sand!  What makes this beach particularly special is the large number of beach huts, all on stilts and painted in a veritable mix of colours.  Great fun.
Cley beach
This is a beach for the outdoor enthusiast!  The whole stretch of beach is shingle with a deep drop off into the sea and borders the Norfolk Wildlife Trust's Cley Marshes so it's perfect for shore fishing and bird watching.  It's also the start of the 7-8 mile return walk to Blakeney Point.
Sheringham beach
Sheringham beach is one of the Victorian seaside beaches with a long promenade.  It  gets busy in the summer months as there is lots to do in the town.  High tide brings the sea right up to the boulders that protect the sea wall, but the boulders leave great rock pools when the tide rescinds.
West and East Runton beaches
These are both patrolled by life guards.  West Runton is known for the discovery of 95% of the remains of the Steppe Mammoth and is probably the best beach in Norfolk for fossil collecting.  It's also a popular dog walking beach.
Cromer
Along with Holkham, this is probably one of the most well known beaches in Norfolk.  Cromer is a Victorian seaside town, and the beach is fantastic, particularly when the tide is out.  It has the famous Pier with the Pavilion Theatre at the end, as well as the lifeboat station.  This is a commerical beach in the summer months and is patrolled by lifeguards.  You can also have surfing lessons here.
Cromer beach
---
EAST NORFOLK BEACHES
Overstrand beach
Slightly quieter than the neighbouring beach of Cromer, Overstrand beach has a fairly steep walk from the cliff tops down to the beach.  This is a beautiful beach with stunning views (particularly from the cliff tops).   It has a long promenade and is an uncommercial beach.  An ice cream van usually sits at the top of the cliff!
Mundesley beach
This is another beach that has lots of colourful beach huts in the summer months as well as a long promenade.   It's a fantastic sandy beach which stretches for miles either way and is backed by steep cliffs.
Bacton and Walcott beaches
These beaches merge into each other.  In 2019 a major sandscaping project took place for long term protection of the eroding cliffs.  This has meant that the once rather narrow beaches of Bacton and Walcott have expanded to become much sandier and larger beaches.  Both these beaches are ideal for the local caravan site which backs right onto the beaches.
Happisburgh beach
Happisburgh beach is most well-known for its iconic red and white lighthouse as well as the severely eroded cliff face.   This is a lovely sandy beach but is quite short when the tide is in.  It's a totally unspoilt bay.
Sea Palling beach
Sea Palling beach has huge swathes of almost white sand with recognisable man made reefs just out to sea which leaves fairly calm waters close to the beach.  At low tide, it's also great for rock pooling.
Sea Palling beach
Waxham beach
This is a fairly unknown beach unless you have a dog.  It's very dog friendly, very uncommercial and is pretty much empty all year round.   There is very little parking nearby and no facilities apart from Waxham Barns.  This is great if you want to avoid any crowds!
Horsey beach
Horsey beach is where you can come and watch the seals and their pups in the winter months.  In the summer months it's another unspoilt, uncommercial and rugged beach backed by dunes and a concrete sea wall.  
Winterton beach
Winterton beach is a lovely sandy beach backed onto by the Winterton Dunes which are a Site of Special Scientific Interest.  It's a fabulous and popular dog walking beach as well as becoming more popular for seals and their pups in the winter months.  There's also an excellent cafe overlooking the sea.
Hemsby beach
This is a really popular and busy beach in the summer months.  Very close to the bustling centre of Hemsby where there are all manner of attractions.   It's a very sandy beach and is backed onto by sand dunes and very popular with the holiday park visitors.
Caister beach
This is a beach that is stuck in the middle of the two very busy beaches either side; Hemsby and Gt Yarmouth.  If you want something a little quieter, then Caister would be good.  It has no attractions on the beach.
Gt Yarmouth beach
Gt Yarmouth is probably one of the busiest beaches in Norfolk.   However, it does have 3 beaches so you can choose which one you'd prefer.  It's very commercial, has lots of attractions on the main beach and also has a long promenade.
Gorleston beach
This is a wonderfully sandy beach that stretches for 3 miles and is quietly unassuming  It has a lovely long promenade below the cliff.  One end of the beach is busier than the other, and it even has a small swimming pool!
---
Why Norfolk Beaches Are So Special

Norfolk beaches are very special indeede.
You can usually walk for miles on some of the North Norfolk beaches, striding out from Wells-next-the-Sea, past Holkham, and all the way to Brancaster if you want,  taking in one of the many coast walks following the Norfolk Coast Path National Trail.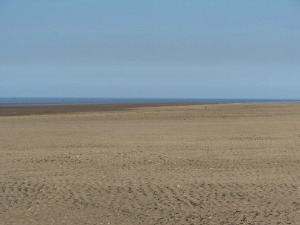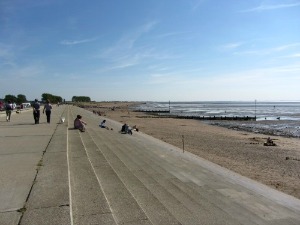 On the other hand you can sit on some of the other beaches in Norfolk which have sea defences and promenades (these ones are usually near campsites and holiday parks) making it much easier to keep an eye on the kids and more accessible for wheelchair use – Heacham and Sea Palling beaches fit the bill here. 
Others have funky beach huts, Wells beach is the perfect example of this.  It has masses of really fun and interesting beach huts.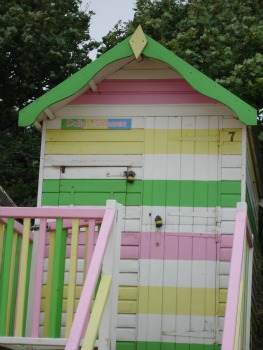 Some have World War II pill boxes, such as East Runton, or are famous for their fossil collecting such as West Runton.

Some of them are beach nature reserves such as the far end of Snettisham beach, or Titchwell or Cley. You can enjoy a stroll to the beach or stop at a hide on the way and enjoy nature at it's best.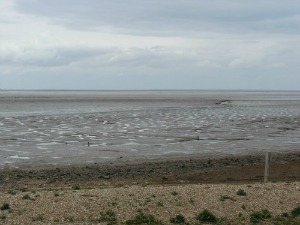 Many are patrolled by life guards, such as Mundesley on the east coast of Norfolk.  Safety on Norfolk beaches is important as the tide comes in very quickly, and is known to be dangerous.  Life guards give you that added security.
Six Norfolk UK beaches have been awarded the Blue Flag status, and one has been awarded the Seaside Award.
And some beaches are perfect for kite surfing and kite buggying, particularly beaches like Brancaster and Old Hunstanton.

Dog Friendly Beach Guide

Many are perfect dog friendly beaches (which I love!).  I have listed out all the Norfolk beaches and told you where and when you can or can't take your dog.  This is the first comprehensive Norfolk Dog Friendly Beach Guide.
Many of us love to take our dogs on holiday with us, and making sure you are allowed to take your dog on the beach with you is something you want to know before you leave home.

Peace of mind that you pet can also enjoy the holiday along with you!  I've even persuaded my dogs to give their own account of the top 4 North Norfolk beaches for dogs!

Happisburgh beach is particularly good for dog walking, with the addition of having the wonderful site of the red and white lighthouse.
Finding the right pet friendly beaches is vitally important to you.  Luckily many of Norfolk's beaches are dog friendly.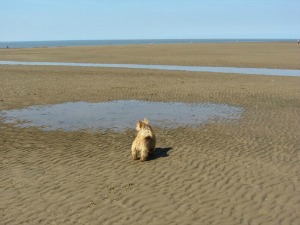 Some, however, don't allow dogs on the beach at all, and that may appeal to you.  You don't want to be around animals that run around trying to sniff out your picnic!   I let you know which beaches are pet friendly beaches and which are not.


There are so many reasons for loving one beach over another that I'm going to pick a few of my favourite different types of beach. 

---
Best child friendly North Norfolk beach - Wells beach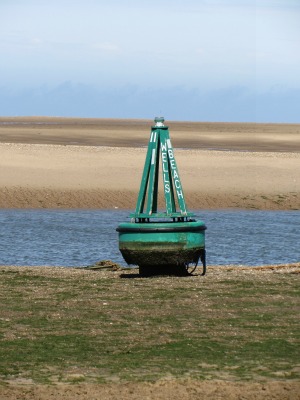 My favourite all time Norfolk beach has to be Wells-next-the-Sea for so many reasons.

The main attraction for me, and maybe for you, is that you can walk with the dogs on the beach for miles out to sea and come across no one.  That might not be to everyone's taste, but the fact that you can go to a busy seaside town and actually walk without getting in anybody's way is a very liberating feeling. 

The funky beach huts are another favourite reason – the names of some of them are very imaginative, and we love walking alongside them and admiring the handy work that has gone into keeping them in ship shape condition.

Car parking is easy and getting to the beach is easily negotiable with small children, and with a café at one end of the car park, what more can you ask for?

Camping at Wells is also right next to the beach so you can relax and enjoy yourself, and on a sunny day, just nip over the dunes to the beach.  

---
Favourite walk to reach a beach – Burnham Overy Staithe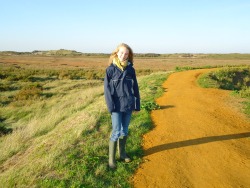 There is a bit of a walk to the Burham Overy Staithe beach, but if you're not wanting to "bucket and spade it", then why not relax and take the time to admire the to-ings and fro-ings of all the small sailing boats in the creek before they head out to have a sail on the sea.  It's so peaceful you'll love it. 

A lovely walk with a pair of binoculars to eventually arrive at the beach – the view is well worth the time it takes to reach the dunes and onto the sandy beach.


---
Best beach with attractions - Hunstanton

It's a close call between Cromer beach and Great Yarmouth beach which both have piers, or Hunstanton (not Old Hunstanton beach).  All three are extremely busy in the summer months, but if you want activity, these three beaches are the place for you.

On hot sunny day the towns are buzzing with excitement and the beaches are full of noise, ice cream, donkey riding, fun fair…..

There are so many fantastic pros, and very few cons, with regards to the Norfolk beaches that I could spend all day talking about them, but I would much rather show you these special beaches with pictures and words and hope that you'll make the decision to visit as many as you can.

Wondering What To Do In Norfolk?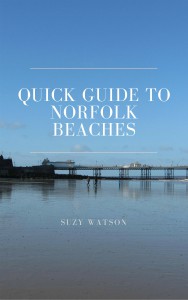 Get your free copy of the "Quick Guide To Norfolk Beaches".
JOIN OUR NEWSLETTER and keep up to date with 3 or 4 different tips every month for enjoying what Norfolk has to offer.
Each month will bring something new! 

Just let me know where to send your "Quick Guide To Norfolk Beaches"download by entering our email below, or visit the Newsletter page for more information.