The joy of our Norfolk beaches

I just love our Norfolk beaches, and some of them truly are the best beaches in the UK.

You can't fail to be taken aback every time you visit them due to their wildly varying coastline of sandy beaches, pine walks, marshland, clifftops, pleasure beaches and piers. There is even room for kite surfing and jet skiing. 
There are near to 52 beaches in Norfolk.  That must almost be the biggest collection of UK beaches in one county, maybe barring Cornwall or Devon.

I've put a map below so you can see where all they are. 
---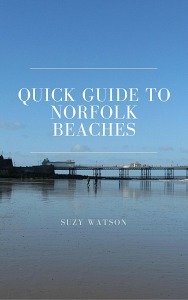 If, however, you don't have time to read all about the beaches now, but would like a quick guide to Norfolk beaches in pdf format with bullet points for aspects of each individual beach, you can sign up for our  newsletter and receive this guidebook free.
You can read more about our newsletter here.
Or continue on down the page to read more about the fantastic beaches.

---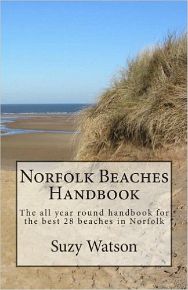 If you'd rather have a much more detailed downloadable ebook (or paperback) that you can keep on you at all times, why not get the Norfolk Beaches Handbook.  It comes in both kindle version and paperback.
This has all the questions you'll be asking yourself, and will give you a chance to discover other beaches you maybe don't know about.  You can find out more about the Norfolk Beaches Handbook here.

---

View Norfolk UK Beaches in a larger map
---
A guide to the Norfolk Beaches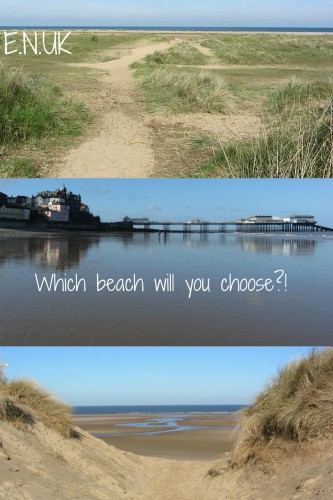 This is one of the most comprehensive guides to the beaches in Norfolk that you will find on the internet.  I have grouped them geographically, starting with the beaches on the west coast of Norfolk, going up to the beautiful North Norfolk coast and then around to the east coast of Norfolk.  All are very different in landscape and environment.

A more detailed page on each beach can be found below by clicking on the desired name of the beach you're looking for.

Beaches in West Norfolk

Beaches in North Norfolk

Beaches in East Norfolk

Why Norfolk Beaches Are So Special

You can either walk for miles on some of the North Norfolk beaches, striding out from Wells-next-the-Sea, past Holkham, and all the way to Brancaster if you want,  taking in one of the many coast walks following the Peddars Way and Norfolk Coast Path.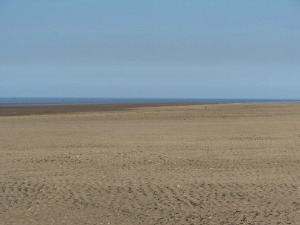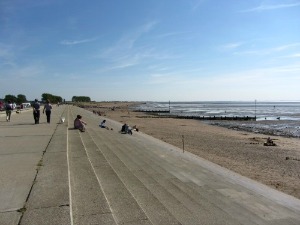 On the other hand you can sit on some of the much smaller beaches in Norfolk, some with sea defences and promenades (these ones are usually near campsites and holiday parks) making it much easier to keep an eye on the kids and more accessible for wheelchair use – Heacham and Sea Palling beaches fit the bill here. 
Others have funky beach huts, Wells beach is the perfect example of this.  It has masses of really fun and interesting beach huts.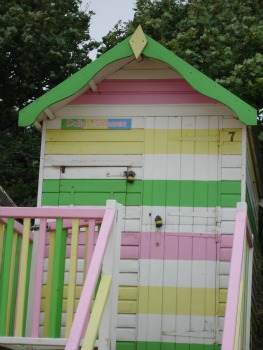 Some have World War II pill boxes, such as East Runton, or are famous for their fossil collecting such as West Runton.

Some of them are beach nature reserves such as the far end of Snettisham beach, or Titchwell or Cley. You can enjoy a stroll to the beach or stop at a hide on the way and enjoy nature at it's best.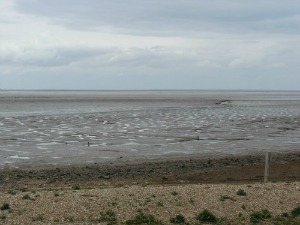 Many are patrolled by life guards, such as Mundesley on the east coast of Norfolk.  Safety on Norfolk beaches is important as the tide comes in very quickly, and is known to be dangerous.  Life guards give you that added security.
Six Norfolk UK beaches have been awarded the Blue Flag status, and one has been awarded the Seaside Award.
And some beaches are perfect for kite surfing and kite buggying, particularly beaches like Brancaster and Old Hunstanton.

Here's a fantastic aerial video of the North Norfolk Coast for you to really see what some of this ever changing coastline is like, from the cliffs around Trimingham, Cromer and Sheringham to the salt marshes and swathes of sand at Wells-next-the-Sea and three tiered cliffs at Hunstanton.  This is courtesy of Joshua Paul Gardner who has kindly allowed me to share this North Norfolk Coast Aerial Adventure here.
Dog Friendly Beach Guide

Many are perfect dog friendly beaches (which I love!).  I have listed out all the Norfolk beaches and told you where and when you can or can't take your dog.  This is the first comprehensive Norfolk Dog Friendly Beach Guide.
Many of us love to take our dogs on holiday with us, and making sure you are allowed to take your dog on the beach with you is something you want to know before you leave home.

Peace of mind that you pet can also enjoy the holiday along with you!  I've even persuaded my dogs to give their own account of the top 4 North Norfolk beaches for dogs!

Happisburgh beach is particularly good for dog walking, with the addition of having the wonderful site of the red and white lighthouse.
Finding the right pet friendly beaches is vitally important to you.  Luckily many of Norfolk's beaches are dog friendly.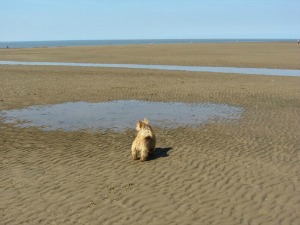 Some, however, don't allow dogs on the beach at all, and that may appeal to you.  You don't want to be around animals that run around trying to sniff out your picnic!   I let you know which beaches are pet friendly beaches and which are not.


There are so many reasons for loving one beach over another that I'm going to pick a few of my favourite different types of beach. 

---
Best child friendly North Norfolk beach - Wells beach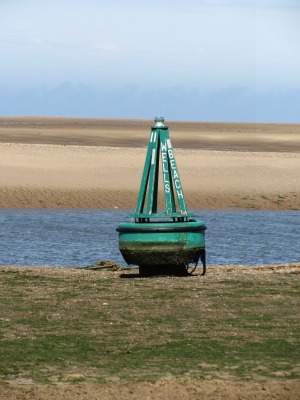 My favourite all time Norfolk beach has to be Wells-next-the-Sea for so many reasons.

The main attraction for me, and maybe for you, is that you can walk with the dogs on the beach for miles out to sea and come across no one.  That might not be to everyone's taste, but the fact that you can go to a busy seaside town and actually walk without getting in anybody's way is a very liberating feeling. 

The funky beach huts are another favourite reason – the names of some of them are very imaginative, and we love walking alongside them and admiring the handy work that has gone into keeping them in ship shape condition.

Car parking is easy and getting to the beach is easily negotiable with small children, and with a café at one end of the car park, what more can you ask for?

Camping at Wells is also right next to the beach so you can relax and enjoy yourself, and on a sunny day, just nip over the dunes to the beach.  

---
Favourite walk to reach a beach – Burnham Overy Staithe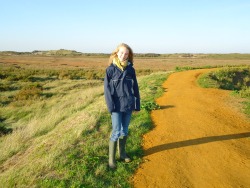 There is a bit of a walk to the Burham Overy Staithe beach, but if you're not wanting to "bucket and spade it", then why not relax and take the time to admire the to-ings and fro-ings of all the small sailing boats in the creek before they head out to have a sail on the sea.  It's so peaceful you'll love it. 

A lovely walk with a pair of binoculars to eventually arrive at the beach – the view is well worth the time it takes to reach the dunes and onto the sandy beach.


---
Best beach with attractions - Hunstanton

It's a close call between Cromer beach and Great Yarmouth beach which both have piers, or Hunstanton (not Old Hunstanton beach).  All three are extremely busy in the summer months, but if you want activity, these three beaches are the place for you.

On hot sunny day the towns are buzzing with excitement and the beaches are full of noise, ice cream, donkey riding, fun fair…..

There are so many fantastic pros, and very few cons, with regards to the Norfolk beaches that I could spend all day talking about them, but I would much rather show you these special beaches with pictures and words and hope that you'll make the decision to visit as many as you can.

Wondering What To Do In Norfolk?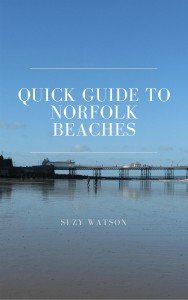 JOIN OUR NEWSLETTER and  keep up to date with 4 different tips every month for enjoying what Norfolk has to offer.
By signing up to our free newsletter, you can keep up to date with all the many and varied attractions this wonderful county has to offer.  Each month will bring something new!  You can also get a free download of our "Quick Guide To Norfolk Beaches"

Just fill in the form below, or visit the Newsletter page for more information.
---