Burnham Overy Staithe Beach

Unspoilt And Empty
Burnham Overy Staithe beach is yet another wonderful secluded Norfolk beach, but reached by just over a one mile walk.  

I think this is one of the "best approaches to a Norfolk beach."
Boats, salt marshes, creeks, wildlife, sand dunes and peace - what more could you ask for?

Once you step over the dunes, you're met with the most wonderful expanse of sandy beach stretching from West to East, as far as you can see - you can walk all the way to Wells if you choose.  You'll see from the photo below the beautiful unspoilt coastline.

Burnham Overy Beach
Burnham Overy Staithe beach is probably one of the more inaccessible beaches if you're looking for a bucket and spade kind of day.  It's a little like Thornham beach in that it takes a bit of a walk to actually reach it.  It is just over a mile so will take you about 20-25 minutes to arrive  there.
If you've got young children there are other slightly more practical beaches, such as Wells beach where you can arrive at the beach 5 minutes from having parked the car.  Burnham Overy beach would just be too far to carry everything, and I think the children would get restless long before they got there!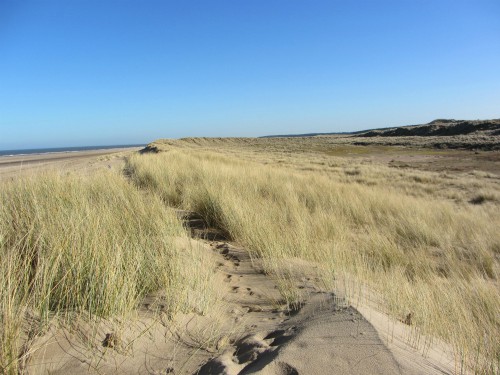 However, if you want a fairly secluded beach and don't mind a bit of a walk, then this would be a perfect beach to come to.  It will never be crowded and the views from here are fantastic.

Gun Hill
The walk to the beach is very easy and flat along the raised bank and as you near the dunes there's a small stretch of board walk.  Once you arrive at the beach, having climbed through the gap at Gun Hill, you can finally rest a while and enjoy the view and the peace.   

These visual memories of vast stretches of sky and sand stay with you year round.  You'll love them!
For more detailed information on all of the accessible Norfolk beaches, why not take a look at this helpful and most comprehensive book.
Discover The Norfolk Beaches...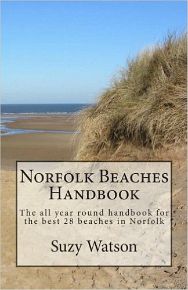 This Norfolk Beaches Handbook will help you discover many more Norfolk beaches.  It is the most comprehensive guide on all the accessible Norfolk beaches, detailing information such as postcodes, accessibility, whether it's good for children, walking, wildlife or fishing, whether there are car parking charges and much more.
Burnham Overy Beach Car Parking
As the beach is just over a mile to walk to, car parking is in and around the harbour at Burnham Overy Staithe.

The Hard at Burnham Overy Staithe
Parking is free, BUT you do need to be aware of high spring tides.  

Most people park on "the hard" which is a large flat "hard" piece of land on the harbour.  However, if there is a high spring tide, this completely floods so you do need to make sure of tide times.  Many a time a car has been submerged!  You can also park along the verge of the harbour and a bit further along the one way system but this does get full up pretty quickly.
The postcode is PE31 8FF.
Burnham Overy Tide Times
Due to the fact that high spring tides flood the hard, here is an excellent website for Burnham Overy tide times. Ignore at your peril!
Burnham Overy Walks
There are various walks you can do from Burnham Overy Staithe which are all lovely.  
One particular walk features in the Norfolk Heritage Walk book and takes you on a lovely 4.5 mile circular walk, passing the historic St Mary's Friary and also passing the pretty round tower church of St Margaret's, Burnham Market.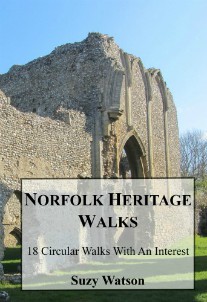 If ruins and history interest you, or you just want some different walks, take a look at this Norfolk Heritage Walks book which covers 18 circular walks in Norfolk with each one having a particular interest such as a castle or priory ruin, a windpump or lighthouse.  All have a story to tell...
You can read more about this Norfolk Heritage Walks book here.
If you're after a short walk, then just walking from the pretty village of Burnham Overy Staithe to the beach is a very popular walk along a small stretch of the Norfolk Coast Path.  
Looking back over the water meadows to the village is especially picturesque, with the huge expanse of sky, flat marshes, all the little boats in the distance in the creek, and an array of pan-tiled roofs from the flint stoned cottages.  
It's easy graded, walking along the raised banks, through the reclaimed salt marshes (which are now fresh water meadows and belong to the Holkham Nature Reserve) and dunes to eventually reach the beach, which is well worth the effort! 
Here's another 4 mile circular walk from the National Trust.
This walk to the beach actually forms part of the Norfolk Coast Path and is one of the most enjoyable stretches of this path.
Norfolk Walking Holidays
If you really enjoy walking and want to explore Norfolk on foot, then why not take a look at the choice of walking holidays we offer on our Norfolk Walking Holiday page.  These can be on the Peddars Way, the Norfolk Coast Path, The Wherryman's Way or bespoke short break walking holidays. 
Check out our Norfolk Coast Path walking holidays where you will walk this particular stretch to Holkham and on to Wells.  This little bit of beach walking is just fantastic, especially if you've still got the energy, having probably walked from Brancaster!
This is where you truly get the sense of Norfolk's HUGE skies and vast expanse of beach.
From Burnham Overy to Holkham along the beach!
Burnham Overy Dog Friendly Beach
This is definitely a dog friendly beach and is very popular with dog walkers.  You can find other dog friendly beaches here.

However, the walk to the beach along the raised bank cuts through creeks on the one side and water meadows on the other, meaning that there is a lot of important wildlife on either side.  Dogs should therefore be kept under control.

Sailing at Burnham Overy Staithe
If sailing is your passion, then this is one of the best places to bring your boat.

A simple launch from the ramps and away you go.  It gets very popular in the summer months though, but very sociable and a great past-time for those that love it.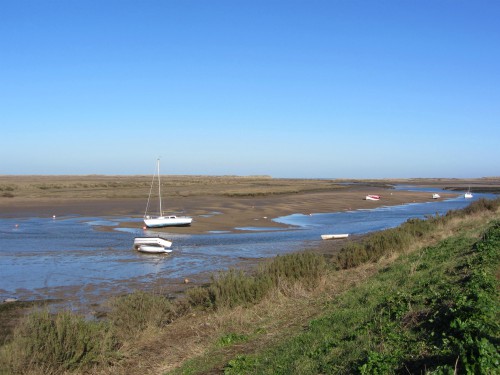 I just "watch" the boats.  It's a great way to pass the time before going for your walk – the tinkering of the sails, watching young children (and adults!) really enjoying themselves, and mastering the art of sailing. 
And nothing could be more serene on a beautiful sunny day.

There are a few sailing schools around the Norfolk coast which provide lessons, should you wish to take some.  Wells-next-the-Sea has Oceanus Sailing (01263 862062) , Brancaster has Sailcraft Sea School. (01485 210236)

Scolt Head Island
The ferry sails from here to Scolt Head Island, an actual island in Norfolk! 

And it is an island.  Which means that for those of you that don't know the area or don't look at tide times, YOU WILL GET CUT OFF AT HIGH TIDE. 
It's a National Nature Reserve so a great place for spotting the wildlife.  Parts of the island are cordoned off for nesting birds (as is Blakeney Point), but it's also a great place for picnicking – take the ferry and spend an hour or so on the island.  The ferry is obviously controlled by the tide so your time on the Island will depend very much on the tide times.  To catch the ferry you need to arrive around high tide.

Scolt Head
However, I have to say this isn't well advertised so you just have to hope you see the ferry.

What are The Burnhams?
There are so many villages with the word "Burnham" in it that people often ask "What are the Burnhams"? 
The Burnhams which comprise Burnham Deepdale, Burnham Norton,  Burnham Overy Town, Burnham Overy Staithe,  the famous Burnham Market, and Burnham Thorpe are extremely pretty villages, lots of flint cottages and just as you imagine North Norfolk to be.  Worth the time to drive around at your leisure, taking in the gentle way of life in Norfolk. 
The adjacent villages to Burnham Overy Staithe that lie on the North Norfolk Coast are Burnham Norton to the West and Holkham to the East.  
As you can see, there's much to do around the pretty village of Burnham Overy Staithe. 
Wondering What To Do In Norfolk?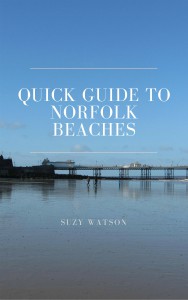 Get your free copy of the "Quick Guide To Norfolk Beaches".
JOIN OUR NEWSLETTER and keep up to date with 3 or 4 different tips every month for enjoying what Norfolk has to offer.
Each month will bring something new! 

Just let me know where to send your "Quick Guide To Norfolk Beaches"download by entering our email below, or visit the Newsletter page for more information.