Overstrand Beach

Overstrand beach is the altogether much quieter beach adjacent to the bustling and vibrant Cromer beach.  If you want a more peaceful experience on one of Norfolk's many beaches, then this one is definitely for you.  It's a lovely, hassle-free and unassuming Norfolk beach.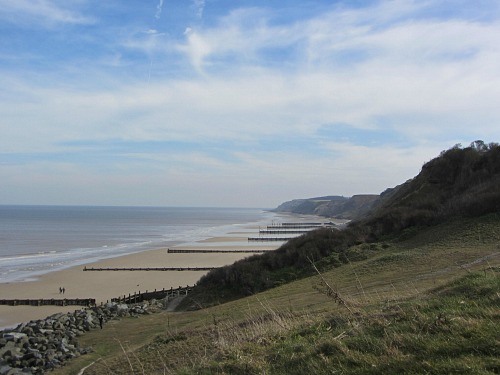 When the tide is out here, there is nothing nicer than just relaxing or strolling on the wonderful perfectly flat sand, and what better place to bring the children and build sandcastles? 
And with the only café being the Cliff Top Café, overlooking the beach,  what more could you want?

Access To Overstrand Beach
Because this is a quiet Norfolk village, finding the beach car park takes a little bit of searching, and you can easily miss the turn.  There aren't great big metal signposts pointing to the beach (which is one of the attractions of this beach), but small white wooden signs, so look out for them! 
Eventually you arrive at a grass car park, with a WC, and most important of all, an ice cream van with a very friendly server!  All a good start to one of Norfolk's unspoilt beaches.
To get down to the beach, you will have to descend via a long slope, but once down, it's certainly worth it.  

Look west and you have Cromer Pier in the distance,

Look east and you only see the beach and cliff tops stretched out in front of you, towards Trimingham.  Bliss.

Tide Information For The Beach
It's a great bucket and spade beach, but, as with Cromer and Sheringham beaches, be aware that when the tide is in, you are only left with a promenade, so do check the Cromer tide times if you're coming specially to sit on the beach and soak up the sun.

If you are looking for beaches where the tide doesn't matter, then you would be much better off with some of the other Norfolk beaches on the north coast, such as Holkham beach or Wells-next-the-Sea.  Here are some other Norfolk beaches for you to look at.

As Overstrand is on a much smaller scale to Cromer or Sheringham, there is little in the way of amusements except to relax and enjoy the beach or take a walk.  Walking is a very popular activity in Norfolk, and this beach car park is the start of a coastal circular walk, taking in the Cromer lighthouse and Royal Cromer Golf Course on the way.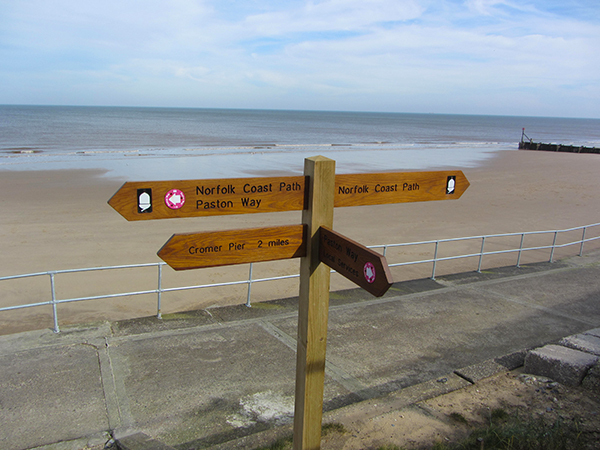 Overstrand is also on the Norfolk Coast Path, one of two national long distance paths in Norfolk; a stunningly beautiful easy graded walk, and the walk from here to Trimingham is probably one of the most picturesque clifftop walks along the trail.

The great thing about coming to this particular beach is that it gives you the option of being able to have the peace and quiet that you might want from a more isolated beach, but also giving you the option of being able to nip along to the busier beach of Cromer, a stone's throw away, if the desire is there, or your want a change.  

So if your idea of going to the beach is to get away from it all, and from the crowds at Cromer and Sheringham beaches, then come along to this lovely beach and enjoy the relaxed environment that it offers you.