Thornham Beach

Remote, Quiet And Out-Of-The-Way
Thornham beach is probably the most remote beach in North Norfolk and perfect for lovers of privacy and seclusion.  Nestled along the North Norfolk coast and set in an Area of Outstanding Natural Beauty (which encompasses not only the beach but also the surrounding countryside), this beach requires a walk of just over half a mile in order to reach it, and this is what makes it so special. 
Unlike many Norfolk beaches, this one remains relatively untouched and uncrowded.  Not many people choose to walk that far to a beach, but if you're after a stretch of sand that isn't crowded at ANY time of year, then this is one of the best beaches to come to.  The isolation and solitude that you'll experience on this beach is second to none.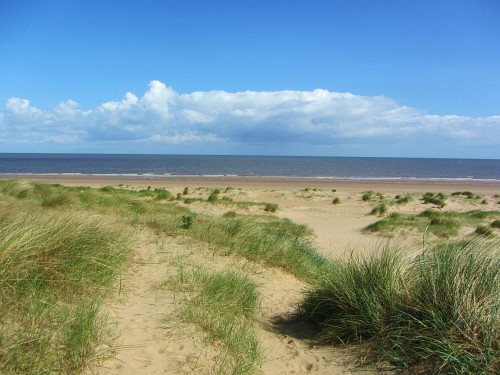 The beach itself is covered with lovely soft sand interspersed with a few small bits of shingle.  When the tide is in, the sea almost encroaches the sand dunes, an ideal time to shelter or lie in the dunes rather than on the beach.   And as with most North Norfolk beaches, when it's low tide you're left with an endless stretch of fantastic hard sand.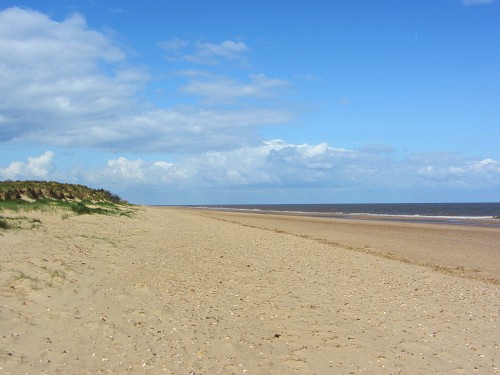 Thornham beach is a tidal beach so sandbanks do form and it can be quite easy to walk a long way out at low tide and then turn round to realise that you're stranded on one of these banks.  And as there are no lifeguards on this beach, you could put yourself in a stretch of bother.  So just be aware of this and check the tide times!  The same applies to most of the Norfolk beaches along this north coast.
Thornahm Beach FAQ
Dog Friendly Thornham Beach

If you have dogs, you'll be glad to hear that Thornham beach is very dog friendly and it has no restrictions what so ever.   Having said that, it does border the Norfolk Wildlife Trust Holme Dunes Nature Reserve so please keep your dogs under control, particularly in the nesting season amongst the sand dunes and also on the sea wall.  Please just don't let them go sniffing and running around in the dunes.
If you're the active sort and don't want to spend your time sitting on the beach, (or if you had your dog with you), you could actually carry on along the board walk and the Norfolk Coast Path, instead of veering off to the right.  This way you'll continue until you reach the Norfolk Wildlife Trust's Visitor Centre, stop off for refreshments and then drop down onto Holme beach which joins Thornham, and walk back along the sea wall.  This is a good but short walk. 
Directions to Thornham Beach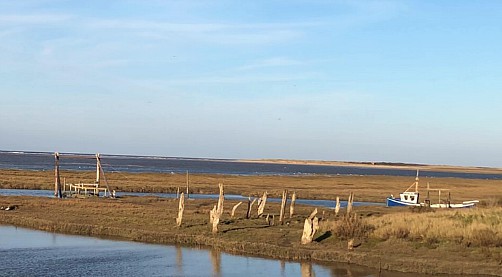 Directions for this particular beach are not readily available for two reasons:
There isn't a designated car park
It's one of Norfolk's little hidden gems of a beach and requires a walk so isn't overly populated!
Getting to the beach is a fairly simple affair and the walk is beautiful!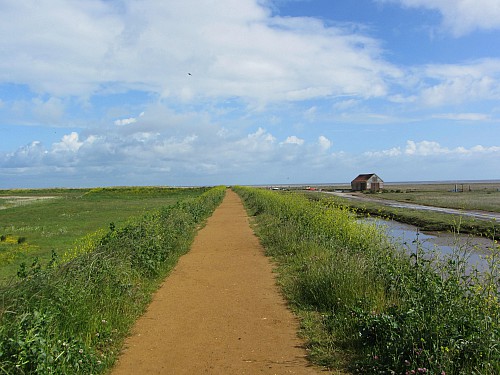 It will take you about 15-20 minutes and you'll be walking along a small stretch of the Norfolk Coast Path on the raised bank from Thornham, cutting through the scenic salt marshes and a huge expanse of sand dunes.   In fact, the sand dunes stretch for the entire length of the beach, which is approximately 2 ½ miles. 
The bank also borders the creeks where you're bound to see and hear endless wonderful wading birds that frequent these Norfolk shores.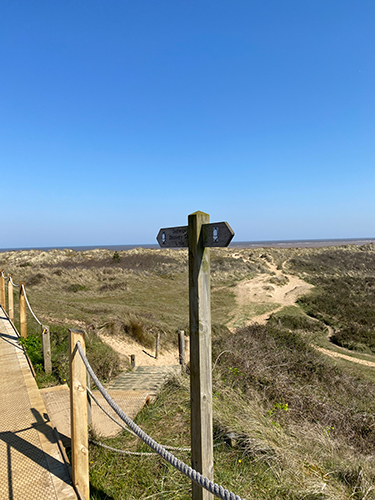 Further on, as you walk along the board walk you'll see a large expanse of water on your left.  When you reach a Norfolk Coast Path signpost, walk off the board walk and down the path to the right, and you'll finally arrive at Thornham beach.
Parking And Postcode For Thornham Beach

There is no designated car parking for Thornham beach which makes it all the more secluded, but there is a small amount of off-road parking available at the bottom of Staithe Lane which is where you'll see the picturesque Old Coal Shed (this harbour was once upon a time a haven for smugglers!).  Beware of Spring tides though as you may come back to find your car submerged!
The nearest postcode is PE36 6LX. 
You can either park here or in Thornham village by the Village Hall.  The Village Hall car park allows you 75 free minutes if you visit Thornham Deli.  After that, it's chargeable. 
You don't just have to come by car though.  You could catch the excellent Lynx Coastliner No 36 which stops off at all the villages along the coastal road as far as Wells-next-the-Sea.  In the winter months they go every hour, but in the summer months they increase to every half hour giving you the chance to explore the area without the need of a car.
Discover The Norfolk Beaches...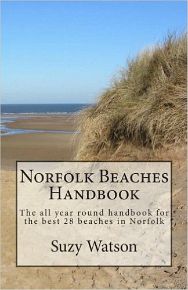 This Norfolk Beaches Handbook will help you discover many more Norfolk beaches.  It is the most comprehensive guide on all the accessible Norfolk beaches, detailing information such as postcodes, accessibility, whether it's good for children, walking, wildlife or fishing, whether there are car parking charges and much more.
Thornham Beach Tide Times

As I mentioned above, it's a tidal beach so sandbanks do form.  Thornham beach doesn't actually have tide times, so the nearest beach to go with is Hunstanton, which you can find here 
Map of the Norfolk Beaches

View Norfolk UK Beaches in a larger map
---
Facilities, Shops And Pubs In Thornham

Thornham beach is totally un-commercial which is what makes it so lovely, and also makes it one of the more remote Norfolk beaches. There are no facilities on the beach, but there is the Holme Dunes Nature Reserve Visitor Centre hidden in the pine woods just at the end of the board walk, which does have a cafe and WC's.
In the village of Thornham itself, there are a couple of pubs, The Lifeboat and The Orange Tree as well as a deli
The Lifeboat Inn is an 18th Century coaching inn with an atmospheric beamed bar, a modern conservatory and, as you walk through the door, a lovely huge roaring log fire in the winter months.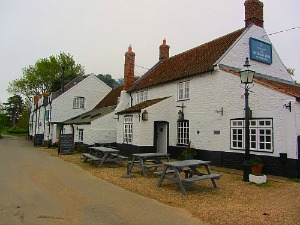 The Lifeboat Inn
Also in the village is the wonderfully stocked deli, café and store called the Thornham Deli.  I love going in here just for a treat!
Norfolk Wildlife Trust Holme Dunes Nature Reserve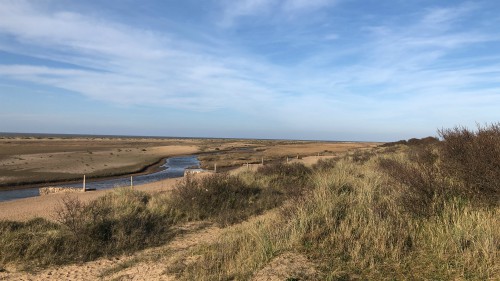 Thornham beach is within the Holme Dunes Nature Reserve so you're likely to see some wonderful wildlife flying around you. Walking to the beach you'll pass a water meadow on your left followed by a large expanse of water which is frequented by differing species of birds all year round.  If you continue along this path, you'll very soon reach Holme Dunes Visitor Centre. 
Holme Dunes Bird Observatory

And before reaching the centre, you'll also pass the Holme Bird Observatory (separate from the Norfolk Wildlife Trust).  
This is a small observatory that plays an important part in the collection of data from migrating birds, including ringing birds.  It's fascinating if you have the time to visit (you pay at the Holme Dunes Visitor Centre).  You can see their log books, and occasionally you may even get to see them ringing birds.
Accommodation near Thornham Beach
Briarfields Hotel is situated in Titchwell, a short drive away from Thornham and is the perfect place to stay for visiting the surrounding area's nature reserves.  This hotel is a fantastically relaxed hotel overlooking Titchwell marshes and serves excellent food.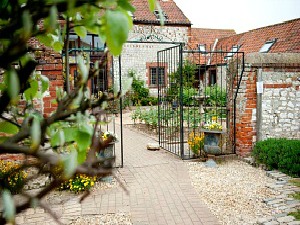 ---
Whether you are exploring the sandy shores and sand dunes, discovering the wildlife at the Norfolk Wildlife Trust Holme Dunes, or simply enjoying a leisurely walk along the boardwalk, Thornham Beach definitely offers a unique and unforgettable experience.
This particular beach ticks all the boxes for:
remoteness
quietness
solitude
privacy
isolation and 
being out-of-the-way!
nature
If you think you like this beach, you may also want to know what some of the other Norfolk beaches are like.  With the Norfolk beaches handbook, you can have all the information on all the beaches to hand in one place.