Hunstanton Beach

Ancient and Modern
Hunstanton beach is an extraordinarily diverse and unique beach, and, as you are probably well aware, one of three beaches in the UK that is on the East Coast, but faces West! (The others being Snettisham and Heacham).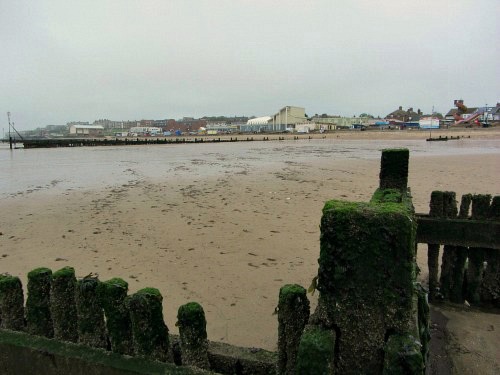 Why Is Hunstanton Beach So Unique?

Well, on the one hand you have the South beach, or main beach as it's known, which has all the modern seaside attractions that many of you desire, such as:
fairground rides,

food galore,

donkey rides,

seal trips in an amphibious boat,

a promenade to gently stroll along
hard expanse of sand for building sandcastles
child friendly
crazy golf
Blue Flag Status in 2015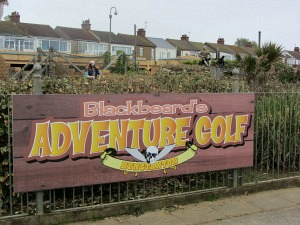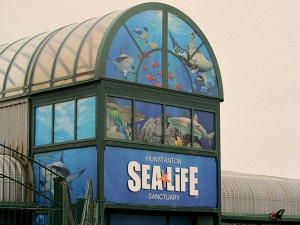 And on the other hand you have the North beach where you'll discover the wonder of nature at its very best
Incredible three tiered cliff face
Huge bolders, or stones, covered in green moss in straight lines that defy nature
Dog friendly beach where you can walk for miles
Michael, the Hunstanton legend, who has picked up stones at the bottom of the cliff for 20 years (I'll mention him later!).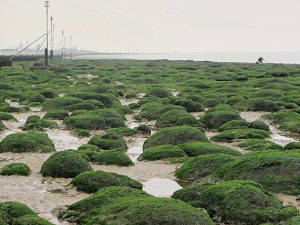 Map of the Norfolk Beaches

View Norfolk UK Beaches in a larger map
---
And don't confuse this Hunstanton beach with Old Hunstanton beach, which is next door, and totally different in all respects.
Hunstanton is also where the Norfolk Coast Path starts (or finishes depending on which way you walk it), and goes all the way around the Norfolk coast to Sea Palling.

Parking For Hunstanton Beach
Parking is fairly easy for this beach.  There are various car parks in Hunstanton where you don't have to walk very far to reach the sand.  All the car parks just about bring you out on to the promenade, so there's no issue with having to lug all your gear for miles before reaching a place to base yourself. 

Sandy or Stony beach?
This is a great child friendly beach, but if you want nice hard sand, then you need to check the Hunstanton tide timetables. 
If the tide is in, the beach is not huge, and it will also be pebbly.  However, when the tide is out, you are left with lovely stretches of hard sand, perfect for building sand castles with huge moats, and then watching the tide coming in and gradually destroying them!  And if you wait long enough in the day, you'll get the most amazing sunsets.
It was awarded Blue Flag Status for 2015, which usually means that there are lifeguards, its probably a resort beach (which is it) and the water quality is good

Hunstanton Beach at high tide

Hunstanton Beach at low  tide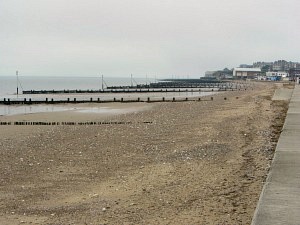 South Beach, Hunstanton
You'll never have a dull moment on South Beach!  There are so many attractions to keep the whole family amused, all day long, from any age.  This part of the beach has a promenade which makes it good for disabled access. 
There's a lively fun fair with helterskelters, slides, tea cup rides, pirates crazy golf and more, as well as the Hunstanton Sea Life sanctuary.  There's also ten pin bowling.   What more could you ask for!   And all right on the beach front.

Beach Food

You won't be stuck for something to eat, that's for sure! 
There are endless cafes, restaurants, fish and chip shops, drinks and snacks stands, all either on the beach front, or just a few minutes walk away in the main town.  
There is so much food to choose from, you won't need to pack up a picnic if you don't want to.  Once in a while it's worth relaxing and enjoying your holiday on the beaches on Norfolk, rather than having to think about food.

However, if you prefer to get away from the beach, all you have to do is walk "north" along the promenade and you'll be able to stroll easily up to the picturesque Hunstanton green which is overlooked by the Golden Lion Hotel, and overlooks the beach. 

And if you suddenly feel you really don't want any attractions to distract you or your kids, and you don't want to go far from Hunstanton, then I suggest you either go along to Old Hunstanton beach, just around the corner, or head south to the adjacent Heacham beach, or even Snettisham.

North Beach, Hunstanton
The North Beach at Hunstanton couldn't be more different to the South Beach and is totally unique to Norfolk. 

This is where nature takes over.  At low tide, the beach reveals a swathe of huge bolder like stones, covered in green moss.  It's an incredible and fascinating site.  And the most extraordinary thing about these stones is that most of them lie in symmetrical lines.  No one knows why or how this came about, but it's definitely a site worth witnessing. 

There is no other beach on the Norfolk coast like this one.

The stones, along with the very famous three tiered cliffs, give hours of pleasure to those of you wanting to collect fossils, look for crustacean in the pools or just walk around the coast to Old Hunstanton and beyond.   Another great fossil collecting  beach is West Runton.  However, if the tide is high, you'll have to walk on the top of the cliffs rather than the beach, as the tide comes right up to the cliffs and you won't get around.

These cliffs are a huge attraction for fossil hunters, and are made from chalk, red chalk and carrstone.  Carrstone is still used today to build many of the local houses, a perfect example is the Golden Lion Hotel on the green in the town.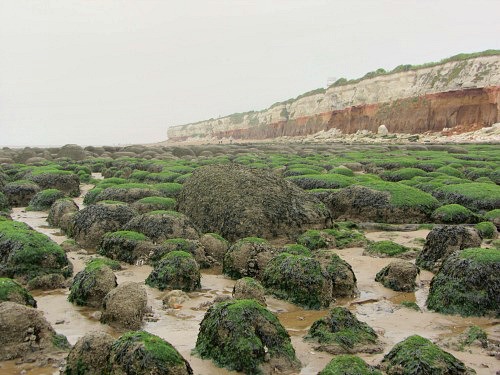 The North Beach is definitely a dog friendly beach!  You'll find more dog friendly beaches just a bit further along the North Norfolk coast.  And if you want to walk along the beautiful Norfolk coast, then the Norfolk Coast Path actually starts from Hunstanton and goes all the way along to Sea Palling, and we can help you organise your walk with our Norfolk walking holidays packages.

The Local Legend Of Hunstanton Beach
The most famous resident amongst these cliffs is Michael Kennedy.  A lovely friendly man who has the bizarre hobby of collecting small stones from the beach and making a barrier against the cliffs to help hold back the erosion process.  He does it very systematically and puts the stones in areas according to their colour.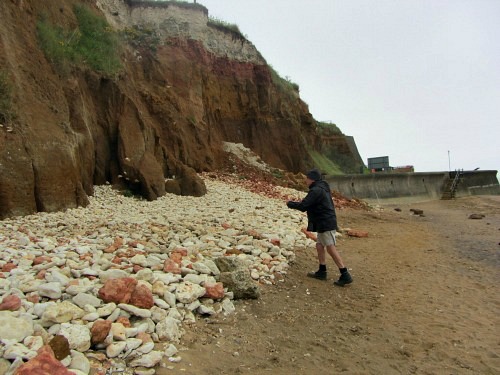 He does this every day from 10.30-12.30,except for Sunday I think he told me. He's done it for 20 years and told me it makes a change from sitting in an armchair all day!  Unfortunately for Michael, the storm damage in December 2013 ruined most of his work, but undeterred, he started again.

Other Norfolk Beaches with Attractions

Other beaches on the Norfolk coast that have seaside entertainment are Cromer and Great Yarmouth.  And all three beaches are completely different, you simply can't compare one to the other.