Cley Beach
A Beach For The Outdoor Enthusiast

Cley beach is most well-known for being a shingle beach with a deep drop off into the sea, making it ideal for shore fishing.  It also borders one of the best bird watching reserves in the UK, the Norfolk Wildlife Trust Cley Marshes, so the beach is also a haven for wildlife as well as home to nesting birds during the Spring and Summer months.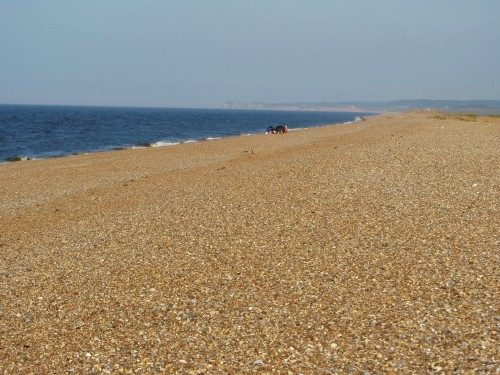 Cley beach also joins Blakeney Point to the west, which is a National Trust Nature Reserve.  Blakeney Point is an important nesting ground for terns, oyster catchers, avocets and more, as well as being famous for the sandy spit which is home to hundreds and hundreds of Common and Grey Seals.
Walking East along the beach towards Salthouse you'll get a real feeling of remoteness, and much of the 4 miles of shingle which stretches from Cley to Weybourne feels a bit like walking in a desert, (although I have to admit I've never been to a desert), but the shingle is pretty endless as you stomp over the terrain. One foot in front of the other!  
This is what I love about the Norfolk coastline, it throws up such a diversity of landscape.
Cley beach is a totally un-commercial beach with no facilities at all.  There is one small brick shelter at the car park, and that's it!
Map of the Norfolk Beaches

View Norfolk UK Beaches in a larger map
---
Dog Friendly Cley Beach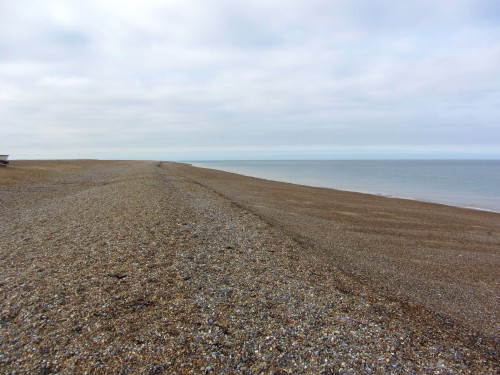 Cley beach is one of the Norfolk beaches that is quite good for dog walking, particularly at low tide, but there are summer restrictions.  I do need to stress that the beach is surrounded by nature reserves, both east and west, which means your dogs do need to be under control near these reserves.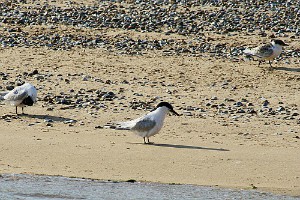 During the summer months, from April to August, there is a complete dog restriction to the west of the beach due to nesting birds.  This is a very good pdf download from the National Trust which shows you exactly where the dog restrictions are for Cley beach and Blakeney Point.
Or you can see more Norfolk dog friendly beaches here.
Many of the terns and oyster catchers lay their eggs on the shingle and it's really difficult to see them as they're so camouflaged.  Birds that are disturbed (by dogs and humans) usually won't return to their eggs or chicks, leaving them open for predators.
Walking On Cley Beach

This is a very popular beach to walk on for various reasons:
It borders the NWT Cley Marshes so there are always lots of keen bird watchers walking both ways along the Cley Marshes boundary, and there's a very good 3 mile circular walk which takes in a stretch of this beach.  
For those walking the Norfolk Coast Path, Cley beach is one of the stretches that often tests the walker!  4 miles of shingle walking is quite an ask along the 83 mile stretch of the path, but I always tell them that they'll have wonderful wildlife on view so it shouldn't be too bad!
If you felt like a 7-8 mile return linear walk to Blakeney Point, then you start at Cley beach.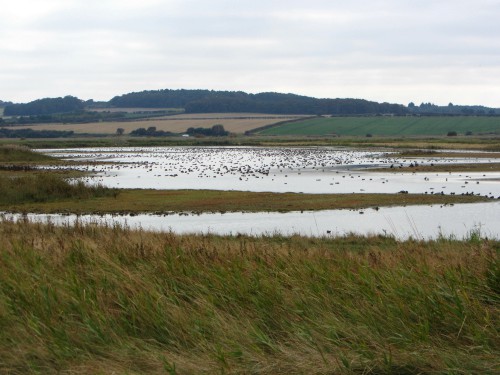 Cley Beach Tide Times

Tide times are always important along the Norfolk Coast due to many hidden sand banks, but Cley beach is slightly different in this respect.  It's more important for those that like shore fishing rather than those of you that like sitting on a beach.  This website gives you the best Cley tides times for fishing too.  
It's also good to know the tide times if you are dog walking, or decide to walk to Blakeney Point.
Is Cley Beach Good For Children?

This is one of the Norfolk beaches that probably isn't very good for children due to the whole stretch of the beach being shingle, so rather unpleasant to sit on!   There are many other far sandier and more enjoyable beaches which you can discover in the Norfolk Beaches handbook. 
Discover The Norfolk Beaches...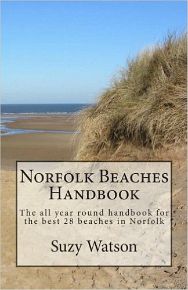 This Norfolk Beaches Handbook will help you discover many more Norfolk beaches.  It is the most comprehensive guide on all the accessible Norfolk beaches, detailing information such as postcodes, accessibility, whether it's good for children, walking, wildlife or fishing, whether there are car parking charges and much more.
Low tide, however, leaves a wonderful huge stretch of hard sand so if you wanted to try Cley beach, it's probably best to look at the tide times. 

Fishing On Cley Beach

Fishing is very popular along this stretch of coastline from Cley through to Salthouse and Weybourne due to the fact that there is relatively deep water close to the shore.  I'm no expert in shore fishing, although I do love fly fishing, but I know that these waters produce varying species of fish such as mackerel, cod, bass and smoothhounds.  I gather that the drop off from the beach makes it ideal for shore fishing.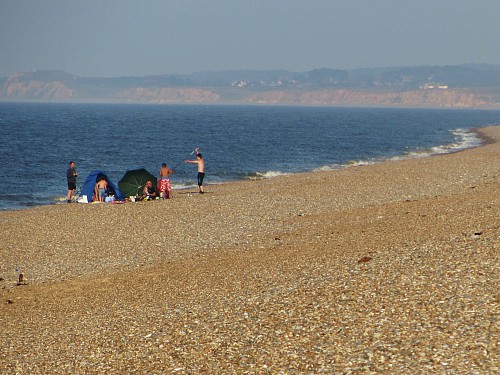 The other iconic sight that you'll see on the shingle beaches are rusty old tractors or caterpillar tractors to launch the fishing boats into the sea hoping to catch crab, lobsters and other fish, and to pull them back out again on their return.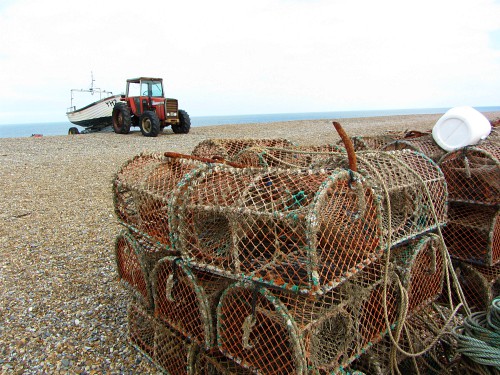 Cley Beach Car Parking And Postcode

There is very easy car parking at Cley beach. 
In the winter months it's free, but during the summer months there are parking charges.  However, if you're a Norfolk Wildlife Trust member, the parking here is free all year round.
The postcode is NR25 7RZ.  This takes you to Beach Road and the car park is at the end of this road.
Walking From Cley Beach To Blakeney Point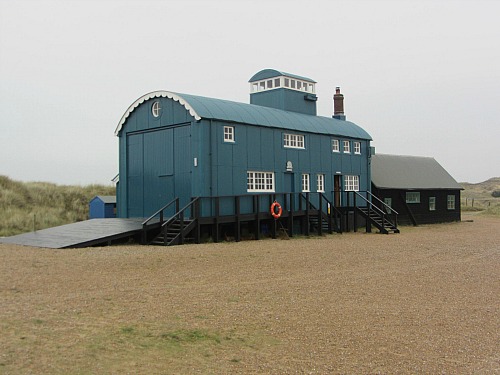 This is a walk I have yet to do, but I'm looking forward to it when I finally get the time. 
I know of many people who have done it and say it's fantastic, but definitely best done at low tide so you're able to walk on the hard sand rather than the shingle as you walk out to The Point, and also done in good weather. 
The weather can change quite suddenly so you need to be prepared, as well as taking refreshments and drink.  You can see what the walk looks like over here on the Blakeney Point page where you'll find a video.
Walking The Norfolk Coast Path Along Cley Beach

Walking the Norfolk Coast path is very varied terrain, contrary to what some people think.  If you choose to walk the Norfolk Coast Path, this stretch along Cley beach usually happens on day 4.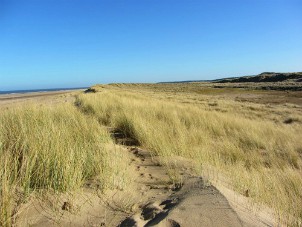 Find out what it's like to experience the diversity of the Norfolk Coast Path with our Norfolk Walking Holidays.  We'll organise everything for you while you just enjoy the walk!
It's a wonderful walk where you can really experience the diversity of the Norfolk coast on foot, from swathes of salt marshes, reed beds and beaches to this shingle here along Cley beach and onto the cliffs at Weybourne and beyond.  You'll get a really good idea of quite how remote this beach sometimes feels.  And with the noise of the sea on your left and the bird song on your right, this makes for a fantastic walk.  You can find more information on our Norfolk Walking Holidays here.

WWII relics

The North Norfolk coast has its fair share of World War I and World War II relics.  With its proximity to mainland Europe it was left open to attack and therefore had to set up defences along the coast.  
A few of the beaches have the remains of pill boxes, and Cley beach is one such beach.  The pill box here is now half buried under the ever-changing coastline.

Further back from the beach towards Cley village, along the Norfolk Coast Path, is the fascinating remains of an Allan Williams Gun Turret, and further east along the coast are the anti-aircraft guns overlooking the cliffs and are beautifully preserved by the owners of the Muckleburgh collection - they are quite a sight!
Norfolk Wildlife Trust Cley Marshes

The NWT Cley Marshes is known as one of the best bird watching sights in the UK.  There is a very eco friendly visitor centre just east of Cley village with lots of parking (charges being introduced in 2020) and fantastic views over the meadows and marshes.  From here you can take a wonderful 3 mile circular walk around the reserve which also includes a little stretch along the shingle beach at Cley.  
Dotted around the reserve are a few bird hides overlooking various scrapes, and if you like the idea of visiting these hides, you need to pay for a permit from the visitor centre.

In 2013 there was a massive tidal surge which pretty much changed quite a large amount of coastal landscape, causing quite a bit of damage to the Cley Reserve.  The whole of the reserve from the beach up to the road was under sea water.  This is where fresh water meadows had previously been.  The hides were also damaged or swept away and the pill box almost buried.   Luckily time has seen a regrowth and the reserve has recovered.

Cley Village
Cley village is just a short walk from the beach along the raised bank heading in the direction of the iconic Cley windmill.  It's a really pretty flint stone village but can get quite clogged up by cars in the summer months as it is incredibly narrow in places!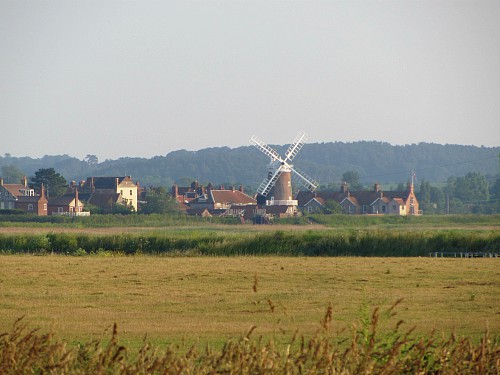 The village has a wonderful selection of independent shops and galleries such as a well-stocked deli, a smokehouse where you can buy all sorts of wonderful smoked fish, an art gallery, book shop and pottery shop as well as a tea room.  The pub, unfortunately, has changed hands a few times and is, at present (2020), closed.  
Cley Windmill, a Grade II listed mill, is now accommodation and a restaurant, so if you really wanted to treat yourself, this would be a great place to stay! 
---
Cley beach is a very well-known beach, but much more for fishing, walking and bird watching rather than for holidaying with children. It's a real outdoor enthusiast's beach!
To discover what all of the Norfolk beaches are really like, and to have the helpful information to hand, why not pop over to the Norfolk Beaches Handbook page here and read more about this comprehensive guide book
Discover The Norfolk Beaches...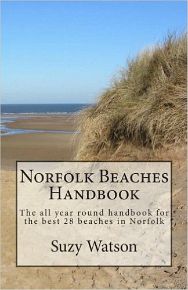 This Norfolk Beaches Handbook will help you discover many more Norfolk beaches.  It is the most comprehensive guide on all the accessible Norfolk beaches, detailing information such as postcodes, accessibility, whether it's good for children, walking, wildlife or fishing, whether there are car parking charges and much more.