Winterton Beach

Winterton beach has the wonderful advantage of a vast expanse of soft sand which is backed onto by the rolling dunes of the National Nature Reserve.   

The stretch of sand between the dunes and the sea gives a lovely uncrowded and open feel to it, and also means you can spread yourself out without being on top of other people.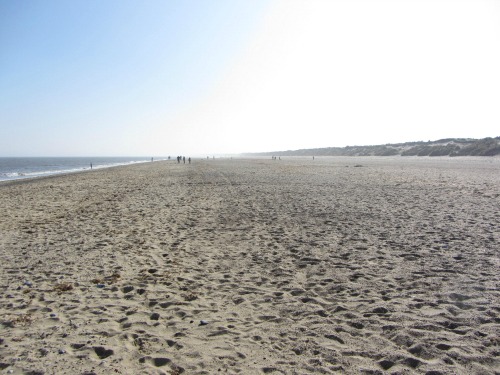 It's a popular beach as it's very close to the village of Winterton on Sea, so in the summer months it gets busy, but it's definitely not one of the those beaches that has limited space, and it doesn't get nearly as busy as its neighbour Hemsby, or even Great Yarmouth.  You don't feel that you have to rush to the beach in the morning in order to get a place!


Parking is very easy, always a plus when you come to the beach.  There is a large grassy car park at the top of the beach and it's only a short walk, past the café, to reach the sand.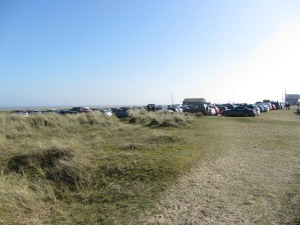 Winterton Beach
It's another one of those Norfolk beaches that doesn't matter whether the tide is in or out as there is abundant soft sand whatever the time of the tide.   If you go further up the Norfolk coast to beaches such as Overstrand, Cromer or Sheringham, then tide times do become an issue.

Just like Horsey beach, which is next door to Winterton, this beach gives you a real sense of being away from the hustle and bustle of the busier villages and towns on the Norfolk coast.   I think it's the wild and barren stretches of dunes which give it this feel.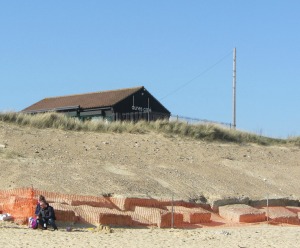 There's a well positioned good café overlooking the beach, a very welcome site on a more wintery day, especially if you've been dog walking.  If you want to save yourself the hassle of making a picnic, then you can pick up baguettes or soup or anything else they serve, and take it down to the beach with you, or even eat it inside the café.

---
Where to stay?
Here are a couple of suggestions for accommodation in or near Winterton beach:
Big Sky Cottages
If you want to stay in a self catering cottage that is extremely dog friendly and where you can walk out of the door and along a bridle way to reach the beach at Winterton, then this is the cottage for you. It comprises of three cottages and can be extremely flexible with the sleeping arrangements.  It sleeps anywhere between 2-10 people.  For more on Big Sky Cottages, click here.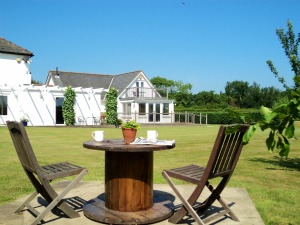 Snowdrop Cottage
Snowdrop Cottage in the village of Winterton on Sea is close to the beach, sleeps 4 and is  dog friendly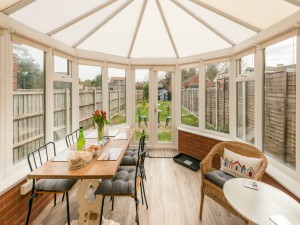 ---
Winterton Dunes
These really are fantastic dunes, stretching for as far as the eye can see, extending all the way to Horsey. 

As part of a Site of Special Scientific Interest and designated an area of outstanding natural beauty, these dunes provide wonderful walking if you don't want to sit on the beach.    Managed by Natural England, these dunes are of international importance for the plants and animals that they support.  They also form part of the Norfolk Coast Path.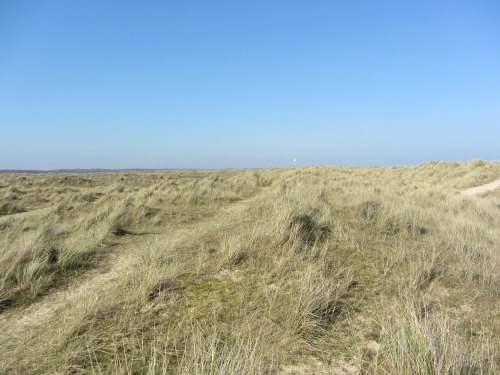 Waxham and Horsey are also within the areas of outstanding natural beauty and have lovely dunes too, so if you're in the area, why not stop over at these two sites as well?

Seals at Winterton Beach
If you want to see the seals, they aren't actually on Winterton beach but a little further north on the coast at Horsey.  However, having said that, you will occasionally see a few that come this way.  You can easily walk from Winterton to Horsey beach and get the spectacular views of the hundreds of seals basking on the sand, or looking after their pups.  It's a truly wonderful sight and worth the walk.

Alternatively, drive along the coast to Horsey and park in one of the car parks.  

Winterton beach is a perfect traditional family friendly beach, all about sand and sea, not about amusements and arcades.  It's also a great dog walking beach with no restrictions, you mustn't forget the pets!

---