Great Yarmouth Beach

Great Yarmouth beach is bursting with seaside enjoyment for everyone.  If you're exploring Norfolk UK for its fun filled beach entertainment, then look no further than the central beach in Yarmouth. 

However, if you don't want the noise and bustle of this very busy central beach, then you can always wander further away to the North beach which is on the far side of Britannia Pier, or the South beach, again on the far side of Wellington Pier, both of which are more secluded.  And when the tide comes in, there is still plenty of sand on all three beaches!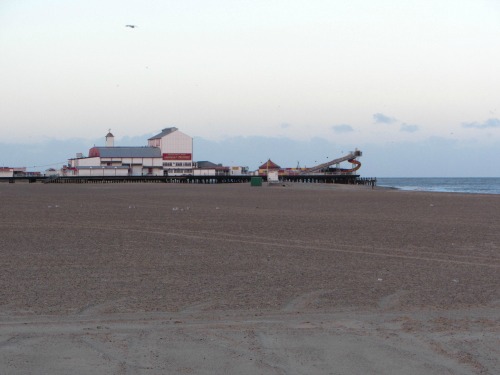 Wondering what to do for the day?   Look no further than Great Yarmouth Beach.
Great Yarmouth beach is probably the busiest and brashest Norfolk beach, followed closely by, Hemsby,  Hunstanton beach  and Cromer beach (although I wouldn't include the word brash in relation to Hunstanton and Cromer).  All these three have entertainment and fun fair rides as their main attraction, and some of you love it, some of you hate it.

Map of the Norfolk Beaches

View Norfolk UK Beaches in a larger map
---
If you want to experience the wild and open landscapes where beaches stretch as far as the eye can see, then some of the other Norfolk beaches on the North Norfolk coast will be of more interest to you.
Great Yarmouth is also the end point for two Norfolk walking trails, The Norfolk Coast Path and The Weaver's Way.
Great Yarmouth Beach South
This isn't the most attractive beach I've come across in Norfolk, but it is quieter than the central beach and does have sand dunes where you can shelter or make your base for the day. 
You're also in very easy walking distance to the main central beach and all the facilities provided there so no worries about where the local lavatories are, or what to eat, but you have the added attraction of enjoying the peace.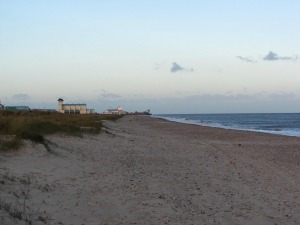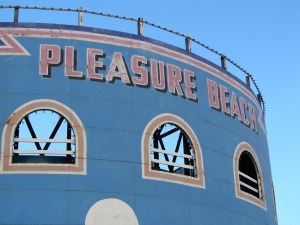 South Beach backs on to the famous Pleasure Beach attraction, full of rides, a roller coaster, candy floss, food outlets and endless fun.  This is literally a stones throw away from the beach, with no walking to reach the fun filled attraction.   May be one adult can accompany the children, whilst the other one lies on the beach!

Although a little tired and in need of a bit of an uplift, the Pleasure Beach brings in a massive 1 million visitors a year to Great Yarmouth.   

If, however, you want a better quality of theme park, then not far down the road from Great Yarmouth is Pleasurewood Hills. Now there you have really big and modern roller coasters!  A completely different and altogether bigger and better attraction.

Great Yarmouth Central Beach
This is where all the fun and action happens! 
This stretch of beach sits between Britannia Pier and Wellington Pier and you can simply while away your days relaxing on the beach or enjoying the vast array of amusements without having to think too much!
Britannia Pier offers a ghost ride, carousel, log flumes, amusement arcades, as well as the Britannia Pier Theatre for end of pier shows.  Wellington Pier, on the other hand, has an amusement arcade, a ten pin bowling alley and a casino.  Choices, choices!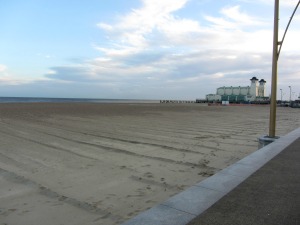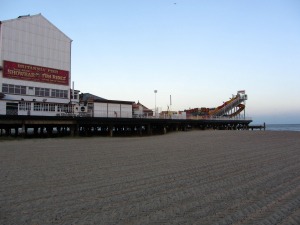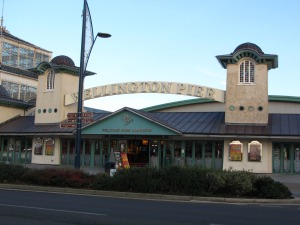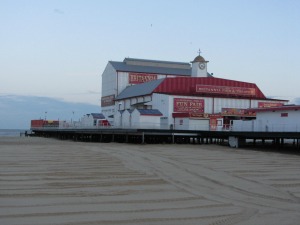 You can
take donkey rides,
have fun on the bouncy castles,

hire deck chairs and beach gear,

grab an ice cream or something to eat from the many cafes along the promenade. 

You can also take boat trips to see the seals on Scroby Sands from this central beach.  (Another fantastic place to see the seals in Norfolk is from Blakeney Point on the North Norfolk coast, a trip not to be missed) or have a brilliant viewing platform on Horsey beach, just up the coast.

And if you want even more than that, wander out onto the main road along what's known as the "Golden Mile" and you have more at your fingertips –
crazy golf,

more arcades,

cafes,

pubs and restaurants, the list goes on. 

It's buzzing with activity!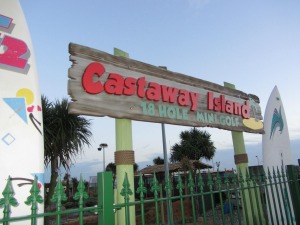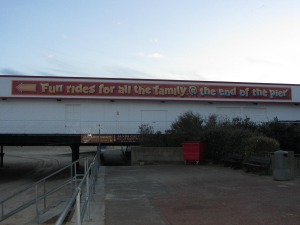 No dogs are allowed on this part of the beach, but they are very welcome on the North and South beaches, so you can still bring your beloved pet along with you. 

Great Yarmouth North Beach
This is probably the nicest of the three Great Yarmouth beaches.  Unlike South beach where you can only walk as far as Gorleston Harbour, North beach goes on for miles all the way to Winterton-on-Sea, with wonderful sand dunes and wide stretches of soft sand, overlooking Scroby Sands and the turnbines.  These turnbines can also be spotted off the beach at Caister too.

This is a lovely dog friendly beach.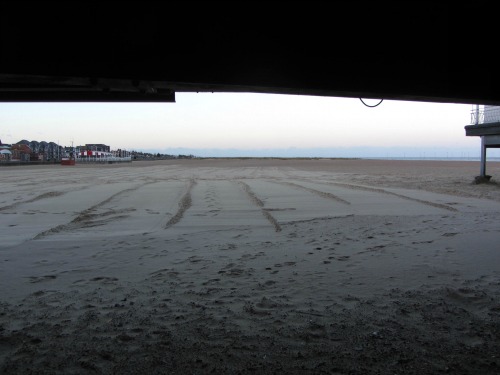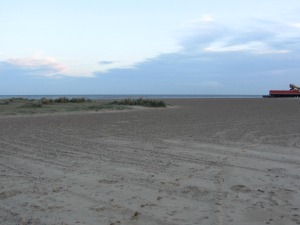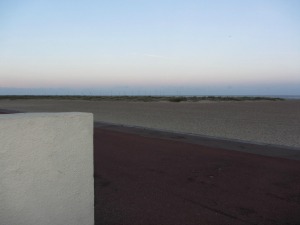 There is something for everyone on all three beaches, it just depends what you're looking for.  But it's a typical UK seaside town that still retains its cheeky seaside humour!