Norfolk Coast Path Walking Holiday

Explore the natural beauty of the Norfolk Coast – A walking holiday you'll never forget!
The Norfolk Coast Path long distance walking trail is absolutely unbelievably beautiful.  In fact, I'd go as far as saying that the North Norfolk Coast in particular, is one of the great undiscovered gems of the UK!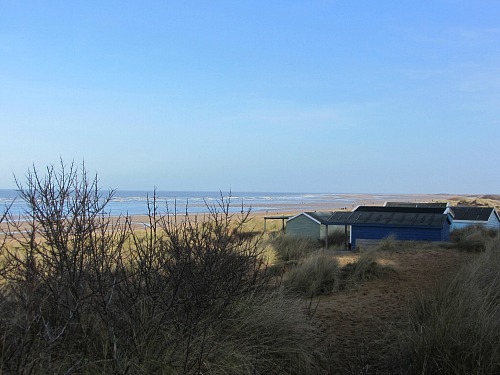 You'll have the pleasure of experiencing the huge Norfolk skies and vast swathes of salt marshes and beaches as well as a few cliffs along the way when you choose this particular path for your Norfolk walking holiday.
The Norfolk Coast Path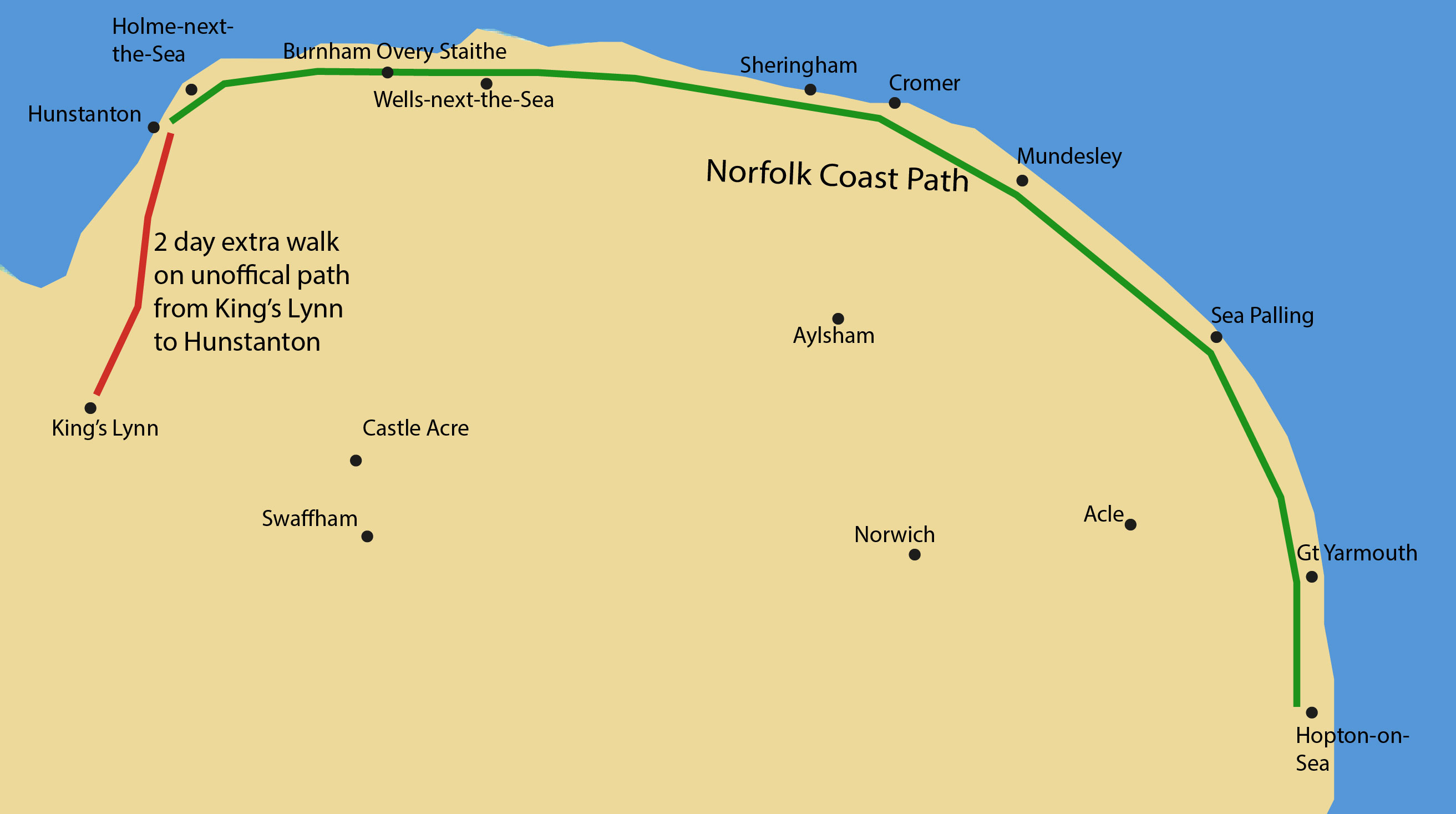 Norfolk Coast Path to Cromer - 46 or *66 miles
---
When you click the "View" buttons or the "book" buttons below, you will be taken to the "We Travel" website which has all the details of these holidays.  This is a platform I use for the booking and payment process, but everything else, and any contact you have, or any questions you have, is with me, Suzy!
3 day Hunstanton to Cromer
4 day Hunstanton to Cromer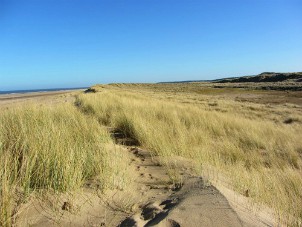 ---
5 day Hunstanton to Cromer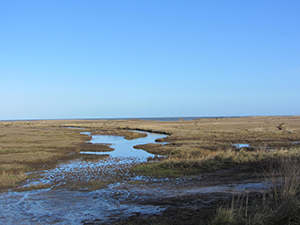 *6 day King's Lynn to Cromer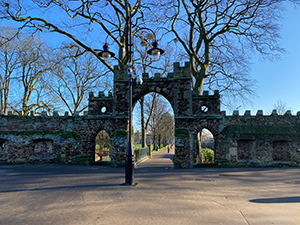 ---
Norfolk Coast Path to Hopton - 83 miles
If you want more than 7 days to walk the whole of this coastal path, please do get in touch and we can discuss other options with shorter mileage.
7 day Hunstanton to Hopton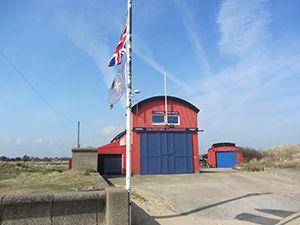 8 Day Hunstanton to Hopton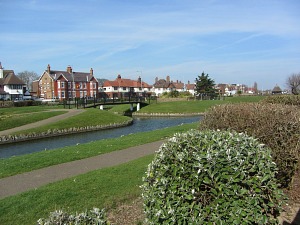 ---
Norfolk Coast Path STARTING FROM Cromer to Hopton - 39 miles
Here we have an additional option. 
You may have already walked the Norfolk Coast Path from Hunstanton to Cromer, in which case you may well want to finish off this coastal path which now continues from Cromer all the way around to the Norfolk/Suffolk border at Hopton-on-Sea.  So this holiday would START in Cromer, and is 39 miles
Or perhaps you just want to walk a different stretch of the Norfolk Coast Path.
3 days from Cromer to Hopton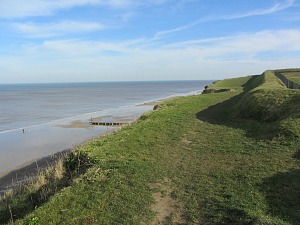 4 days from Cromer to Hopton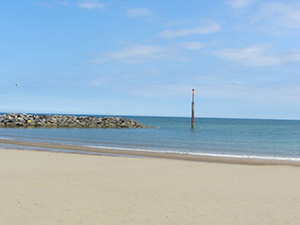 ---
Contact Details 
For any of these walks, you can contact us via the enquiry form, or email/phone at the following email address below:
Email: suzy@explorenorfolkuk.co.uk
Tel: +44 (0) 7765 668188
Norfolk Coast Path Walking Holidays Options

As you will have seen above, there are varying options to choose from with Explore Norfolk UK for walking the Norfolk Coast Path.   
The first consists of 4 different mileage options.  Three of them go from Hunstanton to Cromer, whilst the 4th option (6 days and 66 miles rather than 46 miles) starts at King's Lynn and after two days, joins the official Norfolk Coast Path at Hunstanton.
The second option is to walk the WHOLE of the Norfolk Coast Path (extended in 2016 to form 83 miles) from Hunstanton to Hopton on Sea. (However if you wish, you could stop at Gt Yarmouth).
The third option is to start the walk in Cromer and follow the path to Hopton.  You may want to do this walk if you've only walked from Hunstanton to Cromer, but wish to finish the whole of the Norfolk Coast Path.
Don't forget that if you only want to walk a part of this trail, we can tailor your trip to suit your requirements.  Or if you've already walked to Cromer and wish to walk the remainder of the Norfolk Coast Path, we can organise that for you too.
".... finally Suzy my thanks to you for being so positive and helpful right from day one. The details, directions, itinerary, the map and guide book were all excellent and really appreciated. I would strongly recommend you to anyone considering this holiday."
How Long Is The Norfolk Coast Path?
This Norfolk Coast Path National Trail is now 83 miles long (since the extension in 2014 and 2016) but can be split into three varying lengths of walk as you'll read about a little bit further on.  You can either make is a 46 mile Norfolk walking holiday or an 83 mile walk.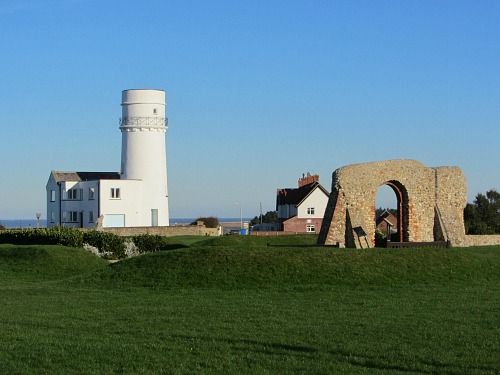 Very near the start of the Norfolk Coast Path
The trail starts at the bandstand overlooking the sea in Hunstanton on the west coast of Norfolk and takes you all the way around to the Norfolk/Suffolk border at Hopton-on-Sea on the east coast.  
And in between those two points, you will come across the most amazingly diverse and breath taking Norfolk landscape as well as seeing some wonderful wildlife that will leave you with fantastic lasting memories.  You can read more about what you're likely to see along this path here.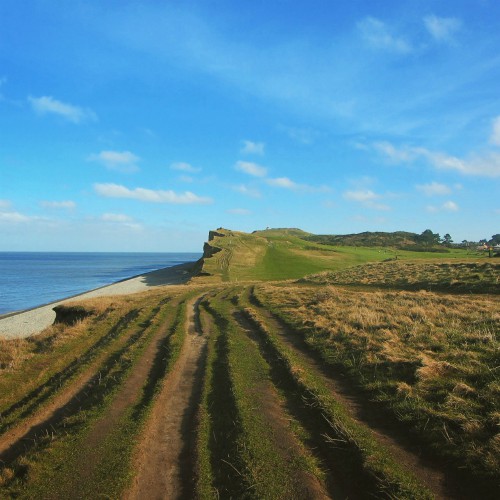 Diverse coastal landscape on the Norfolk Coast Path
Don't forget, by booking with Explore Norfolk UK you'll be able to just concentrate on enjoying your Norfolk walking holiday, rather than worrying about the nitty gritty of organising it, we'll take care of that!

Why not click over here to see what other walkers say about organisational skills, our accommodation providers and our local knowledge!
---
A Summary Of The Norfolk Coast Path Trail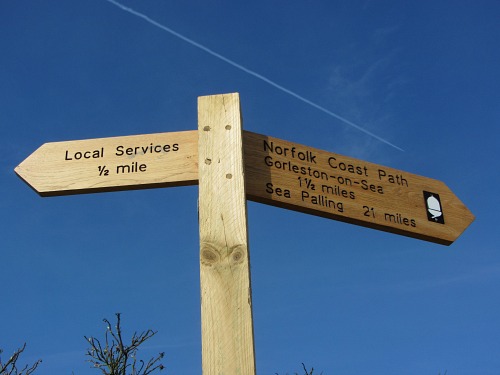 Believe it or not, the walk starts on a beach and ends on a beach!    This is a walking holiday you won't forget in a hurry. 
Booking this trail with Explore Norfolk UK will hopefully leave you with the same passion for Norfolk that I have.  I defy you not to be mesmerised and to be taken in by the views and landscape here. And if you are a first time long distance walker, this particular route is ideal.  As is the Peddars Way which runs into the Norfolk Coast Path at Holme.  Or you may even decide you want to walk both long distance trails in one go, there's more information on the Peddars Way and Norfolk Coast Path combined walk here.

It also means that you'll be able to relax and take in everything around you, to see what nature has given to us all, and to switch off from your busy daily lives.  We'll sort out the accommodation, give you maps of the Norfolk Coast Path, provide you with an excellent guide book and organise luggage transfer for you.  You won't need to do a thing except enjoy your walk.

You can find out about more detailed routes and walking holiday options on the Norfolk Coast Path here.

What you'll see on the Norfolk Coast Path?
As the Norfolk Coast Path meanders on past Holme-next-the-Sea, the salt marshes become more prevalent and, although you're still on the coast, you begin to walk away from the sand and immerse yourself in swathes of salt marshes and fresh water meadows, and this is where the wildlife really comes to the fore. 
The views are stunning and you'll wonder why you've never been here before.  The feeling of relaxation and fresh air in this glorious surrounding is something you won't take for granted, trust me. 
And if you're really lucky, you'll get to see and hear the honking of the geese, an absolute iconic sound on the North Norfolk coast.
"The information that you sent to us and the arrangements that you made were brilliant (the best we have ever had on several walking holidays over the years in the UK).
.......the scenery was often stunning, especially the salt marshes"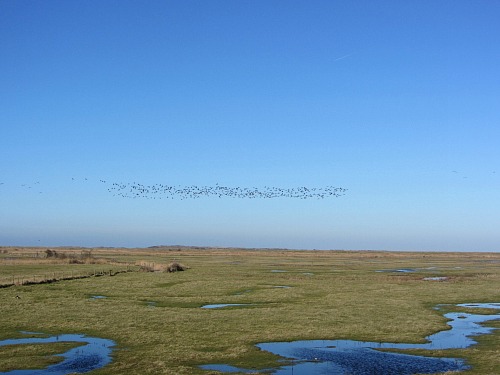 Salt Marshes On The Norfolk Coast Path
The coast of Norfolk has evolved hugely over the years.   Some of the coastal villages that you walk past were very important fishing ports, such as Cley, Blakeney and even further inland, at Wiveton.  Large boats would come all the way up to these villages, but gradually the land was reclaimed and the ports silted up.  Thanks to this silting up process, you now have the benefit of being able to walk over these salt marshes and fresh water marshes for our own enjoyment.  
But when you're standing and admiring the view (which you'll do endlessly), it's an odd thought to think that once upon a time these creeks were busy with important cargo.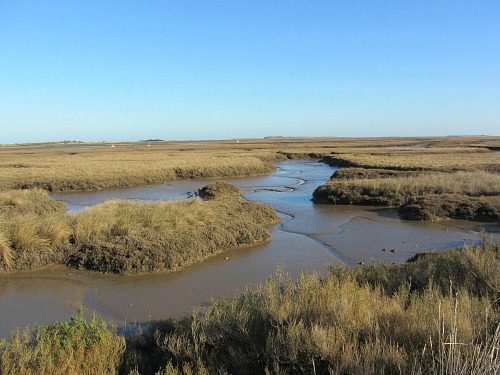 Why not choose your Norfolk Coast Path walking holiday option with Explore Norfolk UK here.

"Just a quick note to say many thanks for your efforts which did so much to make our recent walk so enjoyable. Your website is brilliant, booking was simple, all the accommodation was excellent and baggage transfer faultless. I would certainly have no hesitation in recommending you to anybody walking in Norfolk."
Fishing Livelihood
As you may know, one of the great livelihoods here on the Norfolk Coast is fishing, and along the way you'll come across a few unspoilt fishing harbours, along with the possibility of seeing the fishermen mending nets, grading mussels, bringing in the catch of the day and just generally going about their everyday lives.  This is what makes this walk so fantastic.  And if you don't see them, you'll certainly see their equipment; endless lobster pots and nets dotted around everywhere as well as tractors on the beaches ready to pull and push the boats in and out of the sea.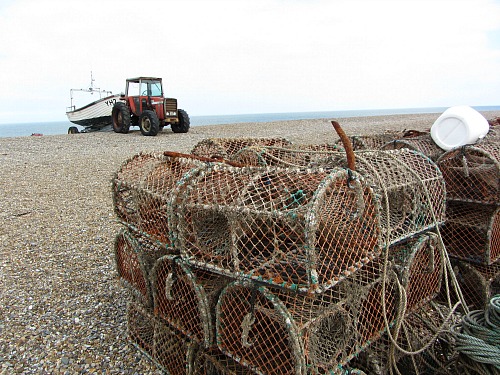 Beaches and cliffs on the Norfolk Coast Path

During the first few days of this Norfolk Coast Path walk you'll come across a few very picturesque windmills standing out resplendently on the skyline; at Cley, Burnham Overy Staithe and Weybourne, as well as seeing some very significant churches overlooking the marshes towards to the sea. 
And you'll walk over shingle and landward dunes which feels isolated and barren, as well as swathes of golden sand from Burnham Overy Staithe to Wells (if you choose to walk on the beach rather than in amongst the pine forests).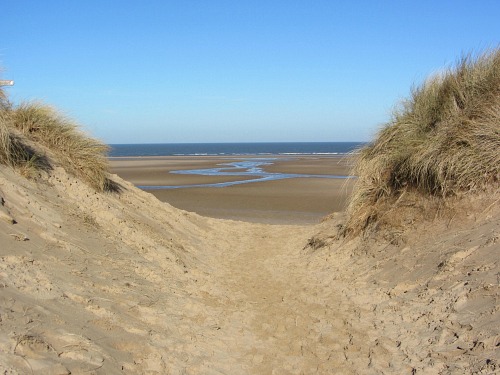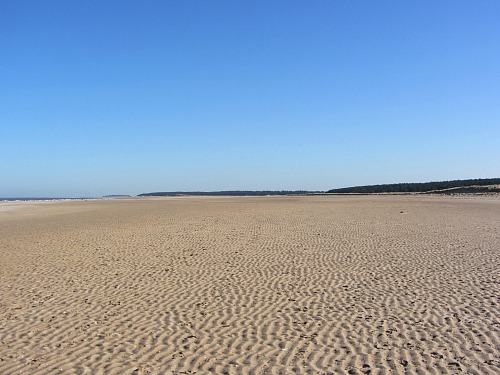 Once you get to the cliffs at Weybourne the landscape changes and the walk takes on different terrain.  On top of the grassy cliff tops you'll look back to admire the incredible views and this is where you'll see that the landscape on this Norfolk Coast Path is dramatically changing.  You'll also get a good idea of how erosion is taking hold along this part of the English Coast.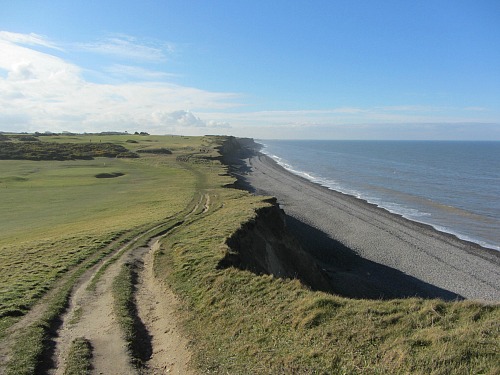 World War II
If you're interested in War memorabilia, you will be pleasantly surprised at the amount of pill boxes along this stretch of the coast.  Masses of them!   And you'll walk up Beeston Bump which was once a wireless intercept station in WWII, where radio signals were intercepted from the German E boats.

You'll come across an Allan Williams gun turret which survived the tidal surge of December 2013 as well as numerous other storms over the years, and in the distance you'll see the beautifully preserved guns at Weybourne overlooking the sea and owned by the Muckleburgh collection.   You'll never have a dull moment on this walk!

Victorian Towns
Finally, the Norfolk Coast Path includes a few Victorian towns, Hunstanton, Sheringham and Cromer.   It also includes a little bit of Great Yarmouth.  If you'd like to see a Victorian Pier in all its glory, then at one point on the Norfolk Coast Path you'll arrive on the cliff top at Cromer and be able to look down on to this iconic and rather beautiful structure.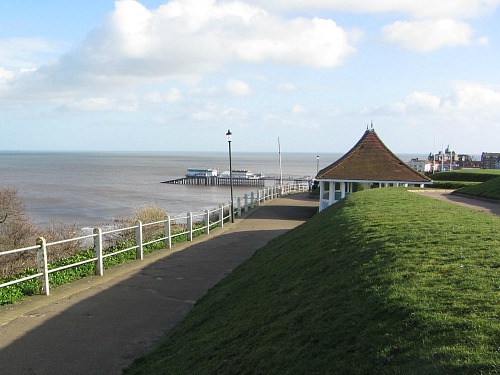 The new extension to the Norfolk Coast Path
The stretch from Cromer to Hopton on Sea is the final extension to the Norfolk Coast Path and has been opened since the end of 2016.   So if you've only walked to Cromer, you'll have to come back again!!
From Cromer to Hopton, you walk along beaches, cliff tops, SSSI sites with windswept dunes, into valleys and the town of Gt Yarmouth and along more beaches until you arrive at the end of the path on the Norfolk/Suffolk border.

---
When you started off reading this, I bet you didn't know that you'd being seeing quite so much of interest along this Norfolk Coast Path?  I really hope I've sparked something within you that makes you want to experience this wonderful part of the UK. 
I'd love to help, discuss and suggest how this could be a walking holiday for you to remember.  Why not look at the options above to decide which holiday is right for you?
---
---
---