Norfolk Treasure Trail Maps
Norfolk Treasure Trails Maps

Time to Get Your Detective Hat On

Norfolk Treasure Trails maps are a brilliant and an extremely fun way to explore the local area, whatever age you may be! 
If you're looking for a unique and exciting way to discover all that Norfolk has to offer with family or friends, then it's time to put on your detective hat and embark on one of the 45 Treasure Trails that you can discover around Norfolk.
Norfolk is filled with stunning landscapes, charming villages, and a rich history just waiting to be explored.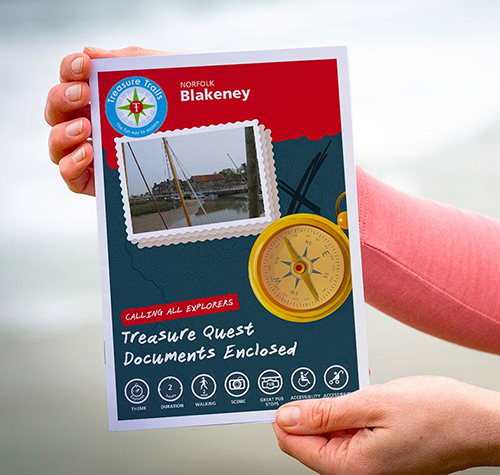 These detective-style treasure hunts are perfect for family entertainment whilst at the same time allowing you to discover the local area in a fun and interactive way.
Unravelling the mystery of the Norfolk Treasure Trails Maps

These Norfolk Treasure Trails maps are not your average maps; they're filled with:
cryptic clues
riddles
puzzles
that lead you on a thrilling adventure through Norfolk's beautiful towns, picturesque villages and stunning countryside. 
Each trail is carefully crafted to provide an engaging and immersive experience for ALL ages, young and old.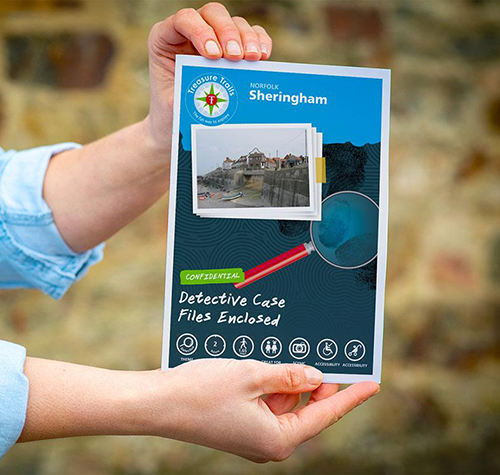 Whether you're exploring the historic streets of Norwich, meandering through the Norfolk Broads or discovering the hidden gems along the Norfolk coast, Treasure Trails maps promise to unveil Norfolk in a whole new light!
Believe me, I tried one of these and I absolutely loved it.  Even though the Treasure Trail I bought was in my next door local village which I thought I knew, how wrong I was!   This happened to be Castle Acre!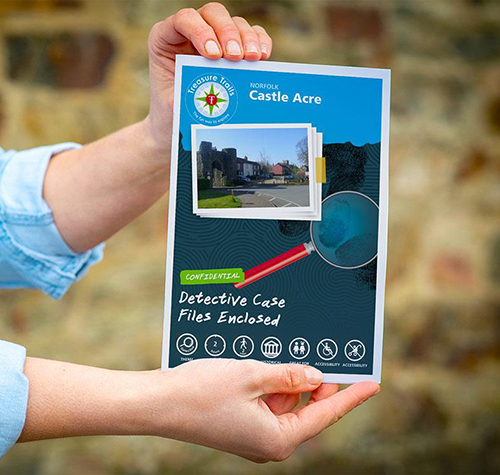 I came across all sorts of places I didn't know existed, wandered around the local churchyard (fascinating!) and down some small alleys I'd never been down in order to get the answers to the clues!  I became a child again!  And to fill you in even further, I did it with a friend.  We are no spring chickens, but we loved it!
It's just like being a detective, as you follow the trail, unravel the clues, and unlock the secrets of Norfolk!  We laughed and had fun the whole way round.
Family Entertainment at its best

One of the most appealing aspects of the Norfolk Treasure Trails maps is their ability to bring families together in a fun, enjoyable and memorable way.
Firstly, you get to discover areas that you may not have known existed as you hunt down the clues. These trails take you off the beaten path and allow you to uncover hidden gems that are often overlooked by visitors, or even locals!
Secondly, Treasure Trails offer a unique and interactive experience. Instead of simply walking around aimlessly, you'll be engaged in a thrilling adventure. The clues and puzzles will challenge your mind, get you thinking out of the box and keep you entertained throughout the entire trail. It's a fantastic way to spend quality time with friends or family, working together to solve the mysteries and uncover the treasures of Norfolk.
Thirdly, Treasure Trails are suitable for all ages. Whether you're a curious child, an adventurous teenager, or a young-at-heart adult, these trails are designed to cater to everyone. They are fun and educational at the same time.
Fourthly, it's a great way to occupy children in the holiday for a morning/afternoon or whole day out without having to spend a fortune in theme parks and going through gift shops.  It also means they're out, getting fresh air and using their brains!
Children will love the sense of adventure and the opportunity to solve mysteries like a real detective.
Get ready for an unforgettable adventure in Norfolk!
Uncovering hidden gems in Norfolk

Beyond the excitement of solving clues and finding hidden treasures (!), the Treasure Trails maps offer an insight into Norfolk's rich heritage.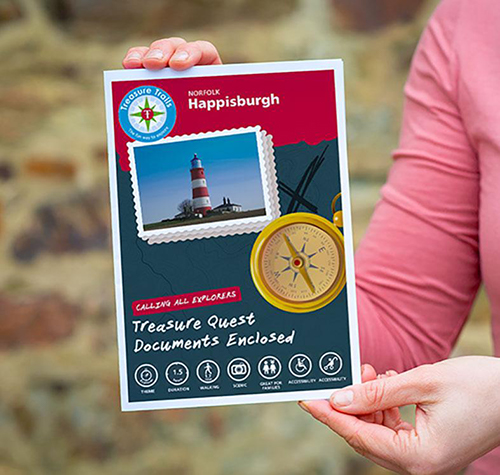 Each trail gives you a chance to learn about Norfolk's history, local landmarks and fascinating stories from the past. 
Even for locals, these trails offer a new perspective on a village or town or area you perhaps didn't know about.
How to become a detective with Treasure Trails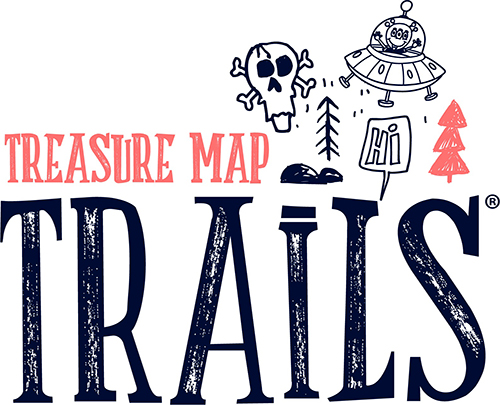 To start your adventure, simply choose a Treasure Trail in an area you'd like to visit.
You can browse through the available trails on the Treasure Trails website here. 
Just select one that suits your preferences. Whether you're interested in history or mystery, there's a trail for you.  There are 45 Norfolk trails!
Once you've chosen a trail, you can either download the PDF or use the Treasure Trails app to guide you along the way. The PDF contains all the clues and instructions you need to solve the mystery which you can print at home, while the app provides additional features such as the ability to add notes, and even have 3 goes at being helped with an answer! Whichever option you choose, you're in for an exciting adventure in Norfolk! 
Different types of Treasure Trails in Norfolk

Treasure Trails offer a wide variety of Norfolk Treasure Trails maps to suit every interest and preference. Whether you're a history buff or a mystery enthusiast, there's a trail that will captivate your imagination
If you're interested in history, you can choose a trail that takes you through historical landmarks and tells the story of Norfolk's past. You'll learn about the county's rich heritage and uncover fascinating facts along the way.
And if you're a fan of mysteries and puzzles, there are detective-themed trails that will challenge your investigative skills. You'll need to unravel cryptic clues, decipher codes, and solve puzzles to crack the case and find the hidden treasure.
Start your detective adventure with Treasure Trails in Norfolk

If you're looking for a unique and exciting way to explore Norfolk, then these Norfolk Treasure Trails  maps are the perfect choice.
With their fun clues, hidden treasures, and interactive experience, they offer a thrilling adventure for all ages. 
Whether you're visiting Norfolk for a holiday, or a resident looking for a weekend activity, Treasure Trails are your answer!
So why not download the PDF of a Norfolk trail, put on your detective hat, and set off on a journey of discovery? You'll uncover hidden gems, learn fascinating facts, and create memories that will last a lifetime. It's time to unleash your inner detective and embark on an unforgettable adventure with Treasure Trails in Norfolk.