Explore Norfolk UK Newsletter

With so much to see in Norfolk, it can become quite daunting to know where to start when you eventually arrive in this diverse county.  Do you go shopping, do you go to the beach, and if so, which one, do you visit one of the many historical houses, the list goes on.....!

This is where the free Explore Norfolk UK newsletter will help you.  It's a short monthly email newsletter (nothing to clog up your inbox) passing on my passion for the county and all it has to offer to you.  I know what newsletters can be like, you take one look at them and decide you don't have the time for them.  That's why I keep mine short and make them easy for you to read, and they'll only come to you if and when I have something important to share.   For example, it will have summaries of:
independent views of different sites and places to visit in this wonderful county,

maybe some little titbits of things you never knew about Norfolk 
some of Norfolk's hidden gems
You can look at some of the past issues here.
And when you've got more time to read in depth, you can then follow the links to the website for more detailed information.  What's more, it will keep you up to date with new additions to Explore Norfolk UK's website
And by signing up to the newsletter, you can also get a FREE copy of The Quick Guide to Norfolk Beaches (see more details of this below).  And don't worry, your email address is totally secure.  I promise to only use it to send you Explore Norfolk UK Newsletters.
Enjoy!

Explore Norfolk UK Newsletter

Here's where you can finally get a free copy of The Quick Guide to Norfolk Beaches.  No more searching numerous websites for details which Norfolk beach is best for you.   Sign up for your regular Explore Norfolk UK newsletter and you'll be able to download your free copy.

The Quick Guide to Norfolk Beaches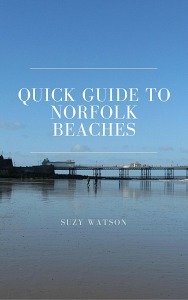 The Quick Guide To Norfolk Beaches is a first for Explore Norfolk UK.  It's a quick and informative guide on the beautiful Norfolk beaches.
It's very easy to use.  It's set out in bullet form, with a photo of each beach concerned, it tells you if the beach you want to visit is (for example) dog friendly, sandy, has lifeguards, has attractions, how to pay at the car park and so on. 
This is a great little guide to have to hand when you next visit Norfolk and it will make your life so much easier.    You can get this exclusive guide by filling out the form above. 
After completing the form you will receive an email asking you to confirm your address (just so we are sure no one submitted your email address without your knowledge).  Once you have confirmed this, you will then be taken to a page where you can get your very own copy of The Guide To Norfolk Beaches. 

And don't worry, we won't use your email for anything other than sending out our newsletter.  We hate spam as much as you do!

---
There is so much to see and do in Norfolk, why not get some fresh and exciting ideas by signing up to our regular newsletter?
You can take a look at some past issues here.
Some of the pictures below just show you how wonderfully diverse Norfolk is, and I look forward to giving you an insight into much more in my regular Explore Norfolk UK Newsletter.
Subscribe NOW and you'll get my FREE copy of The Quick Guide to Norfolk beaches.

Explore Norfolk › Newsletter