Sea Palling Beach

The Family Friendly Beach
Sea Palling beach is one of those Norfolk beaches which is popular, but not too over-crowded. 

It has amusements, cafes and amenities just set back from the beach, but not enough to make it into a really touristy beach destination which I think is a major attraction for those of you wanting a halfway house between complete tranquillity and lots of hustle and bustle.

Awarded the Blue Flag status for several years, this is definitely the perfect family friendly beach.

Approach to Sea Palling Beach
The car parking here is very easy and a very short walking distance to the beach, so no worries about where you're going to park. 
On the way to the beach, you'll pass cafes, pubs and amusements to while away your time, and always a relief if you have small children in tow or don't want the hassle of packing a picnic.  Just nip over the ramp and grab a bite to eat and drink.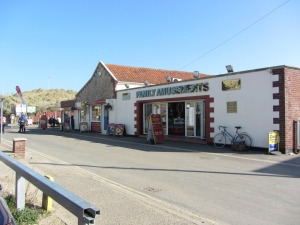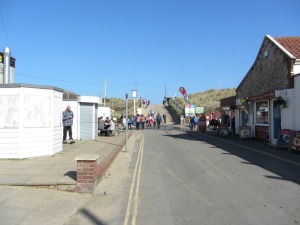 Sea Palling Beach
This beach is one of a number of Norfolk beaches to be awarded the Blue Flag status, and has actually held this award for several years.  It means it's clean and well looked after, which is one of the main points you want from a beach. 

Map of the Norfolk Beaches

View Norfolk UK Beaches in a larger map
---
And because of the formation of the reefs which you'll see from the beach, the sea is much calmer than elsewhere, so ideal for swimming.
It's got beautiful soft sand, and even when the tide is in, the sand is still there, unlike beaches further up the coast such as Overstrand, Cromer or Sheringham where you end up having to be on the promenade or the pebbles.
In the summer months the RNLI lifeguards are on patrol, and the Lifeboat is stationed just at the top of the beach, so Sea Palling beach is one of the well patrolled Norfolk beaches.

Sea Palling Reefs
Out to sea, you'll notice formations of rocks, interspersed with warning posts.  These were built as part of a Sea Defence Scheme in 1995, and now protect the surrounding area from flooding. 

They have also made the beach a much more attractive sandy beach as it means the beach maintains its sand deposits, hence the lovely golden sand you'll find there. 

These reefs are the first thing you seen when you approach the beach from the Happisburgh direction.  Sea Palling now forms part of the  Norfolk Coast Path  so this beach is now a major attraction for walkers.

Dog Friendly Beach
In the winter months this is a great dog walking beach, but in the summer, because it's more crowded with families, it makes sense to let families enjoy themselves without dogs sniffing everywhere (!) and to keep away from here.  It does get quite busy.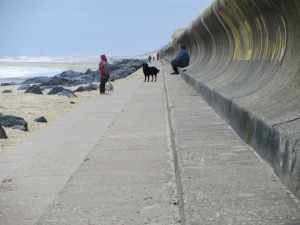 There are dog restrictions in the summer, but it is possible to walk to the east of the beach if you really want to.  It would make more sense to travel down the coast to Waxham which has no restrictions at all, or up to Happisburgh, another great dog walking beach.

ACCOMMODATION SUGGESTIONS:
Nature Reserves Close By
This beach and village is wonderfully close to Hickling Broad, run by the Norfolk Wildlife Trust, and Horsey Warren run by the National Trust, so if you're into nature and bird watching, then this area is brilliant for you.  You have the beaches, as well as the Nature Reserves.  
There are masses of Nature Reserves in Norfolk, but a couple more on the North Norfolk coast which you may be interested in are RSPB Titchwell and NWT Cley Marshes.  Both are fantastic wind swept (if it's windy!) beach reserves.

I think the beach at Sea Palling has a lovely atmosphere about it, difficult to pin-point exactly what it is, but you really get a sense of belonging on this beach.  I hope you enjoy it.