Norfolk UK Beaches Awarded Blue Flag Status
Six of the Norfolk UK beaches out of nearly 30 accessible Norfolk coast beaches were rewarded with the Blue Flag Award, and one other was awarded the Seaside Award.

This is fantastic news for Norfolk, and for you as well, as it means that these particular Norfolk beaches should present you with a clean and safe environment in which to really relax and enjoy your holiday.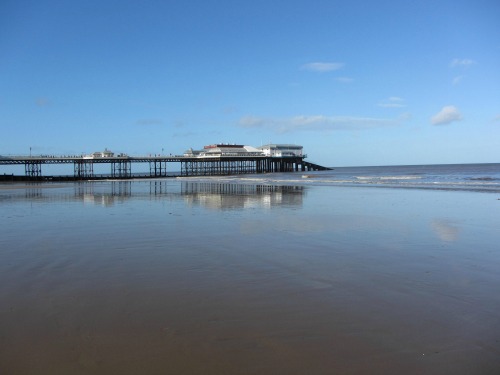 55 blue flag awards were awarded to UK beaches by Keep Britain Tidy and are International Awards. This means that the beaches should be:

Clean
Safe
They should promote environmental information
Good beach management
Quality water to swim in
They also have to advise where you can find information on discharge from the sewage overflow – although I think I'd rather not know that!  What the eye doesn't see… and all that!!

Seaside Awards are given to the best beaches in the UK.
The Blue Flag Norfolk UK Beaches
East AND West Runton Beach
Both East and West Runton now have Blue Flag Status.  I love this beach for its rather desolate and empty feel.  With a caravan park at the top of the cliff, it's a very convenient beach, but if you're not staying here, you can easily walk away from the crowds, either east to Cromer, or west to West Runton.  It has a wonderful old WWII pill box sitting in the sand which is a great attraction if you're going to walk along here. 

Again, East Runton beach is patrolled by lifeguards.  It isn't as sandy as most of the other beach, which I always feel is a bit of a disappointment, but as there are plenty of others that are, you're spoilt for choice while you're in Norfolk.  This must be one of the smallest beaches in Norfolk.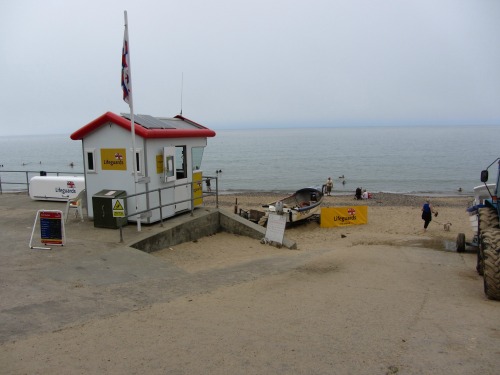 West Runton beach is best known for the discovery of the mammoth bones in 1990 and is one of the best beaches for fossil hunting and rock pooling.  
Sheringham Beach

This lovely Victorian seaside resort is one of the beaches awarded the Blue Flag.  Patrolled by lifeguards in the summer months, Sheringham is a popular beach, with various attractions, independent cafes, museums, theatres and much more, as well as having a very popular promenade to wander along whilst eating ice creams or just whiling away the day.  Find out much more about Sheringham Beach here.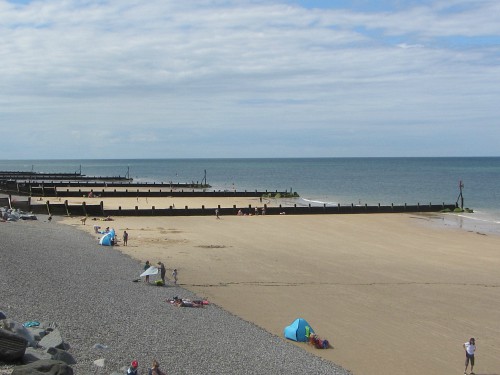 Cromer Beach
This is another wonderful Victorian seaside resort but with the added attraction that the beach has a magnificent Pier, which draws the crowds for the shows at the Pavilion Theatre sitting at the end of it. 
And of course the seaside town is famous for its sweet and juicy Cromer Crabs.  Many a time will you see the fishermen coming in with their daily catch. 

During the summer months Cromer is a popular beach as the town provides a lot of entertainment for visitors, and the views from the cliff tops and pier are really spectacular.

Sea Palling Beach
This Norfolk UK beach is on the east side of the county, and isn't anything like Cromer or Sheringham, both of which are seaside town resorts. 

Sea Palling is a beach which has had to work hard at ensuring it has sea defences in place to stop coastal erosion.   It has 9 quite fascinating stone boulder man-made reefs out to sea, and concrete sea defences backing onto the sand dunes.

As with all Blue Flag beaches, this one is patrolled by lifeguards and it is a much quieter family friendly beach.  It does also have amusements and cafes very close to the beach, but it definitely has a more open and remote feel to it, as it's backed onto by sand dunes.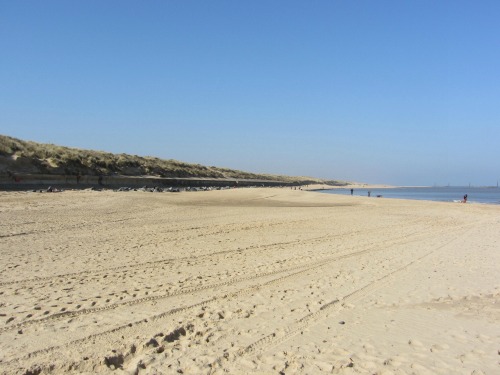 Mundesley Beach
This is another Blue Flag beach.
This is another beach which is on the east coast of Norfolk, although it comes under North Norfolk.  Just down the coast from Cromer and Overstrand beach, it stretches out for as far as the eye can see, with wonderful walks.  The beach is backed by cliffs this time, rather than sand dunes or towns.  It's actually a beautifully kept village with a very pretty green on the top of the cliff overlooking the beach and I think it deserves this award.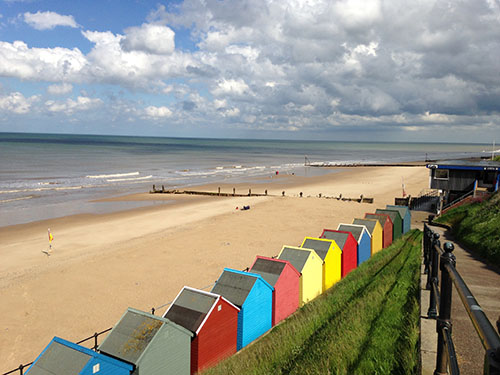 Seaside Award
Wells beach
Wells beach is the beach that has been awarded the Seaside Award.  This is undeniably one of the best Norfolk beaches.  With the eclectic array of beach huts, swathes of golden sand backed by the pine woods, it is definitely worthy of an award.
It also has a great little cafe in the car park!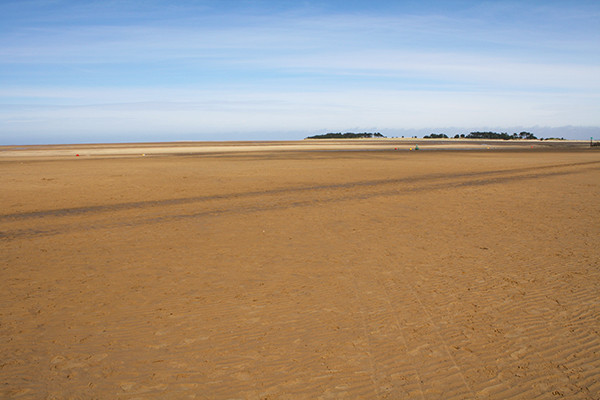 There are so many different beaches in Norfolk, why not browse through my guide to Norfolk beaches  and pick as many as you like to go and visit!