Dog Walks Around the Norfolk Coast
Dog Walks Around The Norfolk Coast

16 dog friendly coastal circular walks book
Dog Walks Around The Norfolk Coast - here's your chance to get hold of the book that has some really great dog friendly walks, all of which need very little time on the lead, and at the same time you can enjoy some fantastic views or walk around some places of interest.
This book contain 16 circular walks which vary in length, but all have one thing in common; very little time is needed on the lead.  
I know what it's like to try and find good dog walks, particularly if you're on holiday somewhere and you don't know the area very well.   This is a great excuse to explore a little bit of Norfolk with your pet.
As of April 2020, this book has now been updated with improved maps
What's in the book?
Here's what you can expect to find on each particular walk: 
the postcode for parking
a brief sentence on what you're likely to see
the length of walk
the OS map relevant to the area
a detailed map of the route
clear instructions on following the route
You can find the Dog Walks Around The Norfolk Coast here. 
Our dogs come everywhere with us these days, and with more and more pet friendly accommodation available, it seems silly not to let them enjoy a holiday too!  So this book will give you lots of ideas for lovely walks.
You can take a "look inside"  here.
Also available from:
Holt bookshop, Holt
Ceres bookshop in Swaffham
Maps
Here's a snippet of an example of one of the maps.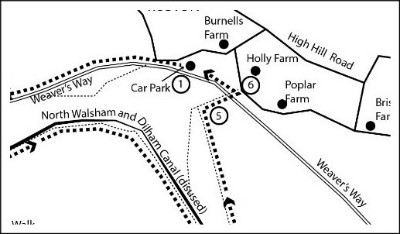 These maps are intended for information only.  They are to scale from an OS map but have obviously been reduced to fit on the page.   However, a relevant OS map is always advisable.  
Having said that, most of these walks are very easy to follow as more often than not there are way-markers.  And if there aren't way-markers, then the area is probably small enough for you to get your bearings and head in the obvious direction of the walk.
These 16 walks cover the whole of the Norfolk Coast stretching from Snettisham on the west coast to Caister-on-Sea on the east coast, and all are suitable for any size of dog!  
You can see more details and reviews as well as purchasing the Dog Walks Around The Norfolk Coast book here.

Route Directions
The route directions for these dog walks around the Norfolk Coast are  also very detailed, so why not carry the book with you on your walk?
 When writing this book, I put myself in the position of someone not knowing the area and therefore giving instructions that are easy to follow.   
And other examples of helping you, the reader are notes such as
if there are stiles and whether your dog will be able to go around them or through them
if there is livestock in fields, it will also mention that.  (there is one particular walk which does have livestock in, but this is highlighted in the book.  Most cattle won't bother you unless it is calving time)
where your dog will or may need to go on a lead (not often)
 It's a nice thin book with a glossy cover so is easy to hold or should fit in your pocket - it measures 5" x 8".

Details Inside The Book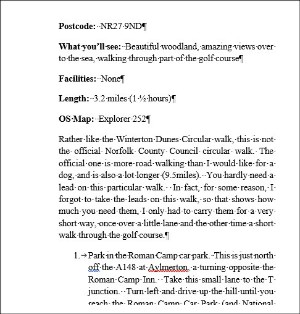 Postcodes for the start of walks are always really important.   Each walk has a postcode or a grid reference (only one walk has a grid reference).  I have updated these as one reader kindly mentioned in the Amazon reviews that a couple of them were wrong, so thank you to her!  They are now correct!  Most of them take you to the car park, but a few of them will take you as close as possible to the start.  It's always good to have a tiny little bit of common sense too!
Many of the walks I discovered whilst writing this book were great for us as humans, but not quite so good for dogs.  There were too many trails which required lots of road walking which was something I have tried to avoid as much as possible in this book.   I'm sure, as a dog owner, you'll also agree with this sentiment.

For me, the most important thing was that this book was created from my
own desire to find good dog walks 
walks which didn't take all day
 walks where you could let the dogs run free as much as possible  
As mentioned, most of the walks are also not too long.  I'm sure that you like a walk that you can do in either the morning or afternoon, and not a walk that takes all day.  This "Dog Walks Around The Norfolk Coast" book does exactly that.  The longest walk is 5.7 miles.
Burnham Overy
The Roman Camp
Mautby Marshes
Potter Heigham
I also hope that you'll find these dog walks around the Norfolk Coast interesting.  There were a few I walked that I crossed off the list as they were just plain boring! 
You'll be able to walk:
along lovely stretches of the Norfolk Coast Path
in the ever changing seasonal scenery of woodlands
in landscape that has incredible views over the Norfolk Coast
around National Trust grounds
along disused railways and canals
in typical Broadlands terrain with marshes and water
This is a black and white book which doesn't have glossy colour pictures, but these photos above give you a glimpse of what you will see.   

Why not take a "look inside" the paperback here?
Downloadable or Paperback
With this book, you have a choice.  It comes in a paperback version or,if you like digital downloads, there's a kindle version too.  
Dog Walks Around The Norfolk Coast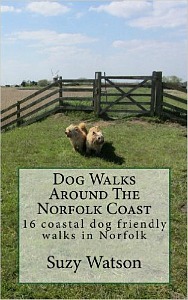 Independent Book Shops
Also available from:
Holt bookshop, Holt
Ceres bookshop in Swaffham
Covering 16 coastal dog walks, this is a handy little book for exploring the beautiful Norfolk coastline and I very much hope you enjoy it.
---
---
Share Your Thoughts With Others
Have you used this book and did you and your dog enjoy the walks? You can share your review here.
What Other Visitors Have Said
Click below to see contributions from other visitors to this page...

Excellent Norfolk dog walking book

Hi Suzy I just wanted to drop you a short note to say how much we enjoyed your book which I purchased for our recent holiday to Norfolk. It was really …