Caister Beach
Caister beach, on the east coast of Norfolk, is very much in the shadow of the much more popular and lively Great Yarmouth Beach, and also doesn't possess the Victorian appeal of the more picturesque Gorelston beach both of which are a little bit further down the south coast.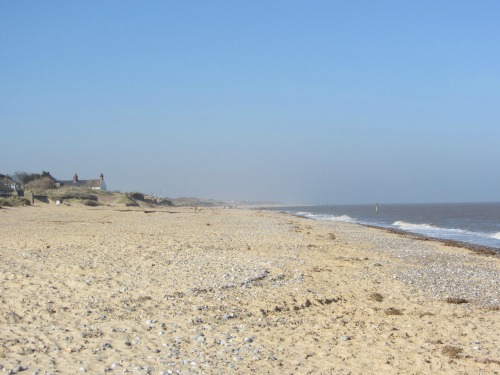 Caister Beach
This is an extremely long beach, stretching for miles, backed by sand dunes and sea defences.  It is a sandy beach, but does also have a lot of pebbles as well so it's not the most comfortable to walk on without shoes.  You'll find beaches with more pure sand further up the coast at Winterton on Sea, Sea Palling, and Waxham.

This is a beach that always seems to give me the impression of being forgotten about.  It's not a nasty or dirty beach, but it just doesn't seem to have any life to it.  It reminds me a bit of South Beach at Great Yarmouth. 

Having said that, it certainly caters for the Haven Holiday Park, which backs on to a large chunk of Caister Beach.  

So if you're staying there, then this is the perfect beach.  It's a really short walk to reach it, just over the sand dunes, which is a real benefit and an added bonus.  Not having to get in your car to find a beach can only be a good thing.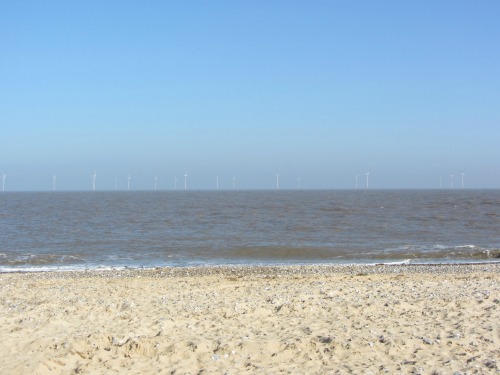 When you're sitting on the beach relaxing in the sun, you'll see ahead of you, out to sea, the 30 turbines of Scroby Sands Wind Farm.  Now whether you like them or hate them, they do generate enough electricity for 40,000 homes.  If you want to find out more, why not take a trip to Great Yarmouth and visit the Scroby Sands Visitor Centre which attracts 35,000 visitors a year. 

Map of the Norfolk Beaches

View Norfolk UK Beaches in a larger map
---
Caister Lifeboat Station
Further south down the beach is Caister Lifeboat station which is based here, and has been since  way back in 1791.  The building itself very much resembles the Old Lifeboat House on Blakeney Point.  Same shape, different colour!

There's a great history attached to the Lifeboat men of Caister, and you can pop into the  Visitor Centre just opposite the Lifeboat station, right next a big car park.   With many treacherous sandbanks out at sea, many a life was lost, and many saved by the lifeboat men.  They were vitally important in the community.
Now manned by volunteers, this service costs £3,000 per week – that's a huge amount.  And it's all met by donations. 
So although I don't think this is a beautiful beach, it certainly serves a very important purpose.

ACCOMMODATION SUGGESTIONs
Just inland from here is The Boathouse at Ormesby Broad.  A fantastic setting overlooking the Broad with wonderfully unique rooms - ideal for a mid week break.

---
Sitting right above the cliffs at Scratby is the small, privately owned and exclusive Beachside Holidays Norfolk park.  This is very close to Caister beach and has the versatility of renting a house, a chalet or a log cabin.  Some of the properties are dog friendly, others are not.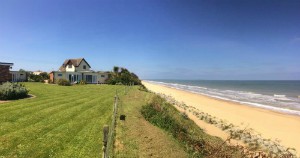 Dog Friendly Beach
Caister Beach is definitely one of the many pet friendly beaches on the Norfolk coast with no dog restrictions at all during the year.  The same applies to Waxham and Happisburgh beaches.  It's a popular dog walking beach, and being such a long stretch, you can really exercise your pooches without any trouble at all.