Brancaster Beach
Brancaster beach is yet another of Norfolk's glorious beaches, with miles of unspoilt golden sand, as far as the eye can see, and also has the added advantage of: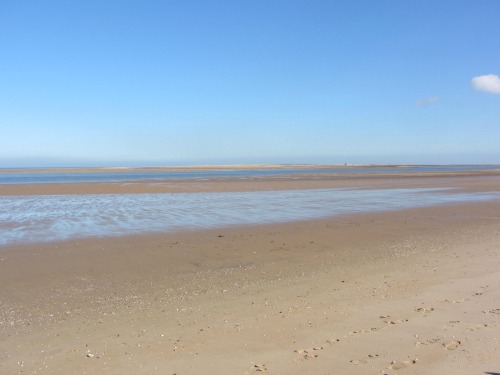 Brancaster beach is always a fantastic Norfolk beach to visit, whatever time of year you are here, and generally the best time of day is usually when the tide is out.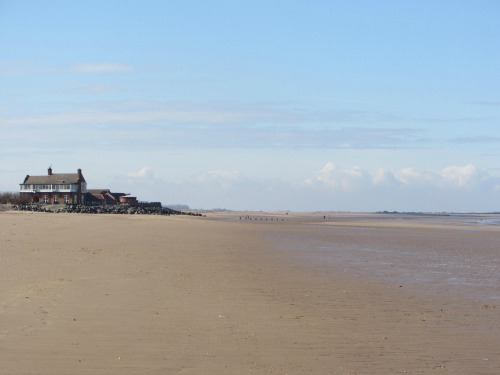 The great expanse of sand at Brancaster beach
Brancaster Beach Tide Times And Road Flooding
This is definitely one of the Norfolk beaches that does require a little research into tide times! 
Although Brancaster beach is in an Area of Outstanding Natural Beauty and is surrounded by reed beds and marshes, when there is a high tide the road to the beach regularly becomes flooded and submerged (see the link below for checking this).  It's too deep for cars to drive through so is inadvisable to try, as more often than not it's higher than you think, and many a car has come a cropper.  So please take heed.
However, if the tides and times work in your favour, you can arrive before high tide, spend all day enjoying yourselves and then return at low tide.  
You can check the Brancaster Tide times here on the Royal West Norfolk Golf Club website which is particular good as it lets you know when the road is passable or not.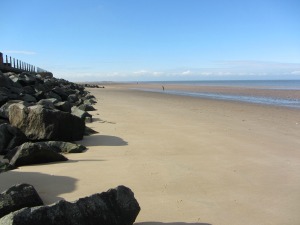 Brancaster Beach looking West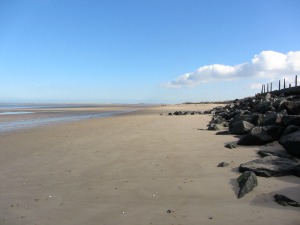 Brancaster Beach looking East
However, once you get onto the beach, the world's your oyster.  Wide open sandy beaches which go left or right, and it really doesn't matter which way you head, you can walk as far away as you wish, or just plonk your gear down near the entrance and get set in for the day.  

Map of the Norfolk Beaches

View Norfolk UK Beaches in a larger map
---
Child Friendly Brancaster Beach
Yes, this is a lovely child friendly beach and very popular with families.  There's plenty of room for everyone here.
However, you do need to be careful of the tides because they hide hidden sand banks and every year there is an accident, or worse a fatality, due to the lack of knowledge on the tides and what can happen on this North Norfolk coast. 
There are also no lifeguards on this beach.
Discover The Norfolk Beaches...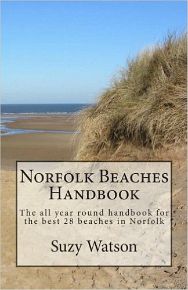 This Norfolk Beaches Handbook will help you discover many more Norfolk beaches.  It is the most comprehensive guide on all the accessible Norfolk beaches, detailing information such as postcodes, accessibility, whether it's good for children, walking, wildlife or fishing, whether there are car parking charges and much more.
The sand on Brancaster beach is wonderful for building sand castles and there are numerous opportunities to do some beach-combing and collecting shells. The tide line is often covered with masses of  razor shells.   
Flying a kite is another great activity on this beach, particularly when the tide is out which leaves a huge expanse of sand.
If you stroll east along the beach you can easily spot Scolt Head in the distance.  This is another of Norfolk's Nature Reserves, jointly owned by The National Trust and the Norfolk Wildlife Trust.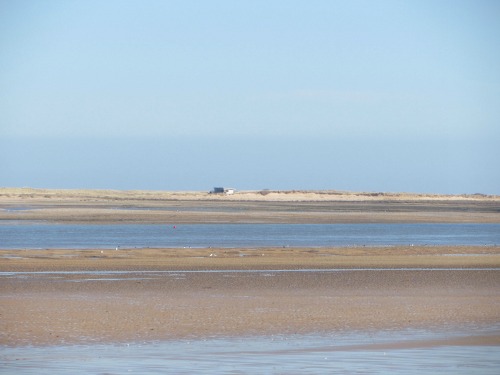 Scolt Head Island in the distance
The Shipwreck (Unfortunately it has been swept away and is no longer here)
The shipwreck was a pretty spectacular sight to see from the beach.  All your images of pirates came to mind (well they did for me!) as you saw this boat which was mostly buried in the sand.  

The shipwreck was the remains of the SS Vina which was used by the RAF for target practice before the Normandy landing prior to it accidentally sinking in 1944.  She was anchored further out to sea, but on the fateful date, she dragged her anchor in towards land and became stranded on one of the many sandbanks around this area. 
Eventually it became obvious that it was going to be too uneconomic to remove it, so all removal efforts have now been abandoned.

There were two particular dangers to this wreck:
Navigation for sailors, as it sits close to a channel
Visitors – the tides are horrendous here, and many a visitor attempted to go and visit the site (some ending in death), only to find they have become cut off at high tide. 
Since 2022, it has been swept away and is no longer visible
Facilities on Brancaster Beach
Fortunately there is a WC at the car park, as well as a little wooden shop where you can get ice creams, drinks, buckets and spades, balls and so on, so there will never be a dull moment!   These facilities, however, are not National Trust facilities.  There are also a few pubs in and around Brancaster too.

With children in tow, you often want to avoid a long walk to a beach from the car park, (such as Holkham Beach), especially if you're carrying handfuls of paraphernalia, and this is a great beach for reaching the beach quickly,  and is also a good alternative to Wells beach which again is a short walk from the car park.

Dog Friendly Brancaster Beach
Brancaster beach is a very dog friendly beach (apart from a very small restriction in the summer months).  It's not a beach that is cordoned off for dogs in the summer months, but you do need to be aware that it does have a small restricted area.  Once on the beach however, if you walk either east or west away from the main entrance to the beach, you'll be fine with your dogs.
Or an alternative way to reach the dog friendly stretch is to take a footpath to the left of the Golf Club. 
You can find much more information on which Norfolk beaches are dog friendly and which one's aren't here.
Kite Surfing
If you're a keen kite surfer or into kite buggying, then Brancaster is a fantastic beach for this, but there are restrictions which you can find here at the National Trust Norfolk Coast website.  The other very popular beach for kite surfing in Norfolk is at Old Hunstanton beach.
Wondering What To Do In Norfolk?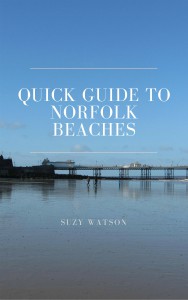 Get your free copy of the "Quick Guide To Norfolk Beaches".
JOIN OUR NEWSLETTER and keep up to date with 3 or 4 different tips every month for enjoying what Norfolk has to offer.
Each month will bring something new! 

Just let me know where to send your "Quick Guide To Norfolk Beaches"download by entering our email below, or visit the Newsletter page for more information.
Car Parking at Brancaster Beach

There is a large car park very close to the beach and just before the Royal West Norfolk Golf Club.  As the area is managed by the National Trust, car parking charges apply with a pay and display machine.
Pubs In And Around Brancaster
There are plenty of pubs in and around Brancaster so you'll never be short of somewhere to visit after your day at the beach. 
Just up the road from the beach is The Ship pub.
And further along the road, in both directions, are various different pubs.  The Lifeboat at Thornham always provide excellent food and drink, as does Briarfields Hotel in Titchwell (which has lovely views over the coast). 
Brancaster Beach Walks
Brancaster beach is very popular for a wonderful circular walk which is well signed and managed by Norfolk Trails. 

It takes you up and away from the village of Brancaster to the brow of the hill where you have amazing views over the coastal landscape.  You then head back down towards the beach, amongst the reed beds and arrive back at the beach.   This particular walk is a great dog friendly walk and it features in my 16 Norfolk Coastal Dog Walks of which you can find more details here.  

---
One of the joys of coming to Brancaster beach is that it is never as busy as somewhere like Wells beach, partly due to the tide, and this makes it a really enjoyable North Norfolk beach.  Like many of the North Norfolk beaches, Brancaster beach exudes beauty and serenity.   A "must visit".  
Have a look here to see which other beaches you can visit in Norfolk.