Briarfields Hotel

I keep finding little gems in Norfolk, but Briarfields Hotel is definitely one of the best I've found so far!
Behind the wonderfully restored flintstone wall on the main coastal road at Titchwell in North Norfolk  sits a hotel and restaurant that belies its exterior.  
I have driven past Briarfields many times, always a little curious as to what lay behind the wall, but have never stopped by to see.  Well, suffice to say that I was totally taken aback.  I hope that by now you know that all of my reviews on my website are written from my own personal point of view, and this one is no different.
Briarfields Hotel And Restaurant
Briarfields Hotel is a family run business.  It was originally a farmhouse that has now been completely renovated along with the barns, and what a treat.  
The whole ambience of the whole hotel and restaurant is one of relaxation.  I don't know how hotels manage it, but this one definitely does!  
As I walked into the reception area I had the most wonderful feeling of being on holiday – maybe that's what the Norfolk coast does to you!  

Whatever time of year you're visiting, the Briarfields Hotel is immediately warming, whether it's the log burner in the reception along with the leather chairs, or the extremely friendly staff!

And that wasn't the only log burner fired up.  Walk a little way across the stone flagged floor and into the cosy snug, there again I was met with more leather chairs and a burning log fire.
If you've been watching the birds on the RSPB Titchwell reserve all day, then this is a huge plus to come back to.  Cosy, relaxed and warm.

Find out more about Briarfields here and check availability
And if you need to get your TV fix, then there is also a TV room with more comfy chairs and within easy reach of the bar!
That's the winter months covered for warmth.  
Now how about if you visit Norfolk in the summer months, having spent a sun drenched day on one of our fabulous beaches!?   Why not leave your beach luggage in the car and come and have a Pimms or glass or wine and tapas on the terrace overlooking the Titchwell marshes and beyond to the sea?  
If you look closely through the wine glass in this picture below, you can see the sand dunes and sea!
You can book into Briarfields here and enjoy these views as well!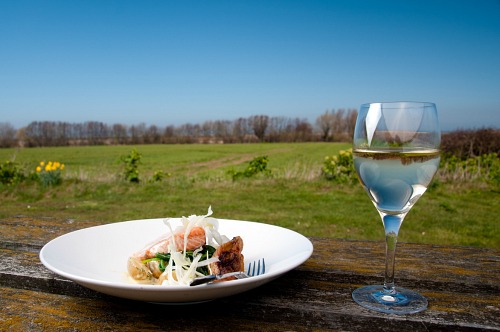 Dog friendly Briarfields
Briarfields Hotel is, of course, a dog friendly hotel.  There's a water bowl for your dogs even before you reach reception, so you know straight away that you'll feel right at home here.

All the pet friendly rooms are downstairs with very easy access out to the field adjoining the hotel.  This is one huge plus for Briarfields Hotel. It has a large grassy field just to the side of the hotel where you can take your dogs for walks without having to take them on any roads.  
The field also acts as a helicopter landing site, so if you're coming by helicopter, it's the perfect place to stay!!!
Dog blankets and treats are also provided, so no mistaking that this hotel is dog friendly!

You can read more about "chilling out and relaxing" at Briarfields here.

Dining at Briarfields Hotel
I think this is an extremely well set out establishment.  There is a central bar which serves as a reception desk on one side  (although you'd never guess it was part of the bar), and a bar from the other 3 sides which means that you can order a drink from wherever you happen to want to sit – perfect!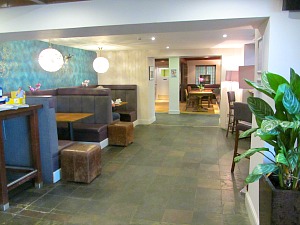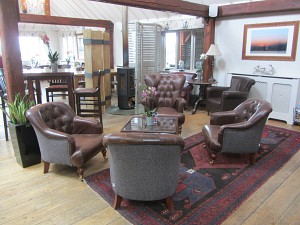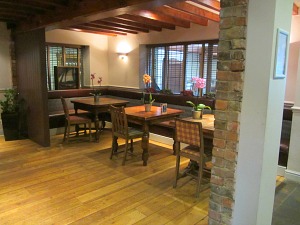 The whole bar area is dog friendly and has ample room to eat and drink.  There are lots of tables, chairs and booths to choose from!  The booths in particular are excellent if you've got dogs as you can put them under your chair without causing others to know you've even got your pet with you.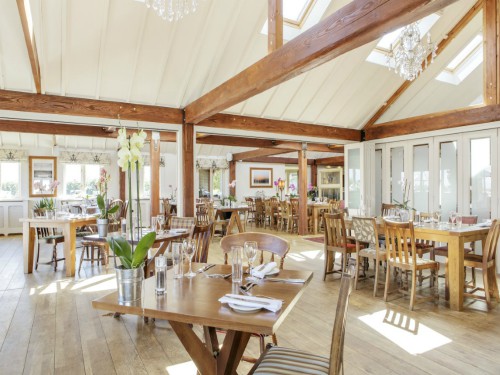 Walk into the restaurant and you'll be immediately hit by how wonderfully light and airy this room is, and you get no sense of it being over-formal at all.  In the summer months the windows are opened onto the terrace and you can have a leisurely dinner overlooking the marshes – amazing.  However, the restaurant is not dog friendly (as with all restaurants).
You can sample some of this delicious food by booking a table here.
And if you're not staying, why not just drop by for a relaxing cup of tea and amazing array of sandwiches, scones and cake on your way home from a fabulous walk along one of the beaches or one of the nature reserves.    If you are staying here, then I hope you treat yourself too!

The Rooms At Briarfield Hotel
There are 7 dog friendly rooms all on the ground floor, and the hotel has 23 rooms altogether.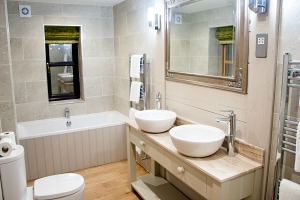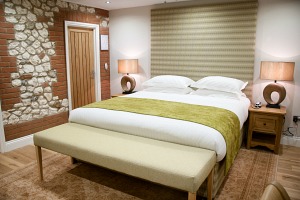 The rooms are fantastic – very neat, tidy, with lovely bathrooms and all the modcons you need.  Most of the rooms have baths with shower attachments, but some rooms even have a bath and a shower.  Some have 2 basins, others have one.  All are different.  The rooms range from standard, superior and deluxe and  some of the rooms even have walk in wardrobes, perfect for the longer stay!
Check availability for Briarfields Hotel here.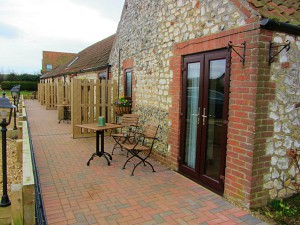 The dog friendly rooms are all downstairs in the converted barns.  And  6 of these downstairs rooms have their own parking space just outside, so no carrying your bags all around the hotel, just open the car door and walk to your room.
There is also one room which is set up for disability access.
Wifi is in the main building and in all but 2 rooms, just ask reception when booking.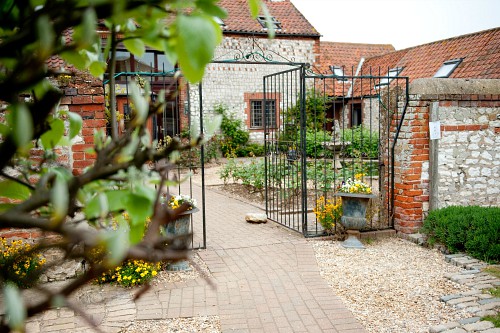 The majority of the rooms are set out around the courtyard, a real suntrap for those sun lovers, with a fountain in the middle.  If you wanted to bring your drink out here rather than sitting on the terrace, that's another fantastic option. 

You can contact the hotel here to find out more.
Garden, Terrace And Play Area
Briarfields Hotel sits in one of the best locations on this stretch of the coast with stunning views over the open landscape to the sea. 
The garden, terrace and children's play area all have this amazing view over towards the sea.
With the play area within watching distance from the terrace, this is a fantastic area to let the children run around and burn off some of that energy before their evening meal. 
The terrace, where you can relax and unwind with a beverage or two, backs onto the restaurant, has glass surrounds to protect you from the wind if there is any and also gives you an excellent vantage point from which to watch your children if they're playing on the swings or slide.  

A perfect way to end your day with a glass of something, and a few nibbles before going into dinner. 
There really is a little bit of everything for everybody - with or without dogs! 
Check availability for staying at Briarfields Hotel here.
Birdwatching And Walking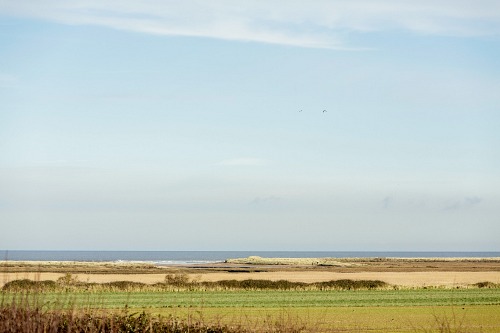 This hotel is perfectly situated for visiting Titchwell RSPB site, as well as the NWT Holme Dunes, NWT Cley Marshes and RSPB Snettisham.    You can see Titchwell beach from the hotel, so that tells you how close the RSPB site is from here.  You couldn't stay in a better place for bird watching at these nature reserves.
Walking the Norfolk Coast Path is also one of the great outdoor activities in Norfolk.  And although the Norfolk Coast Path skips over Titchwell (it goes inland due to the nature reserve), if you're planning your own walks, you can always catch the Coasthopper bus to Thornham or Brancaster where you can join the path.  Basing yourself at Briarfields Hotel is ideal.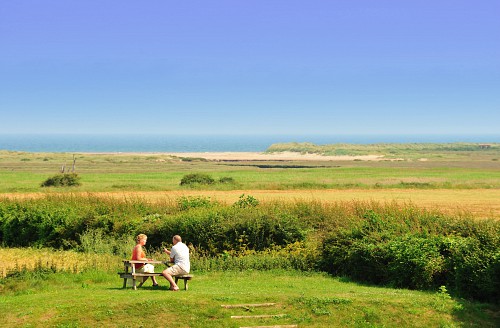 This really is one of the most relaxing places to come and stay for all activities on the North Norfolk coast.