Old Hunstanton Beach

Best kite surfing beach in the UK
There's a difference between Old Hunstanton beach which I describe on this page, and Hunstanton beach described over on this page. 
The two are complete opposites.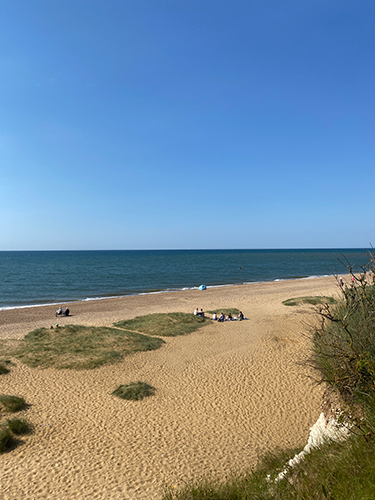 Old Hunstanton beach is one of my favourite Norfolk beaches.  Masses of parking available, and empty swathes of sand if you want to get away from it all.  If you only want to walk a tiny little way but also have space around you, then this is perfect for you too.
Family Friendly Beach

You can have it like this photo below (and this was a Sunday afternoon on a bank holiday weekend!)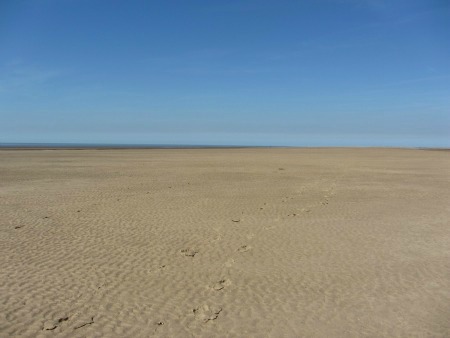 Or

like this  (and this was the same day).  And yes, they are the same Norfolk beach!   It's one of those beaches that never gets too crowded as there's always space to move away should you wish.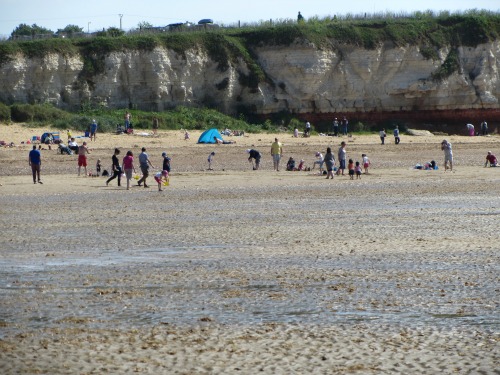 Another great family friendly beach is Wells beach, further east along the North Norfolk coast.  

This beach is literally just up the road from (new) Hunstanton beach, so not very far away at all.  A short drive is all it takes to reach the car park.  

However, when the tide is out you can walk all the way around the fascinating and famous cliffs which mark out Hunstanton from any other beaches in Norfolk, and in the UK.  You'll see why when you visit, but the cliff is divided very strongly into its 3 layers, red chalk, white chalk and carrstone.  You'll see many of the houses around this area built of carrstone – in fact the Golden Lion Hotel in the town is a perfect example of a carrstone building.
| | |
| --- | --- |
| Golden Lion Hotel, Hunstanton | Famous Hunstanton cliffs |
Old Hunstanton beach is part of the Norfolk Coast Path.  You can either walk along the beach itself, or in amongst the dunes and beach huts overlooking the swathes of sand.  It's a fantastic walk along this stunning coast, I can show you more here on the Norfolk Coast Path blog, taking 8 days to walk from Hunstanton to Sea Hopton-on-Sea.  It was magical.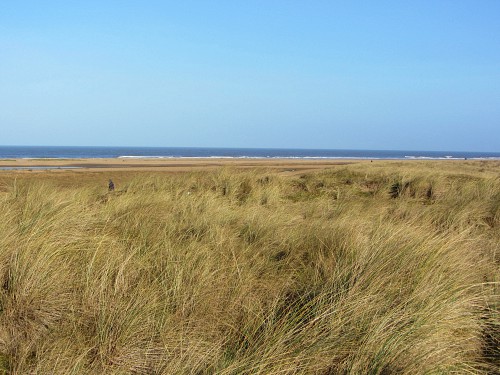 Walking past Old Hunstanton beach on the Norfolk Coast Path
ACCOMMODATION SUGGESTION:
Looking right over Old Hunstanton beach is Le Strange Arms Hotel.  It has incredible sea views, 46 rooms and 2 new modern apartments.  One of these apartments is called The Boat House and is dog friendly.  It's also a great place to stop off after a long walk on the beach.  You can either drop in to The Ancient Mariner pub or even the hotel.  The pub is dog friendly.  You can read more about Le Strange Arms hotel, The Boat House and Garden Lodge here.
Dog friendly beach

| | |
| --- | --- |
| This beach is another great dog friendly beach where you can give your dog a wonderful walk.  In fact it just gets to the stage where you feel you want to walk and walk and not turn around. | |
Kite surfing on Old Hunstanton beach

On a cold day when the weather isn't so conducive to a spot of sunbathing, the kite surfers can be found flying across the waves, loving every minute of it (I presume!). 

This is supposed to be the best beach in England for kite surfing and with the Le Strange Arms Hotel just a short walk away from the beach, this makes for a perfect location for this very popular sport, as well as wind surfing.


---