Blakeney Point

Norfolk's Iconic Landmark
Blakeney Point, a 3 mile sand and shingle spit, is right at the top of the North Norfolk Coast and if visiting Norfolk, or if you live in Norfolk, and you haven't visited the spit, then you're missing a real treasure.  

It's one of North Norfolk's most iconic landmarks with its infamous breeding and migrant birds and recognisable old blue lifeboat house, built in 1898 and now an information centre (giving information on the seals, flora and birds).   Run by the National Trust, it is one of their UK wide National Nature Reserves.
So if you want to see seals in their natural habitat, breeding and feeding birds, or just want a walk amongst the sand dunes forgetting about every day stresses and strains, this is the place to come to, winter or summer.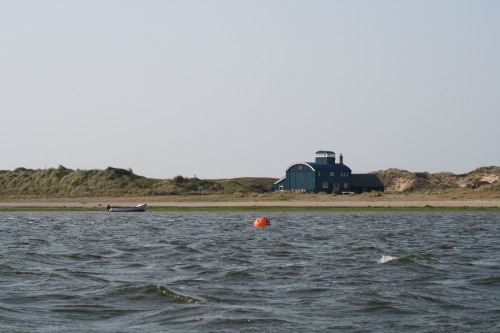 How to reach Blakeney Point

You can reach The Point by walking, but it's only really recommended if you know the area, weather forecast and tide times.  It's not something to be undertaken lightly, and although I've never walked to it, I know there is a lot of walking on shingle.   But again, if you pick the right time to walk, with the tide going out, you'll also find that you can walk on the firmer sand.

If you visit the National Trust site you'll see some links on there to downloadable walks around Blakeney as well as how to walk to the Point.  

The video below shows what it's like to walk from Cley to Blakeney Point.  If the tide is high, you'll be walking on shingle for most of the way, which can be tricky.  This video was made by Darren Cook who has kindly said I can use it on the website.
The easiest and more relaxing way to reach it is by one of the local ferry boat trips!   If you're not a walker, this is the answer for you.

The boat times are obviously very much dictated by the tide, but once there, it's a world away from everything. It's a magical time, like being on a deserted island. 
Peace, tranquillity and nature! 

At certain times of the year the boats will drop you off on The Point for about an hour, and pick you up again and return you to the quay.  They go from Morston Quay or Blakeney Harbour, but booking is recommended - there's more information on this when I talk about the seal trips.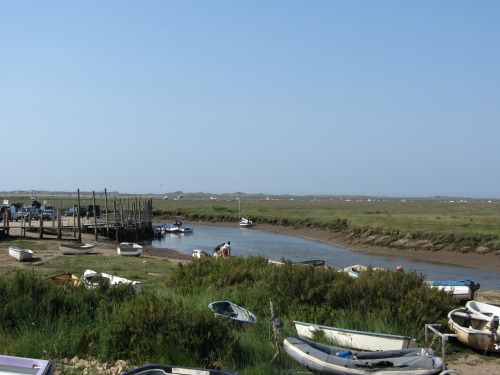 Wildlife on The Point
The Point has been managed by the National Trust since 1912 and is an SSSI area (Site of Special Scientific Interest) as well as being an Area of Outstanding Natural Beauty.  What more could you ask for!
And it's the nature on the spit that really attracts the visitors, particularly the colony of common and grey seals, as you'll see from the photos below.  

All year round there is plenty of wildlife to see, whether the nesting Sandwich Terns or rarer Little Terns, oyster catchers, the pink footed geese flying over, barn owls, birds of prey such as Hen and Marsh Harriers and Peregrins.  The list could go on and on.  Whether you're an avid bird watcher or not, there's always something of interest to see at Blakeney Point.

Rare Little Terns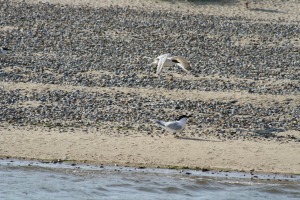 Oyster Catchers on the spit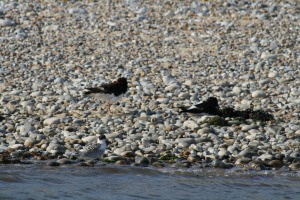 During the mating season part of the spit if cordoned off to visitors, and it's important that this is respected, as The Point is a well-recognised important breeding ground for Terns. 

Seals at Blakeney

Number of seal pups born on The Point since 2001

2001-02          25
2002-03          50
2003-04          80
2004-05        100
2005-06        175
2006-07        213
2007-08       278
2008-09        413
2009-10        579
2010-11         747
2011-12         933
2012-13     1,220
2013-14     1,566
2014-15     2,453
2015-16    2,342
2016-17    2,366
2017-18     2,700
2018-19    3,004
2019-20   3,399

Blakeney Point National Nature Reserve wouldn't be as well known as it is today without its seal colony.
The seals in Norfolk are a truly spectacular site and you would be mad to miss out a visit to see them. There is more information on the seals in Norfolk, seal trips and seals at Horsey on my seals in Norfolk page here.

Take the hour long seal trip on one of the local ferrys, Beans, Bishops, Temples or Blakeney Point, and get a close up of these serene but huge mammals dipping and diving in the sea, or basking in the sun on the shore.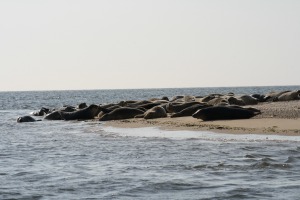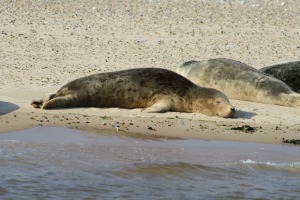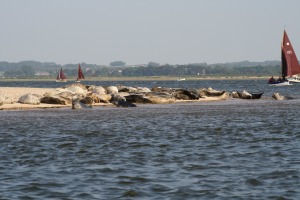 THE ULTIMATE GUIDE TO SEALS IN NORFOLK
For your detailed guide of where, when and how to see the seals in Norfolk, why not buy this downloadable pdf  which has all the information you need in one place.  

It's your Ultimate Guide to Seals In  Norfolk.  It has  everything you need to know about seeing the seals in Norfolk, whether it be at Blakeney Point in the summer months or Horsey Beach and Blakeney Point in the winter months, how to get there, info on the boat companies, best time to see them etc. All the information you need in one place.
Price: £2.99 - downloadable pdf
Read more about this extremely useful guide here.
Or:
Dogs on The Point
Dogs and their owners also need to be managed carefully!  The National Trust allows dogs onto Blakeney spit but there are restrictions as to where you can walk them between April and mid August and during the winter months when the seals are pupping.
Many of the breeding birds nest on the shingle and sand, so unruly dogs will definitely distrurb the birds.  And as the number of some of birds is declining, particularly the ringed plover and little Terns, it's important that their wishes are respected.

Some of the local ferry trips allow well behaved dogs too!
Just along the coast from Blakeney Nature Reserve is the Norfolk Wildlife Trust's Cley Nature Reserve, a slightly more accessible reserve with a state of the art visitor centre and board walks overlooking the marshes, or the RSPB site of Titchwell Marsh to the West.