Norfolk Wildlife Trust Cley Marshes

The No 1 Bird Watching Site In Norfolk
The Norfolk Wildlife Trust Cley Marshes is truly the premiere bird watching spot of North Norfolk, and possibly the UK.  
Cley Marshes is one of over fifty extremely special sites that the NWT maintains, and the 400 acres of marsh at Cley was the very first purchase the Trust made.  It was bought for the specific purpose of being a bird breeding nature reserve and this is why it's such a special place to visit.  You can find out a bit more information on the Norfolk Wildlife Trust here.

With its spectacular views over Cley marshes to the sea, (and across to the renowned Cley Windmill), you're absolutely guaranteed to spot a wide variety of birds, have as long or short a walk as you wish, enjoy refreshments in the state of the art visitor centre, and see the North Norfolk coastline at its best.     
This is a delight for every age.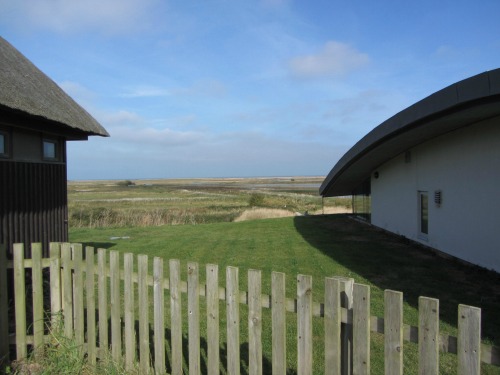 The North Norfolk coast is stunning. 
And if you want to get an idea of this remarkable scenery, the NWT Cley Marshes is as good a place as any to come and soak up the peaceful ambiance.   And added to this, you have the additional spectacle of first class bird watching.  It also has the added benefit  of running alongside part of the Norfolk Coast Path.

The history surrounding the village of Cley-next-the-Sea, and the Norfolk Wildlife Trust is one worth mentioning, and you might also find interesting, before I venture on to tell you about the nature reserve itself.

Norfolk Wildlife Trust Brief History
Very briefly, The Norfolk Wildlife Trust was founded in 1926 by Dr Sydney Long, and Cley Marshes was the first  Wildlife Trust nature reserve in the country.  There are now 47 Wildlife Trusts, with some 2,200 nature reserves. 
5 of the NWT sites have visitor centres, Cley obviously being one of them.  The others are Hickling, Holme, Ranworth and Weeting.   For more information on these other reserve sites, you can visit the NWT website.

And great to think it all started here in Norfolk!  And what an incredibly appealing site it is.

Cley-next-the-Sea Brief History
Cley is a very typical picturesque North Norfolk village full of  flint stone houses, very narrow streets, and lots of lovely independent shops such as a deli,  fish smokery, gallery, pottery shop and a pub (as at 2019 - closed).  Take some time to wander around this friendly village whilst in the area.

When you walk to either end of the village you'll see huge swathes of marshland heading out towards the coast (as in the above picture).  But back in the Middle Ages, this marshland was covered by the sea, and the boats were able to come right up the channels to a harbour near the church. 

It's an amazing thought that the whole of this marshland was covered by water but now has been reclaimed.  It takes some imagination but you can definitely get a feel for it when you walk along the banks towards the sea. 

NWT Cley Marshes Nature Reserve
The NWT Cley Marshes comprises 400 acres with reclaimed marshes, lagoons, pools, hides, board walks, walks along risen banks and the shingle beach at Cley, and a state of the art visitor centre with spectacular views over the marshes towards the sea.

Arrive at the visitor centre and you'll be greeted by very friendly staff who will answer any questions you may have.  If you want to visit the hides, you do need to pay, but if you want to just take a walk along the board walks, or up to the beach, then that's free.  Don't forget your binoculars though, as you will definitely need binoculars for bird watching!

It's worth going into the visitor centre just for the view across the marshes.  It is stunning coastal landscape that you won't get anywhere else in the UK.

Cley and Titchwell attract extremely rare and exciting migrating birds and has become home to many unusual breeding species.  The tidal surge in December 2013 has however disrupted some of the landscape, and only time and repair work will bring it back to its glory.

But don't let that detract you from visiting.  If you're wondering which birds you may get to see, let me just give you a really short list of what I saw on a September visit:

Red shank,

egrets,

teal and widgeon,

curlews

dunlin, and believe me, I'm no bird expert at all. 

I just love looking through the binoculars to see what I'm going to catch sight of.  The red shank and curlew were really quite beautiful.

NWT Cley Marshes Circular Walk

There is a 2 hour circular walk which is a really enjoyable walk, and if you've got time, I highly recommend it.  It may take just a little longer if you stop at the hides or benches, but not much longer than 2 hours.  You can pick up a leaflet from the Norfolk Wildlife Trust Cley Visitor Centre, and it shows you where the walk goes.  

Fresh sea air, a Norfolk beach, whispering reeds and an occasional relic from the war!  What more could you fit into a walk!

The above gun turret is an Allan-Williams Turret which was a prefabricated defense structure.  It was designed to rotate to all round fire, and 199 Turrets were built.

There are so many places to stop and while away your time, and observe the surrounding habitats at this wonderful site, you feel you're a million miles away from everyday life. 

But if you want to visit another nature reserve, you could also pop along to Titchwell Nature Reserve further along the coast, but I can see why The Norfolk Wildlife Trust Cley Nature Reserve is favoured over Titchwell for keen bird watchers. 

Having said that, both sites are brilliant bird watching entertainment and I would say that it depends on what you're wanting from your visit. 

A good bracing walk, then choose Cley. 

A warm modern hide, then choose Titchwell.

Old style hides, then you can choose both!

Board walks, choose both!  If you want more bird information in hides, (maybe for the less experienced) choose Titchwell.
Spectacular bird watching – definitely choose both!  Or you could also choose Snettisham RSPB site.

Cley Beach
If you're feeling energetic, you can take a very pleasant walk from the Visitor Centre, passing one of the hides, all the way to Cley beach.  This is a fabulous beach if you don't mind shingle.  More often than not it's deserted but leads onto the nature reserve once over the dunes and forms part of the Norfolk Coast Path. 

One of Norfolk's livelihoods is fishing, so to see fishing boats, tractors and crab and lobster pots on the beach is more than normal.  Cley beach is one such beach, and you can take a lovely undisturbed walk on this particular beach. 

It's also perfect for those long dog walks too!
And not far along the coast road is Holkham Hall, and Blakeney Point, where you can take a trip to see the seals.
So much to explore in this wonderful county!