Big Sky Cottages

Flexible Family Accommodation & Dog Friendly Cottages
Big Sky Cottages, just outside Winterton-on-Sea are probably the most flexible self catering cottages you'll come across in Norfolk as they are comprised of 3 different self contained dog friendly cottages which you can use in the following ways:
rent as one whole lot which includes 3 adjoining cottages (a great idea if you want to take extended family, relations or friends) 
maybe take two of the cottages 
just take one of the cottages for yourself.  
The pick is yours!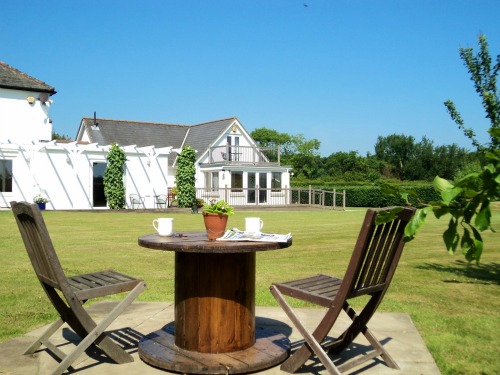 Summary of Big Sky Cottages
Located just a minute's drive from Winterton-on-Sea, East Norfolk
Big Sky  - sleeps 4-6 in a flexible manner
Martin's Nest – sleeps 2
Ladybird – sleeps 2
Very dog friendly - large enclosed garden area
Close to the Winterton beach – you can walk along the footpath to the sand dunes
Very close to  Winterton village
Close to Horsey beach and the seals and their pups during the winter months
Great for walking on Winterton Dunes Nature Reserve
Circular walk starting right from the front door
Lock up sheds for bicycles
Right next door to a ruined church
Surrounded by open fields, peaceful and relaxing
Plenty of parking
Big Sky Cottages are owned by Diane LeGrice, a really lovely friendly welcoming lady and are attached to her own house (although you'd never know as she has cleverly separated the gardens and house).   The whole property is surrounded by open fields and has a wonderful feeling of space, peace and tranquillity.
The three holiday cottages used to be a nursery school for up to 40 children, which Diane ran until 2011 when she retired.   It's been really well converted, and a few of the original features still remain, such as the nursery sink in Ladybird, and several repainted, recycled items of school furniture.
Family friendly cottage
These three cottages are where you can bring the whole extended family, or maybe enjoy as a group of friends.  The flexibility of the living arrangements gives you the chance to really enjoy a holiday in a large group without being on top of each other.  
All can have separate living space, their own front doors and their own bathrooms whilst being right next door to each other.  All in all, you could sleep 11 people, and its all totally relaxed as to how you would want to set the living arrangements out.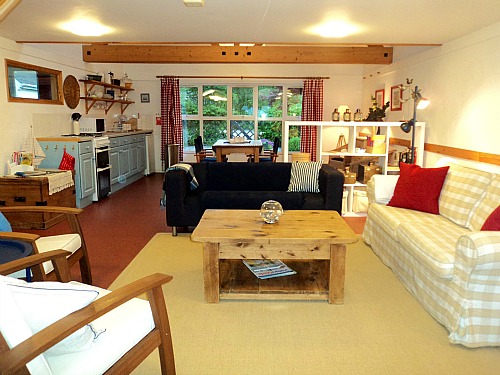 The use of all three properties for a large family group has proven to work really well and is something to consider as an excellent option.  All can relax and dine together in Big Sky, yet retire to their own private space when wanted.

For more on availability and contact details of Big Sky Cottages, you can visit their website here.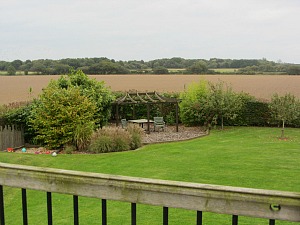 All three cottages have french doors which look out onto the large garden which is fully fenced, so child and dog proof!   The mezzanine bedroom in Big Sky (more detail below) also has a balcony which overlooks the garden and has wonderful views over the sand dunes of Winterton beach.  On a lovely sunny evening, nothing could be nicer than relaxing with a glass of wine and lovely views!
If you've got small children, then the small sandpit in the corner of the garden will keep them amused, especially if you haven't been to the beach that day!

And very importantly, there's a lovely warm laundry room just inside Diane's house which you can use as and when you like!  You'll be able to dry swimming things, wash towels etc.  As Diane is so relaxed, there's no issue at all with the use of this room.
THE 3 COTTAGES
Big Sky - Sleeps 4-6
Martin's Nest - Sleeps 2
Ladybird - Sleeps 2
Big Sky
Sleeps 4-6
This is the largest of the three Norfolk holiday cottages and is the most flexible in terms of sleeping arrangements.  It sleeps up to six, but can be less should you wish.  Diane is happy to set the cottage up to your requirements.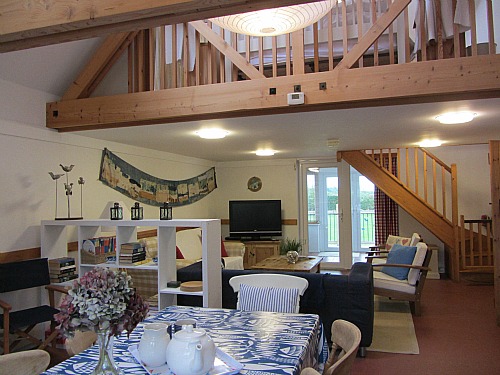 This particular cottage has a mezzanine sleeping area and an amazing open plan kitchen/sitting room which is fantastic for entertaining everyone. There's lots of space and no feeling of being cramped here.  It's a wonderfully quirky layout, but works really well.
The entrance to Big Sky Cottage was the original entrance to the nursery school, and this large open plan building was built as an extension to Martin's Nest, which was the original nursery school.  

As you walk in the door, you're met with a large spacious hallway with bunk beds cleverly fitted into a recess, as well as another door which opens into a large wet room.  There are french doors opening onto the terrace with table and seating for al fresco dining and barbecues.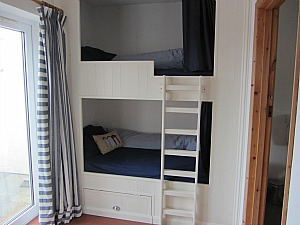 The quirkiness provides for all kinds of sleeping arrangements.  For example, if you had 3 children, then there are 2 bunk beds and a further air bed or trundle bed can be moved into the same area.    The bunk beds are adult size – and I know that at least two 70 year olds have slept in these, so suitable for everyone!!   There is also a double sofa bed in the living area.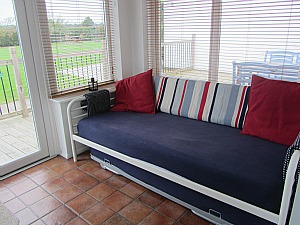 If you have a teenager who wants to be by themselves, there's a day bed in the garden room which has blinds to create another sleeping area if required. 
This room is also excellent for dogs at night, if you want them to sleep away from everyone.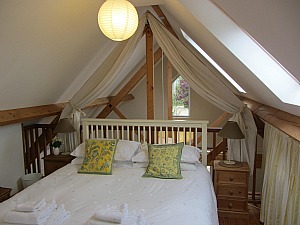 The mezzanine of Big Sky has a double bed and its own balcony which has fantastic views over Winterton sand dunes.  There's also a small table and chairs where you can while away an evening whilst children are playing happily in the garden or in the open plan sitting room/kitchen down below.
Downstairs leads out through french windows to its own private decking which is totally child proof if you've got little children.  There's also a stair gate – put in when it used to be a nursery school. 
You can find out more about Big Sky Cottages here at Diane's website, where you can contact her to check availability

All these cottages are well sound proofed, always nice to know!
Martin's Nest
Sleeps 2
So named because Diane has a son called Martin and there is also a House Martin's nest in the gable end above the front door.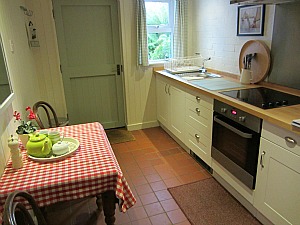 This used to house the coal shed and outside washroom, and was made into the original nursery school.  It's adjacent to Big Sky, and sleeps 2, (it has a double sofa bed in the living area).  It provides studio accommodation and is very light and airy.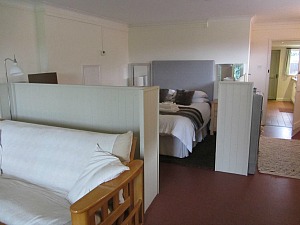 It has its own galley kitchen, shower/wet room and open plan sitting room/bedroom.  There is a partition which divides the sitting room from the bedroom area, so all is very cosy.  The french doors at the end of the sitting room open up onto the garden and a small terrace under the ivy-clad pergola.
You can contact Diane here for any questions you may have.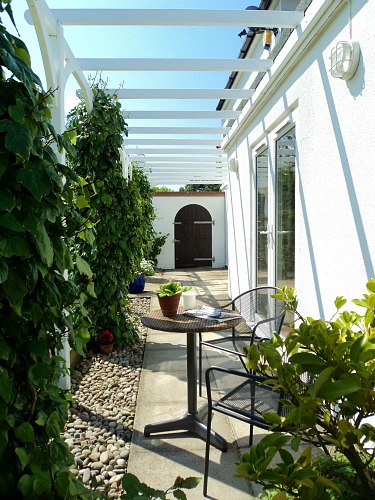 Ladybird
Sleeps 2
This studio accommodation has both south and east facing windows so lets in loads of light which is fantastic.  What could be nicer than waking up to sun streaming in with views of the gardens?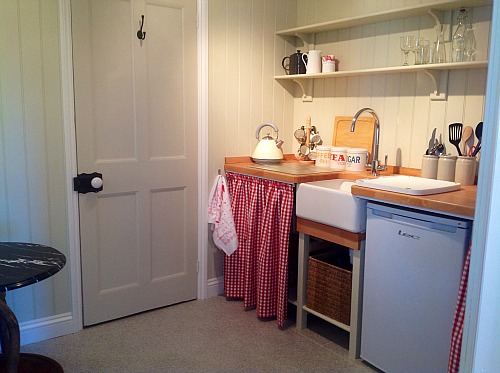 It has the original ceramic nursery sink in the well designed kitchen.    Beyond the kitchen is a shower room.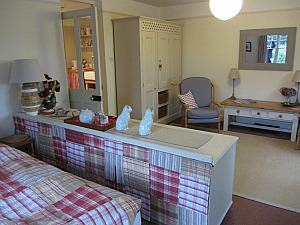 This is also a cottage which has living and sleeping areas in the same room, but again it's been very well arranged so that you have plenty of space to sit and enjoy the views of the garden without feeling cramped. 

You can walk out of the french doors straight into the garden, or you can just relax on the rattan chairs on the paving under the pergola.
For availability, visit Big Sky Cottage website here
Dog friendly accommodation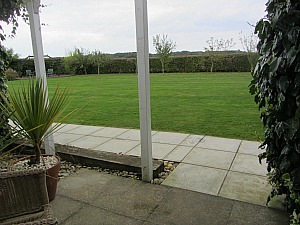 So apart from being family friendly, Big Sky Cottages are also extremely dog friendly which is excellent news for those of you with beloved pets that you'd rather have with you on holiday than leave behind.   The decking in Big Sky  is fenced and gated so no worries about wandering dogs.  The garden is the same too, it's all dog proof and safely enclosed.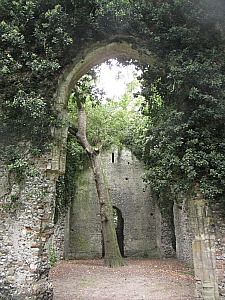 The other huge advantage about Big Sky Cottages is that you can literally walk out of the front door and go for a lovely circular walk, all the way to the beach and back, following the bridle path which runs alongside the garden.  
If you want a walk without putting on your boots, you follow the concrete farm track, passing an old church ruin, -  what's not to like about that!
All the floors are non-slip which dogs definitely prefer! No legs splaying around, or slipping everywhere.  It's always a good idea though to bring your own cages, rugs and beds to any dog friendly accommodation.
The local beaches of Winterton, Horsey and Waxham are all great dog walking beaches with no restrictions at all which is a real bonus.  

There is a beach cafe, an excellent dog friendly pub in the village, The Fisherman's Return, as well as another dog friendly pub in Horsey, The Nelson.
---
My personal thoughts on these cottages are:
I loved all three of these cottages and would be more than happy to stay here myself.  They are light, airy and excellent for dogs.
The views over to the sand dunes,  the open countryside around the cottages and being able to walk straight out of your door onto a circular walk were real advantages to me.  
And Diane is such a lovely lady, that really it can't be faulted!
You can book your stay at Big Sky Cottages here.
What to do locally here
You've got Winterton beach which you can walk to from Big Sky Cottages.  This is a fantastic beach which has no dog restrictions, backed by sand dunes for walking, and is a Site of Special Scientific Interest.  You can read more about Winterton beach here.
Horsey beach is very close too.  Again this is an incredibly popular beach, particularly in the winter months when hundreds of Grey seals come to have their pups.  It's an amazing sight, and again, you can read more about it here, so booking this accommodation in order to see the seals is a great idea.
Big Sky Cottages is also very close to Hickling Broad, an area with lots to do from sailing to fishing to walking and much more.
But why not visit Big Sky Cottages website and you'll find out more about the cottages, what you can do in the area and you'll be able to contact Diane for availability.