Norfolk Heritage Walks

18 Circular Walks With An Interest
This Norfolk Heritage Walks book was borne out of the desire to try and find some walks that had something of interest, either along the way or at the beginning or end of the walk.
Do you ever wonder where you can go for a different and interesting walk?
Well, this is your chance to discover something of historical interest for yourself whilst following the walks around or close to these wonderful sites. 
Here's your chance to explore the rich tapestry of Norfolk's history (which is huge) and uncover some fascinating stories as you follow these 18 circular walks.  
I love walking, but sometimes I feel like I want something other than just a path or farm track.  That's where this book, Norfolk Heritage Walks, comes to the fore.  
Uncover the hidden gems of Norfolk's rich history

Here's what you can expect to find on each chapter in the book:
a detailed map and postcode
a drawing or a photograph of the place of interest
route directions
whether they are dog friendly or not
whether there are car parking charges and entrance fees
the grade of walk and the relevant OS map   
Why not take a look at the Norfolk Heritage Walks book here.
Also available in paperback from:
Ruins, Windpumps And Stately Homes

Norfolk is incredibly rich in history.  It may be a flat county, but what it lacks in mountainous views it sure does make up for in huge skies and, more importantly,  historical castle ruins, church and priory ruins, windpumps, windmills and lighthouses, and last but not least, grand stately homes.  All are steeped in history and all have absorbing stories attached to them.  
What I wanted to do was to try and bring the delights of Norfolk's historic life to you in the form of a more specific walking book.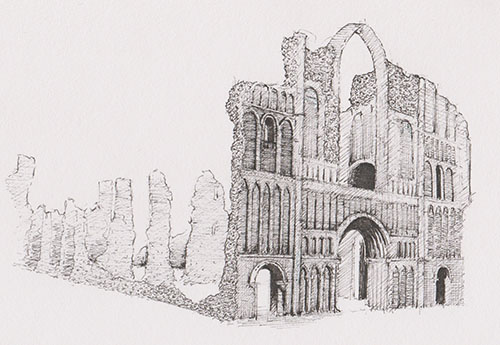 Castle Acre Priory by Will Assheton (c)
Whether you live in Norfolk or are just visiting, there are so many wonderful sites to visit, many of which often take you by surprise; particularly the ruins.  These are Norfolk's hidden gems.
There are 18 circular Norfolk heritage walks in this book and each one features a point of interest that played an important part in the lives of Norfolk dwellers many years ago.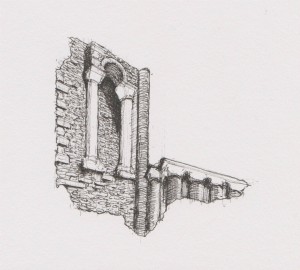 (c) Will Assheton
The Roman's feature in the book, with a walk around the amazing ruins of Burgh Castle, but it was during the Norman era that Norfolk really grew in popularity.  Huge churches and priories were built and unfortunately dissolved.  However, this dissolution left behind some staggeringly beautiful architectural structures that you can still admire today.  
Windpumps played an incredibly important part of Norfolk Broads life, draining water from the fields to the rivers, making sure that villages weren't flooded, and they also feature in the book, along with a few derelict ones too, that you will walk past.
Norfolk also became the land of the wealthy aristocrats with numerous grand houses being built.  Many of these have fantastic grounds to walk around with a few unusual structures placed in varying parts of the estates such as a Mausoleum at Blickling Hall and Ice Houses at Blickling, Felbrigg and Holkham Hall.  The woodlands that have been planted over the centuries also provide beautiful walks at any time of year.
You can read the reviews of the book over on Amazon here
Maps

All the maps in the book in this Norfolk Heritage Walks book are superimposed from OS maps so they are accurate in terms of scale but reduced to fit on the pages.  
Below a snippet of an example of one of the maps.  Obviously when walking, it's advisable to either have a proper OS map or know where you are!  
Having said that, most of the Norfolk Heritage Walks are fairly obvious and there are also a lot of waymarker posts. 
I do always try to  put myself in the shoes of someone who doesn't know the area when writing up the detailed route directions, so you'll find the numbered directions are easy to follow.
Order your Norfolk Heritage Walks book here
The Artwork And The Artist

Creake Abbey ruin by Will Assheton (c)
The artwork within the book is drawn by the talented artist, Will Assheton  
When I saw a drawing that he had created of St Paul's Cathedral, as well as one of Nelson's Column in London (Nelson being a Norfolk man and so piqued my interest), I immediately knew that I wanted to commission him to come to Norfolk and draw some of the historical buildings that feature in this book.  
He has a real passion for structure and the aesthetics and this really shines through in his drawings.  His pen and ink drawings were the perfect medium for these wonderful ruins and they feature on various walks within the book.
He came and spent several days in Norfolk sketching the architecture and took them back to London to finalize.  I really think they bring Norfolk history to life.  
You can find more of Will's drawings here.
One Of The Walks That Features In The Book
The 6 mile circular walk around the village and surrounding countryside of Castle Acre is one of the walks that feature in this book.  For  this particular walk, you can visit and admire the incredible ruins of Castle Acre Priory, a strong part of Norfolk's heritage.
The Norfolk Heritage Walks
All of the 18 circular Norfolk heritage walks have some fascinating point of interest that you can either visit or just wander around, usually at the beginning or end of the walk. 
Being in Norfolk, all of them are graded as easy and the majority of them are dog friendly, but not all of them; the route directions will tell you whether the walk is suitable for dogs.
Explore some interesting walks with the Norfolk Heritage Walks here.
For each walk you'll find the following:

a summary of the place of interest with a little hint of its uniqueness
a postcode for the start of the walk
facilities available
whether there's an entry fee
whether the walk is dog friendly
a detailed maps
a photo of the place of interest, or a drawing by Will Assheton
The picture below is an example of what you can expect to see.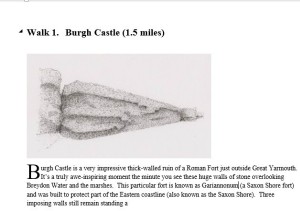 ---
With this book, you now have a perfect excuse to take a circular walk around the Norfolk countryside whilst learning something new about Norfolk's history; that's what I hope you gain from choosing some, or all of the many walks in this book.
Head over to Amazon to order your copy now
Independent Book Shops
Also available in paperback from:
Embark on a journey through Norfolk's rich history and uncover the many hidden treasures each walk brings to you in this
Norfolk Heritage Walks book
---