The Quick Guide To Norfolk Beaches

The Quick Guide to Norfolk Beaches is a PDF document that you can download for just £1.99 if you don't want to sign up to the monthly newsletter. 
It gives you a really quick guide to what each Norfolk beach is like, whether it's dog friendly, child friendly, sandy, stony, whether it has lifeguards, how to pay for parking etc.
The Quick Guide To Norfolk Beaches is, quite simply, a quick and informative guide on the beautiful Norfolk beaches.
It's very easy to use.  It's set out in bullet format, with a photo of each beach concerned.  It tells you if the beach you want to visit is (for example) dog friendly, sandy, has lifeguards, has attractions, how to pay at the car park and so on. 
It's really easy for you to scan your eyes across each beach.  There are also 3 maps which show you where the beaches are so no need to look up in a book!
This is a great little guide to have to hand when you next visit Norfolk and it will make your life so much easier.   At just £1.99, it's a bargain!  I've done all the work, you just have to enjoy the beach! 

It is purely meant to be used as a quick guide, hence the £1.99 price tag.  Have it to hand on your mobile phone or tablet so you can take it with you when you go out for the day.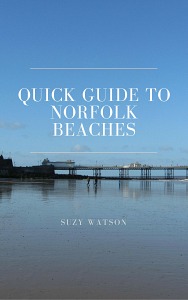 £1.99

The beaches start on the west coast of Norfolk at Snettisham and go all the way round to the east coast finishing at Gorleston-on-Sea.
Hope you find this a useful little guide to explore some of the fantastic beaches we have in Norfolk!
---