North Norfolk Beaches for Dogs
North Norfolk Beaches for Dogs

Guest Article Written by Mutley and Tangle!

How many North Norfolk beaches for dogs are there?
Well, here's something a bit different - a page written by 2 dogs - Norwich Terriers - so here goes!

Well, we know quite a few, but our owner has restricted us to the four we really enjoy the most, and where there aren't too many people for us to annoy and try and grab picnics from!
And if you'd like to feature on our website, please nip over here and feel free to tell us YOUR favourite beach!

| | |
| --- | --- |
| I'm Mutley | I'm Tangle |
This is me, Mutley, and I'm the main contributor to this article, and this is my rather shaggy mother Tangle, enjoying our day at Brancaster Beach.  If you do see us on the beach, please do come and say hello - we are really very friendly Norwich Terriers! 
North Norfolk Beaches for Dogs

Brancaster Beach
Well, we arrived at the car park and had to be controlled until we got to the beach.   We weren't sure about this beach as the approach to it looked rather busy and we thought we might have to be on leads for ages.

Fortunately this wasn't the case.  Once we'd got over the razor shells, which I thought would hurt my paws but they didn't, we were allowed off our leads and free to run!  It's such a wonderful feeling to be able to get away from being restricted!  I'm a bit naughtier than my mother and I tend to run very quickly, but I do come back when I'm called….  eventually!

Me, stopping to look at the huge amount of sand to run on!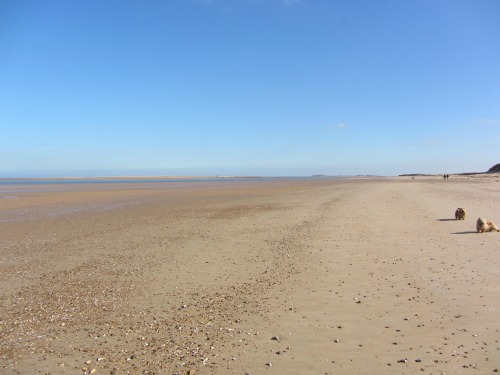 What can I tell you about Brancaster Beach?  It's another one of these North Norfolk beaches for dogs that never seem to end.  I love them.  We walked for miles, I stopped and had a look at the shipwreck out to sea which looked very picturesque on the beautiful sunny day (this is no longer visible as the shifting sands have either washed it away or made it disappear), but then my attention was drawn to another dog, much more exciting. 

We carried on walking, and could see across to Scolt Head in the distance, one of the many Nature Reserves in Norfolk I believe.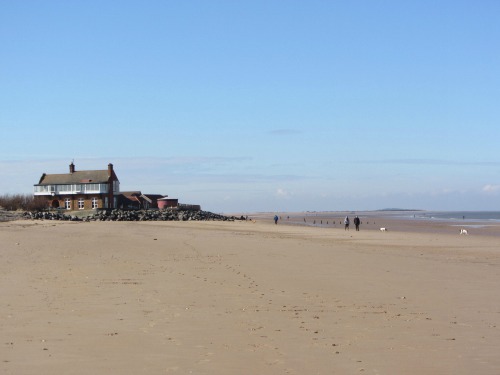 We then turned round and walked past the Royal West Norfolk Golf Club, something I've never been particularly interested in, the balls go too far away for me to run after!  As we carried on, I could see the trees towards Titchwell and Thornham.   We couldn't go further as there is a creek which you can't walk over.  However, you may be lucky and see a few seals in the water, or basking on the sand, so we did need to be under control.

It was one of my favourite beaches as we could run and run without a care in the world.

Holkham Beach
This beach is a very smart beach, there are always lots of big Labradors and smart dogs who I think belong to all the people who perhaps live on the North Norfolk Coast, or possibly come up for a weekend from London. I may be wrong though!!  I bet the dogs that live in London love it up here!

It is a beautiful beach and one of the top 10 beaches in the UK, so I'm told.

There are 2 ways to get to this beach.  Our favourite way is to turn left after the car park, walk along the path and come out onto the sand dunes just by a bird watching hide.  Of course we are on leads all along here because it is a National Nature Reserve and we do respect the breeding birds.
The other way is to go straight ahead from the car park along a board walk and out onto the bay and eventually reach the sand dunes.  Holkham beach is a really beautiful beach.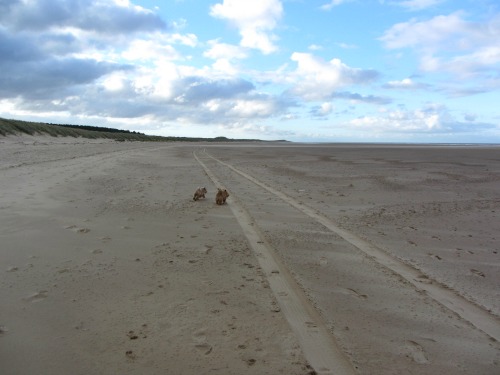 So we come out onto the sand dunes, we are let off our leads, but I do stay close by and don't wander off, as we do go amongst the dunes.  We seem to go back and forth from the dunes to the beach, walking towards Burnham Overy Staithe.  We don't go as far as Burnham Overy, but turn round, this time on the beach, and run all the way back to the bay on the lovely hard sand.  It was a bit windy, but we made it!

Miles of open space backed by sand dunes

Wells Beach
We particularly love this beach because we love to see if anyone has dropped any food by the beach huts!  Unfortunately for us, usually not, because in the summer months we normally keep well away from here and head out to sea.  But my owner always loves to read the names of the beach huts and look at the amazing art work on them.   I must admit it does make the walk a bit more interesting, although walking on the very soft sand with our little legs can be a bit of a struggle!  This is a perfect North Norfolk beach for dogs.

We usually walk all the way out to the sand dunes straight across from the beach huts, right around them and continue along the hard sandy beach.  We meet so many other dogs on this beach, it's great fun, I have so many distractions my owner sometimes gets quite cross!

There's even drinking water for us if we get thirsty, which we do most of the time; salt water isn't quite the same!  How kind and thoughtful of Holkham Estate, although I'm sure it's not just for us!

And sometimes, just for a change, we go back through the pine wood which is usually the best thing about this walk because there are so many different smells, it's very exciting, I get very over-excited and when I get home and fall asleep, I dream of all the lovely things I came across.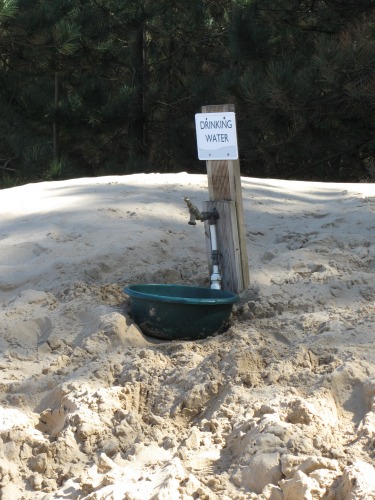 Old Hunstanton

And fourth and final North Norfolk beach for dogs is Old Hunstanton, and we've written why we like it so much over here.  
I do hope you've enjoyed reading about our favourite North Norfolk beaches for dogs, four of the huge number of beaches along the Norfolk coastline.

---
Finally! Your dog's chance to tell us about their favourite memories of a Norfolk beach walk
At last your dog can have their say. Let them tell us all about their best and most enjoyable and fun dog walk on a beach in Norfolk. Their best memories, why did they enjoy it so much, what kept their attention, what was there to see? What did they do? Did you stop off in a pub or cafe? You get the picture - enjoy yourself!! Let's see which Norfolk beach comes top.
What Other Visitors Have Said
Click below to see contributions from other visitors to this page...