Old Hunstanton North Norfolk
by Mutley
(Norfolk)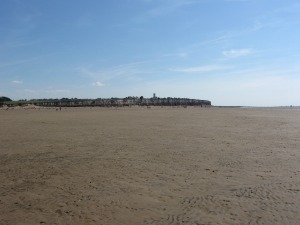 Empty space at Old Hunstanton
My name is Mutley, and I belong to the owner of this site. I'm a very pretty Norwich Terrier (male!) and I wanted to be the first dog to submit my favourite Norfolk beach.

Tangle (my mother) and I really loved this beach. The first exciting part was arriving at the huge grassy car park where we couldn't wait to get started. We had to be put on a lead and we hurriedly made our way down to the soft sandy beach through a rather narrow path. All we could see before us were a few people and miles of wonderfully hard sand that we knew we could run on for ever. Once we got past the sun bathers, we were allowed off our leads and off we went!

It was beautiful, we met a few other dogs which was fun, but we kept going, away from those funny coloured cliffs at Hunstanton towards another beach I believe is called Holme. We didn't quite get that far as we had to turn around.

We saw a few kite surfers which looked terrifying, and we gave them an occasional bark, just to warn them we were coming (!). On our way back we wanted to carry on to the main beach at Hunstanton, but we were strictly told that this was not a dog walking beach, so we agreed and trotted back to the car.

We really enjoyed this, the sand was lovely and easy to walk on, and we were free!