Great Yarmouth South Beach - Lotte
by Karen
(Birmingham )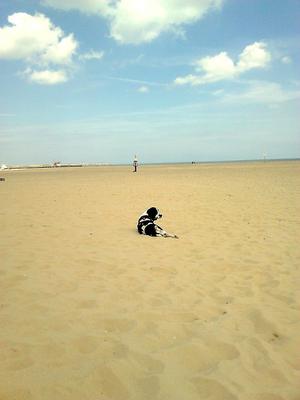 Hello my name is Lotte and I am an English Springer Spaniel. I do not like water so my favourite beaches are wide sandy beaches.

I live in the Midlands so I dont have access to beaches until I go on holiday every year with my owners. We stayed at Hopton on Sea and I did enjoy the walk here. Whilst the beach is not particulary wide and the sea is close, there are lots of rocks which I enjoy climbing and being on the look out for other dogs whom I can play chase with. I will walk up to the waters edge but I do not like to get my paws wet.

For sand galore I enjoy Great Yarmouth South Beach. It was a glorious sunny day and I was able to run for ages in the soft sand. It is a beautiful golden colour. I enjoy digging and lying down, covering myself in it. It seems a long way to the waters edge, so a great chance to run amongst all that sand. Cant wait to come back in May this year.