Norfolk Walking Guides
These Norfolk Walking Guides give you the opportunity to explore some of Norfolk's wonderful scenic beauty with ease.
These downloadable walking guides will provide you with:
detailed route notes
a map which goes along with the walk
an accompanying video to show you step by step all the information you'll need on the walk
Each walking guide, which costs just £2.99, ensures you'll have a hassle-free and really enjoyable walking experience in Norfolk.
Say goodbye to guesswork and hello to Norfolk's stunning landscapes!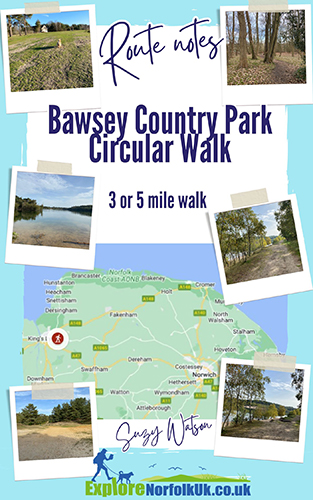 Downloadable detailed route notes
The best walking guides for Norfolk - comprehensive and reliable resources

These Norfolk Walking Guides are an excellent option if you're seeking a stress-free walking experience without having to meticulously work out the route prior to your walk. They literally take the guesswork out of planning your walks, leaving you to enjoy the surrounding countryside and the company you're with. 
They will be covering walking routes all over Norfolk.  Whether you're a keen walker or simply enjoy a leisurely stroll, these guides have something for everyone. 
You'll find walks from coastal paths to countryside rambles to Broads walks in the coming months.  Keep an eye open on this page as we will be adding many more walks for you to enjoy.
Norfolk Walking Guides
Map of the Norfolk Walks
to make it even easier for you, below you'll see a map of Norfolk and all of the locations for the downloadable walks.  More will be coming so keep a close eye on this page!
Experience the walk before you even set foot

If you prefer visual guidance, the Norfolk Walking Guides also provide video guided instructions for each walk.
These informative videos take you through the trail point by point, highlighting points of interest where relevant, and offering valuable insights along the way.  You'll find the video links in the downloadable route notes.
By viewing these easy-to-watch videos that explain the route in detail, you'll know what to expect before you even set foot on the trail. 

Each point on the video corresponds to the route notes, so it's a good idea to watch the video before you set off on the walk!
And even better, if you want to see what you might experience on the walk before deciding which one to enjoy, then you can watch the video trailers of each walk.
Your Ultimate Norfolk Walking Guides

These detailed guides provide you with valuable information, such as:
the length and difficulty of the trail
where to park along with postcodes
points of interest along the way#
whether they're dog friendly or not
ease of accessibility   
They are a collection of meticulously produced guides that cover the best Norfolk walking trails.
Exploring the variety of walking trails in Norfolk

Norfolk boasts a huge range of walking trails, each offering its own unique charm and allure.
Whether you prefer coastal walks, countryside strolls, or circular routes, there is a trail in Norfolk that will suit your preferences; from the breathtaking coastline of the Norfolk Coast Path to the tranquil beauty of the ice age Pingo ponds and Norfolk Broads.
Benefits of using the Norfolk Walking Guides

One of the advantages of using these numbered route notes is the ease of navigation they provide.
Each step of the walk is clearly marked on the notes and in the videos, allowing you to follow the trail with confidence. The numbered route notes also leave you feeling much more relaxed and therefore able to enjoy the surroundings, rather than constantly worrying about getting lost in an unknown area.
With the Norfolk Walking Guides, you can rest assured that you'll never miss a turn or landmark, ensuring you have a seamless and enjoyable walk.
And all of these numbered route notes correspond to the accompanying video.
Downloadable routes - convenience at your fingertips
Gone are the days of carrying bulky paper maps and struggling to fold them properly!
With the Norfolk Walking Guides, you can conveniently download the routes onto your smartphone or tablet. This means that you'll have all the information you need right at your fingertips, without the hassle of carrying around physical copies. Whether you're a tech-savvy walker or simply prefer the convenience of digital resources, these downloadable routes offer a practical and efficient solution.

Ensuring a hassle-free walk with postcode parking and facilities information

To make your walks as easy as possible, the Norfolk Walking Guides also provide essential information such as postcode parking and facilities.
Knowing where to park and what amenities are available along the route are always a must have.  That way, you can focus on enjoying your walk without the added stress of logistics.
Unlocking the hidden gems with Norfolk Walking Guides

Norfolk really is a treasure trove of hidden gems just waiting to be discovered. By utilizing these well-prepared Norfolk walking guides, you can discover the true beauty and intrigue that Norfolk offers.
From the convenience of downloadable routes and maps to the step-by-step guidance of video instructions, these guides offer everything you need for a successful and memorable walks. 
Discover the beauty of Norfolk today with our comprehensive walking guides.