Discover the Best Dog Friendly Days Out in Norfolk

Are you ready to read about dog friendly days out in Norfolk? 
As a dog owner, there's nothing more rewarding than exploring new places and creating lasting memories with your beloved four-legged friend.
Norfolk, with its spectacular and diverse landscapes, rich history, and varied attractions, is the perfect destination for a day out with your dog.
From historical sites to fabulous nature reserves and very many dog-friendly beaches, Norfolk offers a wide range of experiences that you'll love.
Exploring Norfolk's Historical Sites

Norfolk is steeped in history, and there are several historical sites that welcome dogs and their owners.
Binham Priory

Binham Priory is one such site that is dog friendly.  This is one of my favourite priory ruins in Norfolk.  It is a striking medieval abbey located in the pretty flint stone village of Binham. The ruins really are magnificent, and whilst you're there, you could take a 4.5 mile circular walk which you can find in the Norfolk Heritage Walks book,  to end up back in Binham and visit The Chequers pub, which is also dog friendly.
Castle Acre Castle

Another must-visit historical site is Castle Acre Castle, in another flint stone village called Castle Acre. Dogs are allowed in the castle grounds and there is ample space for them to stretch their legs and have a little run around. 
Again, there are various walks around Castle Acre, one particular one being a 6 mile circular walk taking you along the chalk stream River Nar.  You can find this walk here.
Thetford Priory

If you're interested in medieval history, a visit to Thetford Priory is a must.  This is yet another fascinating and intriguing priory ruin which is lovely to walk around.  This English Heritage site allows dogs, and you can wander through the extensive ruins of this once rather grand priory, imagining the lives of the monks who lived there centuries ago.  There's also a nice short walk around the Priory alongside the river.
At the same time that you're in Thetford, if you're a fan of the classic TV series Dad's Army, you could also visit this museum which, believe it or not, is also dog friendly.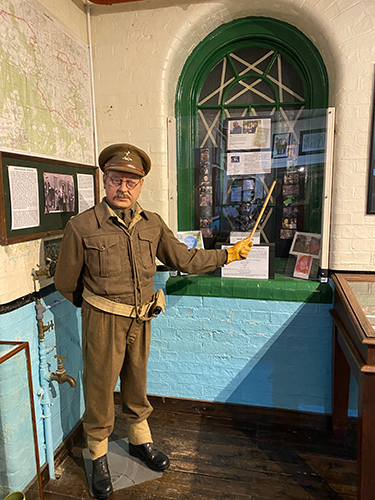 Enjoying Dog Friendly Days Out In Norfolk

Sheringham Park
Sheringham Park is fantastic destination for a dog friendly days out. With its vast woodlands, beautiful gardens, and sweeping views of the North Norfolk coastline, it's a really lovely place to go for a dog walk.
Dogs are welcome on leads throughout the park and you can sit outside at the Visitor Centre with refreshments.  Sheringham Park is a National Trust property.  This is one of the great dog friendly days out.
Holt Country Park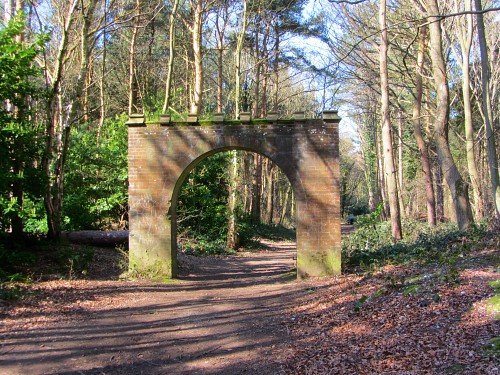 Holt Country Park is the perfect way to spend one of your dog friendly days out in Norfolk. Located just outside the pretty Georgian town of Holt, there's a lovely circular walk around the wooded park, and even a longer one around the outside.  The OS map 251 might be a good idea here to see the paths on the outside of the park!  And once you've spent some time exercising the dogs, you could then visit the town of Holt where there are lots of dog friendly places to eat.
This is very dog friendly, has a Visitor Centre and you can even enjoy refreshments from Hettie's Tea Room.
If you and your dog enjoy long walks, Thetford Forest is the perfect destination. With miles of trails to explore, your furry friend will have a blast exploring the diverse woodland habitats, while you can take in the peaceful surroundings and maybe even spot some wildlife along the way.
Dog Friendly Days Out at Norfolk Stately Homes

Norfolk is also home to a large number of grand stately homes with stunning and vast grounds that welcome dogs. 
Although you won't be able to enter the houses with the dogs, you can thoroughly enjoy the parklands. 
There are various walks that you can find here on my Felbrigg Hall walks page, and there's a lovely 4.5 miles walk around the grounds at Blickling Hall which you can find in the Norfolk Heritage Walks book here. 
And when the bluebells are out, the Blickling Hall circular walk around the swathes of bluebells is fantastic. 
If you're in the vicinity of Wells-next-the-Sea, then Holkham Hall is a wonderful dog friendly place.  The grounds here are also extensive and you can really enjoy a lovely walk around the perimeter of the house, past an ancient ice house, up through the deer park and alongside the lake.  And then go to the Courtyard Cafe, dog friendly, and have some refreshments.
Sandringham woods are another place to visit with your dog, maybe take a picnic for the day.  You won't be able to go into the house, but you can definitely have wonderful walks in the woods and around the outside of the estate.
Norfolk Coast Path and The Peddars Way
Take a day walking the Norfolk Coast Path.  You'll be glad to hear there are lots of places you can stop off for something to eat along the way, and catching the bus from one place, and then walking back is something I'd highly recommend.  This makes for some really great dog friendly days out in Norfolk.  Pick different stretches of the path to enjoy.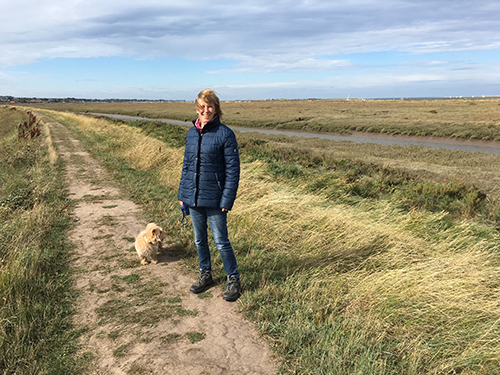 There is no better place to walk with your dog than on the Norfolk Coastal path or the straight Roman road of the Peddars Way.  
The Peddars Way runs from Thetford up to the coast at Holme, and any stretches of this National trail are wonderful for a day out with your dog.  Lots of this trail is quiet, with very few people. 
One place you could spend the day is at Great Massingham, taking a circular walk from the pub, The Dabbling Duck.  This pub is very dog friendly, so what better than to do a walk and then have a well deserved lunch in the pub!?
Nature Reserves
Norfolk is renowned for its beautiful and diverse landscapes as well as some very important nature reserves, and many of these are nature reserves do allow dogs. 
However, please bear in mind that they will require your dogs to be on leads for obvious reasons, but it's still great that you can take your dogs with you to many of them, such as RSPB Titchwell and Strumpshaw Fen. 
Most of the Norfolk Wildlife Trust reserves don't allow dogs.  I would advise that you check on the websites for their dog policies. 
To be brutally honest, if you're going to a nature reserve, you're probably going to be going to look at the birds, so it might make more sense to go without dogs.
Fun activities for your dogs and you to enjoy
In addition to historical sites and natural landscapes, there are also many other fun options you can enjoy when you bring your dog with you to Norfolk.
Cromer Pier

Cromer is one of Norfolk's very popular Victorian seaside towns, and Cromer Pier is one destination that you can take dogs. 
Take a walk along the pier and enjoy some time looking back at Cromer and the fantastic beach below.  The café at the end of the pier is dog friendly. 
If you go to the end of the beach, it then becomes dog friendly, you just need to walk away from the main area.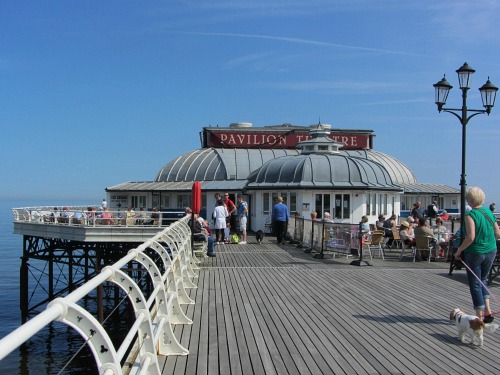 Wells & Walsingham Light Railway

For a unique experience, why not take a ride on the narrow gauge Wells & Walsingham Light Railway?
Dogs are welcome on the train (if there is room in the summer months – make sure you get there early), and you can sit back and relax as you travel through the picturesque Norfolk countryside, passing through beautiful woodlands and meadows.  You can then alight at Walsingham and wander around the pilgrimage village, and maybe stop at one of the pubs or tea rooms.  Then enjoy the ride back!  Dogs will love the fresh air blowing in their faces as the train chugs along!
North Norfolk Railway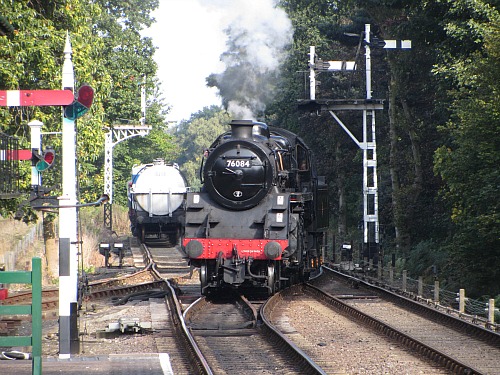 If you enjoy vintage steam locomotives, a trip on the North Norfolk Railway is definitely a dog friendly day out. Dogs are allowed on the steam trains and you can really have a lovely day watching the countryside pass by at a slower pace of life.  
Seal Trips

Blakeney Point in North Norfolk is home to a huge colony of Common and Grey Seals.  To see these seals basking in the sun in their natural habitat is a real "Norfolk experience". 
You can only see these by taking a boat trip from Morston Quay out to Blakeney Point.  The whole trip takes about 1 ½ hours but is definitely worth doing. 
Several tour operators in Norfolk offer boat trips and they do allow well behaved dogs.  This is great because it means you don't have to miss out if you're on holiday with your pet.
Dog-friendly beaches in Norfolk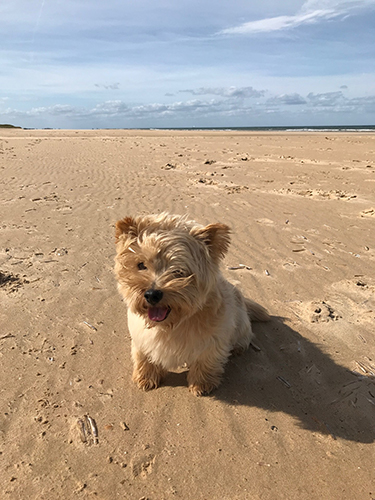 Norfolk is blessed with lots of beautiful beaches that are perfect for a day out with your dog. There are so many that are dog friendly, I think it might be easier to point you to my page on dog friendly beaches here.
To name a few though (most have summer restrictions but quite a few restrictions are very small, so you can easily walk through the restricted zone to where you dogs can then enjoy themselves):
Old Hunstanton, completely dog friendly and when the tide is out, you've got a huge expanse of sand.
Holkham Beach, with its vast stretches of sand
Wells-next-the-Sea, with its colorful beach huts, golden sand
Waxham is completely dog free
Happisburgh beach which is better at low tide
Holme beach on The Wash
Dog-friendly dining in Norfolk

After you've enjoyed a lovely dog friendly day out, you're bound to have worked up an appetite!  Fortunately, Norfolk has a huge selection of dog-friendly cafes, pubs and hotels where you can enjoy a meal together. You'll definitely find something to suit every taste, you can start by looking at the dog friendly pubs and hotels here.
---
Norfolk offers a wealth of dog-friendly attractions, beautiful landscapes, and stunning beaches. Whether you're exploring historical sites, enjoying nature and walks, or indulging in fun activities, there's something you can find to do to give you many choices of dog friendly days out in Norfolk.