Strumpshaw Fen RSPB Nature Reserve

Strumpshaw Fen RSPB Nature Reserve is one of those unassuming, quiet and very peaceful nature reserves hidden away on the back lanes of Norfolk in amongst the fenland of the Broads.  This is a total contrast to some coastal reserves such as Titchwell or Cley, but fairly similar to Sculthorpe Moor, although bigger in size.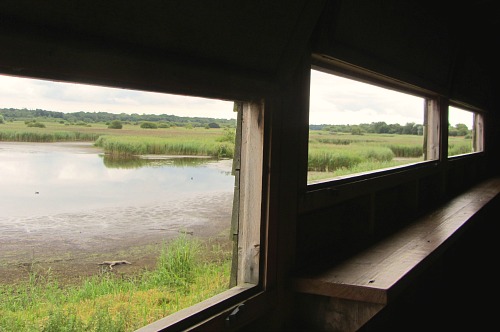 The importance of Strumpshaw Fen
Nature reserves, such as this Strumpshaw Fen RSPB site, are so important to the varying habitats that live in and amongst the surrounds of these sites, and as you walk around Strumpshaw Fen, you'll be able to read on the many information boards about various projects that have been undertaken to keep species alive and well, as well as maintaining the land around the site.  
With the RSPB and the Environment Agency working closely together, this particular reserve is kept wet all year round, ensuring that freshwater is maintained (both from the River Yare and falling rain water). 
In fact,  this particular Strumpshaw Fen RSPB site is only part of a much bigger reserve called the Mid Yare Nature Reserve which stretches for 5 miles along the River Yare.  The reserves are Cantley Marhes, Buckenham Marshes, Rockland Marshes, Surlingham Marhes and Surlingham Broad and Surlingham Church Marsh. 
Strumpshaw Fen Visitor Centre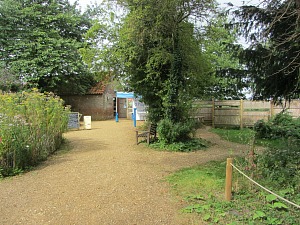 Navigating your way to Strumpshaw Fen is interesting!  It's a little tricky in my opinion because it's hidden away in amongst those very typical Norfolk lanes where you can so easily get lost (even if you live here!).  Persevere and you'll eventually find it.  
To reach the small visitor centre you need to walk over the main railway line.  There are WC's here but there are no refreshments available, (apart from a small coffee machine) so if you want to spend a day here, it's a good idea to bring a picnic and sit at one of the picnic tables near the beginning of the trails.  There are plenty of places where you and maybe your family can enjoy the quiet surrounds of this lovely nature reserve.
Although the day I went I didn't see much in the way of wildlife (the joy of nature reserves, you never know what you're going to see until you start walking!), I arrived at the visitor centre which is located on the edge of a pool and was immediately shown a wonderful kingfisher just perching on a log .  So I sat for about 10 minutes at this reception hide just watching, before I then paid and carried on my way. 
Another great way to get lots out of this reserve is to come along to one of the many events that the RSPB put on here at Strumpshaw Fen.
You can find out much more about the events here on our RSPB webpage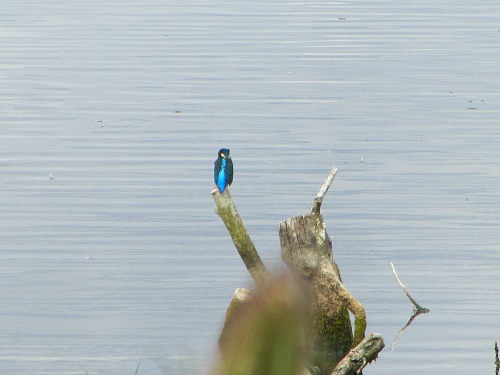 The staff, as usual (at all the reserves I've visited), are extremely helpful and knowledgeable and only too happy to help.    And as with most nature reserves, there is a small fee for entry and you can find out more here from the RSPB Strumpshaw Fen website or at the bottom of this page. 
The Trails
Strumpshaw Fen RSPB nature reserve gives you a choice of three nature trails and all three can easily be walked in a leisurely few hours.  On the way to these trails you'll pass quite a few places where you could have a lovely picnic, as well as passing a dipping pond for children (you can ask at reception for more details on this).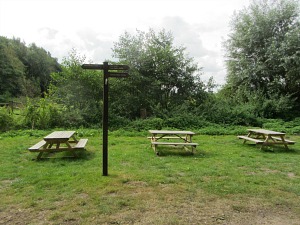 Meadow Trail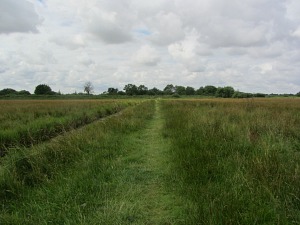 This is the shortest trail and is 0.7 miles long but only open in the spring and summer months.  I started off with this trail, a grassy walk through the meadows and up onto the banks of the River Yare.  
Lovely highland cattle with enormous horns were on one meadow (separated by a dyke!) and I wandered peacefully along, up to the banks of the River Yare, watching a few boats chugging along, and followed the well signed post to Fen Hide.  
During certain months, you'll be able to spot wild orchids here as well as the wonderful swallowtail butterflies.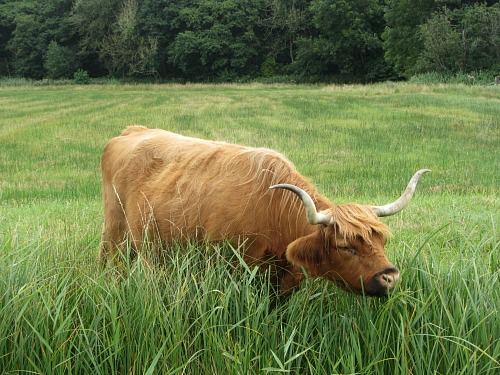 Fen Hide overlooks a small pool where I sat and watched a couple of herons and an egret busy at work, i.e. standing stock still and then stalking their prey!  In the distance, over the fenland, were terns dipping up and down on one of the many dykes or pools further away.  A helpful birder identified the terns for me and another lady!    In fact I think I saw about 6 herons the day I went.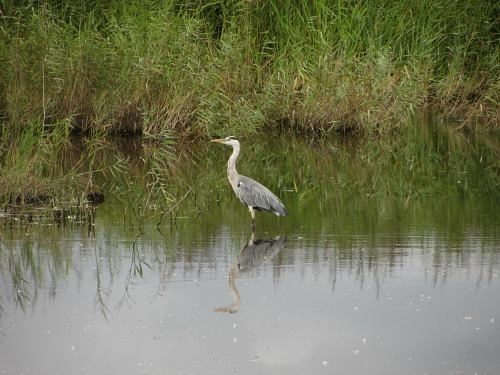 The one thing I did notice about this Strumpshaw Fen RSPB site is that there are plenty of benches to sit and while away some time and watch the wildlife around you.  
Woodland Trail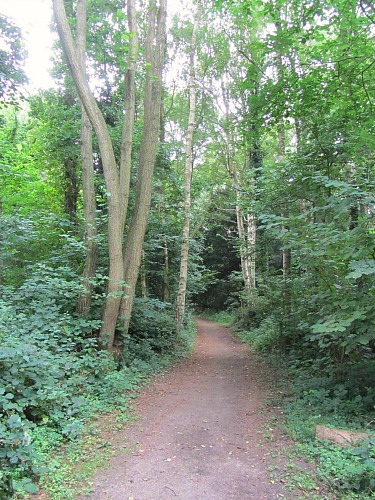 I walked this trail on the same day – starting off where the Meadow Trail ended.  This is 1.5 miles long and took me through the peaceful woodlands of the Fen.  Dragon flies and damsel flies are prevalent along this woodland trail, and with the excellent notice boards along the way, you'll be able to identify them with ease.  There are more than 20 species here at this Strumpshaw Fen RSPB site.
Eventually you come out of the wood onto the river bank; here you can take a breather on a bench adjacent to the old Pump House and overlooking the River Yare. 
This pump house used to have a steam pump, but today the pump house is disused but houses barn owls instead!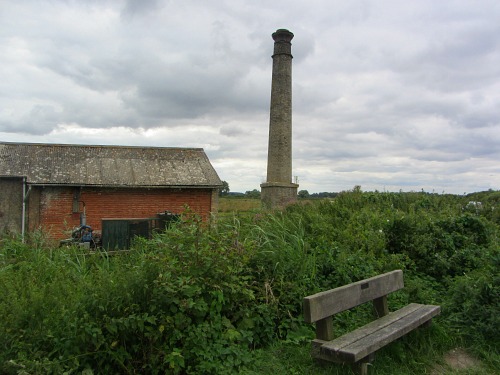 It's interesting to note that the marshes and meadows that you walk along are actually several feet below the river level so the pumps are a vital piece of equipment for this land.  Today they use electric pumps.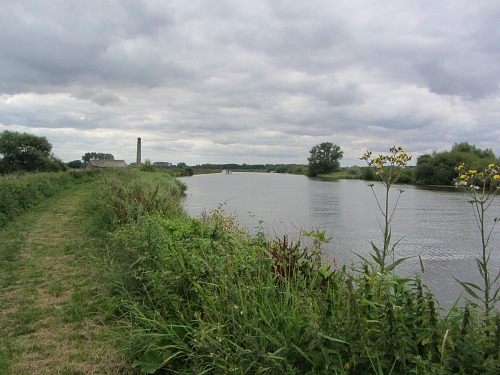 Carrying on along the river bank, looking across the meadows and river, you'll eventually reach the spot where you turned off to Fen Hide (on the Meadow Trail).  Here you could now decide to call it a day and return to the main visitor centre, or, as I did, continue along the circular walk now taking in the Fen Trail.
Fen Trail
This Fen trail is 2.3 miles and continues to take you along the river bank, as well as past several pools with some very good viewpoints along the way with benches to sit on and view the wildlife.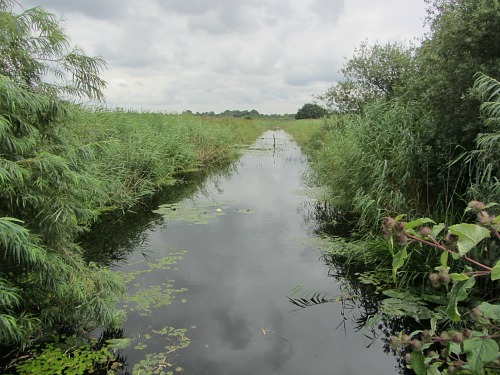 The RSPB have opened up various places along this trail where you can see through to the some of the pools which would otherwise be blocked by the tall reeds and the trees.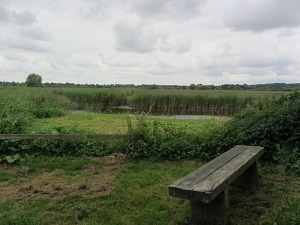 Occasionally in the winter this trail is closed due to flooding, so the RSPB do say that if this trail is flooded, please turn back, and don't try to wade through the water, it could be dangerous!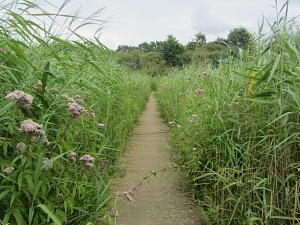 However, when not flooded, it's another peaceful walk through reedbeds and grassy tracks until you pass Tower Hide, as well as a specific short board walk which takes you to a secluded bench where you can watch the Swallowtail butterflies if you're lucky enough to be there on the right day, and where you are literally shut off from the rest of the surrounding fenland.   You can just sit and listen to the bird song and noises of the fenland habitat. 
In fact, Strumpshaw Fen RSPB site is well known for this species of butterfly and has become a very popular place to see them.
Tower Hide is definitely worth walking too as it's the largest of the hides at this site and it was here that I saw the most activity.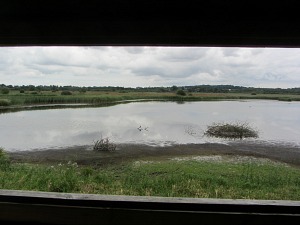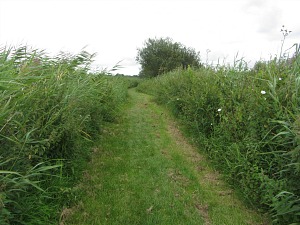 Like any nature reserve, as I said earlier, it entirely depends on what time of year you go as to what you may see.  But for me it was an extremely peaceful and relaxing afternoon.
Wherryman's Way and the River Yare
I also love this Strumpshaw RSPB site from the point of view that it runs alongside the River Yare, a beautiful river which flows from the middle of Norwich all the way out to sea at Gt Yarmouth and which you can walk all the way along on the Wherryman's Way walk.  This walk is actually on the south side of the river, and it was fascinating to see the River Yare from the other side and in a completely different environment.
So if you feel like some peace and quiet, and getting away from it all, then Strumpshaw Fen is a perfect place to come and wander around and to take in some of the amazing wildlife in Norfolk.  I'll definitely be back.
Opening times and prices at Strumpshaw Fen RSPB site
The site is open daily from dawn until dusk (except Christmas Day).  
The reception is open from 9.30am-5pm April to October and from 10.00am-4pm November to March
Prices:
RSPB members, under 5's and carers accompanying registered disabled visitors – free
Adults - £4.50
Students - £3.00
Children  (5-17yrs) £2.50
One child per family goes free
Address:  Low Road, Strumpshaw, Norwich, NR13 4HS