Holt Country Park
Fantastic for walks, dogs and children!
Holt Country Park, which is just a short drive from the Georgian town of Holt, is a wonderful escape from the hustle and bustle of the North Norfolk coastline.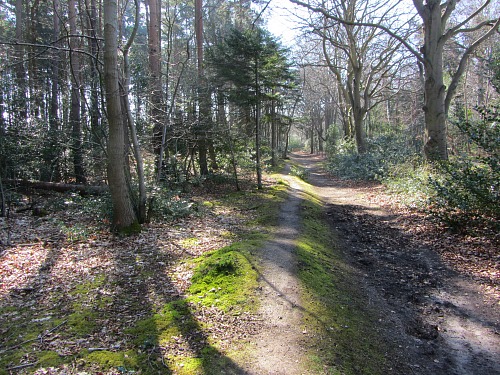 Here you can totally escape and go deep into the pretty woodland, meandering along one of the coloured trails which can take you on a varying lengths of walks.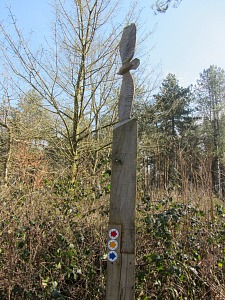 In fact, you can walk as far as you like because you can just lose yourself to any of the trails and end back where you should be!  Although it seems huge, there are so many paths criss-crossing each other that eventually you'll end up back at the Visitor Centre.    
The park is owned and managed by North Norfolk District Council and was awarded the Green Flag which is a scheme that recognised and rewards the very best green spaces, and nothing in this park is too commercialised which was one thing I really liked about it. 
Here you'll be able to read about the following:
First,  it does help if you have a map when you visit as there are various colour coded woodland walks which take you all around the Park.  This you can pick up from the visitor centre once you arrive.  Or maybe you could use your phone to take a photo of the board which is outside the visitor centre and has all the trails marked on it. Or alternatively you could download it from here  
Holt Country Park is a wonderful place to come with dogs, children, or even just by yourself.  
Dogs in Holt Country Park
This is a fantastic dog friendly country park with lots of woodland walks for sniffs and running around!
However, if you do wander onto the heath you need to be aware that there is livestock, including wild ponies, so your dogs do need to be kept under control.  And please remember that there are other visitors who haven't got dogs, so please clear up after your pet!
Children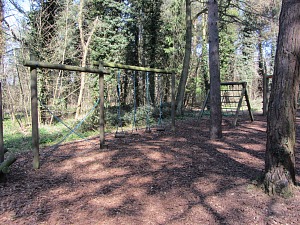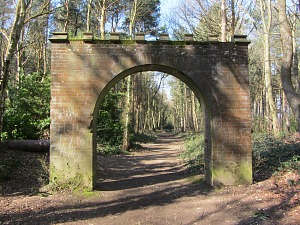 If you're stuck for an idea for the children, then why not bring them here and let them spend some time out in the open air and away from their beloved screens!!   You can roam around the many trails, all very easy walking, and they can explore the woodlands, play on the climbing frames and find the different wooden sculptures dotted around the park which they'll enjoy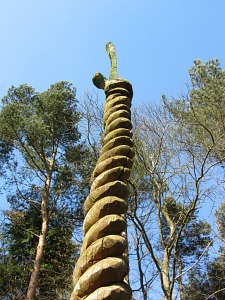 One of the wooden sculptures is of two carved men, the other is of an extraordinary spiral sculpture.   They'll have great fun walking around, following the circular path around it.
They might also like to find the Arch, a rather random brick arch.  And another wooden sculpture for them to try and discover, a totem pole, is very close to the play area.
There used to be a  viewing tower where you could get some interesting views across the surrounding landscape, but unfortunately, after 30 years,  it's now no longer safe to use.  
Apart from walking around the park, there is also an excellent play area which is full of wooden structures such as swings and climbing frames.  There is a lot for them to do and to use their imagination!
Picnics and Hetty's House Tea Room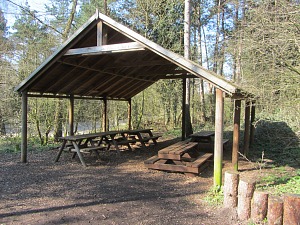 This is a fabulous place to come for a day out with a picnic.  Just to the side of the play area are a few picnic tables.  The WC's and car park are very close to the playground so it's all very convenient!  There are also a couple of tables with overhead cover just to the side of the car park, and the other place there is a picnic table is by the pond in a shaded dell.  All these facilities make for a good day out.  BBQ's and fires are not allowed.
Hetty's House Tea Room is newly opened which is excellent.  This is a small "quaint" woodland tea room with a couple of tables and chairs for you to sit outside.  It has lots of delicious looking cakes and scones which can be washed down with a cup of tea - a perfect end to a good day out!
If it's been raining, don't forget the wellies!
Holt Country Park Walks
This Park makes for beautiful woodland walks, and just perfect for a stroll on a Sunday morning or if you just want to get away from it all.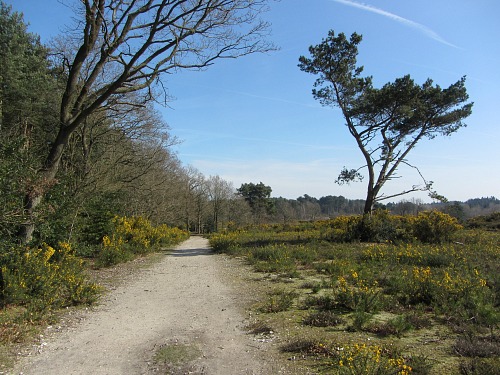 It doesn't matter which route you decide to take, they all leave from the car park, and at least one will be suitable for you.  All are circular, and I wouldn't say any of them were difficult, but some might be a little muddy in the winter.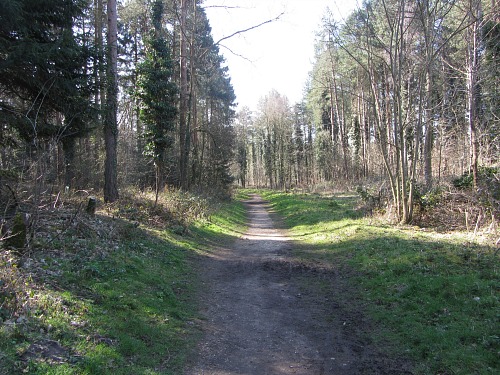 It's so lovely and peaceful as you walk around, and when you reach the heathland, the views are beautiful, stretching for a long way over the rolling countryside (yes, even in Norfolk we have "rolling" countryside!). 
You could almost be in another country!  If you go in April/May time, the yellow flowering gorse is so pretty.  Wild ponies graze freely here so you might be lucky to catch sight of them.
There are also much longer countryside trails, but I have to say I didn't discover these.  Please do contact me  if you know how to reach these from the Park.  However, I did enjoy my walk outside the perimeter of the fence alongside the heath - you can reach this by the carved men which will be marked on the map.
Cycling
If you're a keen cyclist, or you want to come and cycle with the children, then that's allowed here, and there is just over a 1 mile cycle ride which is traffic free.  But again, as with the dogs, please be aware of others who are not cycling and respect their time at the Park as well.
Visitor Centre And Events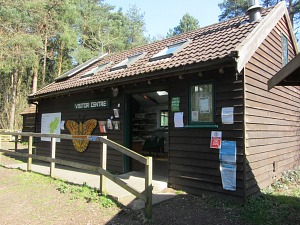 You'll come across the visitor centre when you park.  It's a wooden hut which I think is used primarily for education as they do have groups of school children visiting, and they also host environmental and arts events.  For more on their events by visiting the North Norfolk District Council website.
And right by the Visitor Centre are the WC's.  Very important!
Parking
Parking is extremely easy and costs £2 for all day, which is excellent value.  The pay and display maching is very easy to miss and you may be mistaken in thinking that this is a free car park.  Look out for the machine at the  side of the WC's - it's not easy to spot unless you know it's there!   
How To Find Holt Country Park
To reach Holt Country Park, you need to take the B1149 out of Holt on the Edgefield Hill Road, and you'll arrive at the park on your left.  It is well sign posted.

Opening Times
Holt Country Park is open 365 days a year!  How good is that!  So there is no excuse for not visiting Holt Country Park!
---
---