Thetford; An Important Historical Town
Thetford was once one of the most important towns in England during the Anglo-Saxon times, along with Norwich, and was a significant trading gateway to the county of Norfolk.   
Much of this fascinating history is often forgotten in place of some of the more extravagant remains and architectural beauty of other Norfolk towns.  It's one of those towns that many drive right past in their hurry to reach Norwich or the coast, but continue reading to find out what treasures it holds!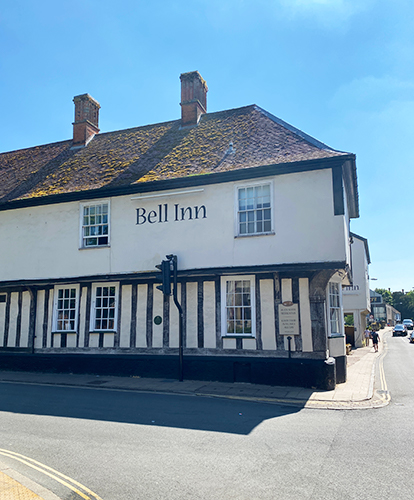 If you're walking the Peddars Way National Trail, then your first night will be in Thetford, and what better way to start your walking holiday than taking some time to discover some of its ancient and fascinating history.
Here's why Thetford is definitely worth a little detour:
Thetford's History

I always think that Thetford is a little bit like King's Lynn; unless you know there's an historical quarter, you totally miss the beauty of the town.  
You need to look beyond the rather drab 1960's additions that were built to house an inflow of workers for the newly built factories, and discover the rich historical importance that Thetford played as a town and explore some of the timber buildings that still exist today.
The history of Thetford goes right back to the times of the Iceni tribe during the Iron Age and the early Roman era. 
Thetford Priory

This is a stunning 12th century ruin of a Cluniac Priory which is easily overlooked if you're visiting Thetford.  You can't see it from the surrounding roads, so make sure you have the postcode – IP24 1BB.   
This Priory was one of the largest and most important monasteries in Mediaeval East Anglia and was the burial place of the Earls and Dukes of Norfolk; another reason why Thetford was such an important historical town.   
It's a fascinating site to visit and has an incredibly well-preserved gate house as well as many of the priory complex walls.  Wander around at your leisure and enjoy the peace; it's a lovely place to escape the hustle and bustle of everyday life.  It's managed by English Heritage.
You can read a little bit more about Thetford Priory here. 
Thetford Treasures

A bit like today, Thetford sat on a point where the Icknield Way and the Thet and Little Ouse rivers crossed, making it an incredibly important and strategic location.  This particular crossing of rivers, in the Gallows Hill area is where the Thetford Treasures were discovered.
The Thetford Treasures were discovered in 1979 and are of national and international importance as it helps historians' piece together parts of Roman history.  
During the construction of a factory, a private individual was metal detecting (without permission) and discovered a large hoard of gold and silver which consisted of gold finger rings, pendants and necklaces and inscribed spoons. He quickly dug them up, took them home and tried to sell them privately without reporting the find.  Once archaeologists found out about this,  it was rather too late to excavate the ground as the area had been built over.
This hoard of gold and silver became known as the Thetford Treasures. These can now all be seen at the British Museum in London and you can see a display of replicas at the Ancient House Museum in the town.
Subsequent aerial photography showed the area as having a rectangular enclosure which would have meant that Gallows Hill would have had a temple on top of the hill. I love to imagine what a temple must have looked like overlooking Thetford!   In 1980-1982 excavation work was carried out here, but unfortunately nothing of great importance was found.
This area is now called Fison's Way Industrial Estate, so don't go looking for an historical site!!  
Also, during the building of the Thetford bypass, which we never give a thought about, many more pieces of Roman ironwork were discovered, supporting the fact that Thetford really was a very prominent town.
Castle Mound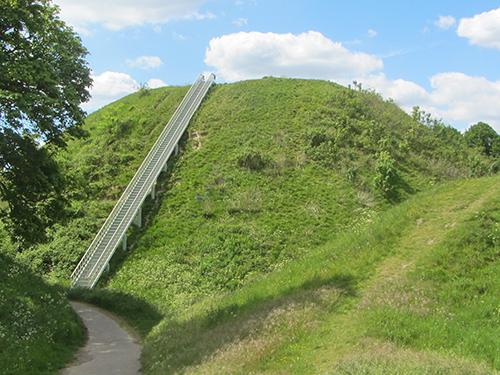 The Norman Castle in Thetford no longer exists, but the mound which was part of the motte certainly does.  It's open to the public at all times and you'll get amazing views if you walk to the top of it.  It's situated in a public park called Castle Park, on the south side of the town. 
There was a castle previous to this one, built in the 11th Century, which was then replaced in the 12th Century by this motte and bailey castle, very much like the castle at Castle Acre.  Both Thetford Priory and what was Thetford Castle mirror Castle Acre very closely.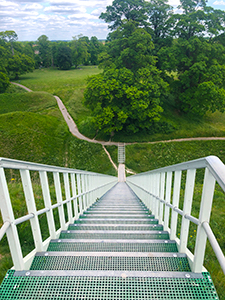 The castle was built by Roger Bigod, the 2nd Earl of Norfolk, who also built Thetford Priory.  He built it to protect the town, which he pretty much controlled.  High up on the hill, it has 360 degree views all around Thetford's landscape. 
Unfortunately, the castle was destroyed in 1173 by Henry II but the huge motte remains and that's what you can see today.  This is all it is though, just a mound but the great views over the trees and roof tops – it's worth the climb up the metal steps. 
It's actually the tallest medieval earthwork in Britain.  Thetford really does throw up some fascinating remnants of history!
Thetford's Museums

There are a number of different museums dotted around Thetford so give yourself plenty of time to explore!
Ancient House Museum

The Ancient House Museum is a fascinating small museum located in the most wonderful oak framed Tudor merchant's house and fills you in on the historical story of Thetford and the Brecks.  
Here you can discover Thetford's connections with the Indian Prince Duleep Singh, the founder of the museum, and Thomas Paine, the political writer who played an important part in the American War of Independence and wander around all the fascinating displays and artefacts and spend a bit of time enjoying some explanatory videos.  
Why not read more about the Ancient House museum here. 
Dads Army Museum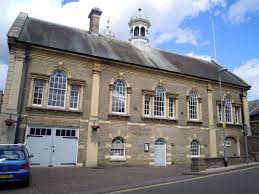 If you're a fan of the TV programme Dad's Army, then you'll definitely want to visit Thetford!  

Quite a bit was filmed in the town which they called Walmington-on-Sea!  There's also a Dad's Army trail that you can take around the town which pinpoints various places that were shown in the programme.  There's even a statue of Captain Mainwaring that was erected in 2010 by the Thetford Society, quite a contrast to the historical remains of the Priory and Castle.
You can read more about the Dad's Army Museum here.  
Charles Burrell Museum

This is another Thetford museum, again run by volunteers so they do recommend you check their Facebook page for opening times.
In the era of steam, Charles Burrell & Sons played an important part as one of the main employers in Thetford and pretty much put Thetford on the map.  They built traction engines, steam lorries and trams and agricultural machinery, many of which were sent all over the world.  The museum is housed in the original Grade II listed paint shop.
Harking back to Dad's Army, Jones's Van is also housed here!
Because these museums are small and run by volunteers, they do have restricted opening hours and aren't open every day, so best to check the website here.
---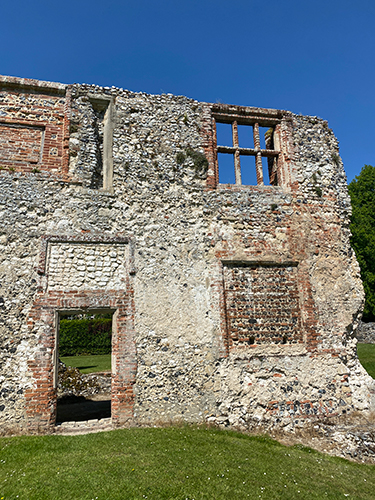 As you will have now discovered, Thetford is not a town that should be overlooked. 
The importance it has played over the many hundreds of years makes it an historically significant Norfolk town that is well worth visiting, particularly for its museums, Priory and Castle Mound.