Camping In Norfolk

Something For Everyone
Camping in Norfolk is an exciting prospect for so many of you, that Norfolk has upped its game and now provides a huge range of different types of camping, from luxury camping in safari tents, bell tents and tipis to the joys of hiring a campervan and travelling around Norfolk.

Or you can hire one of the many static caravans that adorn parts the coast of Norfolk, or simply choose the old fashioned method of pitching your tent and using the facilities available at the campsites.  Norfolk even provides camping for backpackers.

The majority of these sites are of course on the Norfolk coast, never far away from the amazing beaches we have here.  And the best thing about camping in Norfolk is that because it is so flat you get the most incredible skies and sunsets, they really are remarkable.  
You can browse a range of campsites in Norfolk here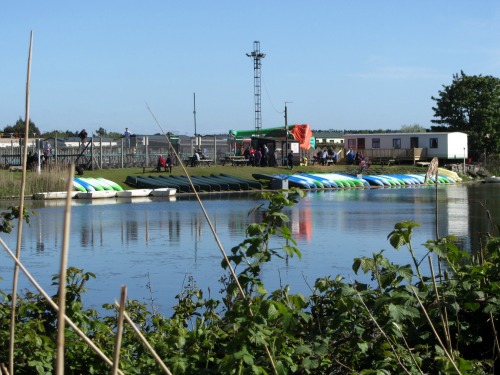 Whether you've come to Norfolk for a beach holiday, walking or birding holiday, a group holiday, or  may be just to visit some of the magnificent country houses we have, there are so many places you can choose from, and so many diverse types of camping nowadays that it makes choosing your next holiday quite exciting!

Campsites in Norfolk
If luxury camping isn't for you, then there are masses of beach campsites  around the Norfolk coast, for pitching your tent.  Decide where you want to stay, which Norfolk beaches will suit you most and you'll then be able to decide which campsite is perfect for you.  And if you're on a low budget, then you already know that these campsites offer excellent value for money.
BUT - they don't always have to be by the coast.  Why not come inland, slightly away from the busy coastal camp sites and pitch your tent at the "gateway to North Norfolk" - Fakenham.    It's close enough to get the the coast, and  also great for exploring other parts of Norfolk such as Swaffham, Castle Acre, Kings Lynn and more.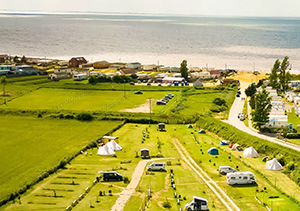 mYminiBreak - just a 2 minute walk from Heacham Beach and surrounded by open marshland with views towards Snettisham. This is a quiet, secluded, small and very relaxed campsite with an ethos for going back to basics, having conversations, exploring the local area and just enjoying yourselves with a campfire, BBQ or fire pit. Shepherd's Huts and glamping also available as well as space for caravans or motorhomes.
Fakenham  Fairways is the perfect family friendly site - all quiet from 10.30 pm and it caters for caravans, motorhomes, campervans and tents.  It also boasts a golf driving range and a pitch and putt, so in those moments of wondering what to do, what better way than to go and try your hand at golf!  You can read much more on Fakenham Fairways here. 
Camping in Norfolk – Sleep In Style
Luxury camping (or glamping as it's now called) has become all the rage, and there are a few sites which offer luxury camping in Norfolk now. 

Instead of walking out of your door at home with the kitchen sink and your bedroom all stuffed into the car, why not camp in style, with duvets and mattresses provided, hot water on tap and a borrowed kitchen, and just relax and enjoy the beautiful Norfolk countryside in a safari tent, bell tent, tipi, pods or even a shepherds hut – what will they think of next!  Make camping a bit more exciting with some of these options!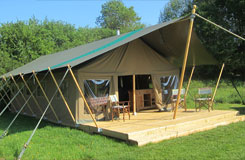 If you want to try something totally original and fun at the same time, then Wild Luxury, The Norfolk Wild Glamping Company will fit the bill nicely.  They have about 7 large safari tents in North Norfolk, ideal for families wanting something a little bit different from your normal Norfolk holiday.  Deepdale Farm, Deer's Glade and West Lexham also have luxury camping available.

Caravan and Static Caravan Parks
Many of these caravan and static caravan parks in Norfolk also have areas where you can pitch your tents as well.   These parks are incredibly popular, especially now that more of us are taking holidays in this country and it's also a much cheaper way of having a holiday.  The facilities at these parks are generally excellent, and most of them back onto our most glorious beaches, so what more could you ask for. 

To help you with some suggestions, here is a link to the Visit Norfolk website showing you some Norfolk Holiday Parks.

Hire a Campervan in Norfolk
This has to be a really original idea!  Retro Campers in Norfolk have decided to make your Norfolk holiday even more enjoyable. 
If you're a foodie, you can sample many of the pubs and restaurants around Norfolk, what an excellent way to feed yourself on your break!
And with so much to see in Norfolk, from beaches, castle ruins, stately homes, wonderful little flint villages and quiet lanes, why not take off in a classic VW Campervan.  Go on, you know you've always wanted to live life! 

Camping in Norfolk couldn't be more fun, and what a fantastic way to Explore Norfolk UK.