Beachside Holidays Norfolk
Beachside Holidays Norfolk

Beachside Holidays Norfolk is a wonderfully small  family run exclusive holiday park set in a private location called Wakefield Court Beach.  You'll be greeted with amazing sea views and be able to take the very short walk to the unspoilt and uncommercial Scratby beach which you can see just below the properties. 
The holiday park is owned by Nick Sampson; he is there to meet you and show you around and answer any questions you may have.  He personally lived in the Beachside House for many years so he knows the area very well and has run this park for over 30 years.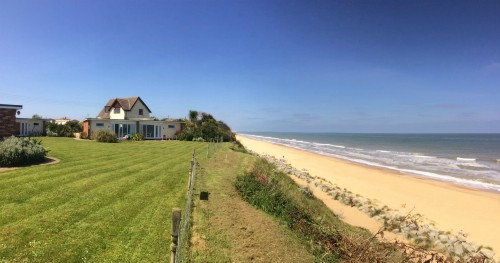 All of the properties below are enclosed in the private grounds of Wakefield Court Beach.  
Summary of the Beachside Holidays Norfolk accommodation

You can make the Beachside Holiday Norfolk properties as versatile as you like.  You could take the whole of Beachside House which sleeps 8 plus all the other chalets to make it a real family affair, or take 2 chalets as one, either sleeping 4 or 8 depending on which chalet you take.  Or perhaps you just want a bit of peace and quiet for the two of you in the log cabin, or one of the other chalets – there's no better place for your choice of private chalets than here!
These properties are an ideal way to take a multi-generational holiday which is now very popular.  And there is so much to see and do around this area of Norfolk, you won't be short on activities, that's for sure.
Here are some other advantages when staying at Beachside Holidays Norfolk:
A 2 minute walk to Scratby beach
Allocated unobtrusive car parking
Separate laundry room with washing machine and tumble dryer which can be used by everyone
Free use of a gas BBQ in the grounds
Close to local amenities, swimming pool, 
Close to the busier and livelier towns and beaches of Gt Yarmouth and Hemsby 
Close to the quieter villages and beaches of Winterton, Horsey (the seals), Waxham and Sea Palling
Close to the Norfolk Broads, particularly Ormesby Broad
Close to Norwich for a day trip to this historic city
Beachside House
This is a fantastic spacious house with your own private garden, gazebo, outside dining, breath-taking sea views and a hot tub!  This particular house is NOT dog friendly.  You can see below the list of the dog friendly and non-dog friendly properties.
Beachside House has 4 bedrooms and sleeps up to 8 people.  This is the main large house at Wakefield Court Beach and is the one you see once you enter the private drive, and is part of the Beachside Holidays Norfolk properties. 
The sitting room has a stunning view of the sea and leads out to the private garden, at the bottom of which is a gazebo with table and chairs – a fantastic place to sit and admire this very special view with a glass of something and a natter with family or friends.  
To get views like this and to enjoy Beachside House, you can book here
The sitting room also has a large HD TV and DVD player with sound system, comfortable sofas and chairs and enough room to entertain all the family.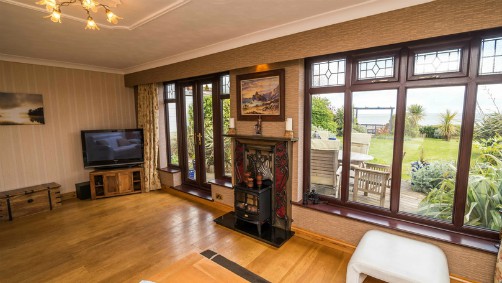 Alternatively, on a lovely evening, you could wander through the dining room (which seats 8) and out onto the patio courtyard and have your evening meal there.  Tables and chairs are provided for your comfort.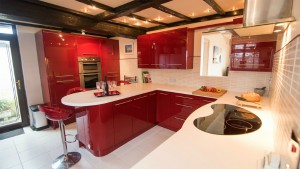 And you can cook your meals in the beautiful contemporary state-of-the-art kitchen which has everything you would need for your holiday; a larger larder fridge, dishwasher, oven and hob, microwave, espresso coffee machine and so on.  You won't be short of anything here!

Upstairs, the 4 bedrooms comprise 1 king size bedroom, 2 doubles and one with a combination bed which is a 4 ft double and then a 3ft single above, like a bunk bed.
As well as having a family bathroom upstairs with a double jacuzzi bath and a separate shower cubicle, there is also a downstairs bathroom with a double walk-in rain shower, perfect for getting that sand off your feet before going upstairs!
And one other thing -  if you like hot tubs, there is one for your use here!  It's actually in the Garden Room which is a separate building just outside the house but free to use with Beachside House.
The outside space which comes with this house is perfect for privacy and views!  You can enjoy the peace and quiet as it's a private garden, but also have the advantage of the wonderful sea views. 
If you take Beachside House, Nick has provided this property with kayaks, body boards, wind breaks and other beach gear, so no need to stuff the car full to the brim with all the awkward beach paraphernalia!  A perfect get-away!
As this has a 4 star self catering Gold Award, beds are made up for you before you arrive.   Just as an aside, this isn't the case with the Hickling chalets which are 3 star so you have a laundry pack at these chalets.
You can find more details on contacting Nick Sampson, the owner, here
Barton Chalets

As with all these chalets, Barton Chalet forms part of Beachside Holidays Norfolk and can be taken as a whole or separately.  This superior Barton chalet is divided into two individual chalets which both have one king size bedroom but plenty of extra room for spreading out.  

They were redesigned in order to give you lots of space, hence the one king sized room rather than the two bedrooms as in the Hickling chalets.  
Just as a reminder, No. 5 Barton Chalet is NOT dog friendly, but No. 6 Barton Chalet is dog friendly!   And both of these Barton Chalets hold a 4 star chalet Award. 
You can click here to check availability and to book one of the Barton chalets
Yet again, these chalets have superb views overlooking the sea.  This particular chalet is on the left hand side of a horseshoe of chalets within Wakefield Court Beach private holiday park. 
Both of these Barton Chalets have a patio area outside where you can enjoy a drink or evening meal whilst admiring the wonderful sea view.  Or if the weather isn't quite so kind, then why not relax in the lounge but still appreciate the fantastic view!  
All of the chalets within Beachside Holidays Norfolk have fitted kitchens.  As mentioned above, both of these Barton chalets have just one large bedroom but can have the addition of a Z bed as there is plenty of space, so they could sleep up to 3 people.
A modern bathroom with shower is in both of these chalets, and all are double glazed.
You can book one of these Barton Chalets, or check availability here
Hickling Chalets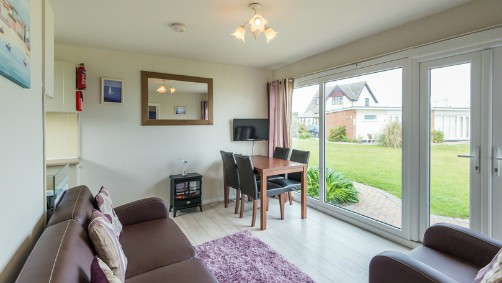 Here you have a choice of 4 Hickling Chalets, 3 of which are dog friendly.  All of them have the stunning sea views.
The difference between the Hickling chalets and the Barton chalets is that the Hickling Chalets have 2 double bedrooms instead of the one.  But as with the Barton Chalets, they also have a seating area outside with table and chairs so you can enjoy the days whiling away the time watching the sea and the sun.  These chalets are 3 star chalets meaning you will receive a laundry pack when you arrive.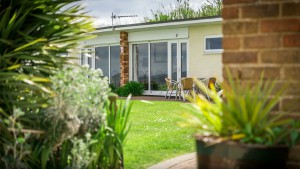 For the set up of the bedrooms in the Hickling Chalets - No.1 Hickling and No. 4 Hickling have two double bedrooms.  No. 2 Hickling and No.3 Hickling have one double room and then a choice of a double bed or a bunk bed in the second room which is great for you to enjoy some flexibility.   They also have a lounge/diner adjacent to a fitted kitchen as well as a modern shower room and WC.
For more information on the Hickling Chalets, you can click here
As a reminder, dogs are allowed in:
No. 2 Hickling 
No. 3 Hickling 
No. 4 Hickling 
They are not allowed in No.1 Hickling

Pine Lodge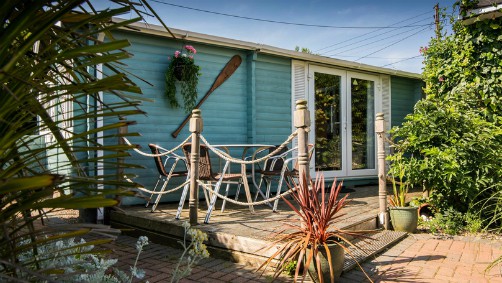 Now here is something completely different to all of the above at Beachside Holidays Norfolk.
Pine Lodge is a log cabin and makes for a very different holiday.  Fully clad in solid pine inside, this is a chance to have a completely unusual chalet experience.  It's still situated in Wakefield Court Beach so remaining private, but it is also very slightly tucked away in one of the corners.  You still have the wonderful sea view, but you also have your own private decking with table and chairs as well as a private area at the rear of the Lodge.  
Find out more about Pine Lodge here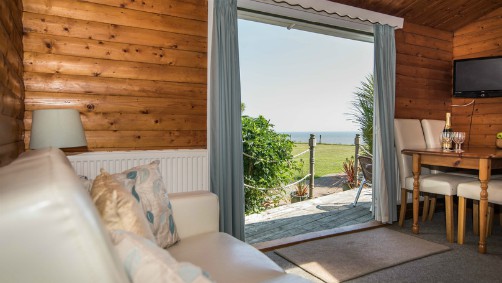 This property is not dog friendly.

Pine Lodge has one double bedroom, one bunk bedroom and one occasional room which can be used for a travel cot or a Z bed.  As this is a 4 star chalet, the beds are made up on arrival.
The double doors in the lounge open out onto your own private decking with a wonderful view of the sea.  There is a table and chairs for you to enjoy yourselves as well as a private area behind Pine Lodge where you can eat outside.
As with all the chalets at Beachside Holidays Norfolk, there is a fully fitted kitchen, a modern shower enclosure and W.C.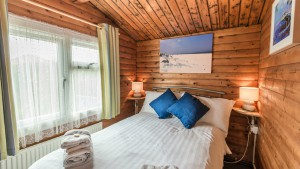 You can check availability and prices for Pine Lodge here
Summary of the dog friendly properties at Beachside Holidays Norfolk

As mentioned above, some of the properties at Beachside Holidays Norfolk are NOT dog friendly so you do need to check before booking and to confirm that you book the correct dog friendly chalet.
Here is the list:
Dogs are allowed in No 2, 3 and 4 Hickling and No. 6 Barton
Dogs are NOT allowed at Beachside House and Pine Lodge as well as No. 5 Barton or No. 1 Hickling
---
Beachside Holidays, Norfolk
Don't forget, apart from this whole small private holiday park being a little gem in this part of Norfolk, all of these properties offer stunning sea views which is actually quite a rarity in Norfolk.  
For more information on how you can enjoy your self catering holiday, click here