Best Norfolk beaches for dogs
Discover the best Norfolk beaches for dogs

Are you ready to discover the very best Norfolk beaches for dogs?  I may be biased, but Norfolk is not only known for its stunning and unique landscapes and incredibly rich history, but also for its fantastic dog-friendly beaches.
If you're a dog owner looking for the perfect place to enjoy a day at the beach along with your dog, you've come to the right place.
In this article, I'll explore the 11 best dog-friendly beaches in Norfolk that offer a mix of safety, space, and are hopefully not too crowded, or at least give you ideas for beaches where you can walk away from the crowds.   
These include beaches along the whole of the Norfolk coast, not just the North Norfolk coast.
As a dog owner, I know that you don't want to feel pressured worrying about whether your dog is going to eat someone's picnic or worse, cock their leg over a towel!
Summer restrictions on these dog friendly Norfolk beaches
While Norfolk is home to lots of dog-friendly beaches, it's important to be aware of the summer restrictions that are in place, of which there are a few.   These restrictions are there to ensure the safety and enjoyment of all beachgoers, including those who may have allergies or fear of dogs (and don't forget, some people really don't like dogs), but you'll be glad to hear that on most beaches these restrictions are small. 
Finding the best Norfolk beaches for dogs with plenty of space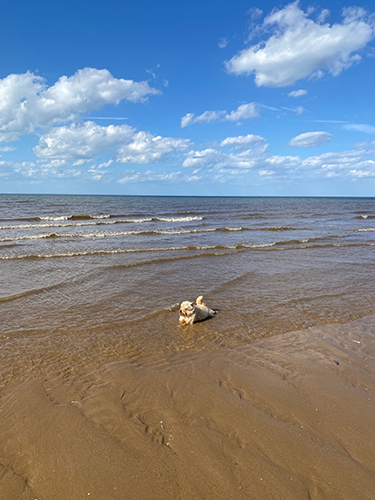 I have chosen 11 of the best Norfolk beaches for dogs, and all have expansive stretches of sand, particularly when the tide is low.
Additionally, beaches with dunes and cliffs provide a varied terrain for you all to explore, but again there may be a few restrictions in some dunes due to nesting birds.  Much of North Norfolk is designated as an Area of Outstanding Natural Beauty so protection for these birds is key in some parts.
The Best Norfolk Beaches For Dogs

We'll work our way around the Norfolk coast from the west to the east. 
These are 11 of the best dog friendly beaches in Norfolk, in my opinion!
Old Hunstanton beach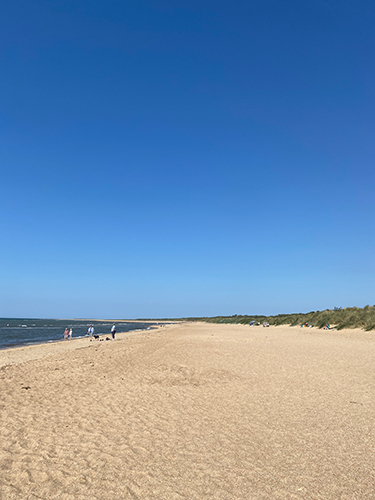 Old Hunstanton village is located just north of the busier town of Hunstanton and one of the best things about this area is that it has a fantastic dog-friendly beach.  This is a totally uncommercial beach which allows your dogs to roam freely, and at Old Hunstanton beach there are no restrictions.   At low tide you're left with a huge expanse of sand to walk on, and the dogs love it.  Be prepared to meet other dog owners here! There are WC's in the car park, but that's about it!
Brancaster beach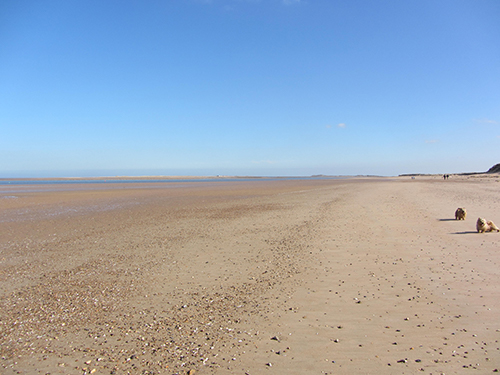 Brancaster beach is another well known beach for being a dog-friendly beach and you'll definitely come across lots of other dogs here. 
There are, however, summer restrictions which apply to a very small stretch just as you walk onto the beach, so once you're past this restriction, you can then freely walk your dog.
You should, however, check the tide times as the road to the beach floods on Spring tides.  You can check over here on the Brancaster beach page. 
You can't walk quite so far on this beach as you can on some others as it gets cut off by channels; you can walk east towards Titchwell, but this is as far as you can go this way as you come to a channel which you can't cross, and you can walk west, where again you come to a channel – you may well see some seals here, so please keep your dogs under control.  There are WC's and a cabin selling teas, coffees, buckets and spades etc.
Holkham beach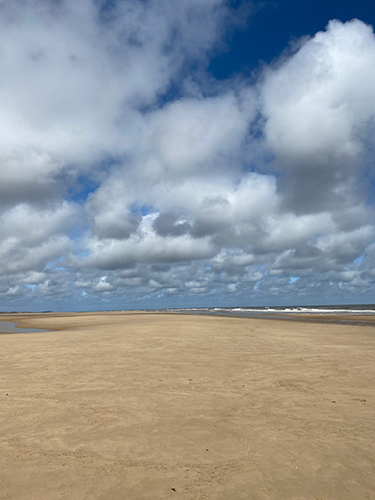 Holkham beach is probably the most well known beach in Norfolk, and again is a popular beach for dog owners. It probably counts as one of the best Norfolk beaches for dogs. 
However, Holkham beach now has dog restrictions which apply, as this is also a nature reserve.  There are often cordoned off dunes to protect nesting birds.  The restrictions are small and you'll only need to keep your dogs on the lead until you get past Holkham Bay, but once out of the bay, you really can walk for miles on fantastic hard sand. There are facilities such as parking, WC's, and refreshments in The Lookout at the car park.

Wells-next-the-Sea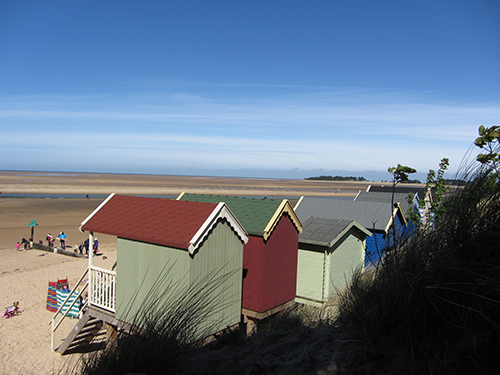 Wells-next-the-sea beach offers miles of golden sand, and you can walk from here to Holkham and beyond. There are dog restrictions to the east of Wells beach, but other than that, the beach is completely dog friendly.  And there is so much space.  There is a café in the car park which is also dog friendly, and also WC's. 
West Runton beach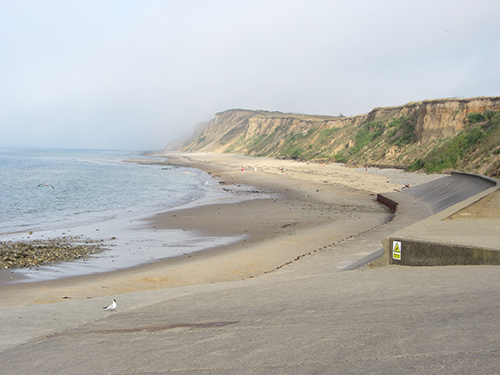 West Runton beach is a completely different beach to some of the others.  It has a much more rugged feel to it and is backed by cliffs.
One of the highlights of this beach is its unique geological history, as it is home to the fossil remains of the Steppe Mammoth, an extinct species that roamed the area thousands of years ago.   
West Runton beach has a small dog restriction area as you walk onto the beach, but once past this, you're free to roam with your dogs.  There is a café just up from the beach and a WC
Mundesley beach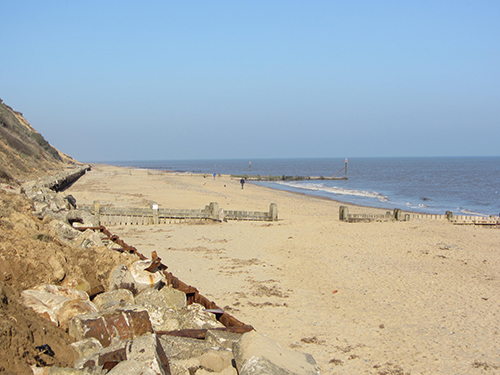 The beach at Mundesley stretches for miles, both east and west, offering plenty of space for dogs to run and play. However, there are dog restrictions on Mundesley beach in the summer months; no dogs allowed on the beach stretching the length of the promenade.  You're allowed to walk your dog on the promenade on a lead, so if you walk to either end, you are then free to go onto the beach and have a good walk. 
Happisburgh beach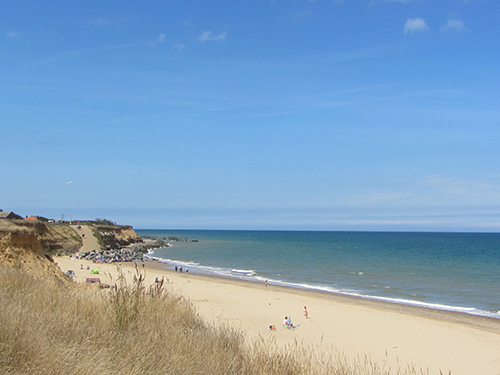 Happisburgh beach is usually best at low tide so you have plenty of space to walk on the hard sand.  If the tide is high then you do have a slight problem of getting around large boulders as the beach is dog friendly to the north of the lighthouse.  Going south of the lighthouse you'll find there are dog restrictions so you need to turn left as you come down the ramp. 
If you come to Happisburgh beach with your dog, you have the added bonus of seeing the spectacular and iconic red and white lighthouse which overlooks the cliffs.  There are WC's in the car park.
Waxham beach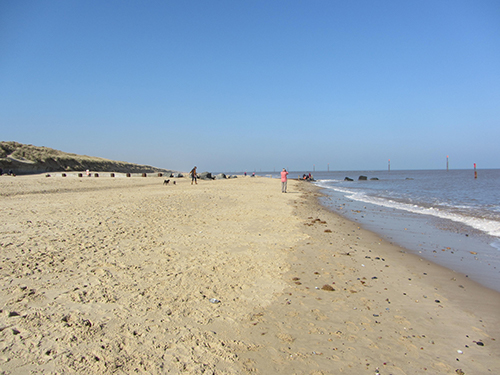 Waxham beach is definitely one of the best Norfolk beaches for dogs.  This is a wonderfully empty non-commercial, dog-friendly beach located on the east coast of Norfolk.  This is a beach that's reached by a quiet sandy road.  There is no designated car parking so can be a bit tricky, but once you're on the beach, you'll have ample space to have a good walk and exercise your dog.  Waxham beach is backed by concrete sea defenses and sand dunes.
Horsey beach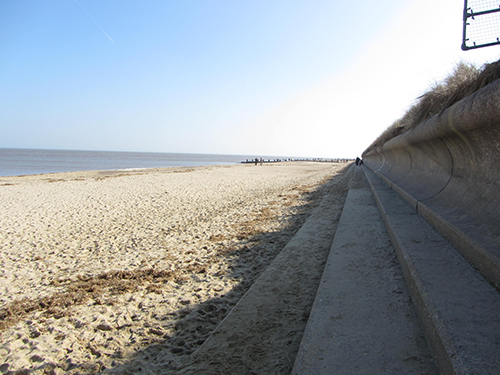 In the summer months this is a really great dog friendly beach.  Much like Waxham, it's an uncommercial beach and has lovely soft sand.  It has a cabin in the car park where you can buy refreshments.  There are no dog restrictions on Horsey beach but if you see any seals in the summer months, please don't approach them and please keep your dogs on the lead.
In the winter months, the beach is closed off due to the seal breeding season, so this one is best avoided in winter.
Winterton beach

Winterton Beach is another fantastic beach where you can have a really good walk, and not just on the beach.  Backed by dunes, there are plenty of small paths to explore and run around.  However, this is also a nature reserve so you are asked to keep your dogs under control.  It's better really, to have a lovely walk along the beach rather than the dunes if you have excitable dogs, especially as there's so much space here.  There's a car park (not huge) and refreshments can be bought here.  There are also WC's.
Caister beach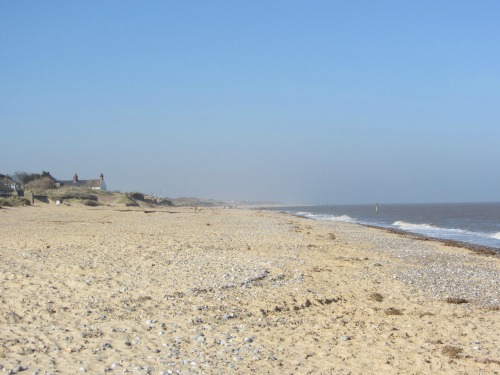 Caister beach has a rather wild feel to it and is brilliant for dogs as there are no restrictions whatsoever.  There are 2 places you can park, one by the Old Lifeboat Station and the other a bit further north which is a small car park. In addition to Caister beach, you also have nearby Scratby which is also a dog-friendly beach.  In fact, you can walk from Caister to Scratby on the beach.
11 of the best Norfolk beaches for dogs

I hope you'll now be able to choose at least one or two of the best Norfolk beaches for dogs, and have a really enjoyable day out. 
Start planning your trip to Norfolk today! Check out the dog friendly Norfolk accommodation for somewhere to stay which then means you can enjoy these fantastic dog friendly beaches!