Felbrigg Hall

A Gentleman's Country House
Felbrigg Hall is probably one of the most unassuming houses I've visited, and for that I liked it.  The best way to describe it is as a country squire's house.

I think it's fair to say that Felbrigg Hall is a bit like marmite - you either love it or you're underwhelmed by it!  If it is the latter however, don't dismiss visiting here, because there are other wonderful outside alternatives – the walks and the walled garden are really excellent and I would encourage you to see these whether you want to see the interior of the house or not. 
And being so close to Cromer, it makes sense to take a trip to visit this historic house and grounds.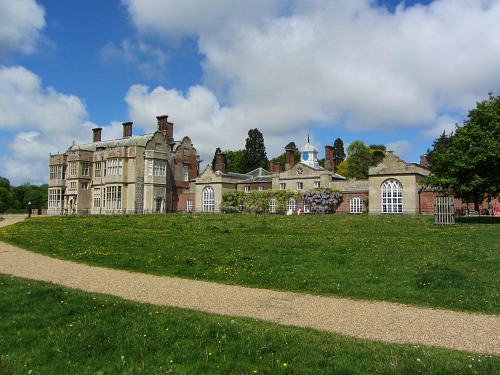 However, if you're looking for splendour and opulence, I would suggest a visit to Blickling Hall, or Holkham or Houghton Hall.

As with all National Trust properties, children are very welcome, and they can pick up some quiz sheets which they can fill in as you walk around the house; always makes it far more interesting for them, and much more relaxing for you!

Felbrigg Hall
Felbrigg Hall is architecturally interesting, having been added to over the years due to the increased wealth of the four Norfolk families who lived there.  Rooms were also changed around over the years, so for example the Morning Room, which is the first room you enter, was originally the kitchen and buttery.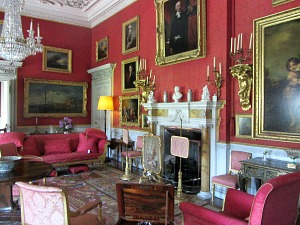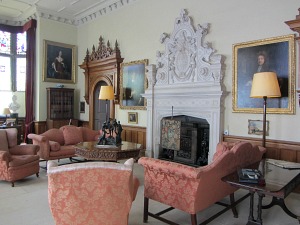 Although the rooms aren't vast, unlike other historic houses such as Houghton Hall, they certainly give you a definite sense that they were lived in, and not just rooms that were used for showing off.
And there's plenty of information for you to learn about the history of the occupants at the time, as well as very knowledgeable National Trust volunteers on hand to answer any questions.

There's a fascinating gothic style library where all the 5000 original books still sit, most leather bound, collected over the years by the Windhams and their successors.  And I defy you to not be amused by the slipper bath.  How on earth anyone managed to have a bath in such a contraption is past my imagination!
There are various bedrooms to wander through, and eventually you are taken down to the kitchen, with all the shiny brass pots and pans hanging from the dresser where you can picture the cooks slaving away for an extravagant shooting lunch or dinner party.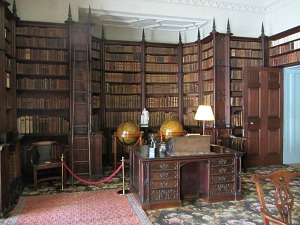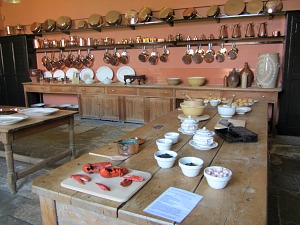 Felbrigg Hall Orangery
I'm sure many people miss the orangery because you finish the tour of the house by the reception and you need to go around to the front of the house again.  Although this orangery isn't quite as spectacular as Blickling Hall, it does house the most incredibly huge camellias. 

You also see the more attractive side view of the house (in my opinion), built in a completely different style to the gothic frontage, and it gives you a much better understanding of how Felbrigg Hall was built on to over the years.  It could almost be a separate house.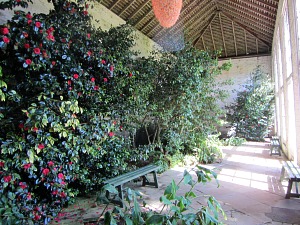 The orangery, however, was designed to co-inside with this new build, so is in keeping with this side of the house.

But do go and visit this, and you'll have the added advantage of seeing the wonderful view across the open countryside from a different angle.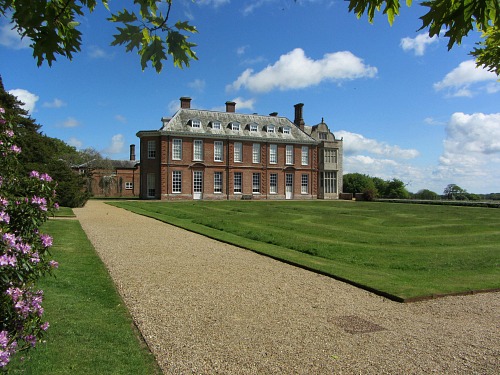 Felbrigg Hall Walled Garden
The walled garden is beautiful and is much more formal than the garden surrounding the Hall.  Don't miss it!  With a brick dovecot, double herbaceous borders, fruit trees, an amusing hen house, you can wander around at your leisure, taking in the many and varied plants and beauty of the place.   And children are also welcome, with the purpose built sandpit along with rakes and spades to keep them amused.
Another walled garden that is worth visiting is the one at Holkham Hall.  It's on a much bigger scale to this one here, and is in the process of restoration.  It covers approximately 6 acres, so it is huge!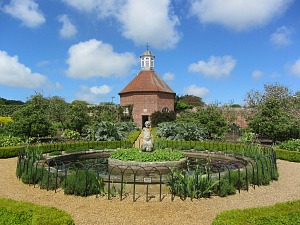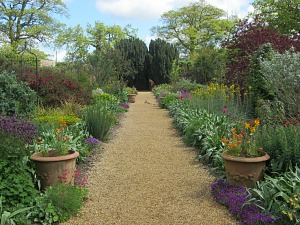 Felbrigg Hall Grounds
The grounds at Felbrigg Hall are huge, and you can easily while away an hour or two wandering in the woods, or taking a much longer walk in the parkland, past the church and lake.  It's a lovely countryside walk, but also not too far from the incredible Norfolk beaches that we have, so a good alternative when it's not quite so hot for sitting on the beach.  National Trust car parking charges will of course apply.
Or the other National Trust property very close by is Sheringham Park.
Wander down to the church in the grounds and you'll come across something quite extraordinary.  Have you ever come across box pews before?  I certainly hadn't. 
Felbrigg Hall happens to also be right on the Weaver's Way long distance trail, a fabulous 61 mile walk from Cromer to Gt Yarmouth with very varied landscape, including Blickling Hall too!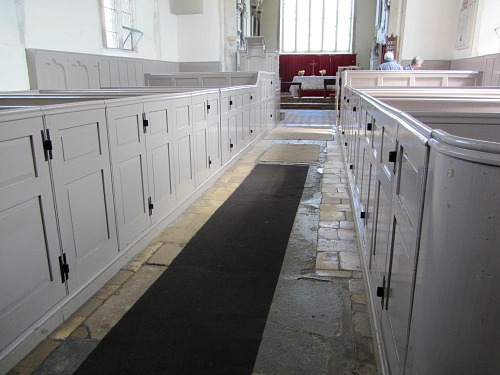 And then if you want an excellent circular walk, carry on past the church and bear right, and you'll eventually come to the lake, with a lovely view over towards the Hall.  Continue on through the woodland until you arrive back at the hall.  Or you could carry on through the woods at the back of the hall for yet more walking.  Lots of places to discover!

Refreshments
Yes, there is a nice coffee shop in the courtyard with the traditional National Trust snacks and drinks, and it's all wheelchair and pushchair friendly around about.   Or you could bring a picnic and enjoy it under the shade of the trees.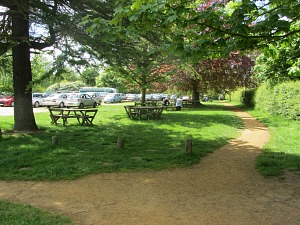 Felbrigg Hall is definitely one of the more unpretentious Norfolk historic houses, and with the vast acres of parkland and beautiful walled garden, it will give you hours of pleasure to wander around and you can thoroughly enjoy your day.   Another suggestion for a "smaller" stately home is Sandringham House, again rather unassuming in its own way.

Prices And Opening Times
For prices and opening times, you can visit the National Trust Felbrigg Hall website here.
---