Cromer Museum
Fascinating And Informative

Cromer Museum is one of those little hidden-away museums that is very simple to miss.
But if you've got an hour or two to spare, may I suggest you take a detour to this museum, a small but dedicated museum showing just how important the fishing industry was, and still is, to Cromer.  It also details  the history of Cromer.  I found it fascinating and I was amazed so much could be fitted into such a small space! 
I'd just done a walk from Cromer town to the Roman Camp at Beeston Regis and had an hour to spare.  I knew I wanted some fish and chips, but the queue was too long, so I took the opportunity to visit the museum and then reverted back to No 1 Cromer (it was definitely worth it on both accounts!).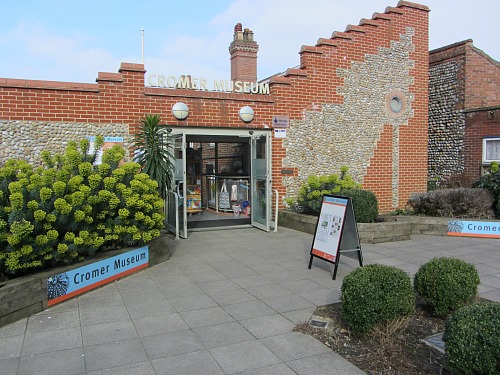 Set just to the side of Cromer church, which has the tallest church tower in Norfolk, it's a building that is very unassuming, so keep your eyes open.  I didn't really know what to expect as I'd only briefly read up about it beforehand on the internet and I never think the websites for museums do them justice, so I was very happy to see what lay in store for me.   
I also had this same feeling for Norwich Castle Museum, not quite knowing what to expect, but was quite honestly blown away by what I saw there.  
But back to Cromer Museum - I had no idea it was such an incredible museum.  Can you imagine what it was like to live and work as a fisherman back in the 1900's – well this small museum will give you all the information you need to know!  It's an incredibly informative and stimulating museum with some particularly interesting exhibits.
Cromer Museum – The Unique Setting
The setting for Cromer Museum is eight former fisherman's cottages which were bought by Cromer Town Council back in 1967 for £1,000.  A good buy in today's property market!  But it's these cottages which make the museum so unique.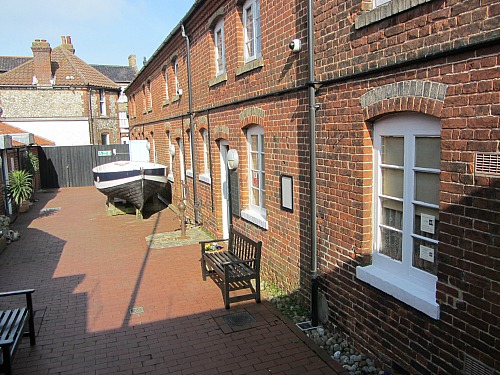 The first sight you have of these pretty cottages is after you've paid your entrance fee and you're shown down to the start of the museum trail.  It's also worth getting a free audio guide to help you discover more about the information shown.  
These fishermen's cottages have been well restored, and even the tiles, wooden floors and some of the furniture are the originals.  
The Cromer Fishermen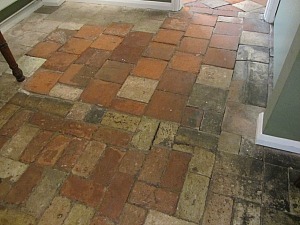 The first room you enter into has displays and information on the lighthouses that stood above Cromer town and the history of Cromer
One board that stood out for me was one showing a range of photos of how one particular house or shop in Cromer looked back in the early 1900' and how it looks now.  This was wonderful, especially if you're a rather nostalgic person.  The beauty of the shops back then compared to now is staggering, and what comes across most is that it was all so much more personal in those days.  Outside most of the shops were the owners and workers, today they are just faceless windows!  Sad really.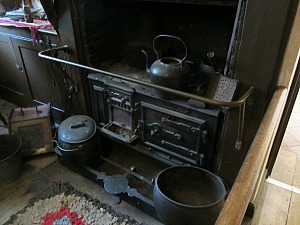 There's a room set out downstairs as it would have been in its day as a fisherman's cottage and showing you exactly how the fishermen would have lived.  You might even jump as you walk into this particular room as there's something there that gives you quite a fright!  With its original stove and gas lamps, it's incredibly authentic and interesting too.  You can try and imagine what it must have been like to have been a fisherman in those days - extremely hard work.
There's also another Victorian room upstairs, set out as a bedroom, again with various original features.
A Bit Of Cromer History
Come back downstairs and you then have another room showing you more photos and illustrations about the Pier, the Jetty and how it was sold off and about bathing in Cromer in the 1920's.  Although that may not sound hugely interesting from just reading this, I think it's always fascinating to know a little bit about the town you're in, and this museum covers it brilliantly, without going into overload!
And bear in mind that Cromer was a very important seaside town in the 1900's.
Olive Edis
One room of great importance is the one dedicated to Olive Edis, which is a fascinating story relating to Norfolk and yet again, the fishing trade.  This is a woman who became a very well-known photographer in the 1920's, particularly in portraits, (quite a feat for women in those days).  She became known in high society circles and took photographs of famous people including King George VI.  She spent much of her time taking photographs of the local fishermen, many of whom would have been coaxed to sit for her.  They would rather have been in their boats, or mending their nets!    But they are amazing photographs for that era. One other portrait was of Henry Blogg, the most decorated RNLI lifeboatman.   The collection dates from 1905 to 1955 
Cromer Museum were very fortunate in securing funding of £42,000 to acquire this collection which is a nationally important collection.  Although don't expect a room of photographs the size of a London exhibition!
The Wash Room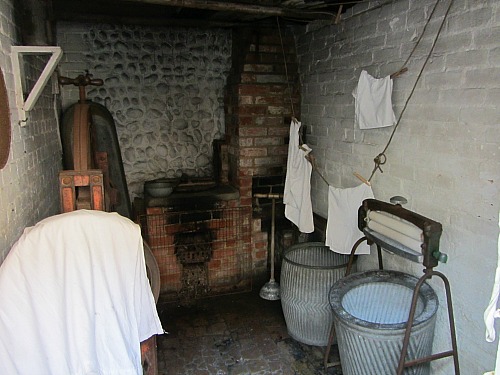 One outbuilding at Cromer Museum that you may pop into before entering the first room (only because it's the closest) is the Wash Room.  A tiny room where washing was shown to be a very manual task!  Water was  collected from the pump which you can see outside the cottages, taken to the wash room, a fire lit, a copper pot put on to  boil and away they would go.  There are again lots of original features here, including a bath, mangles and the old fire and chimney with the original brickwork still intact.
Geology Along The Norfolk Coast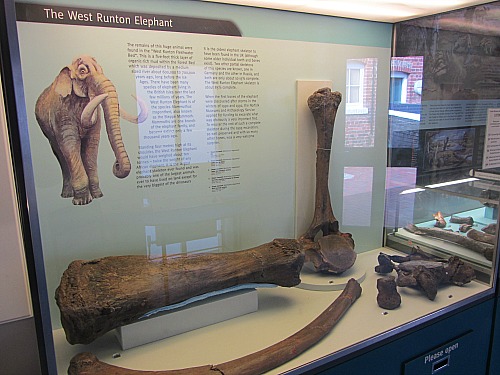 The North Norfolk coast is known as the Deep History Coast, many fossilised finds dating back to 600,000 years ago.  This is very evident in the Geology Gallery where you can see no end of fossils, skeletons and all manner of other bits and bobs found in Norfolk, both on the coast and inland.  My favourite is some of the bones from the West Runton Mammoth.  85% of the remains of this Steppe Mammoth were discovered on the coast at West Runton in 1990. There is one bone in Norwich Castle Museum and a few here.  The rest are stored in a temperature controlled environment at Gressenhall Farm and Workhouse.
So if you've got an hour to spare, or to fill whilst in Cromer, this is the perfect answer.
It's amazing how so much has been fitted into a small museum like Cromer Museum.  
You can find out more here on their opening times and admission prices.