Hunstanton UK

Walks, History And Attractions

Hunstanton UK, Sunny Hunny or Hunst'n, call it what you will, this is a town built out of nowhere to become one of Norfolk's premier holiday desintations.
It's also the place to see some of the most spectacular sunsets in the whole of the country (the other beaches being Snettisham and Heacham).  

And, if you're walking, it's where you are most likely to start the beautiful Norfolk Coast Path walk which eventually ends up on the Norfolk/Suffolk border at Hopton.
There are many good reasons for loving Hunstanton and here are a few:
It does have a slight drawback of the very obvious, busy and blatant tourist attractions on the beach.  But then what do you expect from a hugely popular holiday destination and I totally understand that everyone wants something different.   If you're looking for a quieter place to stay then I recommend you look a little further along the coast.
Being a busy town, it also has  lots of accommodation to choose from in and around the Hunstanton area.  Explore Norfolk UK is lucky to be working with various holiday cottage businesses  where we can bring to you a whole range of varying properties for your holiday.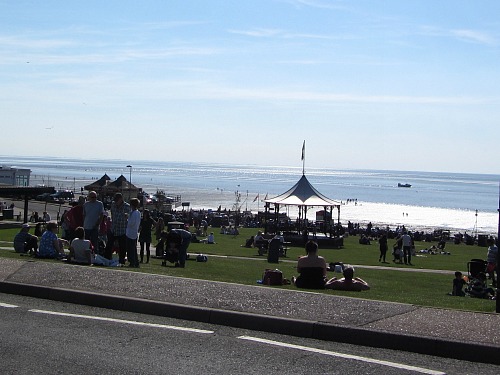 Hunstanton UK is one of only a handful of Victorian seaside resorts in Norfolk, much like Cromer and Sheringham, all of which came to prominence due to the building of the railways.  The historic birth of the town is an interesting story in itself and I cover more of the history of Hunstanton below.

It's also happens to be one of the busier towns in Norfolk, full of attractions, accommodation galore, lots of lovely independent shops, a popular theatre and two beaches, and of course, not forgetting Hunstanton golf club for you golf lovers!  What more could you ask for from a family friendly, dog friendly seaside town in the UK?

It also won Hunstanton in Bloom in 2014 which is always high praise for a town that unites to make sure that it's a destination worth visiting.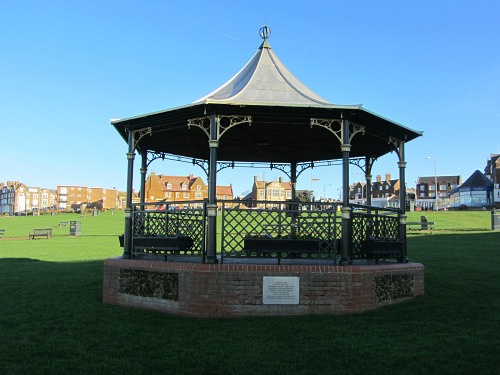 The History of Hunstanton UK

History produces stories, and Hunstanton UK is no exception and well worth reading about before you visit.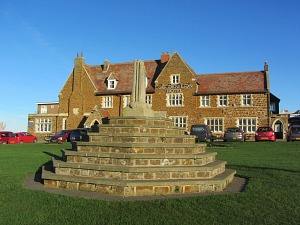 With Old Hunstanton already established as a small village, Henry Le Strange conceived the idea for building a bathing resort south of the village with links to the important port town of Kings Lynn, including the building of a railway. 

In 1846, to show his intention of developing this new site, Le Strange moved the village cross from Old Hunstanton to the green as we know it today, and the very first building was The Golden Lion, then called the Royal Hotel.  Once this was built, he then set about designing the rest of the town with his land agent friend, and New Hunstanton was born.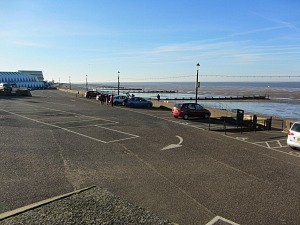 His vision of the railway also took hold some 20 years later.  With backing from investors, in 1862 he saw out his dream, with the railway line from Kings Lynn to Hunstanton UK being built (stopping on route via Sandringham at Snettisham and Wolferton Royal Station and often carrying the Royal Family).   

On arrival at Hunstanton, passengers were able to alight on to the platform and walk straight out onto the promenade and pier, what a sight that must have been.  The station was on the site of what is now the car park which looks onto the beach.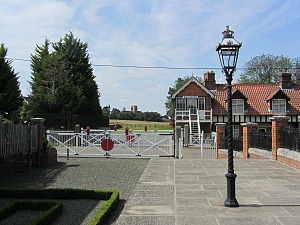 Wolferton Royal Station
Unfortunately this line closed in 1969 but to get a real feel of what life was like back then, you only need to drive a few miles out of Hunstanton UK to see the beautifully preserved railway station at Wolferton, (one of Norfolk's true gems), next door to Sandringham House.   If you've got 10 minutes to spare, this wonderful 1961 film shows John Betjeman travelling along this line from King's Lynn to Hunstanton and finally arriving at the sea front.

The Le Strange family still live in Hunstanton to this very day and still own the beach, and, according to a charter in their possession, they also own "everything in the sea as far as a man on a horse can throw a javelin from the low tide mark"!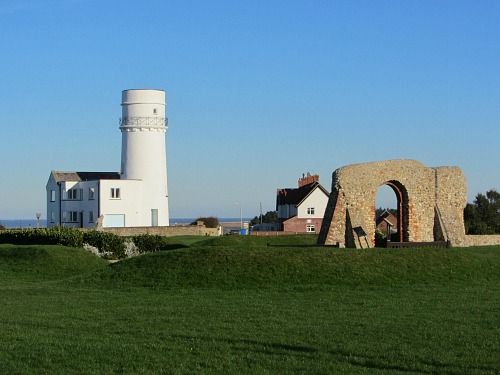 The Lighthouse and St Edmund's Chapel

I'm never quite sure where Old Hunstanton ends and New Hunstanton begins, but I think it's safe to say that the ruins of St Edmund's Chapel and the now privately owned lighthouse (above) is where the line is drawn.  Please do contact me if you know otherwise!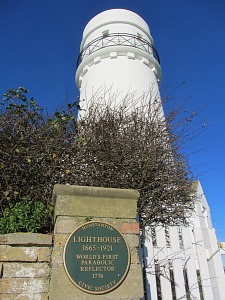 There are a few lighthouses dotted around the Norfolk coast; one fairly similar to this one and painted white, overlooking Cromer beach is Cromer Lighthouse the other one being the iconic red and white lighthouse at Happisburgh and all three are wonderful sights to see.
St Edmund's Chapel, a small ruin now but still with spectacular views over the Wash, was said to be built on the cliff above where Edmund, the future King of East Anglia became shipwrecked at the tender age of 14.  Having become the first patron saint of England, in 1272 the monks from Bury St Edmunds built this chapel in gratitude that he was delivered to our shores safely.   All that's left now is an arch ruin sitting on the cliff top very near the Old Hunstanton Cliff Car Park.  There is plenty of seating, so it's a great place to just take time out and admire the wonderful view.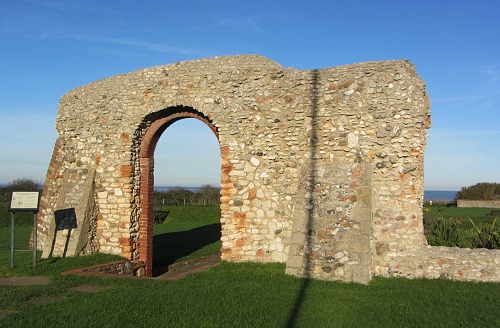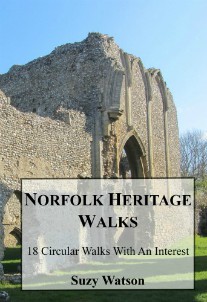 If ruins and history interest you, or you just want some different walks, take a look at this Norfolk Heritage Walks book which covers 18 circular walks in Norfolk with each one having a particular interest such as a castle or priory ruin, a windpump or lighthouse.  All have a story to tell...
You can read more about this Norfolk Heritage Walks book here.
Hunstanton Pier
Just like Cromer Pier and Great Yarmouth Pier, Hunstanton Pier had its fair share of storm damage and fire.  It was an immensely long pier which was opened in 1870 and 20 years later had a pavilion added to it.  Unfortunately it was destroyed by fire in 1939 and the pavilion was never replaced.  At one point it had a small zoo on it!  There was more storm damage in 1978 and finally it never survived the fire that took hold in 2002 which wiped everything out.  Where the pier once stood, now stands a rather unattractive amusement arcade and bowling alley (in my opinion!).   

This picture below is exactly where the pier used to stand.  I am standing underneath the bowling alley.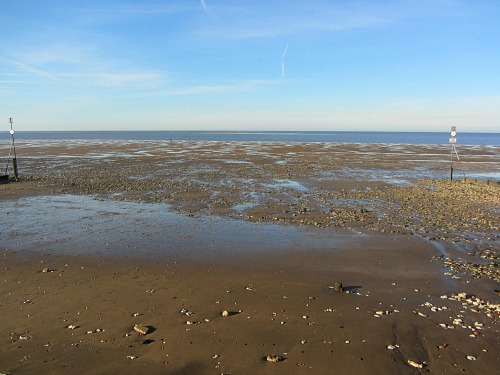 Where Hunstanton Pier used to stand
---
New Hunstanton and Old Hunstanton Beaches
These days, both Hunstanton beach and  Old Hunstanton beach are extremely popular all year round.   Both are hugely different in character and you can find out much more detail about each beach on my detailed pages of Hunstanton beach and Old Hunstanton beach.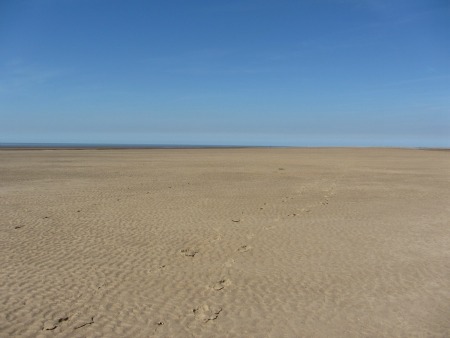 Old Hunstanton beach
New Hunstanton beach is full of candy floss, arcades, fun fair and amusements as well as the Sea Life Centre, whilst the Old Hunstanton provides excellent kite and wind surfing and buggying, as well as fantastic walking along the Norfolk Coast Path, and it's dog friendly!  
The most impressive site on these two beaches is the cliff face, a three tiered chalk, red chalk and carrstone cliff face, also great for fossil collecting and just a wonderful geographical sight to wander along.  I don't believe there is anywhere else in the country with a cliff face quite like this one.   At low tide, you'll also be able to see the shipwreck of the steam trawler, Sheraton.
You can also take seal tours from here too.

---
The Norfolk Coast Path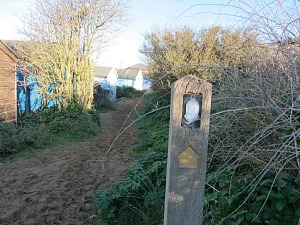 This is the town to be if you love walking because this is where you'll base yourself for your first night of the  Norfolk Coast Path walk, one of 12 National Trails in the UK.  It begins high up (for Norfolk!) on the cliffs of Hunstanton UK and takes you along the dunes and behind the beach huts at Old Hunstanton, passing the RNLI lifeboat station and onto Holme-next-the-Sea where the ancient 4000 year old Seahenge was discovered.  Pick up a packed lunch from one of the delis near the green and stride out for your day of walking.
There are more ideas for coastal walks here.

---
Hunstanton Town
There is never a dull moment in Hunstanton UK!

You could spend your morning playing crazy golf, or for that matter proper golf, have a swim or go skating in the Oasis Leisure Centre, go bowling on the site of the old Hunstanton Pier or take the kids to the newly opened Sea Life Centre (badly damaged in the tidal surge in December 2013).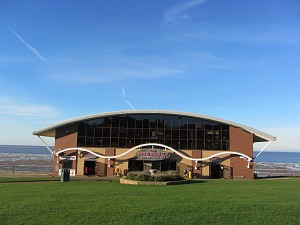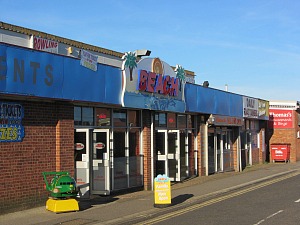 Or how about having a cup of tea and cake in one of the many independent coffee shops or pick up something from the deli, grab some flowers for your loved one from the florist, or have a pre-theatre drink in the Golden Lion Hotel and meander over to the Princess Theatre for a play or the pantomime.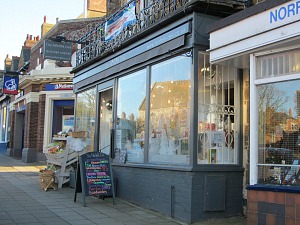 The Princess Theatre
This theatre in Hunstanton goes back to 1930, long after Le Strange developed the town, but does have the largest gabled carrstone wall in existence.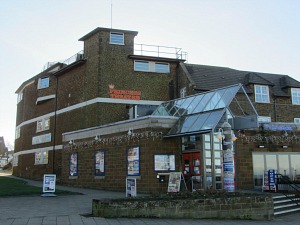 It opened as the Capitol Cinema, but in 1981 was renamed the Princess Theatre in honour of Lady Diana Spencer who married Prince Charles and became the Princess of Wales.  It's a lovely traditional theatre with shows all year round as well as the winter pantomime, and also doubles up as a cinema.   You can see what's on at the Princess Theatre here.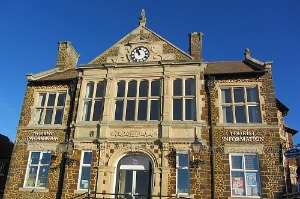 The Town Hall, overlooking the green in Hunstanton, is another impressive building which is now the Tourist Information office.  A Grade II Listed Building, built by the local architect George Skipper in 1898 who also designed the Norwich Union building, Jarrolds and The Royal Arcade in Norwich.

Oasis Leisure Centre
This is a typical leisure centre, with a swimming pool with aqua slide and toddler pool, a Fun Castle and toddler play area, a fitness studio, a roller skating rink and a café with views over the wash.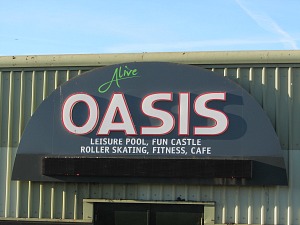 Hunstanton Sea Life Sanctuary
Although this is a tourist attraction, it also acts as a sanctuary and rehabilitation unit for some of the wildlife around Norfolk and the east coast of England, seals being among some of the patients admitted here in Hunstanton UK.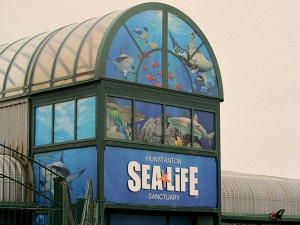 The Sea Life Centre reopened in October 2014, almost a year after it was badly damaged by the tidal surge in December 2013.  It has been totally stripped out and rebuilt from scratch so Hunstanton really does have a brand new Sea Life Centre, which is always a very popular attraction, particularly on rainy days!  There are so many exciting animals to see ranging from sea horses to penguins to turtles.

It's open every day from 10-4pm, tickets vary in price but you definitely get a good discount if you book online rather than turning up on the day.  You can visit their website here.

---
Water Sports In Hunstanton UK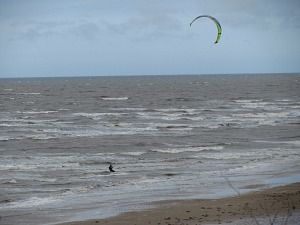 This is one of the best places in the UK to kite surf and windsurf due to the shallow waters and the open beaches, especially at Old Hunstanton.  The best place to find more information on this is Hunstanton Watersports. 
But if you're thinking about kite surfing here in Norfolk and you're fairly new to it, please read these wise words of wisdom from the Hunstanton Sailing Club about kite surfing as it is considered an extreme sport.

Accommodation Ideas In Or Near Hunstanton
There are so many choices of accommodation in or near Hunstanton ranging from cottages to static caravans to new builds to hotels.  Explore Norfolk UK work with various property agencies as well as reviewing hotels and individual properties to bring you a growing range of Norfolk holiday properties for you to browse through. 
You can see some by clicking through to the Norfolk Holiday Cottages page here.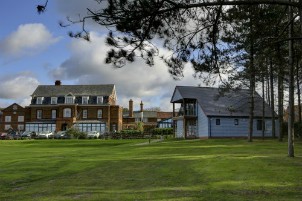 ---
I hope you've been able to see that there is something for everyone in this historic town of Hunstanton UK; be it the busy promenade and attractions or the quieter more sedate cliff top walks, you'll find it here. 

Other places to visit nearby
---