Happisburgh Lighthouse

The Only Independently Operated Lighthouse In The Country
Happisburgh Lighthouse is one of the most iconic sights in Norfolk and one of the most recognised lighthouses in the whole of the country. 
As well as being the most recognised, it's also the oldest working lighthouse in East Anglia and, as you'll see in the history of the lighthouse, it's also the only independently operated lighthouse in the country. 
So it's quite a special lighthouse!
With its striking red and white stripes and overlooking an ever eroding coast line, this lighthouse is very much part of Norfolk's heritage.  There is a lovely 3 mile circular walk starting at the lighthouse which features in the Norfolk Heritage Walks book.
Run by volunteers, you can even have the chance to walk right up to the top of the lighthouse on open days and believe me when I say the view is worth the climb!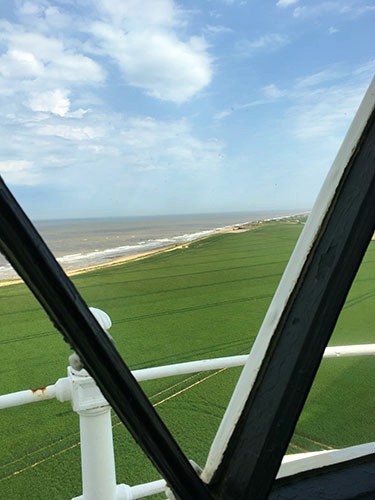 The History of Happisburgh Lighthouse

As Happisburgh lighthouse plays an important part in Norfolk's heritage, it's worth finding out a little bit about its history.
The Lighthouse dates back to 1790 when it was built following a severe storm in 1789 with the loss of over 600 lives and 70 ships. 
Following this storm, an enquiry took place which highlighted the fact that there were no warning lights between Cromer, north of Happisburgh, and Winterton which is south of Happisburgh.  A petition was presented to Trinity House (who were the General Lighthouse Authority for England and Wales, and still are today) to build a lighthouse at Happisburgh.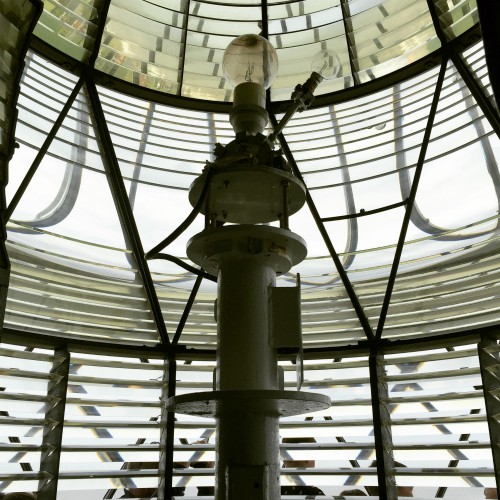 Following this petition, 2 lighthouses were built 400 yards apart. They needed two lighthouses at different heights so that ships could pass the southern tip of the Happisburgh Sands and sail into sheltered water.  
They built the High Light which is the one that still stands today, and they also built the Low Light, which was eventually demolished in 1886 when Trinity House deemed that the conversion of the light from oil to gas would be too expensive and it was also at risk from coastal erosion.  At low tide you can see the remains of the Low Lighthouse.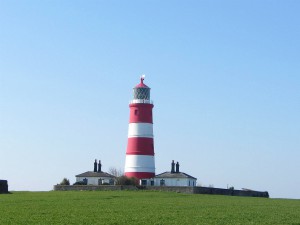 Once the Low Light was discontinued, the High Light needed to be distinguishable from the other lighthouses along the coast during the day (Cromer lighthouse still stands today and you can take a lovely walk along here, as does Winterton lighthouse which is now a holiday cottage) so was painted as you see it now, red and white.   
Up until 1929 Happisburgh lighthouse was manned by "keepers" who were resident in the cottages below the lighthouse.  From this date onwards, it was altered to an "unwatched" beacon.  These cottages at the bottom of the lighthouse are now privately owned.
In 1987, after a major review of navigational aids, Trinity House decided that Happisburgh lighthouse should be discontinued and they set a date for closure on 13th June.  Thanks to one of the Happisburgh villagers, Kay Swann, a group was formed to begin a campaign to save the light.  The Friends of Happisburgh was set up and Trinity House agreed to lease the lighthouse to a management group called the Happisburgh Lighthouse Trust. 
However, before this could take place, a bill had to pass through Parliament to allow the Trust to become a local lighthouse authority.  This bill took 17 months to pass through Parliament and eventually received Royal Assent on 25th April 1987.  Following on from that date, HM Queen Elizabeth The Queen Mother visited the lighthouse to celebrate the official handing over to the Happisburgh Lighthouse Trust. 
Hopefully, having read the history of the lighthouse, you can see why it's so important to support this wonderful iconic Norfolk heritage site so that it can remain open, and how visiting on open days and other days will make a difference.
Happisburgh Lighthouse Restoration

Happisburgh lighthouse has had a few repaints over the years.  
The first was in 1990 for a TV programme called Challenge Anneka.  
It was then repainted in 1994 but unfortunately the paint deteriorated very badly (wrong sort of paint) so was completely stripped in 1998, which was the first time in 30 years.
Eleven years later, in 2009, it had another repaint, inside and out this time.
Just recently, in 2019, it was repainted again.
Who Operates Happisburgh Lighthouse Today?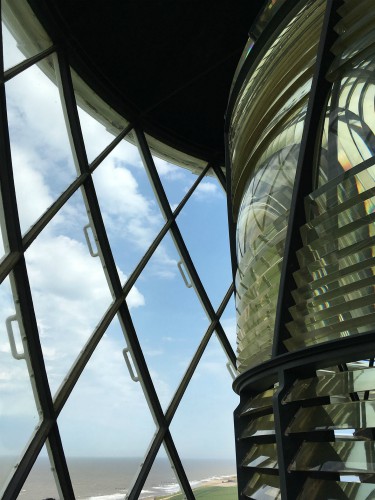 Today, the lighthouse has two groups which keep this wonderful beacon alive.
Open Days And Times

There are quite a few opportunities during the year when you can visit the lighthouse. 
It's a really good chance to explore and discover something that is different to your everyday life.  
As you go into the lighthouse you're immediately hit by how wonderful a building this is.  The interior height and the narrow stairs is something that I didn't expect, even though I know the shape of a lighthouse!!
During Open Days only a certain amount of people are allowed in at any one time for obvious reasons; lighthouses aren't big!  But when I went I didn't have to wait too long at all.  

There are 122 stairs altogether going up in a spiral right up to the very top. 
96 steps take you up to the service room 
and then there are another 16 that take you up to the lantern.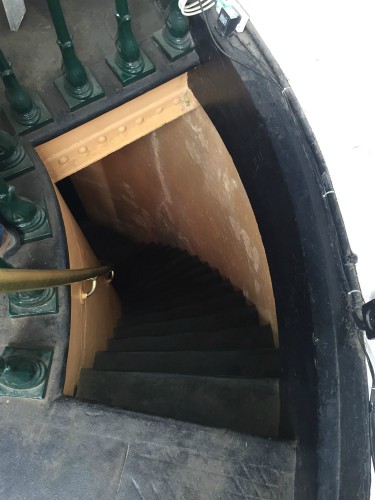 It's quite important that you realise a few things before you go, especially if health is an issue and you have small children. 

Children have to be 1 meter tall and capable of climbing the steps by themselves!  
The 16 steps to the lantern are very steep and they advise you to treat them as a ladder.
But when you're up at the top, what a view!  It really are stunning to see this huge expanse of Norfolk coastline, and also to see over towards the church (which you can also go up!). It's worth that climb, and the certificate to prove it afterwards!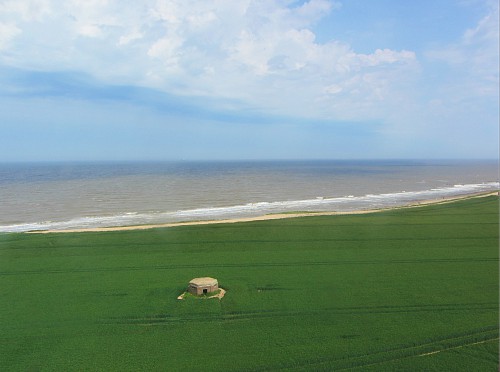 Open Days are usually over Easter and May bank holidays and the August bank holidays as well as most Sundays from July to the beginning of September.  You can find the open days here.
You can make of day of this by fitting one of the  Open Days in with a trip to Happisburgh beach as well.
Private visits to the lighthouse are also possible throughout the year.

Happisburgh Church Tower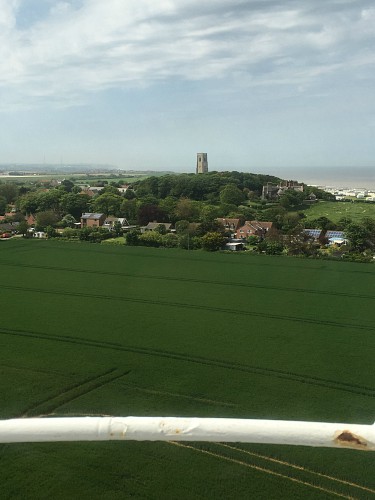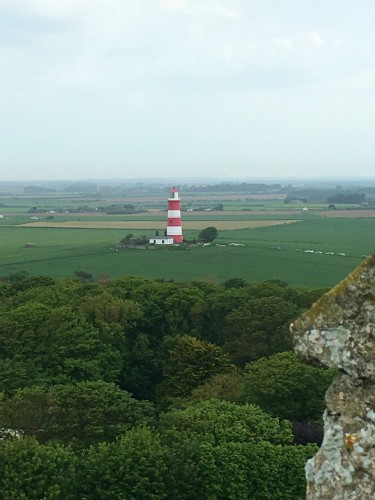 Whilst you're in Happisburgh, I would strongly suggest a little trip to St Mary's Church in the village where you can climb to the top of that as well.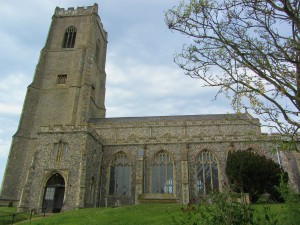 There is a small charge to walk to the top, but the views, as with the lighthouse, are amazing.  It's quite fun to look back at the lighthouse too!

Two towers in one day is not bad!
Although the view is worth it, the stairs are actually very steep in the church so if you're fairly fit and you don't get vertigo, it's another amazing tower to climb, and you also get to climb past  the church bells and their mechanisms!
WONDERING WHAT TO DO IN NORFOLK?
Download your free copy of the "Quick Guide To Norfolk Beaches" and join our newsletter to keep up to date with 4 different tips every month for enjoying what Norfolk has to offer. 
Parking

There is plenty of parking at the Happisburgh beach car park which has a pay and display machine.  The postcode is NR12 0PY.  There is also a WC here and a little café just around the corner on Beach Road called Seaside Tea Rooms.   The car park is also right at the entrance of Happisburgh beach.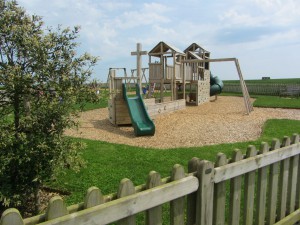 Adjacent to the car park is an enclosed playground area with lots of wooden play equipment which is popular for amusing the children for a while, and picnic tables are also located on the grassy cliff overlooking the sea, so picnics are perfect for this location too.
The Pub Near Happisburgh Lighthouse

For those of you wanting some refreshments or a pint of beer rather than a picnic, then all you need to do is to pop down to the pub in the village called the Hill House Inn which is just a short walk from the lighthouse and car park. 
Visit Happisburgh Lighthouse!
Everyone who visits Happisburgh LOVES the lighthouse.  It's such a fantastic photo opportunity, as well as giving you the chance to do something a little different.  How many chances do you get to go up a lighthouse?!
Whilst in Happisburgh you can also spend the day at the beach where you'll see the evidence of coastal erosion on this side of the Norfolk Coast.  
Or you can stretch your legs and go for a lovely 3 mile circular walk at the same time as visiting the lighthouse.  This walk features in the Norfolk Heritage 18 circular walks book.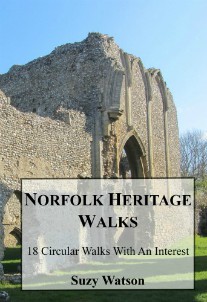 If ruins and history interest you, or you just want some different walks, take a look at this Norfolk Heritage Walks book which covers 18 circular walks in Norfolk with each one having a particular interest such as a castle or priory ruin, a windpump or lighthouse.  All have a story to tell...
You can read more about this Norfolk Heritage Walks book here.