Norfolk Villages Guide

There are so many beautiful Norfolk villages that I just had to set up a guide of the best ones for you to visit.  Norfolk is steeped in history, so it goes without saying that many of the pretty villages will have stories to go with them.
Here you'll find more maps of other Norfolk villages.

The villages on this page are:

---
Castle Acre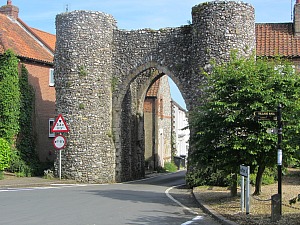 This is a very pretty unspoilt village 4.9 miles from Swaffham and 24 miles from the beach at Hunstanton.

Castle Acre was once a fortified village and the remains of the bailey gate still stand today.  There are lots of pretty flint cottages, a green, a village pub and tea rooms.   Situated on the River Nar which is a beautifully clear chalk stream, Castle Acre is best known for its two castle remains, The Castle and The Priory, both accessible from the middle of the village.  From the castle remains, there are wonderful views across the countryside, and the Priory has the river coursing its way along the bottom of the meadow.    With both the Nar Valley Way and The Peddars Way running right through the village, this is an excellent place to base yourself for visiting rural Norfolk.

---
West Acre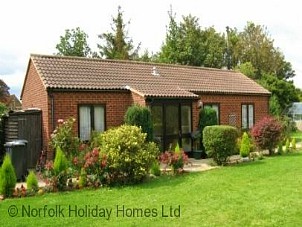 Located 5.4 miles from Swaffham and 22 miles from the coast at Hunstanton.

This is one of the Norfolk villages that is a tiny quiet hamlet which sits in a wooded valley just west of Castle Acre and is also on the Nar Valley Way trail.  It was once a place of religious importance and the remains of the priory church, cloisters and other surrounding buildings can be seen.  It also has the small West Acre Theatre, seating 80 in a converted chapel, and the West Acre Gardens which is a lovely walled garden and nursery. 

---
Great Massingham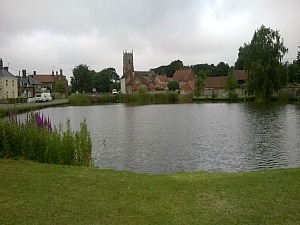 This very quintessentially English village is just 11.3 miles from Swaffham and 15 miles from the beach at Brancaster.

This is another pretty village where flint cottages and houses surround two very active duck ponds and a vast green.   The village community is as strong as you can expect from a village today.  Locals saved the village pub back in 2006, which sits in the middle of the village and is called The Dabbling Duck. This serves excellent food and drink.  There's an little local shop, post office and parish church.  A stone's throw from Houghton Hall, the church porch is thought to have been used as a school room for Sir Robert Walpole when he was a young boy.

It also has an airfield which was a WWII Heavy Bomber airfield and was built as a satellite airfield to RAF Raynham, not far away.  Today it is still used for light aircraft.

---
Litcham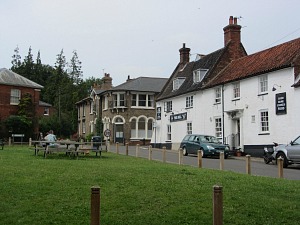 Litcham is a large Mid Norfolk village 6.2 miles from Swaffham and 17.5 miles from Wells-next-the-Sea.

This is one of the many Norfolk villages named in the Doomsday book, and still has the old coaching inn, The Bull Inn, which retains its ancient courtyard entrance.  The main road which goes through the middle of Litcham would once have been the main stagecoach route from Kings Lynn to Great Yarmouth, and The Bull Inn would have been used as a stopping point where horses would have been changed. This is a village steeped in history, but still a very busy functioning village, with a church and priory that date back to the 12th century, a butcher, post office, fish and chip shop

Litcham boast eleven listed buildings, and has been designated as a conservation village.  To the south of the village is Litcham Common, a managed nature reserve which has Dartmoor ponies roaming around, and forms part of the Nar Valley Way.

---
Bintree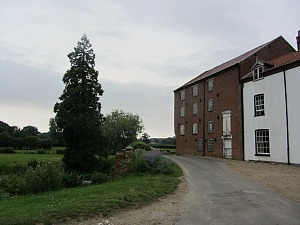 Bintree village is 7.2 miles from the town of Dereham and 18.9 miles from Blakeney.

This is a very small village with history attached to its church.  In 1895 the vicar of St Swithun Church, Bintree, The Rev Richard Enraght, who was an Irish born Church of England priest had strong beliefs in the CoE catholic traditions.  He promoted ritualism (often the subject of great heated debates at this time) which led him into trouble and he was eventually imprisoned at Warwick prison in 1880.  He is buried at the south-east end of the church as a "Confessor" ie. someone who suffered for the faith while not dying for it.

Bintree also has a disused watermill, (a little way outside the village along Mill Lane) believed to have stood in this spot since 1454 and the present mill is thought to date back from 1750.  It was used in the BBC adaptation of George Elliot's The Mill on the Floss.

---
Bawdeswell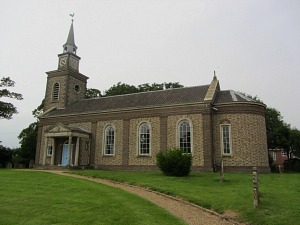 Bawdeswell village is located 11 miles from Dereham and 21 miles from Wells-next-the-Sea.

It's a small village almost slap bang in the middle of Norfolk.  It sits right on a major east-west Roman road and actually has 6 roads meeting here.   There used to be 4 coaching inns and a toll gate and it was a busy stopping off point for coaches and for the Walsingham pilgrims.

It also has a fascinating but sad story related to the church.  In November 1944 a Mosquito plan from RAF Downham Market crashed into the church, leaving no survivors.  The church was then rebuilt in a neo-Georgian design and is now Norfolk's only post war church.  It is a must see church.

Bawdswell also has one of the few remaining old red telephone boxes, now a Grade II listed building.

It's also very close to Foxley Wood, owned by the Norfolk Wildlife Trust.  This ancient wood is most well-known for its carpet of bluebells in the spring, it's a real spectacle.

---
Norfolk Villages Guide - North Elmham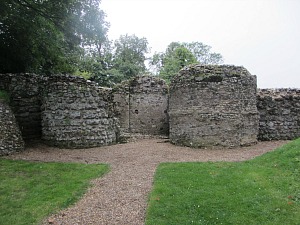 Situated 5 miles from Dereham and  19.4 miles from Norwich

North Elmham village goes back as far as 1035 and means "village where elms grow".    North Elmham Chapel is all that remains of what was probably a Saxon Cathedral, which is now looked after by English Heritage.   Story has it that in the 14th century it was converted into a fortified manor house, rather like Baconsthorpe Castle, by the very unpopular Bishop of Norwich, Henry Despenser, who violently suppressed the Peasant's Revolt in 1381. 

The actor John Mills was born here.

---
Swanton Morley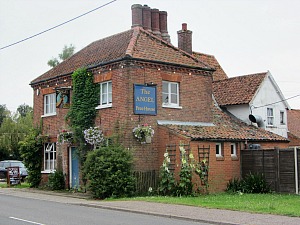 Swanton Morley village is another large village in Mid-Norfolk, located 3 miles from Dereham and 23 miles from Wells-next-the-Sea

Apart from being the home of the Light Dragoons Cavalry Regiment housed at Robertson Barracks, and formerly the RAF base from 1940 to 1966, it was also the village where Richard Lincoln lived (in what is now the Angel Pub), grandfather of Samuel Lincoln who lived in Hingham, and ancestor of Abraham Lincoln.   Richard Lincoln's coat of arms can be seen in the east window of the church in Swanton Morley.

The large church sits on top of the hill and is a grade one listed building.

---
Gressenhall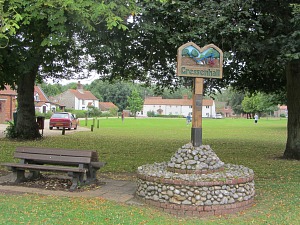 One of the better known Norfolk villages is Gressenhall village which is located 2.5 miles from Dereham  and 20.6 miles from Wells-next-the-Sea

This village is best known for The Gressenhall Farm and Workhouse museum dating back to 1777 where paupers would work in return for accommodation.  The village itself has a pretty green surrounded by cottages, and a pub and post office on the edge. 

---
Yaxham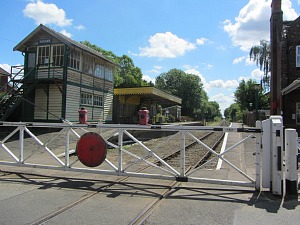 Yaxham is 2.7 miles south of Dereham and 20.4 miles from Norwich .

It has one of the 124 existing churches with round towers, this one thought to be Saxon, and also still has the railway station on which the Mid Norfolk Railway, a heritage railway, runs.   It also has connections with the poet William Cowper who is featured on the village sign  

---
Shipdham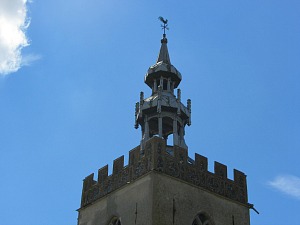 Shipdham village is 5.4 miles from Dereham and 23 miles from Norwich

This village is one of the largest Norfolk villages, it's pleasant, long and thin with a green in the middle.  It dates back to the 11th Century and is yet another village that is mentioned in the Doomsday Book.  It has an impressive 12th century Norman church right in the middle of the village with a 17th century wooden superstructure on the tower.

It's also another Norfolk village that has an old airbase which was used as a heavy bomber base.  Today it is still in use for light aircraft as well as various businesses which are housed in some of the buildings located on the Shipdham Airbase.

---
South Pickenham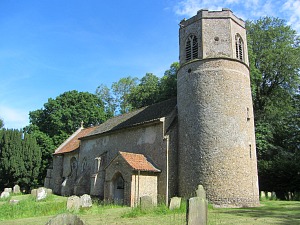 South Pickenham is 4 miles south of Swaffham.

This is a very small well-kept pretty village and most of it is owned by the Pickenham Estate.   The village pump is still retained on the side of the road and there is another delightful Norman church with a round tower.  Nearby is the historically restored Houghton-on-the-Hill church with spectacular ancient murals inside the church.  For walkers, The Peddars Way also runs to the east of this Norfolk village

---
Oxborough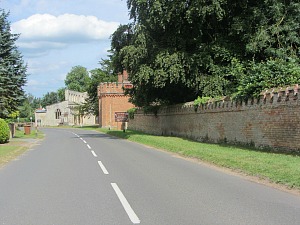 Oxborough is located 7.4 miles from Swaffham and 18 miles from Kings Lynn.

Oxborough is one of the many Norfolk villages that is small and tucked away in the surrounding countryside of Mid Norfolk and very close to Gooderstone Water Gardens.   It's dominated by Oxburgh Hall, one of Norfolk's stunning Tudor stately homes as well as its church, the tower and spire of which collapsed in 1948 due to the weight of the bells and strong winds.  It also has an excellent and cheerful pub called The Bedingfeld Arms.

---