Oxburgh Hall

Norfolk's Stunning Historical House
Oxburgh Hall is yet another of Norfolk's stunning stately homes. 

This magical setting, moated gatehouse and impressive Tudor brickwork is one of the National Trust's most beautiful houses.  It dates back to 1482 when it was built by Sir Edmund Bedingfeld and has been in the Bedingfeld family ever since.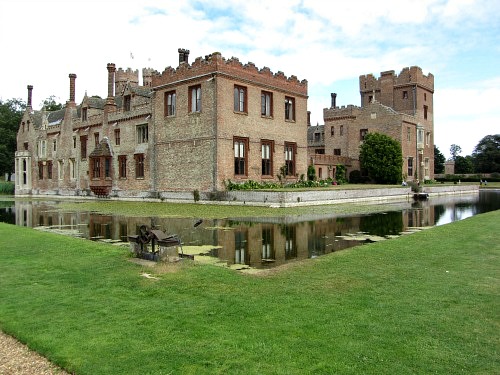 The exterior beauty of the Hall hits you immediately as you enter into the walled garden.   The wonderfully coloured Tudor brickwork really stands out against the immaculately manicured lawns and parterre within the grounds. 

It's quite a breath-taking moment.  I could hear other visitors saying "isn't it beautiful", and that sums up the feeling you get when you first set eyes on the Hall.

This definitely isn't on the scale of Houghton Hall, Holkham or Blickling Hall but it has its own unique splendour and history and definitely worth a visit.
If you want to see more pictures of Oxburgh Hall, why not head over to my Norfolk Video Gallery.

Oxburgh Hall Grounds
As with all of Norfolk's stately homes, the grounds are beautifully maintained making for a very enjoyable amble around the property.  There's easy disabled access too.  If gardens are of interest to you, you could take a guided tour by an extremely knowledgeable volunteer.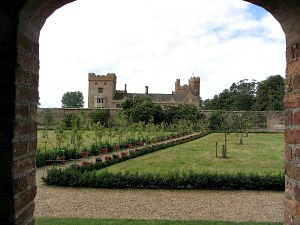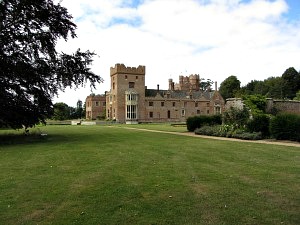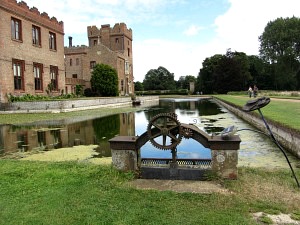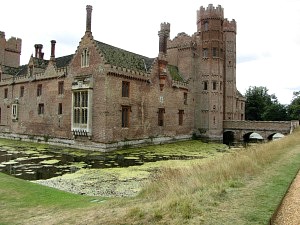 There's so much to see in the grounds of Oxburgh Hall.

There's the small but pretty herbaceous border against the wonderful old brickwork
The parterre which you can somehow imagine dates back to Victorian times (you can get a very good bird's eye view from the roof)
The vegetable garden, obviously very much in use today
The walk around the outside of the house on gravel pathways with a glance at the Coronation Tree, planted in 1953 to mark the coronation of Queen Elizabeth II
The Chapel, just set back from the Hall

If you want a little bit more of a robust walk you can follow the paths into The Wilderness and on towards the woodland walk in the Home Covert. 

The advantage of walking away from the house is that it gives you a different view and feel for the property, taking you away from the splendour of the immaculately tendered gardens, to a more wild country feel.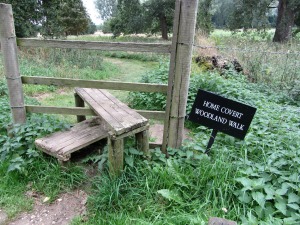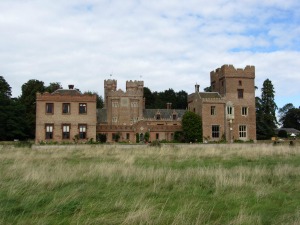 As you walk back, you can meander into the Chapel, almost hidden by trees.  It's a lovely little chapel, said to be built with recycled materials in 1830 and worth popping into while you're there.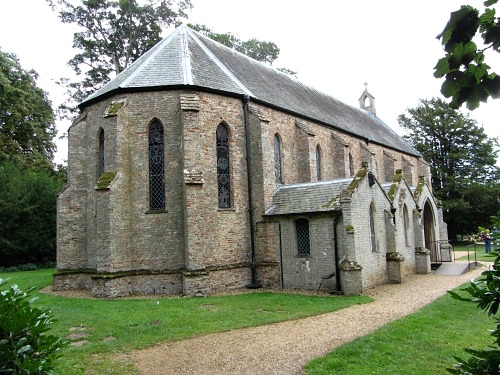 Oxburgh Hall Interior
I was very impressed with the rooms.  There were extremely informative notices everywhere, all the rooms on show were steeped in history and the guides in each room were very attentive (if you wanted them to be) and very knowledgeable.

The scale of the rooms are much smaller than other Norfolk historical houses such as Holkham Hall or Houghton Hall, but then again Oxburgh Hall wasn't designed to be a showcase.  You can imagine the owners living in these rooms (as at Sandringham too).  The library here is stacked full of books, but gives a much cosier feel compared to the magnificent library at Houghton.

Walking through the courtyard, you arrive at the Great Corridor to be greeted by a very friendly volunteer! 

Amble through all the rooms in a clockwise direction. All the information  available in each room is full of history, but  there are also boards giving historical lessons such as Order of the Garter which related to portraits on the walls, and so on. 

You could spend hours reading all this, so it entirely depends how interested you are on history.

Upstairs didn't disappoint either.  Huge medieval bedrooms with big four poster beds where Henry VII slept and also Elizabeth of York.  

And you must also make sure you see the staggeringly beautiful and intricate needlework on display sewn by Mary Queen of Scots and Bess of Hardwick.   It's amazing to think how this was a past-time which kept the ladies occupied.   Today that would seem very odd!

The Roof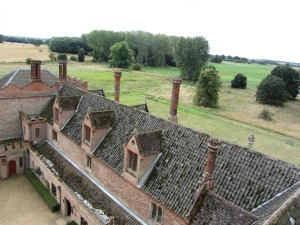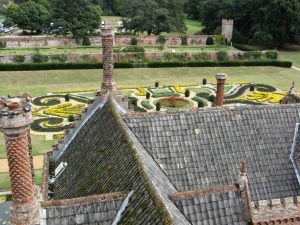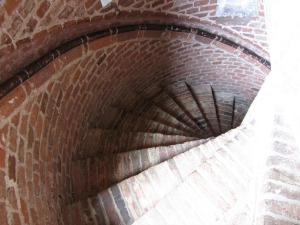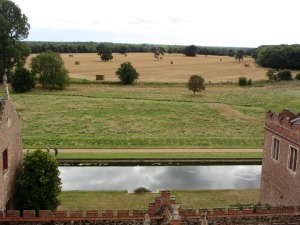 If you can make it up the spiralling stone steps, you must make it to the top of the roof. The panoramic view over the surrounding countryside is wonderful. 

And the bird's eye view from here to the parterre is so colourful.

The Priest's Hole at Oxburgh Hall
And then there's the Priest's Hole, the excitement of the visit! 
And yes, I did go into it, BUT a word of warning.  It is very tight and quite difficult to get out from.   If you're agile you can get down the hole, but getting up is somewhat more difficult!  Very handy if there are two of you there to help pull! 
I did ask the volunteer guide if she had ever had to pull anyone out of it, to which she replied "A few times"!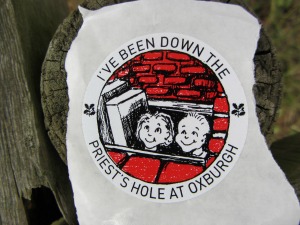 This hole is of great historical importance and was built to house the resident priest of the time. 
The Bedingfields were Catholics at on occasion, sometimes housed a priest to celebrate mass.  However, in the post-reformation era it was illegal to practice Catholicism so they had to make sure that the priest wasn't seen or caught.  Consequently, they built a Priest's Hole, a tiny little hiding hole should they be searched by the authorities.

Refreshments, Opening Times and Prices
There is a tea house housed within the courtyard of the Hall.  Light meals are available. 
For more information and details of opening times and prices, please click over to the National Trust page on Oxburgh Hall here.

This is a house that has had 500 years of continuous occupation, which in itself is history.
It really is a very enjoyable house to wander around, and along with the gardens and woodland, there's a lot to see.  And if you've got children in tow, you can play giant board games and other activities which the National Trust provides free of charge.  Oxburgh Hall is definitely worth a visit.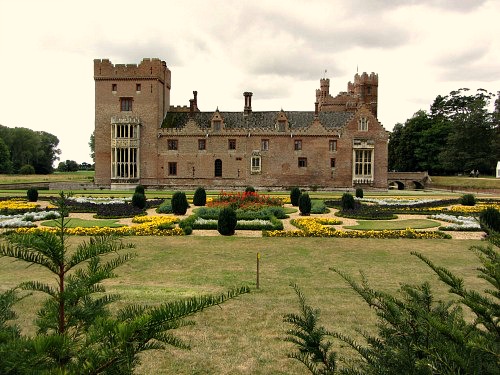 Accommodation near to Oxburgh Hall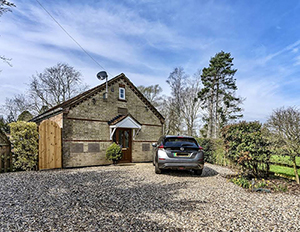 ---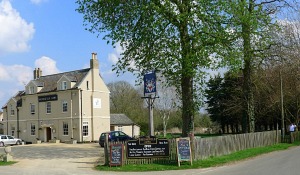 The Bedingfeld Arms is almost opposite Oxburgh Hall.  This former coaching inn dates back to 1874 and has recently be refurbished. Very relaxing atmosphere.  More details on Bedingfeld Arms here.
---